Porsche recently unveiled the eighth generation of its iconic 911 sports car. With a familiar albeit more muscular look, the new 992 Carrera has a more powerful twin-turbocharged flat-six engine than its predecessor, a longer wheelbase and wider nose, a new PDK gearbox, and even more groundbreaking tech.
It's not just the looks that are similar to previous generations, though — you really do need to be a 911 geek to spot the exterior changes. The basic layout of rear drive/rear engine, six-cylinder boxer engine, and balance between drivability and performance continue to be the cornerstone of the 911 experience.
And the reason for that? Because the Porsche 911 has legions of fans worldwide. Almost 9,000 911s were sold in the United States alone last year. It is quite simply the best sports car in the world. Not convinced? Here are eight reasons why.
1. The engine is in the back
On paper and on the asphalt, rear-engine layouts often seem like a bad idea. There's a reason why, aside from smart cars, the Renault Twingo, and the 911, cars don't have a large chunk of weight hung precariously behind the rear axle. Having weight over the rear driving wheels gives better traction on acceleration — a good thing — but combined with high power, having the engine in the back means the natural habitat of these cars has often been sticking nose-out of a ditch at the exit of a bend.
But this layout makes the 911 appealing for two reasons.
First, almost no car will stir your soul like the 911. The handling is a unique and visceral experience, with a heavy, grippy rear end and light front that varies depending on the position of your right foot. Turn-in is sharp, the car feels agile and, in later models especially, the grip is otherworldly. Altogether the chassis is alive with communication. Overcooking it is often the point of no return, so driving requires the ultimate commitment in exchange for the ultimate reward.
Secondly, because Porsche's masochistic engineers have stuck with this unorthodox layout, they have been forced to engineer the 911 like no other car. Now, with four-wheel drive, rear-axle steering, constantly upgraded Porsche Active Suspension Management to actively and continuously control the damping force of each individual wheel, Porsche Torque Vectoring Plus, Porsche Dynamic Chassis Control to minimize body roll, and ceramic brakes, the 911 is a more complete package than any other car on the planet.
Check out the Ruf CTR on the limit below:
2. Air-cooled engine
The 911 is a thoroughbred sports car, but also a distant cousin of the Volkswagen Beetle. The two cars were designed by the same family, after all: Ferdinand Porsche designed the Beetle, while his grandson Ferdinand Alexander Porsche was behind the 911.
The Beetle had an air-cooled engine for a number of reasons: simplicity, reliability, better aerodynamics because it didn't need a radiator at the front, lighter weight, and the need for less space. And through its predecessor 356 model (designed by Ferry Porsche, son of Ferdinand and Ferdinand Alexander's dad), the Porsche 911 gained an air-cooled engine, too, albeit with six cylinders. The flat, boxer layout also had a low center of gravity, another bonus for handling.
It wasn't until the 996 iteration came around in 1997 that Porsche switched to a flat-six water-cooled unit. If you were a lifetime subscriber to Porsche Traditionalist magazine — had there been such a publication — you would have been horrified. Despite Porsche's best efforts to make the modern water-cooled unit sound like the air-cooled version, and bring the company's basic engine tech out of the '50s, many will still argue to this day that the air-cooled engine is the only proper-sounding Porsche engine.
But for argument's sake, let's just say that all Porsche flat-sixes sound unique and are what set the 911 series aside from all others.
So what does it sound like? This is no frantic, high-revving Ferrari V8, but rather a breathy, mechanical clatter that is at the same time tuneful and rhythmic. It's mechanical rather than manufactured, and the engine note always has the last word over the exhaust note. Imagine throwing a chainsaw into a barrel of ball bearings and you get the idea. Have a listen below:
3. There's a 911 for everyone
Back in 1965, there was even a Porsche 911 for people who wanted to drive slowly. It was called the 912 and shared the same basic four-cylinder engine as the earlier 356 (not a Beetle as some might tell you), with a top speed of 116mph. Two decades later, the world got the Ruf CTR, a 469-horsepower twin-turbo 911 that shared the same body and basic platform but hit 211mph on a 15.5-mile test oval in Ehra-Lessien, Germany.
The Porsche 911 has been through countless iterations, from tuners to standalone manufacturers such as Ruf, which creates original vehicles like in the clip above using unmarked Porsche chassis. There are even companies like Singer, which creates reimaginings of classic Porsches. Whether it's a 1988 Carrera CS or an early-'70s Carrera RS 2.7, if there isn't at least one Porsche 911 that you desire with all your heart, you might want to check your pulse.
4. They're easy to live with
Supercars have only just become drivable. Before Audi took over at Lamborghini and Honda started making supercars, driving the fastest cars on Earth was terrifying both while going fast and slow.
Parking a Lambo Countach in a city was a performance most rappers could do without. Even if the clutch didn't overheat and the V12 explode in the process, they were high-on impossible to see out of. These days, Rick Ross could ghost ride his Murciélago through a Starbucks drive-thru without even stalling the engine.
One thing 911s always had going for them was that they were a doddle to drive at slow speeds, with a comfortable luxurious interior and good visibility coupled with everyday reliability on par with a family saloon. Off the leash, they could effortlessly stay up with cars that were way more exotic (and expensive).
Add to that trunk space at the front and two smallish rear seats, and you have a sports car that's actually practical (and if you own a Turbo version, you have a supercar that's practical). You can even get an official bike rack or roof box for your surfboard, if you'd like.
5. They were built to compete
A lot of car companies claim motorsport heritage, but no one bar Ferrari has greater bragging rights than Porsche. For the Stuttgart company, there is no difference between sports cars and race cars, the two feeding into each other. What is learned on the track filters out on to public roads. In fact, some of the race cars are modified road cars.
On June 10, 1956, a Porsche 550A RS (the same model James Dean died in) scored the company's first victory at the Targa Florio endurance race in Sicily. Since then, Porsche has gone on to participate in almost every type of motorsport going, and often winning. That includes Le Mans, IndyCar, Formula 1, the Carrera Cup, rally, rallycross, and even the Paris-Dakar Rally.
The 911 has had five decades of racing success, competing in the Rally Monte Carlo a year after launch and winning three years later. The Porsche 911 Carrera RSR won Targa Florio, Daytona 24 Hours, and Sebring 12 Hours in 1973, and a Porsche 935 took victory at Le Mans in 1979 (Hollywood icon Paul Newman was one of the drivers of the 935 that placed second). In short, if you buy a 911, you are buying a slice of motorsport history.
And if you want to race for real, it's not that difficult. According to Michael Dreiser, manager of Porsche International's Motorsport One-Make Series, all you need to compete in the prestigious GT3 Cup is "the right racing license — this differs a little bit from series to series, based on whether they run on the international FIA calendar or purely locally — and the right car allowed in the series. This is usually the current model of the 911 GT3 Cup, but some series also allow previous models."
6. The 959
The Ferrari F40 might have been the mouthy poster boy of the '80s supercar world, but it had one foil: the Porsche 959. While the car from Maranello was a recipe of a race car with number plates and raw carbon fiber, the 959 showed that clever technology could create a car with the docility of the 911 it was based on, including a luxurious, gadget-laden leather interior and a 197mph top speed just 4mph shy of the F40.
Arriving in 1986, the 959 featured the kind of tech you'd expect to see on top performance cars today, including a biturbo engine with water-cooled four-valve cylinder heads, an electronically controlled chassis, and an all-wheel-drive system, as well as an aerodynamically optimized body, all of which was built on the basis of the 911 model line in a limited run of 292 cars.
7. They look great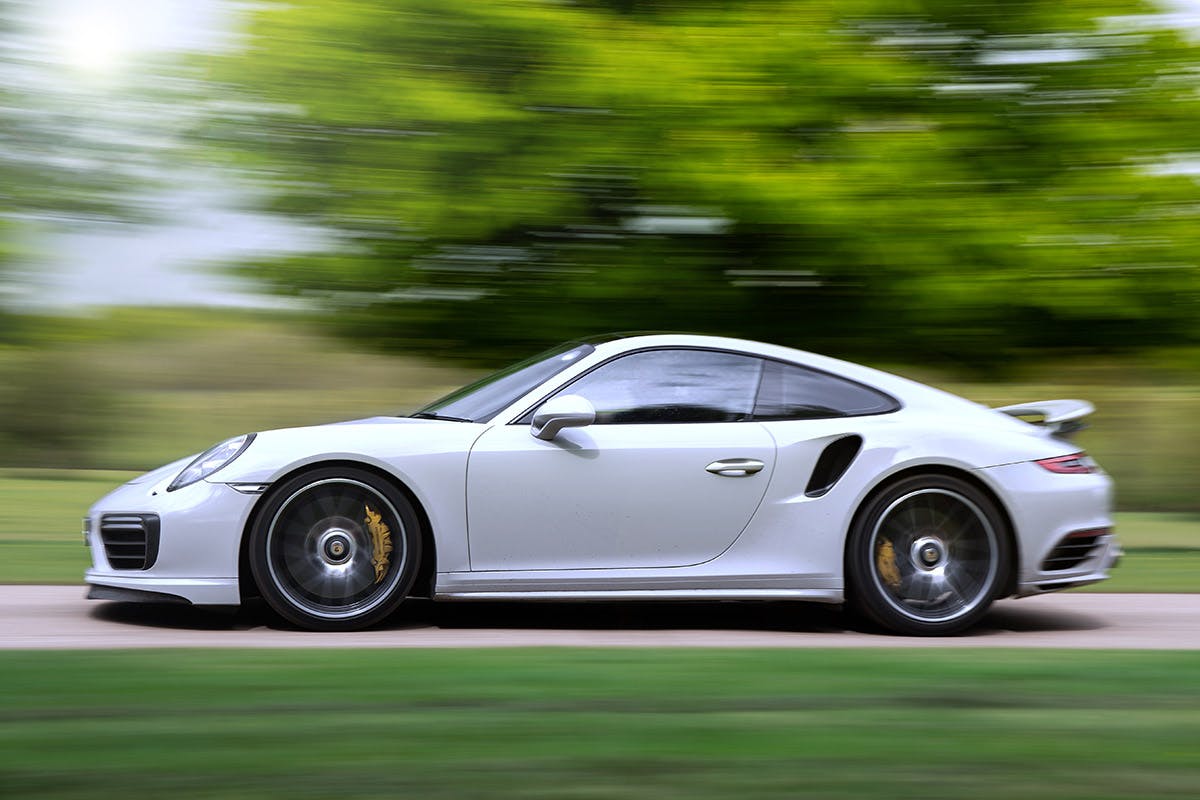 You're probably thinking a McLaren 600LT in tarocco orange is the way to hit up Church's Chicken, and maybe it is — the first couple of times. But there's a limit to how many times a fake-Supreme-wearing 15-year-old can snap a selfie next to you sitting in traffic before things start getting irritating. Spec a 911 Turbo S in agate gray metallic and no one is going to miss it, you'll get the same ballistic levels of performance, and you won't become a social media star every time you're sat at a crossing.
8. You can own one and never lose money
Probably. Owning a Porsche is never going to be dirt cheap, but you can get the keys to a 911 without selling a kidney. Every model is popular, so there are always plenty around. Armed with the right knowledge and an independent check, you can pick up a late-'90s 996 for $15,000 — brand new it would have set you back north of $80,000.
Factor in the same reliability as the average Audi and you have a car that should be good for decades to come and six-figure mileages. Then, when you come to sell it, there has been no 911 that hasn't bottomed-out price-wise before becoming a fast-appreciating classic. Snap up a 996, the least desirable model out there, take care of it, and then cash it in for two or three times the price in 10 years. What's not to love?