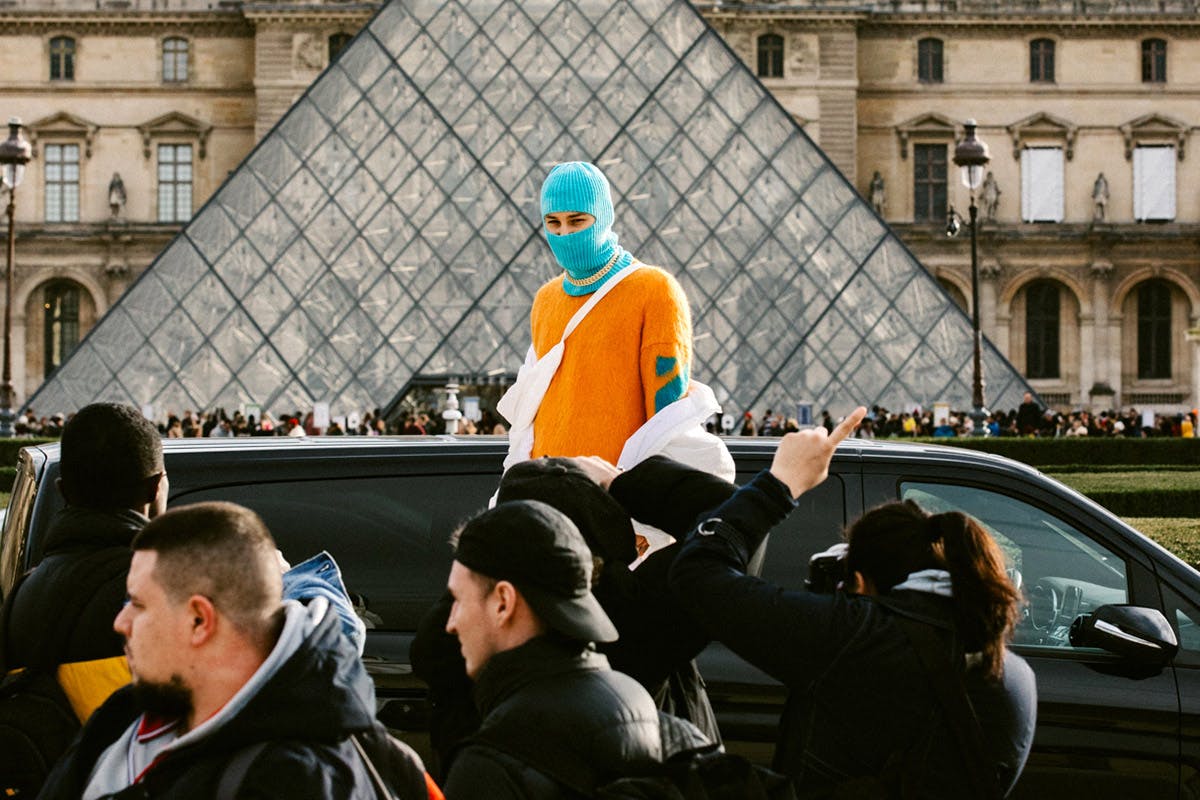 After a year of lockdowns, masks, and collective trauma, could the end of the pandemic finally be in sight? While the rollout is slow, vaccines are coming and the more people who get their shot the closer we get to emerging from the other side of all of this. When that happens, we'll finally get to think about the fun stuff again — like what fits we'll wear once we can see our friends.
Covid-19 has fundamentally changed the way we've dressed. Instead of your clothes taking you from your 9-5 straight to the club, your outfit now needs to take you through zoom meetings (or your essential work) to your government-mandated walk, then back to your couch. Comfy clothes reigned supreme, and people looked to bright colors to try to inject some serotonin into their brain — it's no coincidence that tie-dye really popped off over the last few months.
There have been a few predictions about how the world is going to dress post-Covid (you can already see that things are getting tighter, and a little bit sexier), but we propose that one word should be your overarching style inspiration — ostentatious. Basically, the louder the better.
Below, we've gathered some out-there pieces to get you excited about dressing again. From a three-colored shirt to a pair of hybrid cowboy boots, shop your best ostentatious fit below.
Versace Silk Shirt
Feel like the fourth member of Migos when you put this on.
Lourdes Multi Pocket Jeans
From afar, these look like regular pants but up close, the surprisingly functional pockets are just unusual enough to tip the pants into weird territory.
Rombaut Boccaccio II Cowboy Boots
Hybrid cowboy boot sneakers are exactly what we need to be wearing when we step into the new world. Bonus points for mixing and matching the detachable boot stirrup. Cowboy boot mules, anyone?
DOUBLET Memorial Jeans
While you're unlikely to have picture-perfect memories of the past year, these DOUBLET polaroid jeans will remind you of a time when "last night was a movie" and all you did was take dumb pictures of your friends.
Telfar Cable Knit Top
Take the Aran sweater trend and make it spring-ready.
Bode Tobacco Patchwork Set
At first glance, Bode's flag top and trousers are neutral enough to not be considered ostentatious. On second glance, you're wearing a reproduction of tobacco quilts covered in flags — if that doesn't scream big fit then we don't know what does.
MIYAGIHIDETAKA Bandana Shirt
This mint-green shirt is just loud enough to make heads turn, while also nodding to the sage trend.
COMME des GARÇONS Foil Trousers
Silver foil is always a good idea, even more so when you're going to your first post-pandemic party.
Burberry Flannel Shirt
Why only have one collar when you could have three?
Raf Simons Sweater

F Appliqué Distressed Sweater
(Available at 2 Merchants)
(Available at 2 Merchants)
Look like you've just walked off the set of Teen Wolf.
Want to keep browsing? Head to the Highsnobiety Shop for more products that we love. Highsnobiety has affiliate marketing partnerships, which means we may receive a commission from your purchase.