Following on from our previous piece on the return of Prada Linea Rossa line for Fall/Winter 2018, we're now able to provide a detailed look at the collection, exploring how the Italian fashion house has transformed its iconic '90s sportswear line into a contemporary context.
True to the formula of the original line, the Linea Rossa collection presents a range of classic athletic silhouettes such as anoraks, padded jackets, vests, tracksuit pants, footwear, and accessories in an elevated form, accented by the range's eponymous Red Line branding to create a modern expression of luxury sportswear.
Most importantly, the collection reaffirms Linea Rossa's focus on technical materials and utilitarian touches, incorporating fabrics such as high-conduction nanotech fabrics, insulated padding, 3-layer nylon, and Gore-Tex Pro® into the garment designs.
From the first glance, the collection clearly doesn't shy away from its late '90s fashion roots. Key pieces like the outerwear and bucket hat bring the enduring aesthetic of '90s street style to the fore. The full-zip jacket's boxy fit and simple design is reminiscent of classic trackside warm-up apparel, while the half-zip pullover jacket's use of 3L Gore-Tex Pro fabric with Graphene insulated padding, as well as heat-bonded seams maintains Linea Rossa's practical perspective.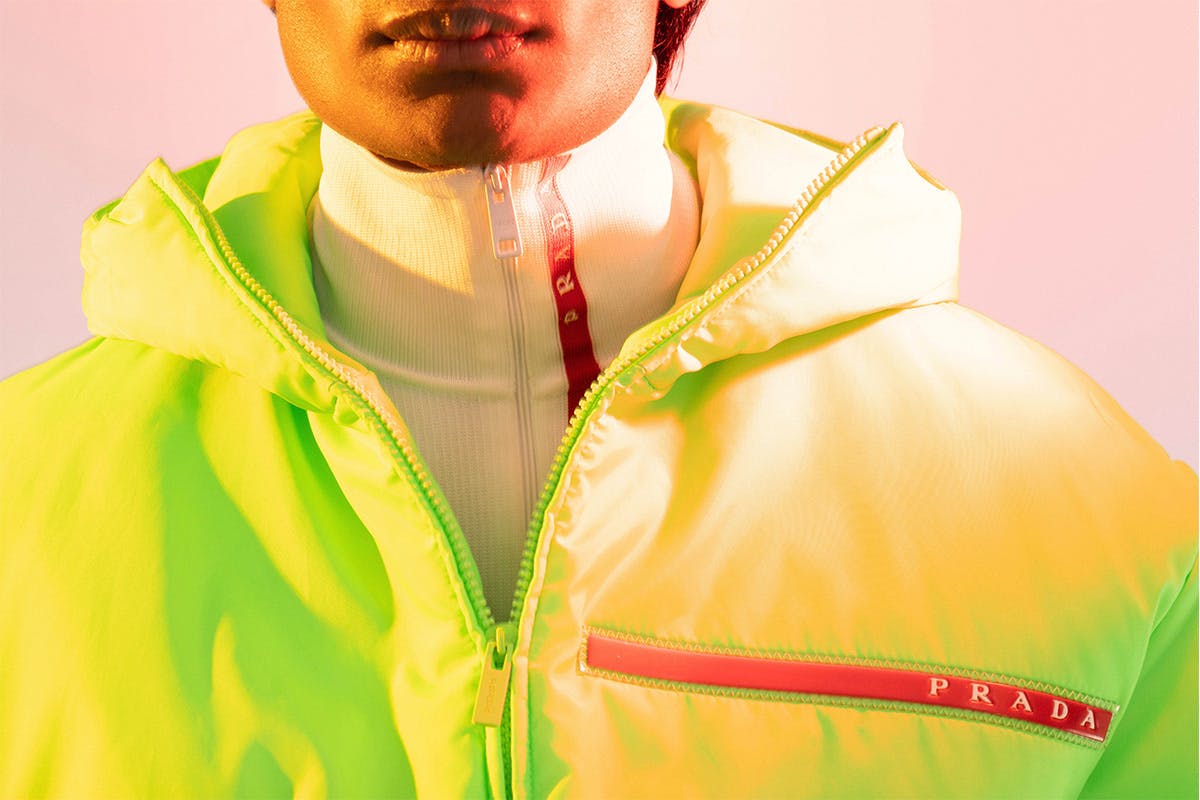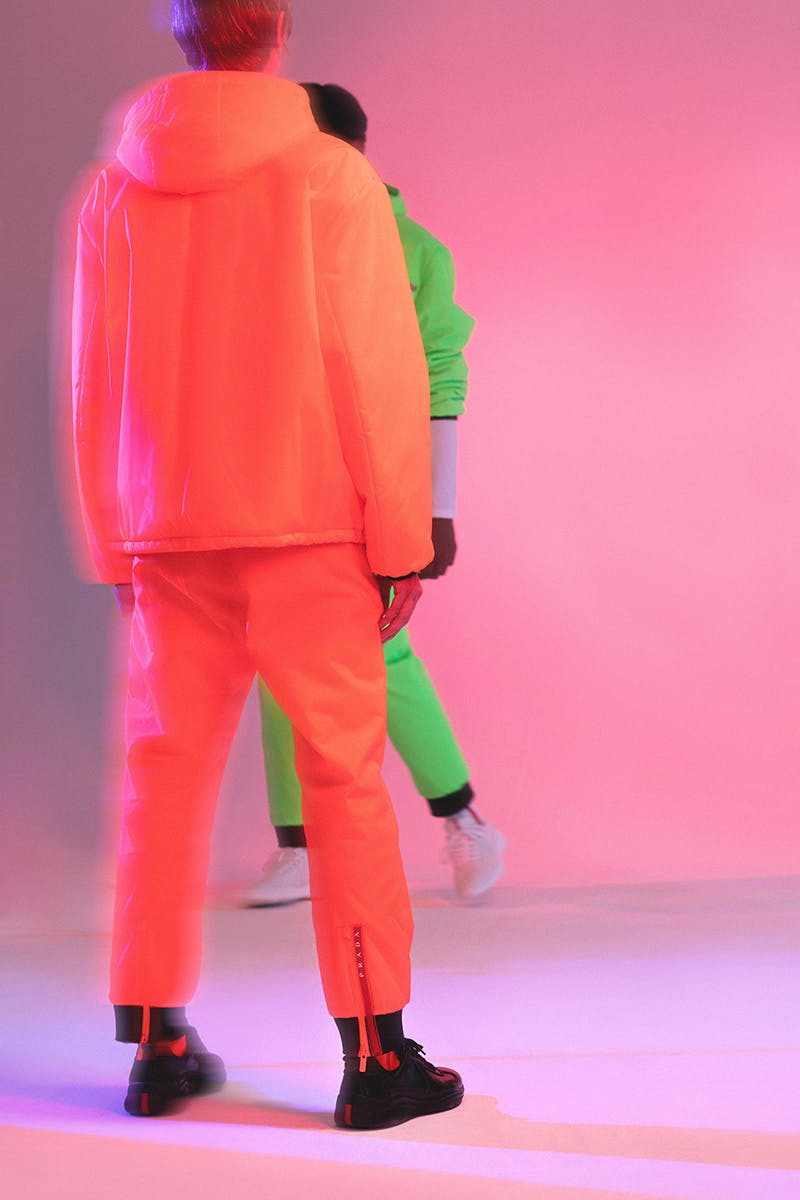 The collection also retains the original Linea Rossa vision of a cohesive sportswear wardrobe, complementing the outerwear designs with a selection of pants. The simplified Active nylon trousers offer a classic track pant design with traditional elements such as velcro fastening, elasticated waist and cuffs, and waxed zipper pockets, while the premium nylon fabric used is waterproof, windproof and breathable.
Taking this same approach further, the snowboard and ski pants feature Gore-Tex Pro® construction. The snowboard pant also boasts a breathable ripstop lining, while the ski pant is insulated with Graphene® padding, pairing with the outerwear pieces to create a comprehensive winter offer.
Other pieces in the collection round out the offer, including nylon knit socks, insulating sweaters, and eyewear. The turtleneck sweater's understated design is accented by the placement of a Linea Rossa logo-mark down the neck and a quarter-zip closure, while eyewear falls into the collection's prevailing alpine aesthetic featuring a wraparound design and reflective lenses.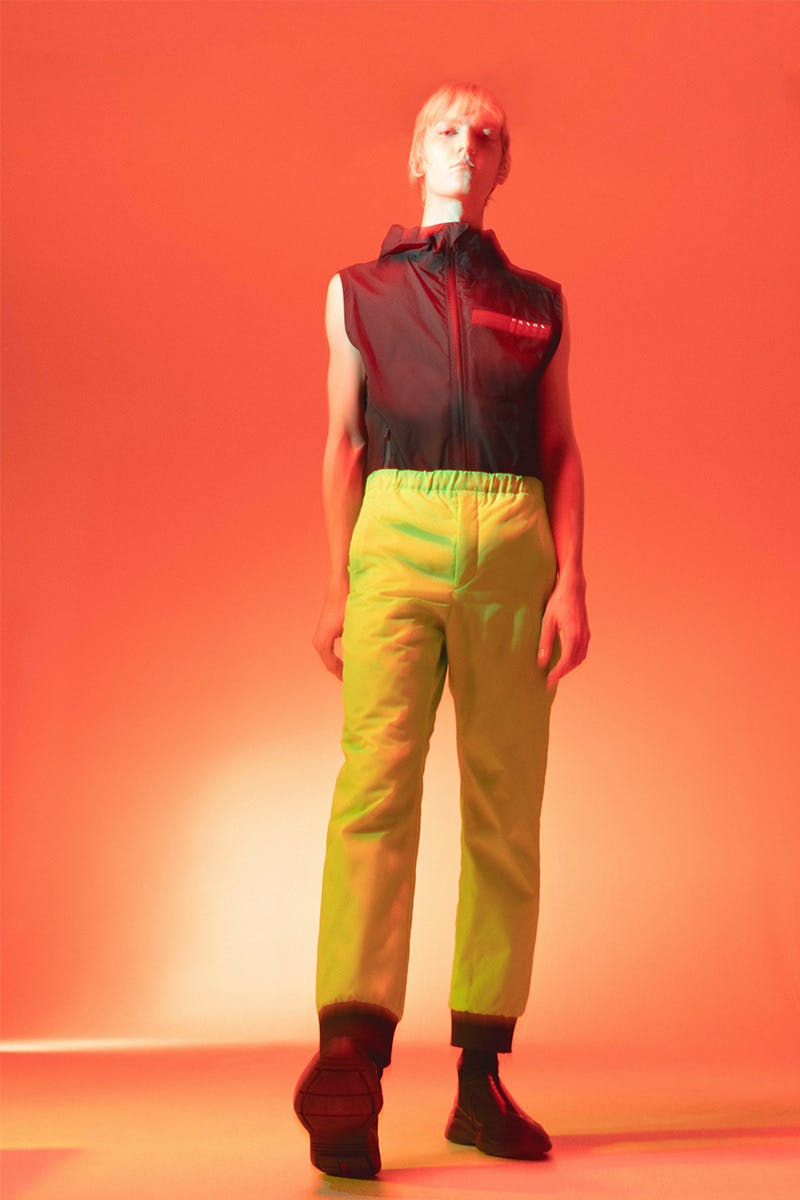 In a significant move tying the collection's nostalgic roots to a contemporary perspective, the range's color palette is reduced to a handful of tones, varying between stark monochrome black, white and grey, and striking fluorescents in line with current trends. The more muted colors clearly pay homage to Linea Rossa's roots in the pared-down aesthetics of '90s fashion design, when catwalks were dominated by razor-sharp wardrobes in minimalist blacks and whites.
Wildcard colorways such as fluorescent green and orange translate this same principle into the maximalist spirit of today, where oversized fits, even more oversized sneakers and aesthetic overload rule the day.
The garments' simple designs collide with unmissable color schemes in a style that's fitting of Prada's consistent ability to tread the line between high fashion and pop culture. True to form, the only decoration that disrupts each piece's design is the placement of a single red line logo, whether woven, embroidered, or rendered in the collection's enduring, iconic glossy plastic and rubberized patches.
Overall, the return of Prada Linea Rossa is true to form of one of contemporary fashion's most interesting stories. That same confident blend of stadium style and runway sophistication that made the original Linea Rossa collections unforgettable is back in full, with some welcome updates and adaptations that reiterate the power of a simple and straightforward design aesthetic that blends utilitarian elements with a timeless touch.
Explore the full collection here.