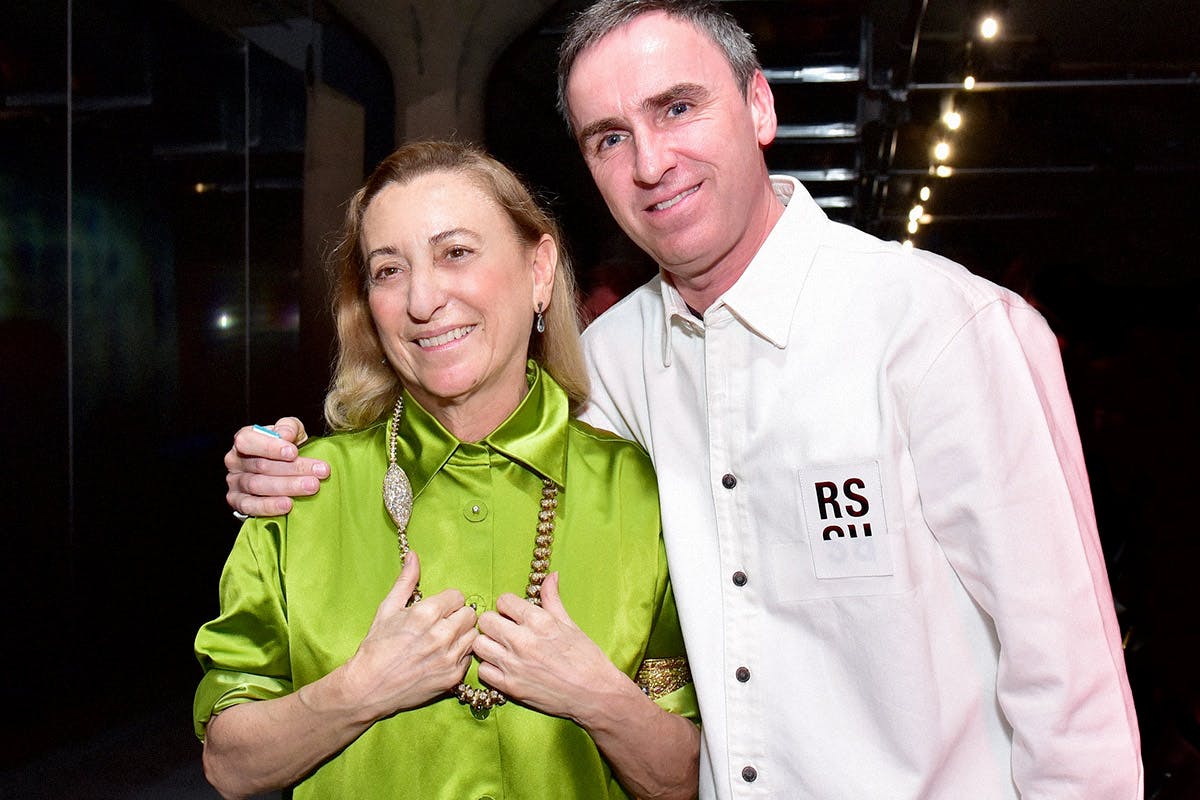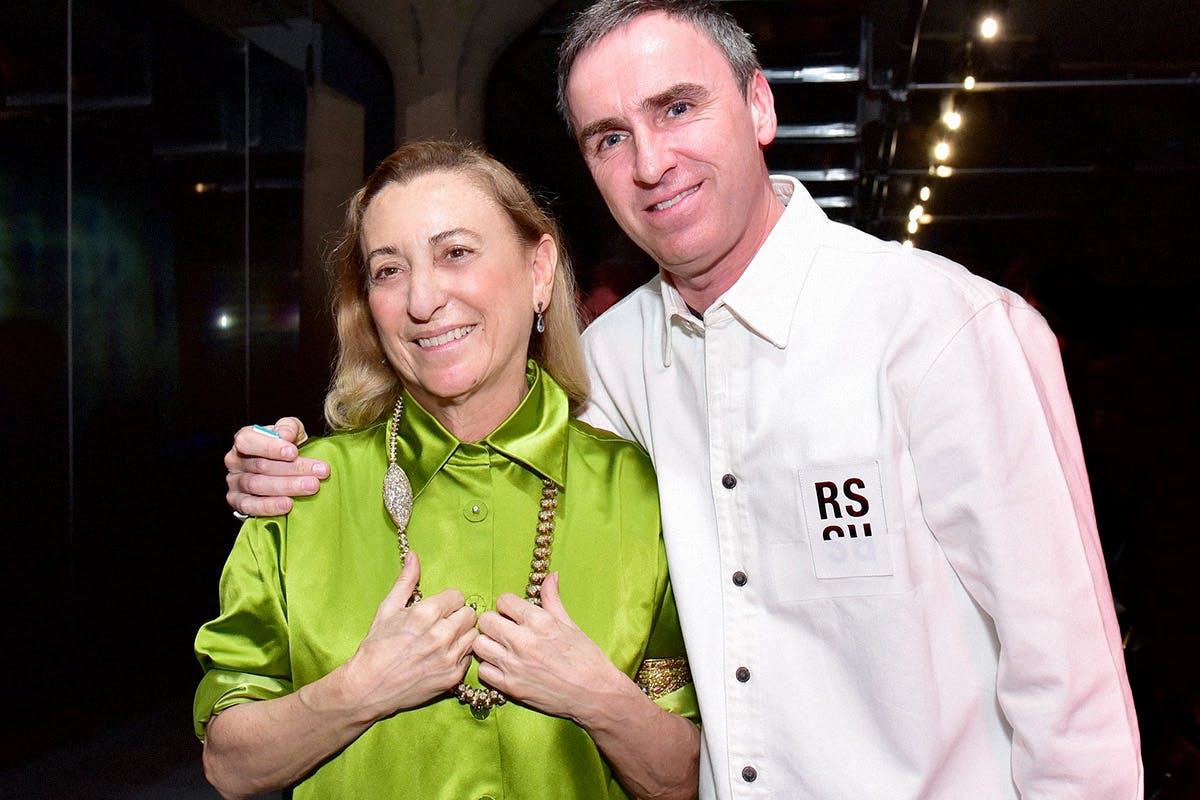 Ahead of the first Prada menswear collection under the co-creative direction of Miuccia Prada and Raf Simons, the pair had a conversation published in The New York Times on the shifting expectations of designers, collaborations, and feminism, among other topics.
Dialogue, both public and private, has been a critical vector for Prada and Simons' working relationship. "Dialogues" even formed the title of their inaugural SS21 collection, which was followed by an intimate Q&A to discuss their mutual appreciation for one another and their contempt for newness. They say talk is cheap but when you're the unofficial mom and dad of the fashion world, talk is everything.
The two designers' combined century of experience laid out some astute observations on the fashion zeitgeist, such as the uphill battle to maintain creative integrity in the face of mounting economic pressures and the tricky application of politics to fashion.
Ms. Prada posits that "the job of a designer is not just to make clothes any more. There are so many other issues. I think we are at a turning point, where it will go completely commercial or go more moral." She adds "you have to have a voice. You have to have a more political voice, which I always hated because talking about politics and ideas, being a luxury fashion designer, was always kind of embarrassing. How do you do it without losing content or substance or all the layers? Before I used to work alone. Now we are getting used to working together. Before I never did meetings. Now it's always about meetings."
While it's not surprising that a billionaire businesswoman attends meetings, the comments about the awkward conflation of upholding a sound political ideology in a capitalist-driven market (one that allows for a $1000+ blank Prada sweater) ring true. However, she later clarifies, "if you want to survive with your company, with all the responsibility of people working for you, I doubt we will do less....We are in a capitalist world. That's the system. It's easy to say consume less, produce less, but then we need to be ready to have less jobs."
Simons responds with a reflection on what people actually want "the one lesson I think fashion will not learn from this, which is the one it should learn, if I am being brutally honest, is that it should be less greedy. It became too much this economic machine. For the majority the first desire is economic growth. Everyone just had less growth, so everyone is going to try to catch up. And you can't do that with only one or two collections a year. The audience at the moment is more interested in surface fashion than in-depth fashion."
He continues, "where is fashion going? Where do we think it should go? Why is there so much retro? What is new? It's the most complicated discussion in fashion right now. It used to be the clothes that speak. But now, no matter how much both of us like the idea that the clothes should speak for themselves, it's not enough [...] Fashion became pop, and the winners now are the ones that scream hardest, not the ones that speak most intelligently."
As for the post-pandemic future of fashion, the two remain optimistic, excited even about the prospect of a new era of decadence,  "I think when the pandemic is over, people are going to be very willing to have lives again." says Ms Prada, "Already, China is spending like crazy. Also America. In Milano there is an explosion like during prohibition. They are having crazy parties."
Simons agrees, "If history is repeating, and it repeats very often, we are in the 1920s now, and we all know what the 20s looked like: an explosion of fashion, going out, sex. There is a possibility it will be very exuberant. It might become dangerously explosive."
However, the forthcoming FW21 Prada collection looks set to be more about refinement than exuberance, with Ms. Prada promising "simple lines but also ideas that are more physical and sexy." We're looking forward to this next chapter, but at this point, the only thing that we can guarantee will be dangerously explosive are the prices.
Stay tuned for our coverage and read the full dialogue between Simons and Prada here.