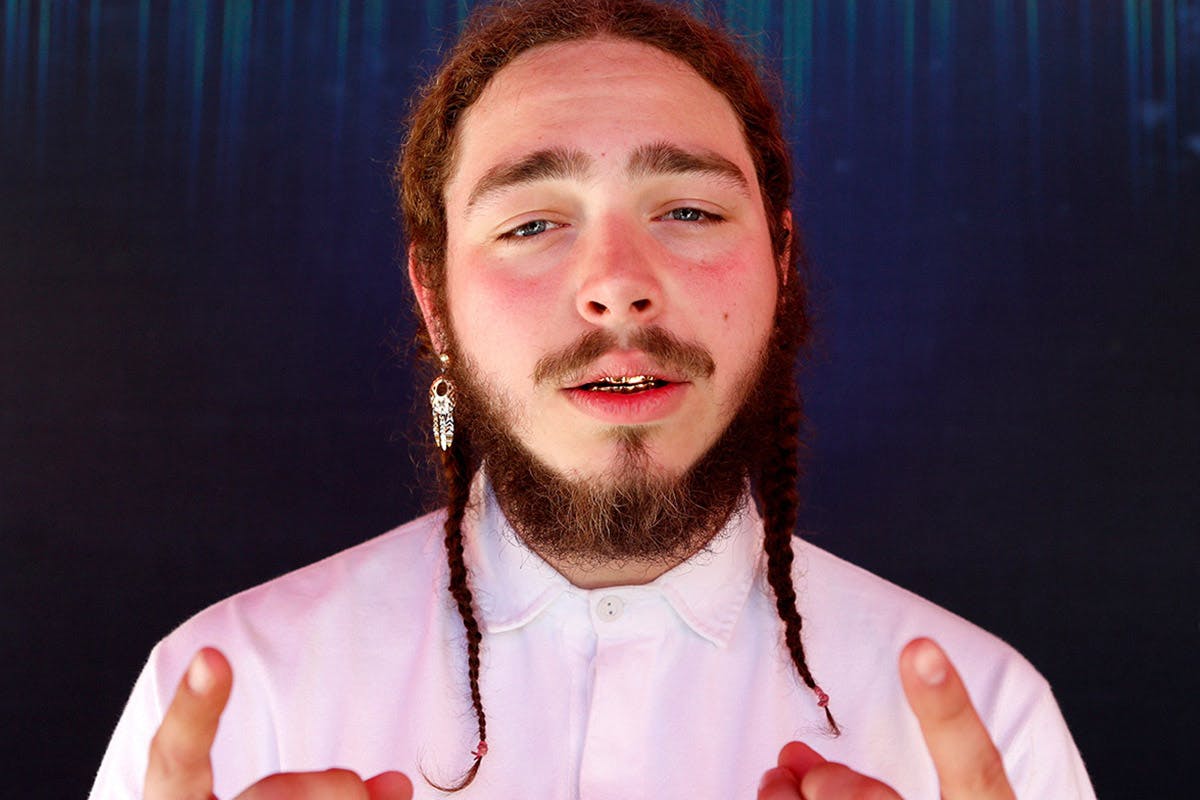 When rappers mention video games in interviews, oftentimes the titles of the pieces reference the word "nerd" as if to say that gaming has no place in hip-hop (despite a track record of video game usage in the genre).
But as Drake and Travis Scott's Fortnite session revealed, mega-stars in the genre are not only playing, but literally broadcasting it to the world and shattering records on Twitch. Not to mention, Kanye West also made his first beat for a video game he was supposedly designing as a 7th grader.
Perhaps old school gaming consoles and newer iterations like Xbox One and Playstation 4 could actually aid in building a bridge between hip-hop purists and the so-called "SoundCloud generation."
An analysis of some of the favorite games of some of the biggest rappers unlocks a simple truth not only about gaming, but hip-hop as well; some are in it strictly for the fun, while others want extreme authenticity.
Here is what is in heavy rotation for some of the biggest names in hip-hop.
Vince Staples
Known to play: Mortal Kombat, Watch Dogs, Resident Evil VII, Persona 5, Red Dead Redemption, GTA: San Andreas, LA Noire.
Gamer quote: "I've never not had a video game. Ever. There was never a game that came out that I wanted that I didn't get."
Vince Staples has never been shy about his affinity for gaming. Consoles and games were always a consistent presence in his house growing up. While he has pointed to a number of titles, it's clear that he's an avid fan of games that have open world concept; especially pointing to GTA: San Andreas as having a profound impact on him.
While most were drawn to the lawlessness represented in the title - which has always been a hallmark of the series - Staples was much more drawn to aspects that reflected his actual reality.
"Besides Def Jam Vendetta and sports or fighting games, I don't think I'd ever seen a black video game character before," he said. "And the fact that they talked like me and acted like me when I was in a darker stage of my life was overwhelming. If you look at Grand Theft Auto 5, which talks about gentrification and white privilege and unstable family life and drug users in politics and technology and all these things that are intertwined – there's a lot of deep things that a lot of people wouldn't think about that I wish I'd noticed as a kid. There's a much deeper story to tell about gang life."
Danny Brown
Known to play: Persona 4, Persona 5
Gamer quote: "My dream is to start developing video games," he said. "This rap shit is, you know, 'that's cool.' But my goal in life is to become a video game developer. I wanna be Rockstar Games and shit like that."
Back in 2013, Danny Brown listed his Playstation Vita as one of his ten most essential items in his life. In subsequent years, his passion for gaming hasn't dwindled - although he admits he doesn't like shooters or driving games unless they're third person.
Tyler, The Creator
Known to play: Mario Kart, GTA V, Pro Skater 4, FIFA, NBA 2k, Metal Gear Solid
Gamer quote: "I don't know how it is for Bieber. I know his bank account's good but sometimes I know he's probably like, 'I don't want to go to this fucking charity event, I wanna go play Xbox," he said. "And I'm happy that I get to pick and choose what I do."
In an interview with Spin, Tyler, The Creator referenced how he used a video game, Pro Skater 4, to actually learn how to skateboard. In a full-circle moment, Tyler later became a playable character in Tony Hawk's Pro Skater 5.
When the rapper was banned from banned from the UK in 2015 for, "posing a threat to public order," he commented on the ordeal with The Guardian, stating, "this is only gonna open a door for other people to get banned. And then they're gonna go after video games, and then they're gonna go after movies, and we're gonna live in such a sensitive world."
Much like his personality, Tyler's favorite games are all over the map and fall inline with a personal ethos where he often turns his attention to elements which promise the most fun.
Post Malone
Known to play:: PlayerUnknown's Battlegrounds, The Elder Scrolls V: Skyrim, Fallout, Call of Duty: WW2, Tom Clancy's Ghost Recon, WWE2K18
Gamer quote:: "It's either one or the other (mouse of controller)," he said. "Switching over - or being ambidextrous with both - is tough."
Unlike many of his peers, Post Malone favors the PC over the console when it comes to his gaming preferences - so much so that he forked over $6,400 USD for a custom build so he can stunt extra hard on his Twitch channel.
His affinity for the PC hasn't always been the case, but his love for video games has always been consistent - so much so that Rolling Stone began a profile on him by stating, "Last night, the new Call of Duty came out, and Post Malone was so stoked about it that he parked himself in front of his Xbox until 6 a.m. Right now it's 4 p.m. and he's back at it. It's a sunny Friday in the affluent L.A. suburb of Tarzana, but the shades are drawn in Malone's den to block the light – his wall-size projecting screen is particularly susceptible, he says, to glare."
Much in the same way that Malone aims to make genreless music, his gaming habits seem to run the gamut from shooters to sports.
Kyle
Known to play: The Elder Scrolls V: Skyrim, The Elder Scrolls III: Morrowind, Zelda, Super Smash Bros.
Gamer quote: "If you live in a little ass apartment that has four fuckin' weak ass grey walls, it's like you can just plug in this machine and get locked into this entire different person and entire different world."
Kyle is another artist who is drawn to games that heavily feature open world gameplay and fantasy elements which he believes has a transformative impact on players whose actual reality may be rather mundane.
When Rolling Stone asked him to describe his early life, he stated, "I wasn't really a loser in high school, but I was kinda one. I was on the football team, but at the same time, I hung out with the nerdy kids, staying up until 7 a.m. playing medieval video games like The Elder Scrolls V: Skyrim."
Logic
Known to play: Metal Gear Solid, Bioshock Infinite, The Last of Us, Uncharted, Borderlands, Call of Duty: Modern Warfare 2, Battlefield 4
Gamer quote: "As I continue to stay who I was – a Rubik's-Cube-solving, video-game-playing, married, puppy-lovin' motherfucker who can rap well – I've found peace."
Logic's rise to prominence in hip-hop came at a time when individuality was being trumpeted. Thus, neither an artist or a label had to manufacturer an image which fell inline with the so-called hip-hop bylaws which required an emcee to carry himself in a certain way, or only write lyrics which checked certain boxes.
Gaming has always been a way for Logic to connect with his fan base that has never felt like a ploy. When he launched his gaming channel in 2016, he made it clear that he wanted it to feel like his fans were sitting next to him on the couch watching him play.
Lil B
Known to play: WCW Nitro, Shenmue 2, Final Fantasy series
Gamer quote: "It is in my soul and I'm a die hard gamer."
Whether it's sampling Final Fantasy X, overtly naming songs, "I Love Video Games" and "Video Game Master," revealing his PS2 games on YouTube, or showing off his collection of consoles - including at the time a PS3, SNES, Sega Genesis, Sega Saturn, Sega Dreamcast, Xbox, Wii, PS2, N64, and Gamecube - Lil B is certainly not shy about his affinity for video games.
Having played a number of titles which span almost all of the systems, Lil B still sees a problem with representation in the medium, saying, ""There definitely needs to be more diversity. More people need to go to college to learn how to develop games that get to a deeper sphere of the world and take us to another portal. Maybe gaming needs a Black Panther moment."
T-Pain
Known to play: GTA V, Watch Dogs 2, Final Fantasy XV, Overwatch
Gamer quote: "A lot of people don't understand; they just feel like I'm in the studio 'playing games,'" he said. "But it's kinda therapeutic. To be in the studio, have your mind free and playing games, not thinking about the song that you're about to make. I'll tell the producer, 'Play this beat while I'm playing this game, and I'll have a song in like 10 minutes.' Pause the game, get on the mic – full song – and then go back to the game. Every night!"
T-Pain has been vocal about the irony which exists between those making music, and those attempting to market it - especially as it relates to highlighting their video game habits.
"For many years, I've been led to believe that we should all be hiding the fact that we're gamers," he said. Being a nerd, being a gamer, that's something to really be proud of. That's something that people strive to be, but since they can't do what they think they wanna do, they make fun of it."
Desiigner
Known to play: Call of Duty 4: Modern Warfare, Call of Duty: Black Ops, Call of Duty: Advanced Warfare, Halo series, Grand Theft Auto: San Andreas, Def Jam Fight For New York
Gamer quote: "Grand Theft Auto San Andreas is the best of all time."
There aren't many artists who could chock up their biggest success to gaming. But in the case of Desiigner, the inspiration and vibe for his mega-hit, "Panda," stemmed from his passion for Grand Theft Auto V.
"When I was making it I was thinking about The Fast and The Furious and about breaking cars and going crazy," he said. "It's a whole bunch of action. When I make songs I think about movies, like my own movies in my head."
For more video game coverage, check out our original series "Pushing Buttons" featuring Ayo & Teo, CJ Fly, Kirk Knight. Just Blaze, Joey Bada$$, Flatbush Zombies and more.