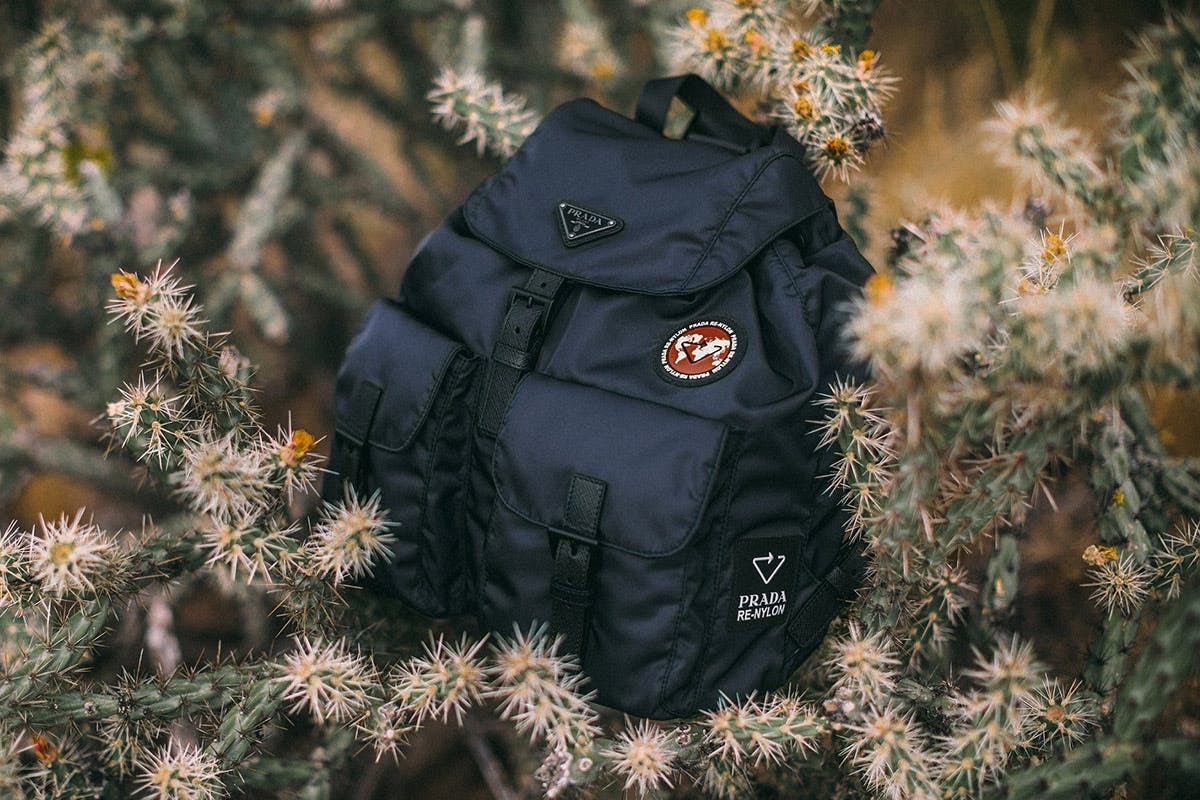 For the second edition of our new series on sustainable materials, we're taking a deeper look at recycled plastics.
"This looks like trash."
For brands from Prada to Patagonia, that's almost a compliment.
As society wakes up to the impact of its habits, recycled plastic has become arguably the next great materials trend in fashion. What Visible Air was in 1989, "ocean plastic" is today: a wearable badge reading "hip to the times."
However, unlike past materials booms, the promise here runs deeper than performance.
Recycled plastic garments signal a miracle cure – a solution to pollution, powered by the same consumption systems that created it. In the hottest summer on record, elegant remedies like an adidas x Parley sneaker are cool in more ways than one.
But how sustainable is recycled plastic actually? How does it go from garbage to garment? Here's everything you ever wanted to know about recycled plastic in fashion.  
PET sounds
Most of the recycled plastic used in fashion is made of a material called polyethylene terephthalate, otherwise known as PET.
PET is a thermoplastic polyester resin (translation: liquid when hot, solid when cool) used to make bottles, textiles, and packaging of all types. Its chemical structure makes PET strong, light, and flexible – and a popular choice across industries.
More than half of the world's synthetic fibers are made of PET. Polyester fleeces like the Polartec Classic that goes into a Patagonia Synchilla are PET. "Ocean plastic" knits like the yarn that goes into an adidas Parley shoe are PET.
And so, by the way, are 61% of the plastic bottles recycled in the US.
While PET's properties make it a first choice for eco-intensive outputs like single-use bottles, there's a silver lining. Compared to other plastics like PVC, PET is easily recycled.
Reduce, reuse
The vast majority of PET is recycled through a process called "mechanical recycling." The recovered plastic is cleaned and then ground into tiny pellets only about 3mm wide (that's the "mechanical" part). Those pellets are then heated, turning them into a viscous plastic-y liquid.
That melted-pellet liquid is the crux of recycled PET. From there, the recycled PET can be spun into "recycled polyester" yarns, molded into bottles, or turn into just about anything.
Like ECOALF tech tees. Or Everlane parkas. Even GORE-TEX jackets use recycled polyester as the outer layer of their guarantee to keep dry.
While mechanically-recycled PET polyester is perhaps the most common recycled plastic fabric in fashion, a similar process (and similar outcome) allows nylon to be recycled.
Italian firm Aquafil is the name to know for recycled nylon. Their popular ECONYL fabric is now used by names like Burberry and Prada, amongst others.
That's so plastic
Which raises the question: is recycled plastic actually any better, or just another trend?
Compared to making garments from virgin PET polyester, production from recycled plastics does offer some environmental benefits. A 2010 life-cycle assessment found non-renewable energy savings of 40-85 percent. The knock-on effect of potential global warming reductions of 25-75 percent could be achieved.
Dramatic results, yes, and a testament to the power of recycling as a whole. However, it's important to note that the bulk of the benefits (less energy use, less C02 emitted) come from production.
Translation: because not as much is being made from scratch, the garment requires fewer resources to go from atoms to t-shirt to store shelf. A simple visit to the thrift store would create the same savings, if not more.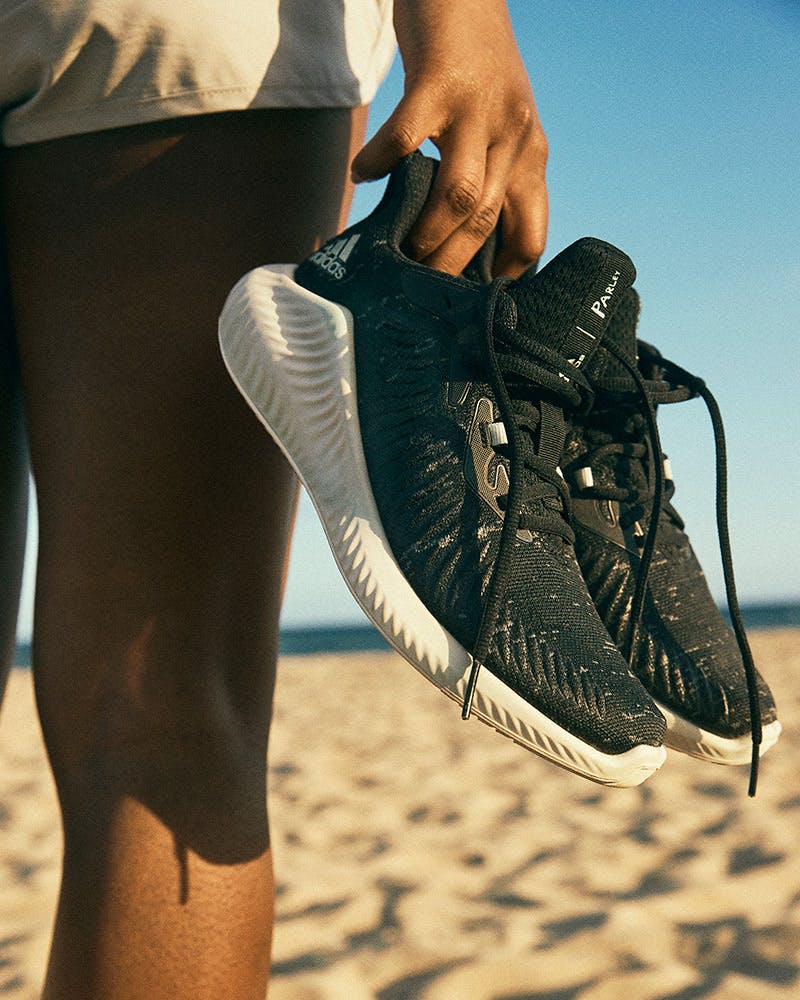 There's also the issue of material integrity. On a chemical level, plastics are made up of very long chains – the same chemical structure that gives PET all its resilient, chain-like properties. Each time a piece of plastic is ground up, melted, then reformed, some of those chains break.
Translation: a mechanically-recycled plastic garment will degrade faster than one made from virgin plastic.
That's not to say your sleek ocean plastic shoes will fall off your feet tomorrow. The quality of the output varies with the quality of the input, so with a high quality input stream (i.e. well-cleaned plastic waste), it's possible to recycle the same PET many times over.
Some brands (Patagonia among them) also opt for "chemically recycled" plastics made from inputs that were broken down to their base chemicals before being re-used. This process is traditionally more expensive than mechanical recycling and therefore less common, but does create recycled plastic with like-new performance.
Long story short, it's important to know that the vast majority of recycled plastic garments will be less durable. Some won't be; most will be. How much that "will be" matters is all personal.
Past materials trends signaled care about performance. Recycled plastic eschews performance to signal care about something else. Given our changing environment, perhaps that's a good thing.
Recycled looks
Given its versatility, recycled plastic shows up almost everywhere.
Brands such as ALYX and Gucci use recycled plastics to weave sustainability values into the highest echelons of fashion. Others, like Nothing New and VIVOBAREFOOT, use the material as a pillar of their modern, values-focused brands.
And then, there are the tireless champions: Patagonia and its line of recycled fleeces, adidas, and its Parley collaboration, and many more.
However, perhaps the coolest – er, hottest - recycled plastic piece on the market belongs to Canadian brand NORDEN.
Nicknamed "Matias," NORDEN's longest, warmest jacket is made of 98 recycled plastic bottles. The thigh-length fishtail parka is rated to -40°C, so should the brand succeed in its mission to limit our effect on the planet, it may just be the perfect coat for newly protected winters.