In less than a year, Rema has seen his dreams become reality, moving from a struggling musician in the backwaters of Nigeria to impressing Barack Obama and packing venues across the world. Now, he wants to bring respect to Afrobeats.
Rema is gesticulating with his left hand, while his right glues his iPhone to his ear, as he delivers specific instructions to the person on the other end. "Make sure they have big backsides," he instructs. Dressed in a pink Thrasher hoodie, hair in braids, eye-catching silver cross earrings, and a Playstation controller nestled in his lap, the 19-year-old baby-faced singer looks just like any other teenager in tune with pop culture, even though his confidence is palpable. He sounds exasperated in this apartment in Lagos' Lekki Phase 1, where he is attempting to arrange female models for a marketing video. His chief specification is that the models should possess a gigantic ass, big enough "so that it covers me on the chair and breaks the internet," he explains.
Though he has yet to enjoy a full year of celebrity, Rema is turning into Africa's most prominent teenager. The native of Benin seemingly appeared out of the blue in 2019, instantly drawing millions of admirers across the globe of his expansive interpretation of Afrobeats and emo rap, driven by a fashion style that hits the intersection between juvenile and edgy. He owns a teddy bear, performs high-energy sets with a water gun, chooses glossy lollipops over blunts and alcohol, and dons an omnipresent mask which he admits acts as a personal screen to boost his on-stage confidence. ("I can see you, but you can't see me.") On social media, he goes for wit and an air of mystery, further adding layers to a brand that can't stop growing.
"Be young as possible, enjoy everything from all angles, just come out with a different style," he says, eyes still fixated on the video game. "Because sometimes people rely on this 'oh he's cute, oh he's such a baby duh duh duh'... No, let me just bring my style that will influence people rather than sharing fine pictures of my baby face. I pull up with swag, like this young kid that's so swagged up."
It was just over a year ago that Rema was a struggling artist, living with his widowed mother, who had her hands full raising four kids. She was insistent that he push himself harder at school and follow the conventional path of getting a university degree. He had great grades and had started the admission process, but nursed no real interest in academic pursuits. His love laid in creating sounds, and he found deep happiness in making the most with his music, even signalling to potential sponsors via low-budget guerilla marketing.
It was such attempt that got him on this path of success. In February of last year, Rema shared a freestyle he made over the beat of Afro-pop singer D'Prince's song "Gucci Gang," which features Don Jazzy and Davido. The video caught the attention of D'Prince who signed him up to Mavin Records (via his imprint Jonzing World), moved him to Africa's creative hub of Lagos, Nigeria, and placed him in development.
His debut release – an eponymous 4-track EP which dropped in March – contained the smash hit "Dumebi," which instantly blazed through the charts and changed his life. Another track off the EP, "Iron Man," polarized local audiences for its Arabic influences, but it became a favorite of former US president Barack Obama. It made his fabled summer playlist this year, notable as the only Afrobeats record to make the cut.
"I was just happy," Rema says of the moment he got the news. "First I went to Twitter. I wanted to tweet something very wicked to those people who were battling 'Iron Man' when it first came out... But Barack Obama fucked with my shit bruh. I wanted to go to Twitter to rant but humility did not let me. Many things were just going through my mind, but I chose to follow the law and just thank Obama."
His sophomore project, the Rema Freestyle EP, was a loosie he shared in July to feed fans who were glued to their screens and mesmerized by his random freestyle series on Twitter and Instagram. It contains references to Batman and Spiderman; comic book characters which he says are influences from his video game indulgence and his love for thrillers. "I'm that Power Rangers boy," he declares standing up from the couch and heading to the dining room table for dinner. "There are kids who like action, and there are kids who love Teletubbies, soft kids. But for me, I like the Street Fighters, the action cartoons. I want to be like that action superhero, like Naruto. I always want to have that energy. So I infused a few things in my style, like my mask. I want to have this cartoon character," he says.
Rema's bravado is cute but intense. Talking to him feels like a conversation with your excited younger sibling who hasn't lost his wide-eyed enthusiasm to change the world, but struggles with a pathway. Except, Rema knows exactly how he has to make that happen, what he needs to do daily, and how to get there in record time. He has work-induced insomnia, and he isn't really seeking a girlfriend (partly because he is shy and exploring his newfound attractiveness but also for fear that there's a tendency for him to lose his focus). "Normally, if you bring a girl right now, I would not talk for two days. I can't even utter a word. I'm a shy guy, to be honest," he says.
Music and the trappings of stardom appear to be welcome, but they demand that he adapts himself to fit into the elite mold of a superstar. It's a sacrifice that he happily offers because the rewards have been endless; he regularly sends money back home to his mother and siblings, and he has repeatedly tried to relocate them to a better neighborhood. It's a plan his mother objects to; she loves her current living conditions, and gets a lot of public love for being 'Mama Rema,' the mother of a superstar.
As he attacks his dinner of plantain porridge and fried fish, we talk about Bad Commando, his latest project which he hopes will see him end the year on a high. In between mouthfuls of masticated food, he tells me that Bad Commando is a coming of age project. It's accepting his title as the de facto leader of the "new generation" of creatives looking for expression and change in the arts. "I have the face of the new generation. I have the voice. I have the boldness of the new generation," he tells me.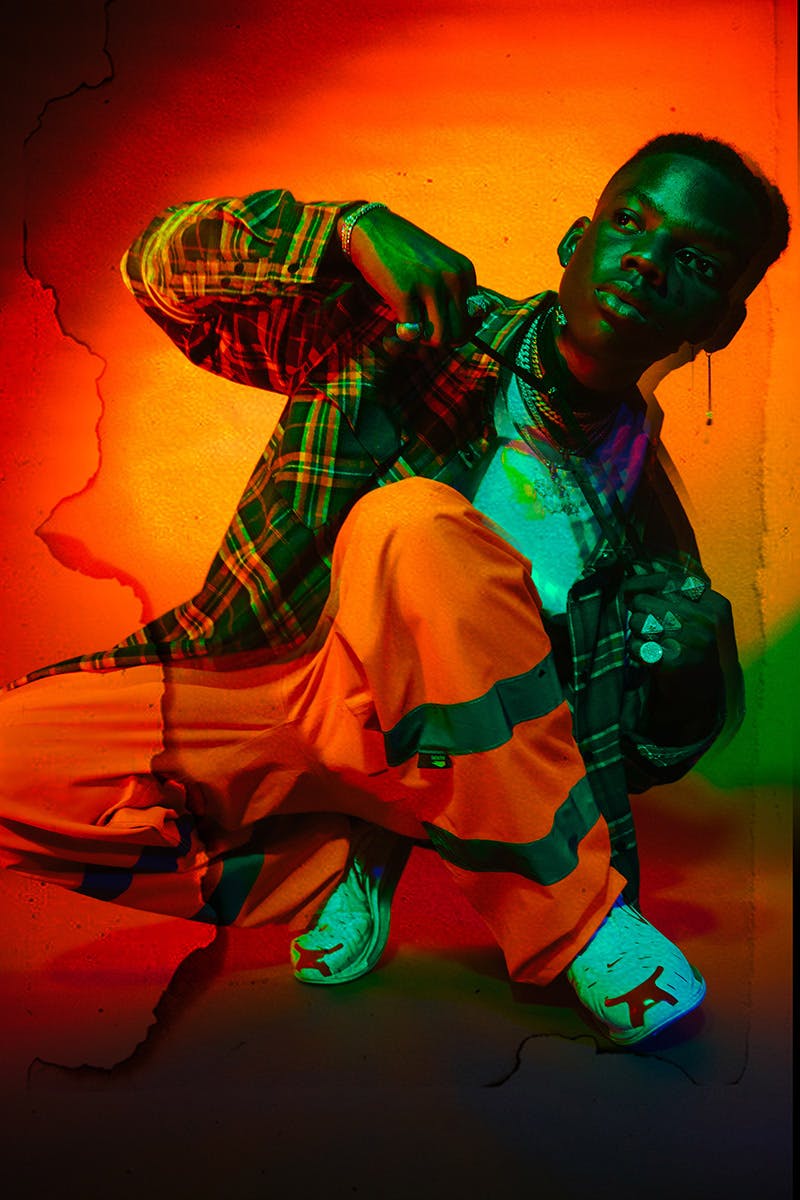 It's a brag that is backed up by reality. Released in October, Bad Commando is a hypnotic, four-track release showcasing Rema's diverse musical influences, from Afro-pop to trap. The title track and mixtape opener pairs minimalist production with Rema's trademark vocal delivery. Produced by Honter, the assured lyrical flow is evidence of an artist who recognizes his place in the game. Next up is "Lady," an homage to the warm grooves of authentic Afrobeats. Hailed as a song for women all around the world, it praises their beauty and capabilities. The third addition to the project, "Rewind," is a rhythmic and poppy affair produced by Drake's OVO affiliates Oliver El Khatib and 1mind. It finds Rema spreading a socially conscious message, touching on the state of the Nigerian economy. It is, effortlessly, a well-rounded project.
Inside his Lexus, Rema is handling label business on his way to a headline performance at an annual concert to mark Nigeria's Independence Day celebrations at a warehouse venue for an alcohol brand.
He is talking to executives about promotional techniques and what he has to do to ensure success of the new project. We go fast past the Lagos city lights and pull up at an ATM, where he gets cash and gives up some of it as payment to a biker who appeared out of nowhere bearing masks for the performance. "I forgot these at home, so I had to order. We have to make my performance special," he says, before disappearing into his phone, and smiling at a revised design he needed for a promo. His face lights up again as he shows me a video of some fans who have made a new dance video to one of his tracks. He gets another phone call from a sibling, which leaves him grinning into the distance. But that doesn't last, another label call puts him back in business mode. There's a lot of strain on his time. Bad Commandos are always on duty. "Does this balancing act take a huge toll on you?" I inquire. He deflects to God as the source of strength, giving a response that reads like a manifesto:
"Some things that happened this year, I thought they'd happen in the next two years. So what I'm thinking I might achieve in the next five years might be bigger. God will lead, and along the line I know there'll be tests to take me there. But all I ask for, all I need is just strength to win, overcome, excel, to take Nigeria higher, take Afrobeats around the world. That global respect that we give hip-hop and R&B, Afrobeats can have that too."
With that, he fixes his mask, takes a selfie "for the culture," throws on a hoodie, and steps out into chaos. Fans mill around asking for acknowledgement and photographers scurry angling for the best shots as bouncers form a wall of security, leading him to a crate attached to wheels. As he is wheeled into the venue, a mic is pushed into his hand, and as the DJ drops a song he raises it to his mouth and starts off with Barack Obama's favorite, "Iron Man." The venue erupts. Rema, the Bad Commando is in the building. And he is here to stay.