This week's FRONTPAGE is all about RTFKT - the future of several industries and ecosystems whose work is marks a new template for brand-building in the digital age.
Shortly before Christmas of 2021, Nike announced a new brand had joined its roster of subsidiaries, following in the footsteps of Converse and Jordan. The awkward thing was, the company's logo looked suspiciously similar to Nike's own — a cyberpunk swoosh forking left to right. "We started with Nike models before we did our own," says Benoit Pagotto, a former luxury strategist and e-sports merchandiser who co-founded RTFKT in January 2020. "Modding them, remixing them in 3D. We did a logo that is this futuristic swoosh, and now we're the fourth brand of Nike. So that's pretty crazy."
RTFKT describes itself as a creator-led organization — a community of collectors, investors, artists, gamers, and fans — but Pagotto, along with co-founders Chris Le and Steven Vasilev (aka Zaptio), are the helmsmen steering the ship. Now that ship is scaling exponentially, with the world's most successful sports brand providing the fuel. "It sounds like a joke, but the very first deck we did in 2019 said 'making Nike a roadmap of 2025 in 2020,'" Pagotto remembers. "That was the idea. It's why we're so successful — because we love what we do, and we're focused on bringing the future."
But what does that future look like? It's digital ownership and online ecosystems the likes of which are hard to comprehend at present — because right now they barely exist. It's 3D software, blockchains, AR, VR, and gaming-inspired fashion, wrapped up in the loyalty-building drop model pioneered by their forerunners in streetwear. It's the crossover between sneakers and gaming made possible by NFTs: unique tokens that can be attached to artworks, subscriptions, tickets, and likely a hundred new things before this issue goes to print.
At present the RTFKT community lives on Twitter, and in its 157,000-member Discord server, which hosts channels dedicated to drops, digital art tutorials, crypto gossip, memes, and exercise. Their ranks have expanded after a series of high-profile (and high-grossing) collaborations. Their CloneX avatars in collaboration with Japanese pop icon Takashi Murakami have earned more than $500 million in secondary trades, while their sneaker collab with blockchain-native artist FEWOCiOUS pulled in $3.1 million within five minutes of release.
Next time you find an army of lavishly bedecked, anime-inspired avatars peering at you and worry that you don't know what you're looking at — don't worry, RTFKT will explain. Speaking to the founders brings with it a rush of energy, optimism, and the expertise to create not only a new type of brand, but to imagine the new spaces where that brand will exist. "We actually forbid the word 'consumer.' And sometimes we need to tell Nike, 'No, no, we don't use that word,'" says Pagotto. "Because when you understand that it's just people consuming what you decide to sell them, and not active collectors, artists, and co-creators, you completely kill the way you think of your brand."
Shortly before their first IRL event with New York City's Gagosian gallery, Highsnobiety spoke to RTFKT in their natural habitat — online, or more specifically, in Paris (Benoit), Utah (Chris), and Miami (Zaptio) — for an in-depth tutorial in brand-building for the crypto age.
PHILIP MAUGHAN: What was your ambition when you launched RTFKT?
BENOIT PAGOTTO: The goal of RTFKT was to create the first native brand bonding crypto and gaming culture, and to redefine what you think of a brand, a product, a community — everything.
And how has that goal shifted since?
PAGOTTO: Now we are with Nike, we have two missions. We want to make Nike learn from us and understand that it's a different game. At the same time, we want to create ecosystems that inspire other people to use the tools we're creating to build their own brand — supported by us.
What did each of you bring to the table?
PAGOTTO: Well, we have 15 years of geek culture between us. I used to play Magic cards. Chris played Pokémon. Z, Yu-Gi-Oh! My favorite game was Diablo, Chris' was Counter-Strike, Z's was RuneScape.
ZAPTIO: We come from different cultures, but all deeply involved in gaming, fashion, and streetwear. There's been an evolution of what the new-gen culturally aware person is. Previously everything was related to music culture, and then sports, but the new era is gamers.
PAGOTTO: I'm probably one of the only people in the world who worked in both luxury and gaming. Chris was in VFX, making movies and music videos for rappers, while Z was making businesses. First he was growing Instagram pages, monetizing and selling them, then he did streetwear and tech startups — so he understands that new type of social currency very well. But as Z said, the most popular stuff isn't sportspeople anymore. Especially for Gen Z, it's the gamers — co-players and streamers. Even a meme is way more famous than a celebrity, right? That's the culture we're in. We'd rather sign a meme than the biggest pop star in the world.
So how did you meet?
PAGOTTO: We met because I was at Fnatic, the biggest e-sports team in Europe, which had a very successful Counter-Strike team. I did the merch, but I was tired of selling physical shit because my audience was playing games every day — buying skins. I found Chris to do a Counter-Strike skin, and then he started to apply some of his Counter-Strike skins on sneakers. We made a very famous post on Fnatic where we took a YEEZY 700 that we turned with the Fortnite Raven skin. It was the most engaged post ever. So then we thought, "Okay, we need to make that shoe."
I went looking for the best guy to make shoes and I found Z, because around that time he did a Gucci Thanos Avenger gauntlet on Instagram. He was dressing up and doing crazy content while running a very successful sneaker customization company. So we did the sneakers for my League of Legends team that went to the World Cup of League of Legends in 2018. Z's been doing crypto since he was 12 years old, and we just thought we were at a stage of our career where we'd done quite a lot and felt we were the perfect three brains to make this brand of the future and out-innovate everyone. That was the goal since day one.
What did you do first?
ZAPTIO: We ran RTFKT as an Instagram account to start off with. Chris would create crazy CGI videos displaying some of the ideas and concepts, and they gained a bunch of traction online. We quit what we were doing at the time and joined forces and fused.
CHRIS LE: It was a match made in heaven with the founders, but also with the idea of really merging sneakers and gaming culture together. Because when you think about it, one of the most popular things to collect in the physical space is sneakers. And the most popular thing to collect in the digital space is skins. It just made sense.
ZAPTIO: And the technology of NFTs and crypto in general was able to produce a way more frictionless experience. A lot of sneaker culture is resellers buying, holding, and flipping physical items. But a lot of people just collect for the sake of collecting or reselling, and it's able to be done in a way smoother way.
PAGOTTO: If we think of something and we think it's great and want to mint it and release it, we can do that in three days. Whereas a traditional brand is working on a 12 to 18 to 24-month timeline. You can stay very connected to the culture that we follow every day. Once we have an idea, or if we see something bubbling in the community, if we want to act on it and release it, we can.
How did you select the name?
PAGOTTO: In gaming vocabulary, artifacts are these magic objects which can be futuristic or ancient. It's something you want to collect. You want the best one. So we thought the name was perfect. Just like we came up with the name "forging" when we have this transition from digital to physical world. Because in games you go see the blacksmith, and you forge a weapon to be better or to have a new weapon.
Where is your community and how do they interact with one another?
ZAPTIO: Our community's spread everywhere. We don't have a specific group or niche, in terms of a demographic. They live mainly on Twitter and Discord, where we engage with them and create challenges like our Nike monolith quest [a series of online puzzles that slowly transform RTFKT's first collectible under the Nike banner].
PAGOTTO: We try to understand their profile, their skills, what role they play in the community. But the normal demographic stuff you do in a brand, we don't do it.
ZAPTIO: We're trying to identify all the different core groups of the community, from the creators to the artists to the collectors, and trying to support and empower them to be able to achieve and live in this new world that we're building together. We go through all of our socials and check everything that they say. Right now, you can identify people by which clones they use and what their role in the community is. So, for example, someone has a clone and they're like, "Okay, I'm making RTFKT podcasts." Then we support and empower them to turn ideas to reality.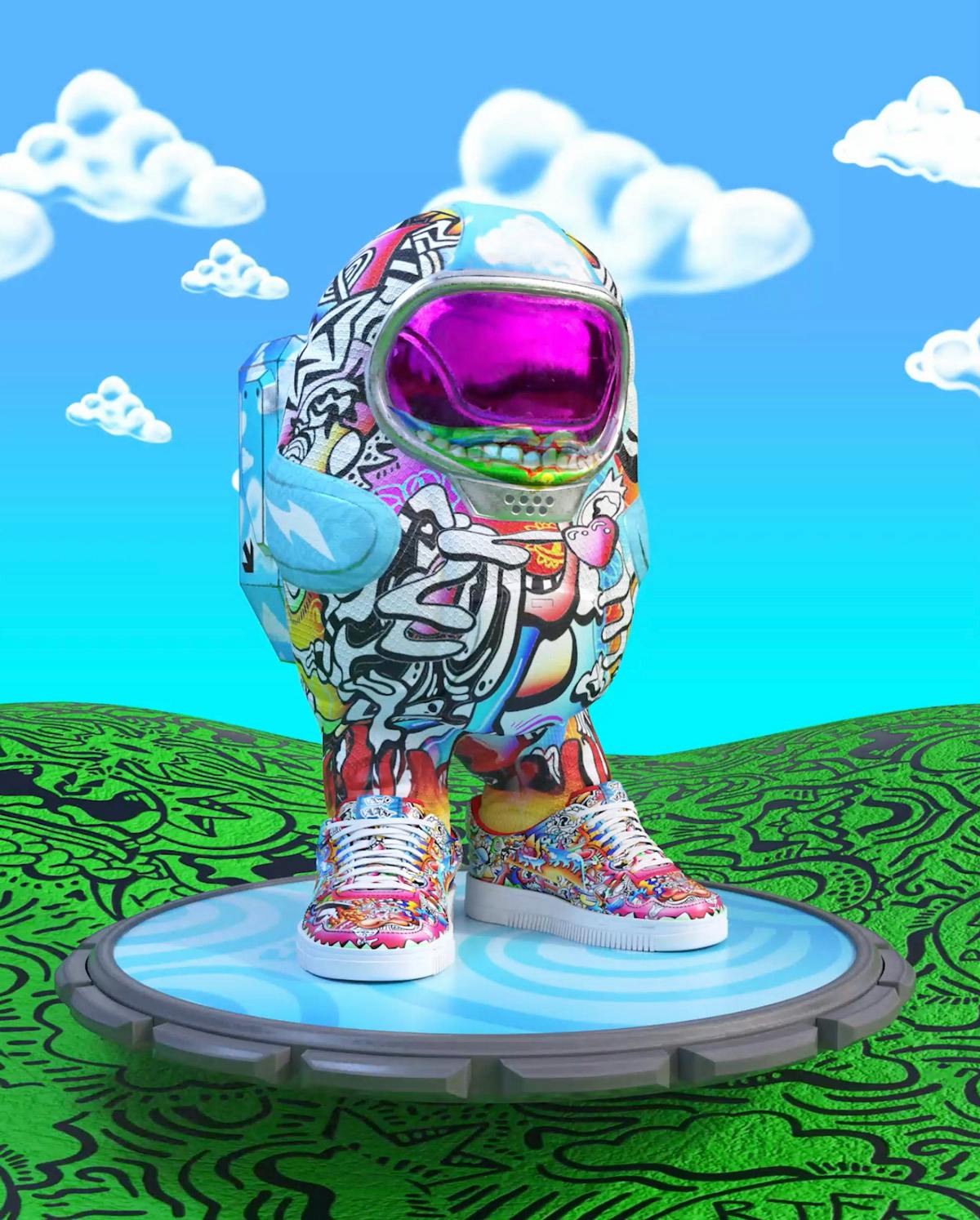 How do your collaborations come about?
PAGOTTO: We only work with people whose work we love. If one founder doesn't like it, we don't do it.
ZAPTIO: Jeff Staple sent us a message after our FEWOCiOUS drop saying, "I don't understand what you guys are doing — but I know the future." A similar thing happened with Murakami. We reached out to him and got on the phone. He had limited knowledge on the NFT space, and he had a tough time during Covid. Together we pitched him our project CloneX. We were planning to do 20,000 unique anime-inspired avatars, and we were like, who's the best person to bring onto an anime project? It's definitely Murakami.
LE: FEWOCiOUS is the key comparison with these other artists. With Jeff and Takashi, we had to teach them the aesthetics of RTFKT and NFTs. Because if you look at NFT art, it's totally different to what the old art and luxury fashion world is used to. It depends on the artist, obviously, but a lot of it is more poppy. But FEWO started in the NFT world. There wasn't a learning curve, and we were able to do a lot of stuff really, really fast.
ZAPTIO: We also like to involve the community and upcoming artists. So, for example, we did a project called the Space Drip, where we took 18 emerging artists who designed a sneaker on our base model that we released. And then even on CloneX, which was our biggest project to date, we pulled in a whole roster of game artists that Chris brought in, and artists from the RTFKT community to design certain traits.
LE: I used to be a creative in the music industry where they just give a flat rate, you do the art, and move on. I realized that a bunch of artists were going through the same thing. Freelancers go work at a studio and it sucks the life out of them. But with the invention of the NFTs, there are all these artists who now own revenue share in projects. Every artist we brought on, we changed every one of their lives.
ZAPTIO: Even our collectors. We've done over $500 million in secondary trades on our CloneX. So the amount of value we brought to the community from people buying a $1 Jeff Staple pigeon that gave them access to all of these future drops — that amounts to a lot of money.
PAGOTTO: That goes again to the non-consumer, right? Some of our collectors have made way more money than they would ever have made in their lives. And more money than us, because we might sell them something for $1 that resells for up to $100,000. And yes we get our little revenue share from the contract, but the collectors are actually making money. And then the good thing is once they have that money, they might invest in our projects, but other projects, too. They feed the overall ecosystem. It's not a one-way relationship like with a traditional brand, where you sell something and you look cool. Here you can actually generate wealth and use that wealth to maybe climb the status ladder and become a bigger collector, create a collector circle, hire your own artists to make projects.
LE: It's like the Renaissance again, right?
PAGOTTO: What we're living through right now is stuff that happens every century. It's the combination of culture and technology that hasn't really happened since the early Internet days.
In terms of creators, how do you find people?
PAGOTTO: It's all happening in DMs. We see great stuff every day, and thanks to DMs, you can just reach out to someone. And now we're so big that everyone follows us now anyway.
ZAPTIO: Each founder has their own interest and we follow artists that we like on Twitter and then we can reach out. We do creative challenges every couple of months in our Discord, and the winners of these challenges either get the opportunity to collaborate with us, or to co-drop something with the brand.
Did you encounter a lot of new friction when you started forging physical items?
ZAPTIO: Producing any physical products takes a lot of time, but we always find a solution. The way we treat physical products is exactly like when you buy a game and the collector's edition comes with a crazy statue or night vision goggles. The physical item acts like a collectible bridge into the digital world we created. It's truly a historical Artefact.
PAGOTTO: The stuff we do is made to order. We don't have stock, because that's an old-fashioned thing to have. First, the collector demands a bespoke item. So they are used to waiting and they know the quality will be there. It's not about fast consumption and it's not about fast creation in the physical world, either — but we make these bridges, we educate our audience, and they understand that it's something special. It's not just like another sneaker you buy.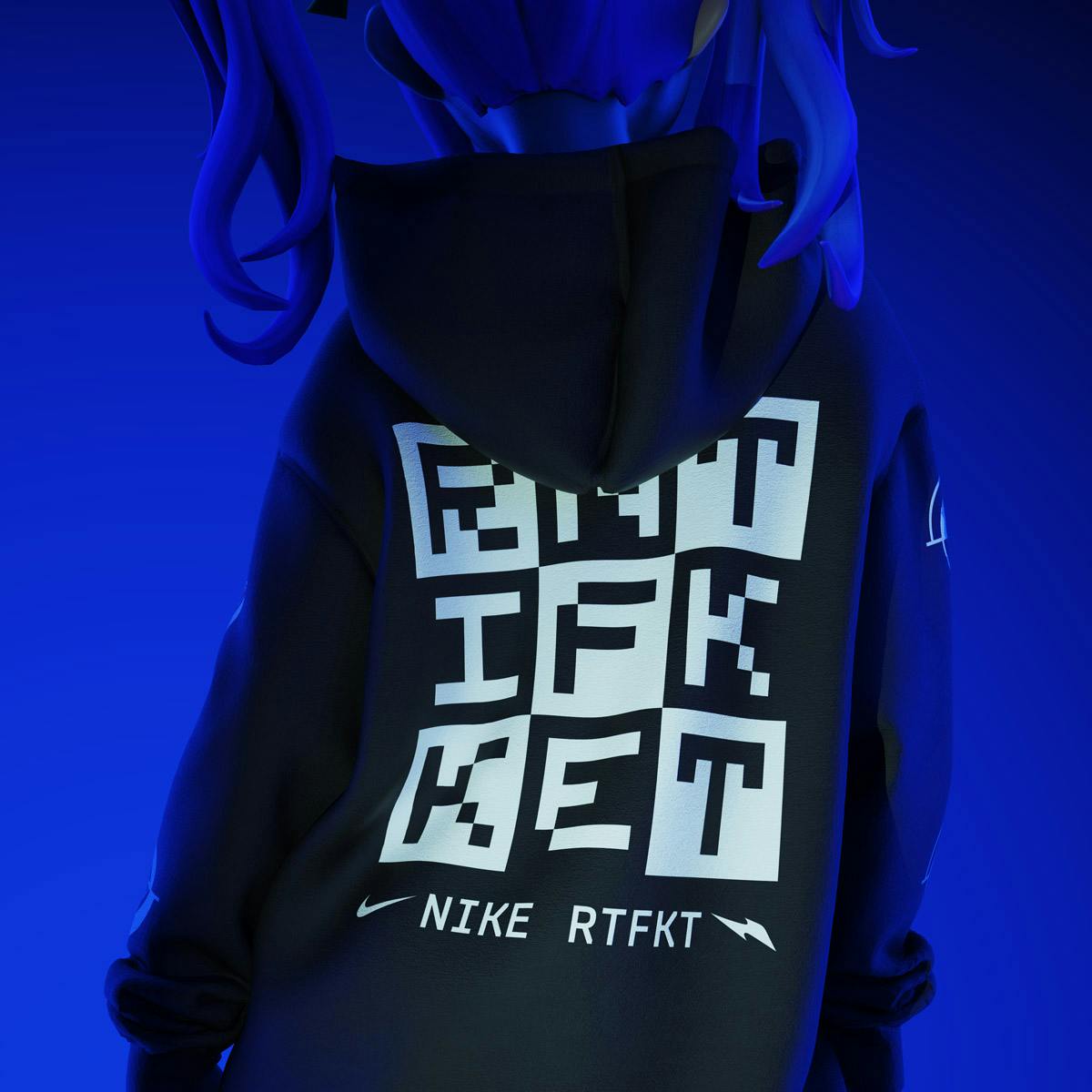 How do the influences run in the other direction? What is your interest in fashion?
PAGOTTO: Just quickly to say it, Nike was a big influence, and that's why it's crazy what happened. We tried to replicate all the innovation they did, but in the digital world. And just like their brand image was the athletes and sports, for us it's creation and creators.
ZAPTIO: We do follow fashion, and all the greats that have come before us, but a lot of fashion houses reached out to us and they're completely lost about how to enter this space. All of them want to enter just for the monetary perspective. But it's hard to enter if you are not native to the culture. Everything is transparent
PAGOTTO: And that's where it's bad. We said no to 99 percent, but what they want is not even the revenue, because if they wanted the revenue, they would understand that the real challenge for them is, "Will my business in 10 years from now be over 50 percent digital?" Because that's how big it's going to be.
ZAPTIO: And then the other part is creation. Big luxury fashion brands have one creative director who takes all the credit for the whole team's work, and with what we are building, we're encouraging co-collaboration between multiple people. And that's a big thing with our brand. We know we are going to be replaced by the kid who is 15 years old right now. And we're not opposed to that. We want to encourage the growth, and we just think the old world has a lot of room for improvement.
And what about the environmental damage? The artist Kyle McDonald estimates that the Ethereum network produces the CO2 equivalent of two to three coal power plants (and Bitcoin is roughly around twice that amount).
LE: We're really thinking for the digital future. Maybe eventually we won't have forging anymore because people won't care. We feel like digital identity and digital collectibles is going to take up the majority of people's thoughts and wallets. And this can help with the whole consumerism thing, too, because the problem with Earth right now, we're all consumers and we're used to buying things and overbuying things. There's no point in having three of the same Jordans on the back of your shelf.
PAGOTTO: Our vision is that in the future your digital goods will have more economic and emotional value to you than your physical ones. All the seven deadly sins, all the important steps in your life, are going to happen in the metaverse. Your real life is going to get more minimalistic. You'll have fewer, higher-quality things, and reconnect with nature. We need to change the way the world consumes. But if you shift all that to the digital side and stop over-consuming, over-traveling, over-shipping in the real world, then all the bullshit talk about crypto being bad for the environment — well, it's not as bad as the shop whose lights you left on 24/7 to look cool in Paris. It's not as bad as the planes you used to ship the goods that you then burn when you don't sell them.
So what do you expect your relationship with Nike to be?
LE: Even prior to the acquisition of RTFKT, Nike has been ahead of the game in terms of trying to adopt the gaming space. They came into Roblox. They had a presence in Fortnite with the Jordans and the whole Travis Scott concert with him wearing the Cactus Jack Jordan. That was awesome.
ZAPTIO: We are all huge Nike fans that have been living and breathing the culture. Joining forces together we hope to empower and supercharge our community. We have some wild projects in the works and we can't wait to bring them into the world.
PAGOTTO: We want to learn from them and also benefit from a lot of their physical innovation to bring in what we do physically. Because even though it's still just a small part of our business, it's a big brand builder that we love as well. And also for us, the challenge is, can we make Nike change by 10 percent? That's the big thing, because for us as entrepreneurs, as visionaries, if you manage to do that, it's huge.