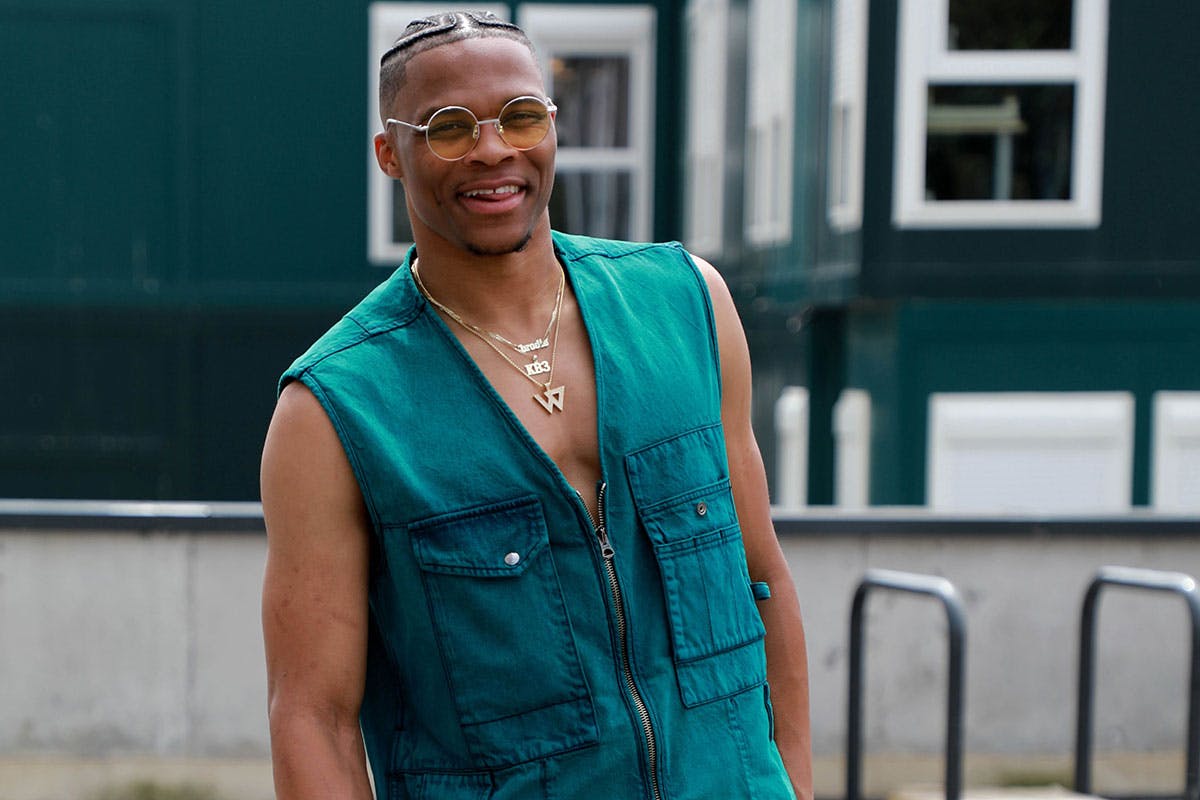 Whether it's his record-setting triple-doubles, signature charges to the rim, or extravagant pre-game looks, Russell Westbrook always brings his A-game. At this point, what he wears heading into the locker room is just as talked about as his outstanding achievements on the court. With accolades including the biggest shoe deal in Jordan Brand history and launching his own label, Honor the Gift, Westbrook has quickly become one of the sport's most valuable players in fashion. Now the NBA superstar is taking his love for fashion one step further with a new collaborative collection with Acne Studios, available here at our Highsnobiety shop.
The brand first tapped Westbrook for the Juergen Teller-shot SS19 campaign. Now the pair presents a capsule collection which combines Westbrook's effortless style with Acne Studio's architectural aesthetic, creating one-of-a-kind denim garments. It's a pairing that makes total sense. On the occasion of the capsule collection, Highsnobiety Editor-in-Chief Thom Bettridge spoke to Westbrook on how he went from shooting a campaign in Oklahoma to designing for Acne Studios.
Hey, Russell. Big fan.
Thank you. 
Tell me about how this conversation with Acne started. 
It started off as more of a campaign. We did a shoot in Oklahoma with Juergen [Teller], and then from there we kind of went back to the table and decided to do a capsule collection, which was something I was super stoked and excited about. That's kind of how we got to this point right now.
What's it like being in Oklahoma with Juergen Teller? That's pretty deep into America for a German guy. 
With any of my shoots, anything I do, I always like to let people come to where I'm at and see the difference and see the culture. 
What was it like working with Jonny [Johansson, Acne founder] on the project? Did he have anything to tell you designer to designer?
He just wanted me to be creative and find ways to bring my own creativity to the table.
Do you have a favorite piece in the collection?
All of them.
Was it important for you to not make sports clothing with this project? Because when you're working with an athlete, I'm sure that subject comes up.
But how many athletes are designers? It's not a thing. There may be some people that want to be, but they're actually not. I've been in the space and I've created these relationships with different people, editors and different designers. So I'm not looked at as just an athlete. 
So I wanted to learn more about your discovery of fashion. How did you first get into clothes?
I've been into fashion a long time, since I was in middle school. Obviously, being in the NBA and using that platform, I've been able to open myself up to a lot more resources and people, but I've always been into fashion. And I just kind of wore what I wanted — no particular brand or label.
How did your label Honor the Gift start? Was there an a-ha moment?
I always wanted to have my own brand. I wanted to have something that's affordable but also cool. I spend a lot of money on my materials, because I want to make clothes affordable for the culture, for the inner city, for the people, so they can get it and have access to it. I think the overall message of my brand is that God has given everybody a gift. I believe that you should honor whatever gift that you have, be blessed and thankful for that, and that's something that I stand by. 
Do you mostly work on it during the off-season, or is this a year-round thing?
All year round. Because there's different collections and different collaborations that come up that need to be done. And it's something I love to do. Coming up with ideas, coming up with different concepts. It's something I can see come to life. 
Since you're so immersed in design, does that carry over to conversations with Jordan and stuff? Are you involved in that process as well?
Everything that I do that comes out with my name, I'm definitely involved, every aspect.
I feel like across the league, people have really stepped up in terms of not just wearing clothes, but being really knowledgeable about fashion. Where do you think all that inspiration comes from? 
Some people do it for different reasons. So, I can't really say.
Do you guys talk to each other about clothes, or is it something that people just talk about on the internet?
I'm going to be honest, because I take it very seriously. I understand the materials. I understand the fit. I take time to do that. I don't have a stylist giving me clothes or telling me what to wear —telling me what's hot or what's not. That's just not organic for me. So I don't really have those conversations. 
You're like, "I'm doing calculus, and you're in kindergarten math."
You're just wearing a bunch of clothes. So I don't have those conversations. 
Acne Studios x Russell Westbrook is available now via our Highsnobiety Shop.