When you think of Marseille, chances are a boat-packed port, winding streets with bistros serving bouillabaisse spilling onto the sidewalk, or even its burgeoning rap scene come to mind. France's second city is quickly establishing itself as a cultural destination, but travel just a few kilometers south and you'll discover that it's also home to some of the country's most spectacular coastline. Les Calanques, a winding stretch of rocky coves that give way to turquoise blue ocean, is a not-so-well-kept secret beloved by hikers, cyclists, and canoeists. Earlier this week, however, the sun-soaked stretch drew in a less expected crowd. The occasion? Salomon's first OFFSITE experience.
Over the past five years, Salomon's Advanced footwear platform has set the precedent for fusing technical performance and style, with models like the XT-6 paving the now well-trodden way between the outdoor and fashion spheres. Still firmly a performance-focused brand, Salomon's reason for launching a style-focused arm was to reach an audience that its core performance line doesn't and introduce them to the world that the brand knows best – the outdoors. The OFFSITE program takes it one step further, extending this ambition beyond product into real-life experiences.
"We want people to enter into the world of Salomon through culturally driven moments that they might be more familiar with — be that music, fashion, art, design," says Alexander Van Oostrum, Salomon's global brand specialist. "The brand was born in the French Alps and we feel that this connection to athletic outdoors is something that should be accessible to communities looking to explore an emerging outdoor culture."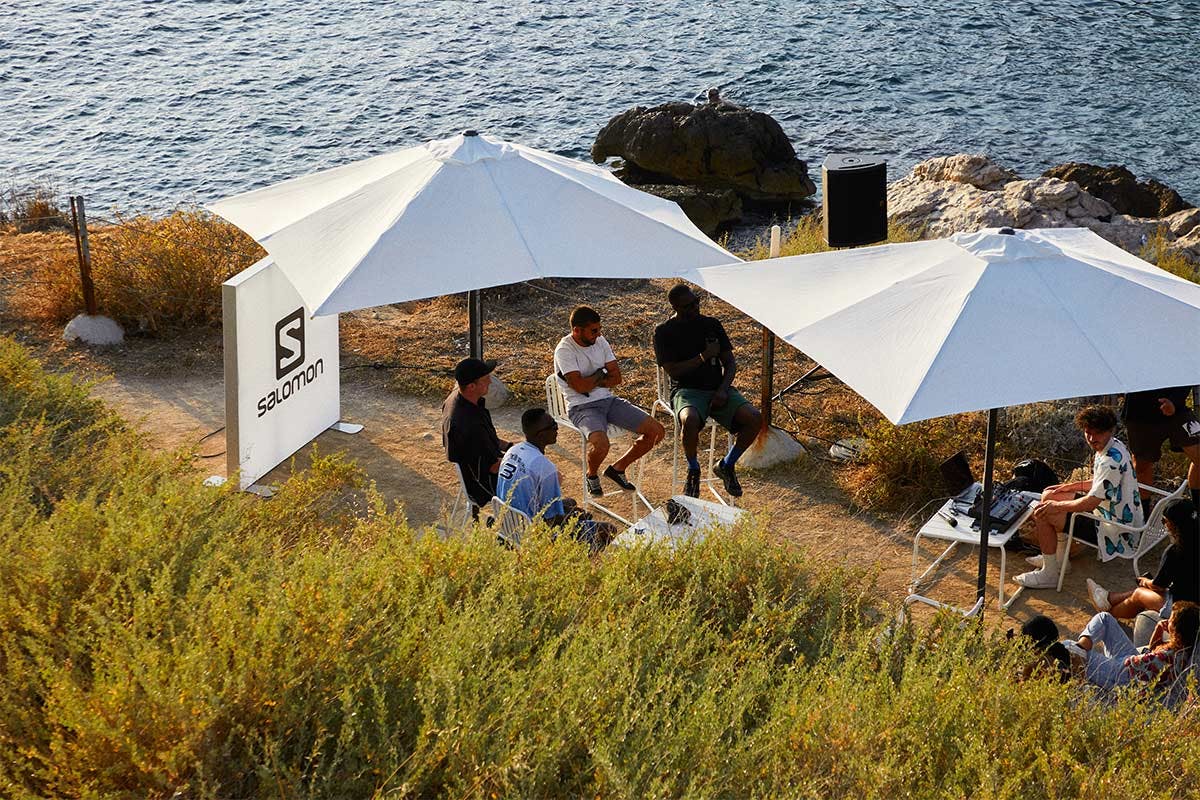 The first OFFSITE event did exactly that. The day kicked off with a beach clean-up hosted in partnership with the local organization Clean My Calanques, which organizes regular clean-ups in the area and gives workshops at local schools about environmental awareness. Its founder Eric Akopian started the initiative after he was angered by the amount of trash he saw discarded during his runs through Les Calanques. At first, it was just him and his friends but, by using mediums such as music, art, and even comedy, the word spread. In just four years, they've removed 32 tons of trash from the area and, during the OFFSITE alone, the 100 or so guests collected 350 kilograms of waste.
Between organizing the attendees and running around with sun cream for everyone, Akopian tells me about the initiative. "Our project is to talk to people who don't necessarily care much about ecology or about nature. For us, it's more important to work with someone who knows nothing than with someone who is already recycling." It's a labor of love that they run in their free time, with no funding nor support for the local government. "We love to do it because we love our city," he shares.
This sense of community and responsibility for your city is something that the event fosters — most of the attendees are from Marseille — as S.Téban, a fast-rising local rapper who performed at the end of the night, confirmed. "Les Calanques is our patrimony," he says. "We have to look after it."
Following the clean-up, those that took part were invited to an exceptionally beautiful seafront location nearby to listen to a talk between Akopian, S.Téban, artistic director Moriba Koné, and Salomon's fashion program manager Jean Philippe Lalonde about techwear, fashion, and its relationship to the environment, which was succeeded by a performance by S.Téban and friends.
All in all, the day encapsulated what Salomon's "Sportstyle" arm stands for — serious outdoor stuff but made accessible through avenues that are more familiar to a non-outdoor audience. Van Oostrum explains: "We want to create unforgettable experiences that are rooted in Salomon principles — immersion in and exploration of the outdoors, protection of natural environments, enablement of more diverse and inclusive communities — and bring the energy of culture somewhere unexpected, somewhere more 'Salomon'."
Each OFFSITE experience will be unique and Salomon is yet to announce where and when the next one will take place. But, what you can be sure of is that wherever it is you'll want to be there. Considering places for this event were gone quicker than a Salomon collab, you'll need to sign up fast so make sure to stay tuned to @salomonsportstyle for updates.