The views and opinions expressed in this piece are those solely of the author, and do not necessarily reflect the position of Highsnobiety as a whole.
In a career that spans two decades and over forty appearances on film, Scarlett Johansson has taken on a huge range of characters, regularly changing her appearance to step into each role. By altering her hair, make-up, and fashion, Johansson has transformed herself into a new person on screen, time and time again. However, even the most forgiving audiences might have a hard time accepting the star in her latest role as a large trans man from the '70s — and not just because they look nothing alike either.
When it was first announced that Johansson would play the lead in Rub & Tug, a crime biopic based on the real life story of Dante "Tex" Gill, the news sparked outrage from people who felt that a trans actor should have been considered for the part instead. Rather than directly address these concerns or even remain silent on the matter, Johansson spoke to Bustle via a representative who conveyed the following statement: "Tell them that they can be directed to Jeffrey Tambor, Jared Leto, and Felicity Huffman's reps for comment."
Although it's somewhat absurd to even imagine someone like Johansson playing a gruff trans man pushing 250 pounds, that's not even the most controversial aspect of this project. By rather bluntly citing examples of other cis actors who have taken on trans roles in the past, Johansson makes it clear that she's aware of what the controversy entails, but still feels like she's been targeted unfairly compared to others who have followed a similar path.
The problem with that defense mechanism is that all three aforementioned performances mentioned were also criticized by the trans community, but these complaints mostly fell on deaf ears within Hollywood. Even more alarming is the fact that Johansson directly compares her experience to that of Jeffrey Tambor, defending her right to play a transgender person by citing an actor who's actually been accused of assaulting two transgender women.
However, even if Tambor hadn't been mentioned in Johansson's statement, her defense still relies entirely on justifying questionable actions by comparing them to previous Hollywood grievances. Pointing out exploitative casting in the past hardly validates what's going on in the present, but this isn't the first time that the star has drawn controversy. Johansson also came under fire last year for playing a canonically Japanese character in the the Hollywood remake of Ghost In The Shell, which just so happened to be directed by Rupert Sanders, who's also helming Rub & Tug.
But isn't that the whole point of acting in the first place? To put yourselves in the shoes of someone else? People who defend Johansson's choice to play a transgender person on screen are quick to fall back on this argument, claiming that it doesn't matter who someone plays, as long as they're believable in the role. While this is perhaps true in some cases, we wouldn't defend a white actor for tackling a part based on a real life black person, so why would people defend a cis star for playing a real trans man like Gill?
Transgender actors are already at a disadvantage from the outset, competing against cisgender performers in an area of work defined by the expectations of cisgender people. So far, the only trans actors who have begun to make an impact on the industry are people like Laverne Cox (Orange is the New Black) and Jamie Clayton (Sense8) who became famous through playing trans roles. If Hollywood stars like Johansson and those who came before her continue to take the already limited number of trans parts out there, how will non-cisgender actors ever stand a chance of gaining equal footing?
Transparent star Trace Lysette was one of many to voice their outrage on Twitter, calling Johansson out directly: "Not only do you play us and steal our narrative and our opportunity but you pat yourselves on the back with trophies and accolades for mimicking what we have lived." Among the various death threats that Lysette's critique drew online, detractors also suggested that this line of thinking should prohibit trans actors from playing cisgender people too.
Aside from the fact that this entirely misses the point regarding the aforementioned workplace inequality, such reasoning also overlooks how the real person that Rub & Tug is based on was misgendered throughout his life and that this experience wasn't unique to him alone. By asking a cisgender star to play Gill, this just continues the painful marginalization that he no doubt experienced regularly while still alive.
Even people who concede that Johansson's portrayal of a trans man is problematic often backtrack by then arguing that this particular casting is purely a financial issue. Without a Hollywood star in the lead, films like Rub & Tug might not reach the audiences needed to make them a box office success. While it's true that films without famous actors rarely succeed outside of established franchises like Star Wars, this argument is still entirely circular in nature. Instead of hiring Johansson to play the lead, someone with her star power could have instead played a supporting role which could help secure funding while still casting an authentic trans actor in the lead. There's far more out there than you might think.
Just look at Pose on FX. Boasting the largest trans cast to ever appear on TV, Ryan Murphy's latest triumph attached big names like Evan Peters and James Van Der Beek in supporting roles while keeping the spotlight on the authentic trans performances that anchor the story. It wouldn't be too hard to cast Johansson in a similar kind of role for Rub & Tug, particularly as she's also a producer on the film.
This is arguably the most frustrating aspect of the entire situation and what many of Johansson's supporters fail to realize. Johansson's name was already attached to the project, regardless of who would end up playing Gill and so funding would have still been guaranteed, even if a trans actor had been cast instead.
There's a lot of fun to be had from the various memes that denounce Johansson's "quest" to seemingly take roles from every marginalized group, one by one, but the blame shouldn't be placed solely on the star either. Yes, Johansson was in a stronger position than most to turn down the role, given that she's an A-lister also working as a producer on the project. However, the problem also lies with various other people working on Rub & Tug too, including director Rupert Sanders who approved this choice and the casting director who didn't have to pick Johansson in the first place.
Fortunately, the fact that this outrage even exists on such a wide, public scale proves that some progress is being made. As Johansson herself points out, stars like Jared Leto and Felicity Huffman faced less controversy when they forged a similar path just a few short years ago, but the fact that this is still happening proves we still have a long way to go.
Even Sebastián Lelio, the Chilean filmmaker who directed the transgender success story, A Fantastic Woman, told The Hollywood Reporter that he doesn't fully object to Johansson's casting. Here, he argued that restricting the freedom of artists to do as they please is a move that starts "to smell like fascism," even though he sympathizes with trans performers who are still shut out of the industry because of it. Lelio has a point, although it's hard to see how casting a petite star like Johansson in the role of Tex is even effective from an artistic point of view either.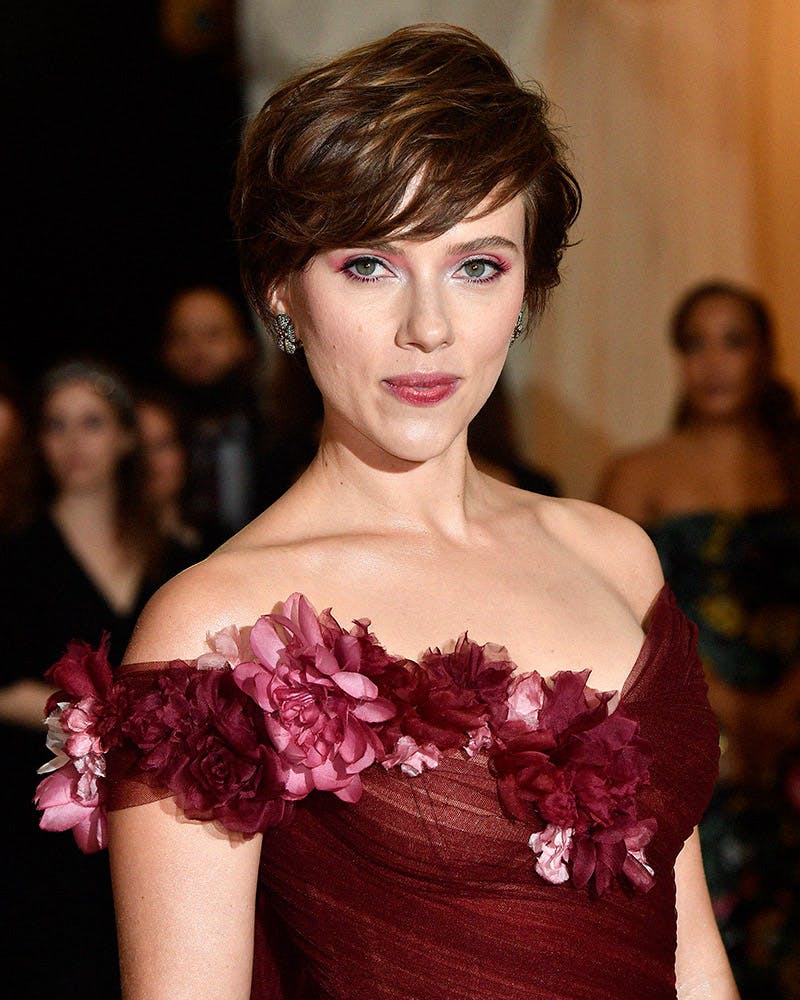 Sure, creative freedom should be preserved at all costs, but being a true ally also means stepping aside occasionally to let marginalized people take their turn in the spotlight. English actor, Ed Skrein, did exactly this last year when he gave up a role in the Hellboy reboot that was canonically portrayed as Japanese-American in the comics. Given Johansson's role as a representative for the Time's Up movement, it's surprising that she won't step up for people outside of her immediate experience and upbringing too.
Until society is at a point where marginalization is no longer an issue, trans representation continues to matter, particularly in cases where the story being told is based on a real person. Gill spent his whole life growing into the man he always felt that he was inside, so the idea that a woman will tell his story on the big screen is abhorrent to say the least, particularly as she bears no physical resemblance to him whatsoever. Once Scarlett Johansson understands that, then perhaps she'll decide to follow in Skrein's footsteps instead of stepping into Gill's and consider recasting the role with someone that the deceased may actually approve of.
For more on the controversy, here's how Twitter has responded.