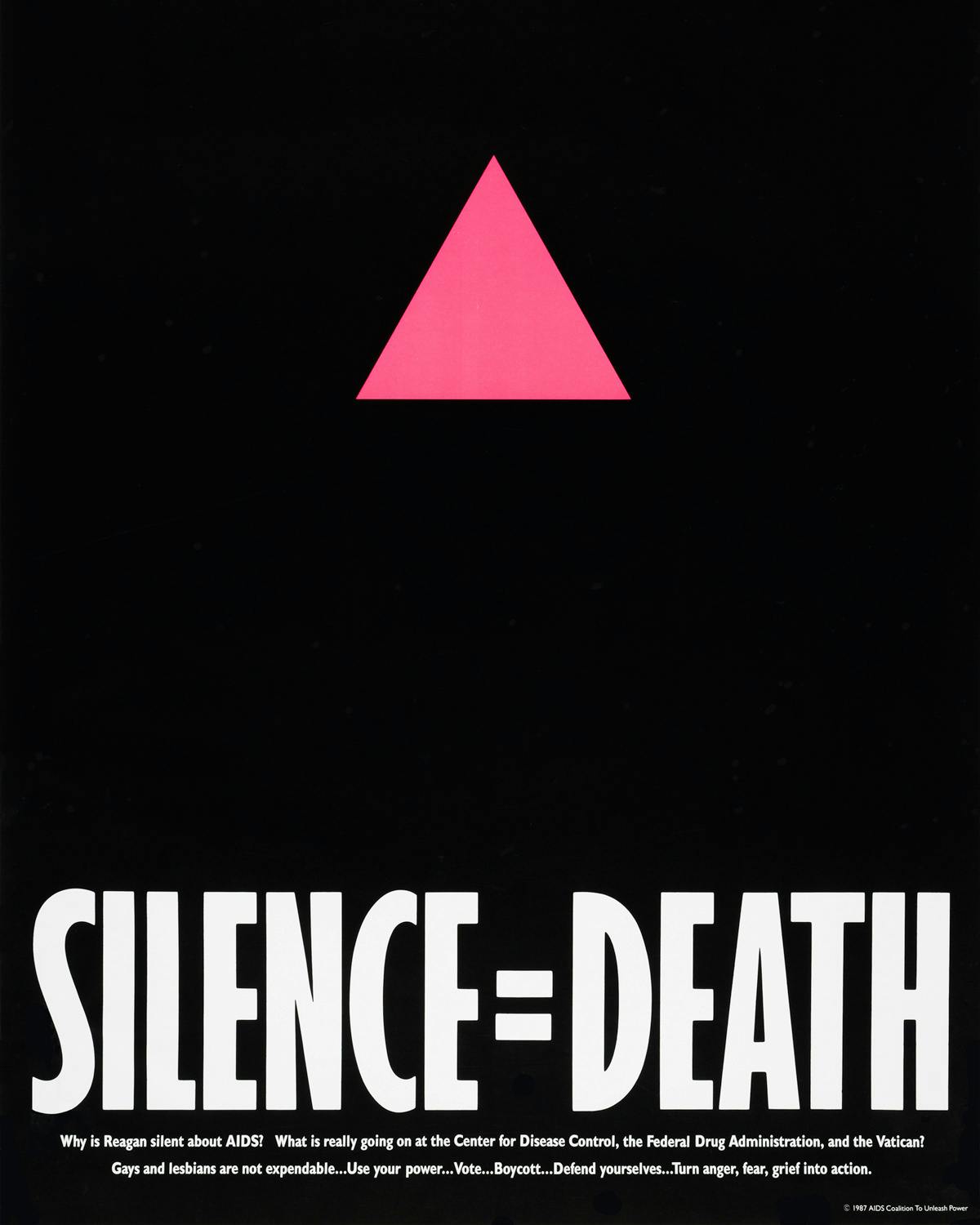 The terrifying legacy of the 1980s/1990sAIDS epidemic has ramifications in the LGBTQ world that are still profoundly felt. For this week's FRONTPAGE, we examine the history of the landmark Silence = Death collective, a group who helped radicalize efforts to combat lethal apathy, and who are being featured in a new exhibition as part of the program "More Life" at New York's David Zwirner Gallery.
Mainstream histories of the AIDS crisis generally choose one of two starting points. The first was a report by the US Centers for Disease Control, published on June 5, 1981, which detailed that five young, previously healthy gay men had been afflicted by unusually sudden, aggressive cases of pneumonia, two of which proved lethal. Less than a month later, the New York Times reported a "rare cancer in 41 homosexuals." Although this cancer — Kaposi's Sarcoma — was said to "account for up to 9 percent of all cancers in a belt across equatorial Africa," the new cases, concentrated largely in New York and California, were unusual in their appearance amongst young, otherwise healthy gay men. A doctor interviewed for the Times report clarified that "there was no apparent danger to non-homosexuals from contagion."
Four decades later, we understand that these mysterious illnesses were caused by AIDS, previously known as GRID, an acronym for "Gay-Related Immune Deficiency." (In a 2014 interview with The Atlantic, the aforementioned Times reporter clarified that the term was "insulting to gay men.") Due to extensively-reported queer histories, we also know that lesbian and gay communities were aware of the disease years before it was covered by mainstream media.
As the early 1980s rolled by, coverage went from covertly homophobic to blatantly discriminatory. There were two categories of this rhetoric at play: the first was erasure, played out in health campaigns that refused to even acknowledge queer people; the second was a language of brutal, war-like metaphors and fear-mongering, which insinuated AIDS was a righteous cure for the moral scourge of anal sex. President Reagan refused to even acknowledge the disease by name until a 1985 press conference, and throughout his years of silence, the US body count continued to rise rapidly, with queer communities accounting for a huge majority of the numbers.
The foundations of AIDS activism were being laid quietly throughout the 1980s, but a landmark moment came when the six-person Silence = Death collective was founded in 1986. New York's David Zwirner Gallery will honor the importance of the group's art this summer in a "Silence = Death" exhibition, part of a wider program, "More Life" which commemorates the 40th anniversary of the CDC report. Alongside the collective's iconic, incendiary protest posters, rarely-seen photographs by artists Lola Flash, T.L. Litt, and Donna Binder will also be on display, and a limited-edition art print will be sold on Platform, with all proceeds benefiting arts organization Visual AIDS.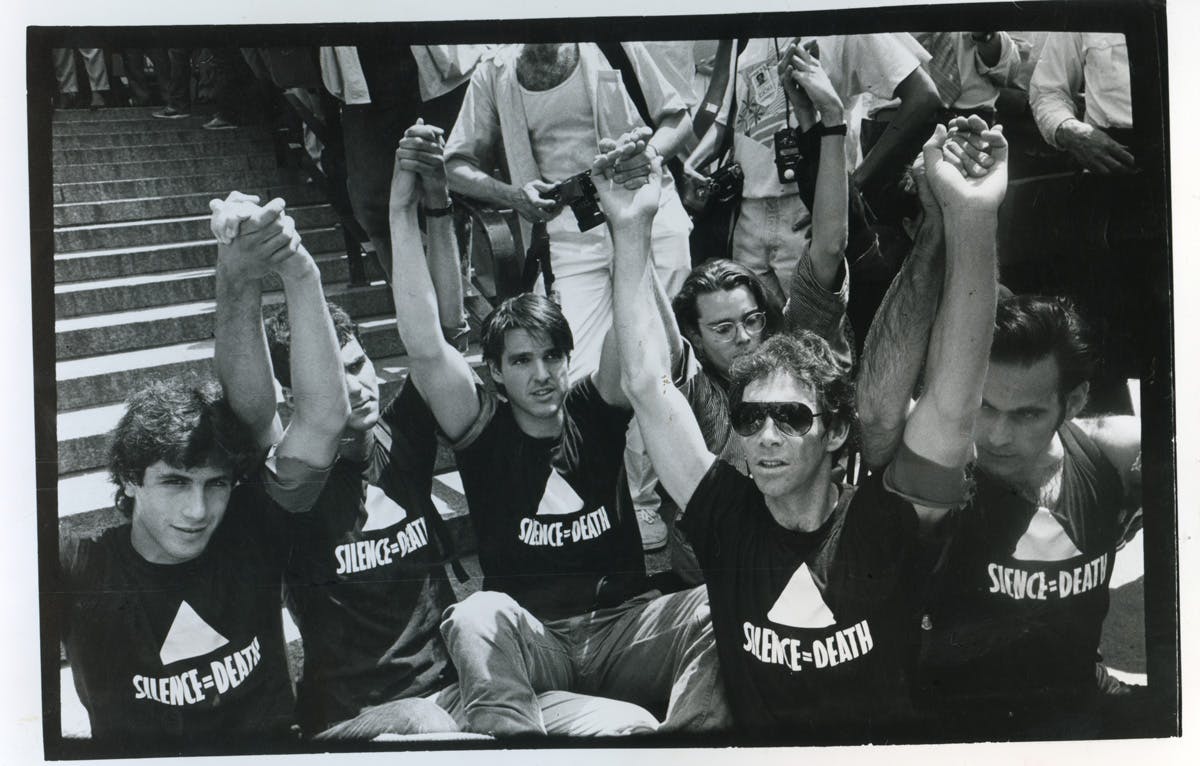 When approached about the exhibition in February, Avram Finkelstein — a founding member of the collective and author of After Silence: A History of AIDS Through Its Images — began digging through his archive, specifically seeking out "material that either hadn't been seen before, or that represented counter-narratives or new ways of thinking" about the existing art.
Throughout our Zoom interview, Finkelstein sits in front of a jam-packed bookshelf and speaks at a methodical pace, his words carefully-chosen and laced with wit. The charismatic artist, activist, and writer has spent decades busting myths, countering tropes and filling vital historical gaps; he even offers up the little-known fact that medical writer Lawrence D. Mass actually published the first article on AIDS in May 1981 for biweekly gay newspaper The New York Native.
This crucial, frequently-erased article is proof that queer communities knew something was seriously wrong years before news of the crisis broke, with rumors spreading like wildfire through big cities. "Within circles of friends, people were getting sick and dying way before the government acknowledged it," Finkelstein recalls. "It was a weird, horrible time in New York, this quiet suffering. In hindsight, it appears that AIDS activism started in 1987 with this big splash, but it was a slow-motion train-wreck, which took six years of silent suffering before a political response was mounted."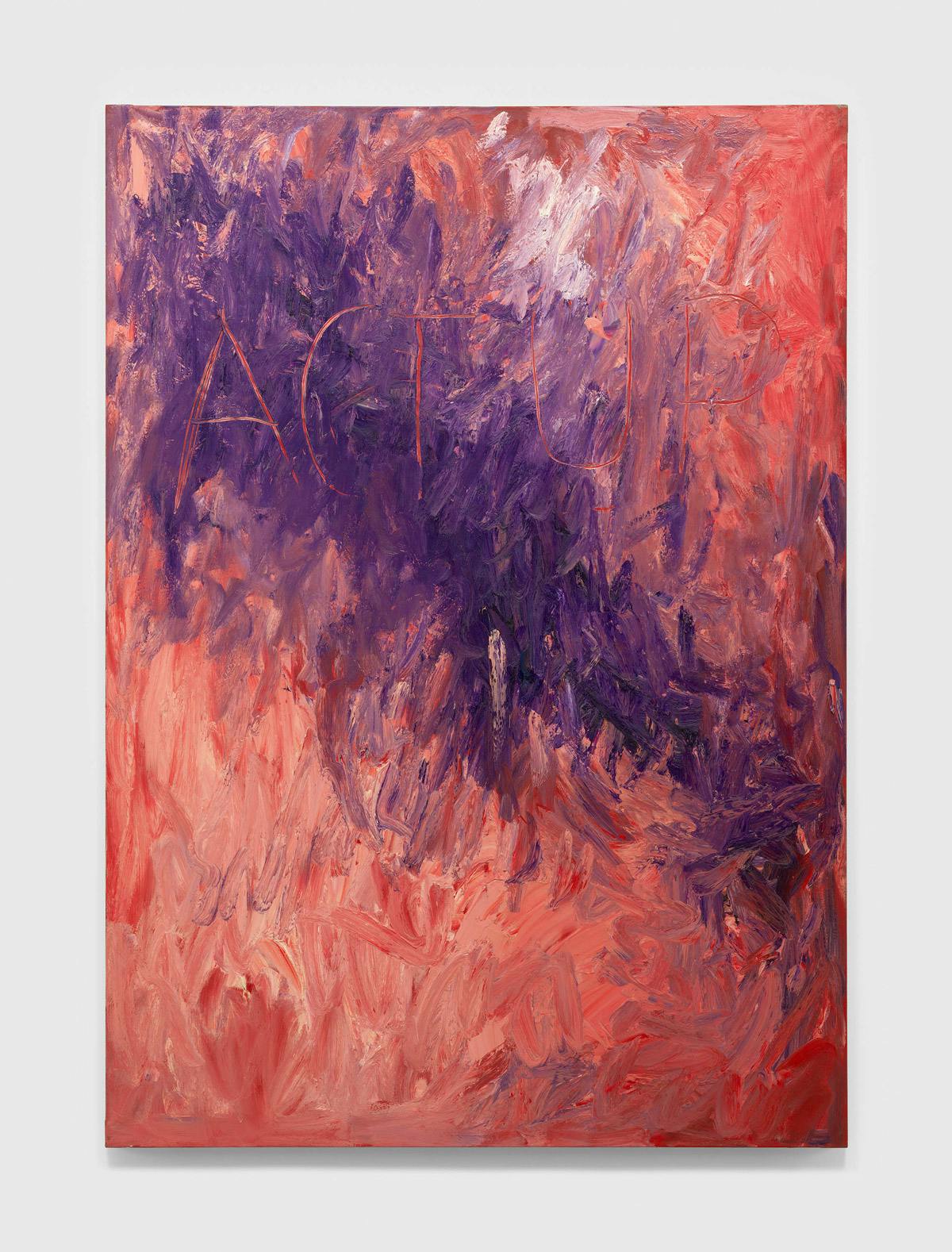 It's a cruel fact that marginalized communities are too often forced to simultaneously navigate disproportionate trauma and become their own biggest advocates. Finkelstein's partner began "showing signs of immunosuppression in late 1979-1980," his loose understanding of this fact aided by his mother's background in cancer research. He passed away in 1984. In early 1985, Avram scheduled a dinner with close friend Jorge Socarrás, which quickly formed the roots of a wider support network. "It became obvious to us that we needed to have a gay place to discuss the questions that everyone was going through quietly in isolation."
Dinners became regular events, and these circles of communal grief snowballed into round-tables of shared knowledge, trauma, and rage. Despair blossomed into fury, and then a joint pledge to take action. Before long, the Silence = Death collective was fully-formed, made up of Finkelstein and Socarrás, as well as fellow founding members Brian Howard, Oliver Johnston, Chris Lione, and Charles Kreloff.
In 1986, they decided to pool their shared artistic talents and create a powerful, visual mission statement. It was a period marked by chaos, as well as a handful of new infection victims across their extended network, but together they spawned a stark, arresting black poster, which remains one of art history's most influential. The deliberately abrasive slogan "SILENCE = DEATH" was stamped across the center of the poster, accompanied by a punchy, fuchsia triangle — a modified version of the upside-down triangle printed on the uniforms of gay concentration camp prisoners in Nazi Germany.
Throughout the 1970s and early 1980s, the triangle had become a divisive symbol within queer communities. "We rejected the symbol at first because of its intonations of victimhood, and because the association with the camps didn't feel like it would be motivating," Finkelstein reasons. In fact, the Pride Flag was born of politician and gay rights-activist Harvey Milk's desire to shy away from the brutal past of the triangle, whose barbaric histories had been fleshed out in a series of Holocaust survivor memoirs. A handful of activists did use the triangle, but others steered clear. The collective's final consensus was that creating a new alternative would significantly slow them down, and body counts waited for no one.
In the final poster, the triangle faces upward. This design detail is often read as a subversion, but Finkelstein clarifies with a chuckle that "it was an accident!" The hurried process left little time for research, yet when the prints came back and they realized the mistake, they "decided that, actually, this is kind of perfect. We had already changed the color from pale pink to fuchsia to make it more MTV; we had made all of these conscious decisions to distance ourselves from the question of its use in the Holocaust."
In 1987, the artwork was wheat-pasted across city streets. The arresting "SILENCE = DEATH" slogan was further supplemented by small print at the bottom of the poster, which urged the public to "turn anger, fear, grief into action." The design was intended to be the first in a trilogy, with the final artwork calling for riots during the 1988 Presidential elections, "but then [activist group] ACT UP came along, so we worked in coalition." Within months, their art achieved what years of discussion hadn't: In 1987, the controversial "breakthrough drug" AZT was debuted, marking the first step on a long, exhausting journey towards the HIV healthcare of today. Now, anti-retroviral therapy makes it possible to effectively manage HIV and lower viral loads to the extent that it's impossible to transmit even through unprotected sex.
The artistic onslaught continued. There's an acid-green poster in the exhibition which features Reagan's face smeared with cyborg eyes, like a maniacal movie villain. Small-print lists statistics showing the disease was disproportionately killing people of color and young women. "What is Reagan's real policy on AIDS?" The collective asked. "Genocide of all Non-whites, Non-males and Non-Heterosexuals?" This strategy of coupling eye-catching slogans with smaller calls-to-action was inspired by collectives like the Guerrilla Girls, who took aim at institutional racism and misogyny with similarly playful tactics, and feminist consciousness-raising movements. "There would have been no ACT UP without the feminist health movement," says Finkelstein.
Incidentally, an anti-abortion group later co-opted the pink triangle for a poster that read, rather unimaginatively, "ABORTION = DEATH." "We were constantly faced with the question of 'do we correct this?'" He recalls. "As a collective, we thought, no — if you take a larger reading of it and think of the triangle as public and political, what this actually indicates is that, in the anti-abortion movement, you would have to learn about the AIDS activist movement to even know what that sticker meant, which is consciousness-raising." When it came to tackling an epidemic, all the co-optation did was amplify their reach and solidify their influence.
Now, activism operates differently. Arguably, the world of endless information and social media debates has actually diluted conversations, reducing community-wide social justice issues into mainstream fodder. "The complexity of identity is harder to communicate," Finkelstein muses, citing the endless "trans bathroom debate" as proof. "People within communities are aware of complexities, but people outside them are not, so you end up with a debate which isn't what the question of transphobia is about. It becomes a cultural representation of transphobia, but it doesn't speak to the larger questions." As a result, communities end up being asked to justify their "validity" as opposed to outlining the issues — barriers to healthcare, anti-trans legislation, disproportionate rates of hate crime and homicide — keeping them marginalized.
The direct, visual language of art still carries the potential to cut through this rhetoric. From Leigh Bowery's signature polka-dot paint (a reference to the purplish lesions formed by Kaposi's Sarcoma) to the photo of artist David Wojnarowicz wearing a denim jacket painted with the slogan "IF I DIE OF AIDS –– FORGET BURIAL –– JUST DUMP MY BODY ON THE STEPS OF THE F.D.A." the history of AIDS activism is hugely visual. This legacy lives on through organizations such as Visual AIDS and exhibitions like this summer's retrospectives. The work continues, as it should; no matter what anyone tells you, HIV is by no means a problem of the past.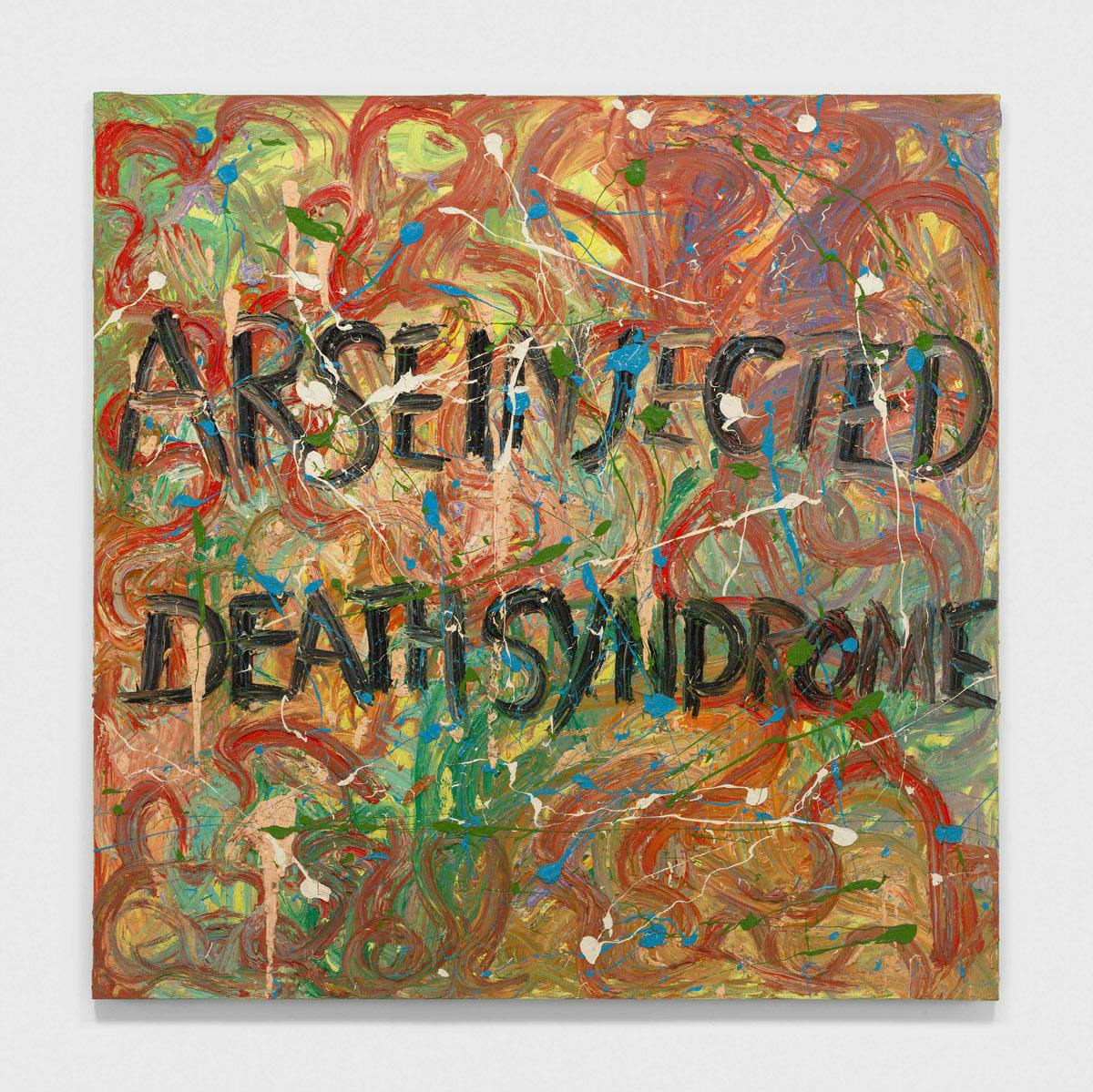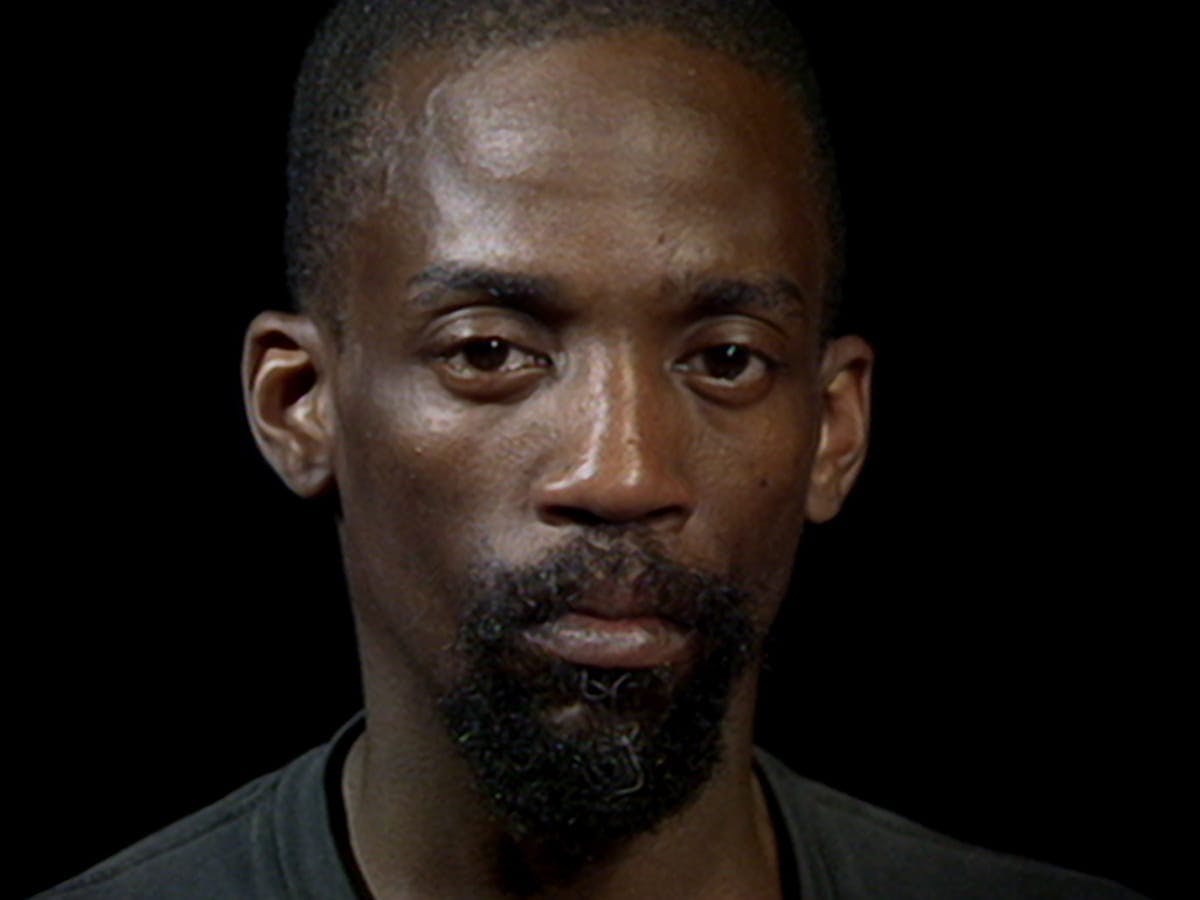 Treatment has improved exponentially, but politics and stigma still play a key role in governmental responses to the virus. "It's not impossible to think that there could be a cure to HIV," explains Finkelstein. "There isn't one yet, and I think it's important to think critically about the fact that drug companies make more money off you being on medication for your entire life than they do from you taking a cure. There's very little heart culturally, because people think AIDS is over. Tell that to the 36 million people still living with it, globally."
Activist histories like these aren't just archives of queer excellence, resilience, and creativity. They're reminders to not be pacified, and blueprints for community-building, consciousness-raising, and translating the "fuck you"-fury of oppression into tangible, political movements. Finkelstein's years of writing, curating, and historical analysis aren't just about giving credit where it's due; they're contributions to the kind of oral histories that are so vital to communities whose elders have been largely wiped out.
"None of the things I want to happen in the world are going to happen before I die," he says, in a moment of introspection. "That's why we're having this conversation — so that 15 years after I'm dead, someone might read this and come up with something even more startling than the Silence = Death poster." It's all about passing stories to new generations, who can look back at the real history of the AIDS crisis and feel galvanized all over again. "You're either active or passive," he concludes. "If you're passive, suffering continues. If you're active, then maybe something will change. We're all responsible for one another, so there really is no choice. Political agency is all there is."
See "More Life" in person at David Zwirner Gallery and get your own print to help benefit Visual Aids.