Imagine the whole world is watching you. You are competing on the biggest stage, and you have the opportunity to be the best and earn a medal for your country.
The Olympics is, to many athletes, the ultimate goal. This year, USA's Simone Biles has been the topic of discussion. Tokyo 2021 is where all sports get to shine, and where you will see the best athletes in the world taking on one another in front of thousands of cameras and eyes, ready to critique and comment on your every move. The gymnast, who has been praised in the media for her incomparable skill and has been crowned the G.O.A.T. in the sport, is ready to take the stage.
With a total of 30 Olympic and World Championship titles under her belt, the 24-year-old has dominated the sport over the past few years, landing flips no other gymnast has ever attempted, and even getting tricks named after her — a massive honor in gymnastics. After a stellar performance at the 2016 Olympic Games in Rio, Biles was favorited to win this year in Tokyo, too, and once again take the sport to new heights.
But yesterday, Biles made the decision to withdraw from the competition during the Olympic women's team finals after doing her first vault, where she lost herself in the air. "I have to focus on my mental health and not jeopardize my health and well-being," the gymnast explained, after having left the podium to get changed, returning in her warm-up gear. She stayed to cheer for her teammates, who ended up securing the silver medal for Team USA.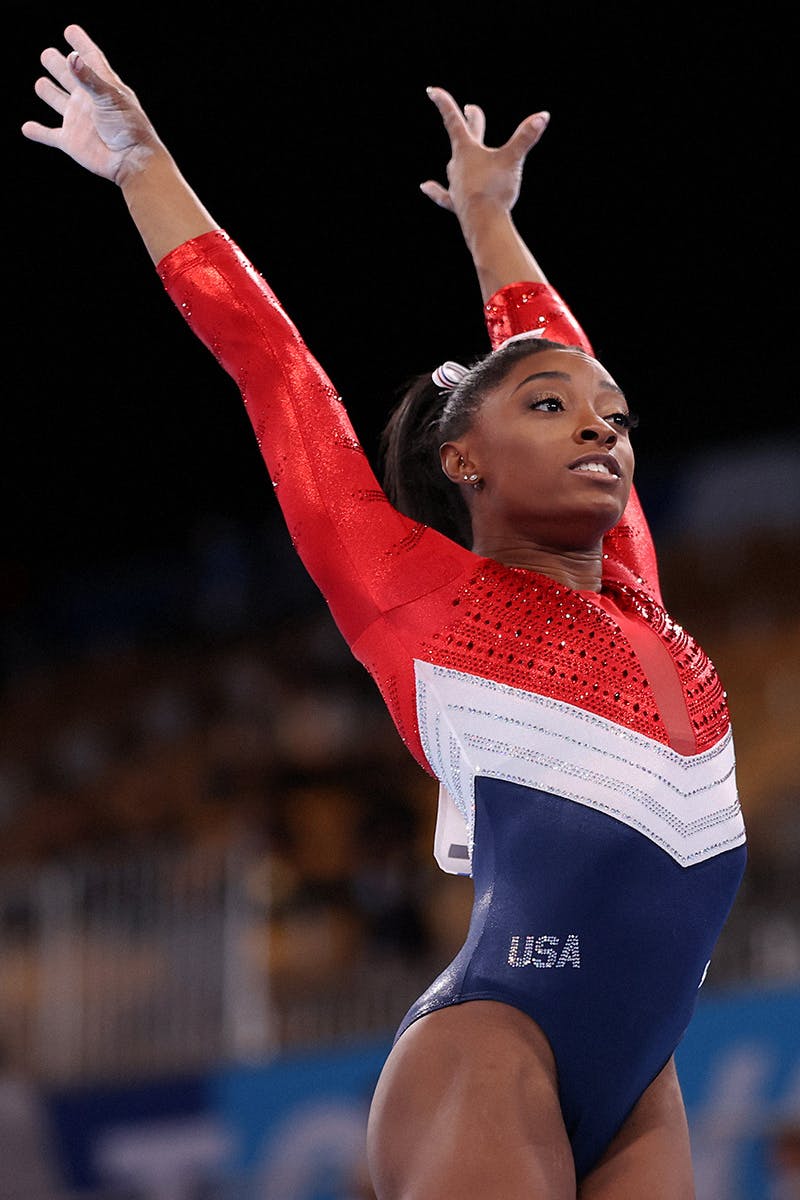 "We wholeheartedly support Simone's decision and applaud her bravery in prioritizing her well-being. Her courage shows, yet again, why she is a role model for so many," the team stated, and Biles also told ESPN that when competing, "you have to be there 100%."
The gymnast is the latest out of a handful of athletes to open up the conversation surrounding mental health. "This Olympic Games, I wanted it to be for myself. But I was still doing it for other people. It hurts my heart that doing what I love has been kind of taken away from me to please other people," she explained in an interview following the event, also adding that she's "fighting with her own head."
23-year-old tennis player Naomi Osaka has also been vocal about making mental health her priority, after withdrawing from the French Open, as well as deciding not to partake in any post-match interviews (despite being handed a large fine as a result). "Sometimes, when I'm playing my matches, I think about [the press], which I know I shouldn't, but it definitely makes things a bit more stressful for me," the player told Highsnobiety in an interview back in August 2020 — and the press has only doubled since then.
What we forget is that these young athletes are just that: young. They are the best of the best at their sport, but at the end of the day, they are all still human and deal with very real struggles that stretch far beyond gold medals and trophies. We know that they have ve been training for years and years to get to where they are today, but fail to recognize the enormous pressures they are under from media and fans worldwide, who think they have the right to critique and comment on every aspect of their lives — not just their performances within their sports.
"We carry a lot of weight on our shoulders, and it is challenging especially when we have the lights on us and all of these expectations being thrown on top of us," swimmer (and most decorated Olympian of all time) Michael Phelps said when asked about Simone Biles' withdrawal from the competition.
It is not just Olympians that are affected, it is athletes across all sports and levels. Just look at the overwhelming amount of hate and racist abuse that was shared following England's loss in the 2020 Euro finals, when Bukayo Saka, Jadon Sancho, and Marcus Rashford all failed to score when the game went into penalties. The three players all shared their own messages on social media a few days later, with Rashford sharing that he was, "at one of [his] lowest points."
The footballer has changed the lives of millions of kids across the UK, securing over 21 million free school meals for students across the country, donating money to charities, and continuing to be vocal about giving children an opportunity to succeed. "As a Black man from a low-income family in Wythenshawe, Manchester, I could have been just another statistic. Instead, due to the selfless actions of my mum, my family, my neighbors, and my coaches, the only stats I'm associated with are goals, appearances, and caps," the footballer told Highsnobiety. Yet, despite all of his support and life-changing charity work, the footballer is still being criticized daily across social media.
It does not matter how much good you do, or how amazing you are, because the second you make a mistake and you miss a crucial shot, you step out of bounds, or can not return a serve, you are subjected to critique (and sadly, hate) within seconds across social media platforms including Twitter, Instagram, and Facebook.
The new wave of young talent is emphasizing the importance of mental health — and is changing the way elite sport is perceived. With brand endorsements, pressures of being a role model, press interviews, and more added to their plates, it is more important than ever to recognize their struggles and to respect them.
Simone Biles, Naomi Osaka, Emma Raducanu, Marcus Rashford, and more are improving the landscape for all athletes, showing that the only way to really win is to prioritize yourself and your mental health. No gold medal or trophy is more important than your own mind, and this new wave of talent is paving the way for elite sports, and creating change that is long overdue.