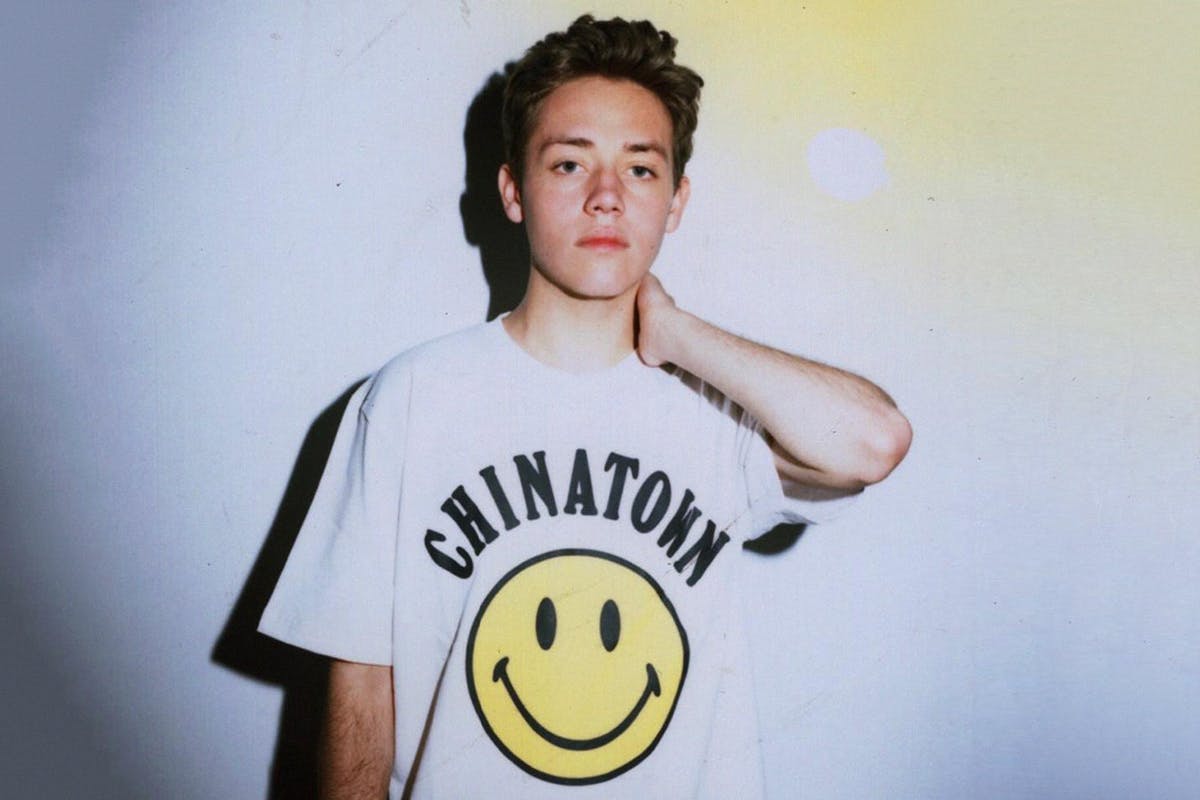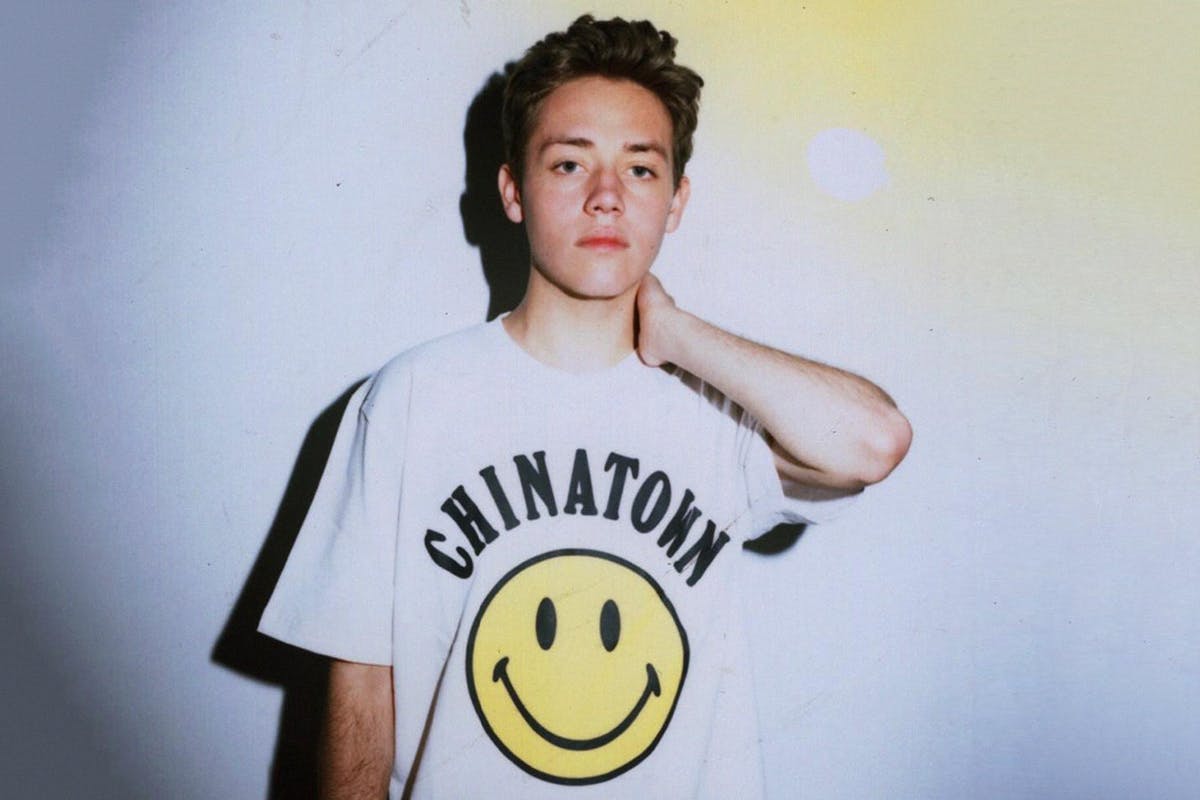 The yellow smiley face as we know it has been around for over half a century, but where did it come from? And how does it continue to grin when the general consensus says there isn't much to smile about these days?
Here, we trace the origins of the iconic graphic, from its corporate beginnings to its counter-cultural adoption. We also speak to Chinatown Market founder Mike Cherman to examine how and why the image has endured and what inspired him to adopt it for his brand.
It all started with… an insurance company?
The smiley face is such an instantly recognizable symbol that to think of it as even being designed at all is quite strange. Nonetheless, that familiar yellow circle with the shit-eating grin had to come from somewhere, and it did: American commercial artist Harvey Ball, who first created the design — known as the Worcester smiley — in 1963.
Working as a freelance artist, Ball was tasked with designing a smile to be used on buttons, desk cards, and posters to raise employee morale after the unpopular acquisition of Ohio's Guarantee Mutual Company by the State Mutual Life Assurance Company in Worcester, Massachusetts. The design — oval eyes, sunshine yellow, uneven grin — was done in 10 minutes and Ball was paid $45. It became a hit. By 1971, 50 million smiley buttons had been sold and the design was popping up on a number of other products.
Ball never received any extra money for his design, having already been paid for the entire campaign (although some sources suggest he was actually paid $240 in total). At least after getting paid $35 to design the iconic Nike swoosh, Carolyn Davidson later received shares that made her wealthy. Worcester newspaper Telegram & Gazette quoted Ball's son Charles as saying, "He was not a money-driven guy. He used to say, 'Hey, I can only eat one steak at a time, drive one car at a time.'"
So there you have it, one of the world's most iconic pieces of graphic design, done in 10 minutes for apparently less than $50 (or a couple of hundred bucks). Of course, what people did with it afterward — and how it went from cheering up insurance workers to the trenches of the counter-culture — is where things get interesting.
Acid house, Nirvana, and the internet
Over time, the icon mutated into a signifier of various subcultures, personal freedoms, anti-capitalist attitudes, drugs, and electronic music.
One quite violent example is the blood-splattered version that was used as a recurring motif in Alan Moore's satirical superhero graphic novel Watchmen. This particular smiley, belonging to the uniform of vigilante the Comedian and made inherently ominous by its combination of grin and blood spatter, is also linked in the novel to Galle, a real-life smiley face-shaped crater on Mars.
Later, the smiley was used as a symbol of sweaty liberation, thanks to "the second summer of love," a period of blissed-out weekend ecstasy back on Earth in the UK of the late '80s.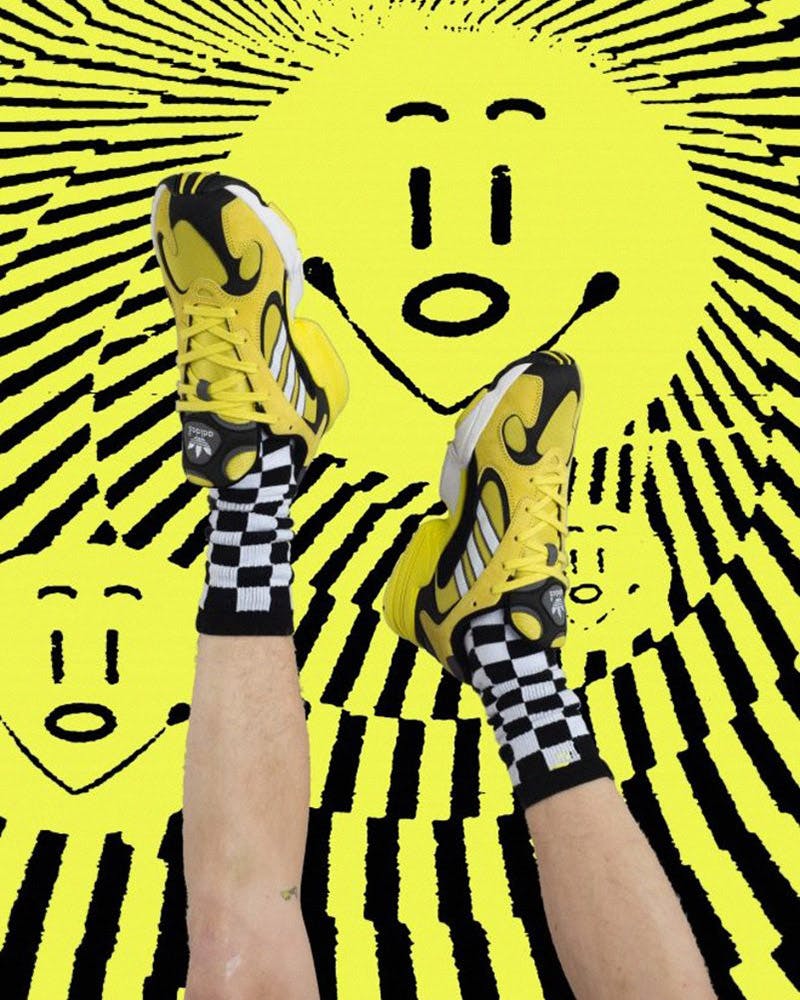 This cultural movement, defined by dance music, drugs, and warehouse raves, adopted the smiley face like no other. Named as a kind of spiritual sequel to the 1967 summer of love in San Francisco — a focal point of the hippie movement — the second summer of love saw the UK usher in acid house from Chicago, pioneering rave culture at clubs such as Shoom in London and The Haçienda in Manchester.
Sharon Walker, reflecting on the movement 30 years later for The Guardian, wrote, "I joined the queue of kids dressed in the acid house uniform of Day-Glo dungarees and smiley T-shirts." This vision of nightclubbing couldn't have been any further from the glamorous and chic styles at nightclubs such as Studio 54 in New York 10 years prior.
"To my knowledge, the first use of the smiley in rave culture was on early flyers for Danny Rampling's night Shoom, the very first Balearic house night in London, which gave birth to acid house culture in the capital," says Ollie Evans, owner of vintage retailer Too Hot Limited. "Their use of the icon was to convey the happy and loving vibe of the club, in no small part caused by the widespread use of ecstasy. The decor of the club — a gym in South London with a 5 a.m. license — was covered in hand-painted smiley banners."
To this day, rave culture and the smiley face are synonymous, even if there was resistance when the culture hit the headlines, with the media latching on to the smiley as a symbol of hedonism.
"[The smiley] was quickly adopted by hordes of new ravers, known as Acid Teds, and worn on T-shirts, bandanas, whistles, jackets, and basically anything that could be printed with it," says Evans. "As with all things that become mainstream, it quickly fell out of favor with some of the original ravers."
According to Evans, the backlash even led to some events banning the symbol entirely.
"You can understand why when it was used in tabloid newspapers alongside salacious and factually incorrect stories, and ended up on the backs of children — my brother and I — who had no concept of what it meant," Evans explains. "It went from being very cool to very uncool in a very short space of time, but the enduring simplicity of the design and its importance in defining a time that changed British youth culture forever has seen it make a massive comeback over the last couple of years."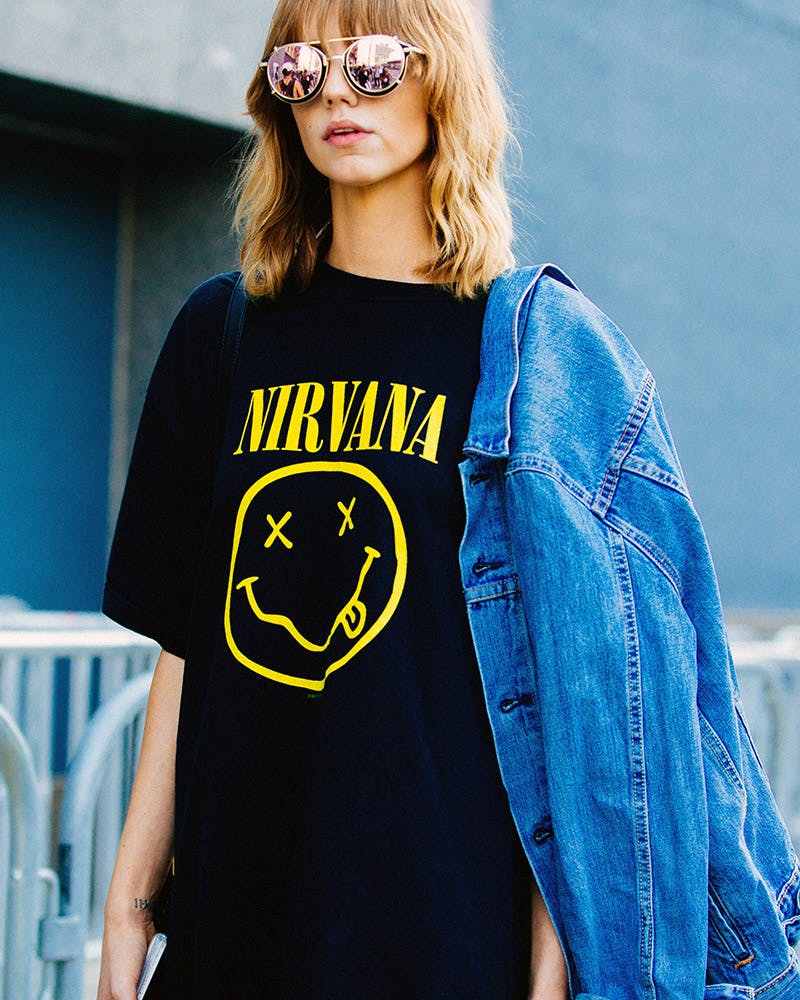 Back across the Atlantic in the early '90s, Nirvana's Kurt Cobain bastardized the smiley for his band's logo just as Nevermind and grunge were blowing up. In true Gen-X style, the updated logo was given a heavy dose of irony, crossing out the eyes and adding a tongue sticking out of the mouth as if the smiley were dead.
Nearly 30 years later, Nirvana's smiley still pops up all the time. While vintage band tees have always been sought after, they peaked in a mainstream sense circa 2016. Quite what Cobain would have made of Urban Outfitters recreating "vintage" band tees for 30 bucks, we'll never know, but maybe a 21st-century Cobain would have given this criminally underrated Vine a like. After all, the back of those Nirvana smiley shirts read, "FLOWER SNIFFIN KITTY PETTIN BABY KISSIN CORPORATE ROCK WHORES."
After rave and grunge had turned the smiley into a symbol of the counter-culture, something new was coming that would affect the way we think about the smiley forever: the internet.
The very first ASCII emoticons — :- ) and :- ( — actually originated in the '80s, when computer scientist Scott Fahlman of Carnegie Mellon University suggested that the symbols be used to contextualize messages posted on a digital message board.
His original 1982 email read as follows:
19-Sep-82 11:44 Scott E Fahlman :- )
From: Scott E Fahlman
I propose that the following character sequence for joke markers:
:- )
Read it sideways. Actually, it is probably more economical to mark things that are NOT jokes, given current trends. For this, use
:- (
ASCII emoticons eventually led to emojis in 1999, pioneered by Shigetaka Kurita in Japan. Emojis have of course become a full-spectrum set of 21st-century hieroglyphics, but the simple yellow smiley is still the most enduring image, riding a technological revolution to become one of the world's most recognizable symbols.
Recalling its crossover moments in the late '80s and early '90s, this year the humble smiley once again found itself at the intersection of music and fashion. One of the biggest — and most controversial — music/fashion crossovers of the year, Travis Scott's Astroworld merch, was adorned with a slightly off-kilter smiley on the side of planet Earth. Away from music, the graphic cropped up across MISBHV's SS19 collection, while the yellow/black/white colorway of the recent Yung-1 collab between sneaker retailer Size? and adidas was inspired by the classic smiley face.
Chinatown Market
One of most well-known brands to utilize the smiley, going so far as to create a full-fledged identity around it, is Los Angeles streetwear label Chinatown Market. We spoke to brand founder Mike Cherman to find out how Chinatown Market came to adopt the image.
The first thing to know is that when Chinatown Market was just getting started, it worked with a few classic icons, including the Magic 8-Ball and the peace sign, using them as easy jumping-off points for relatable design. But the smiley is the one that really stuck.
"I grew up with smiley icons around me," says Cherman. "Most notably, my childhood home had a big yellow smiley face on the outside, which always stuck with me. The smiley is that feel-good icon that anyone can wear and represent."
Obtaining the license to use the image was a different story, as licensing varies from country to country. "So we actually have the license from The Smiley Company, which is based in the UK," says Cherman. "This is a global license for the smiley face outside of Japan, where actually the smiley face is exclusively owned by the Yakuza. We tried a lot of channels to secure a smiley license in Japan and it proved impossible."
Comparable to OG smiley designer Ball, who was pretty carefree about the use of his iconic graphic, Cherman says, "The smiley face is an icon that was around long before us and will be long after us. We just love to be a part of putting such an amazing icon on a platform to really be seen. We feel from our side that there's no hate to anyone doing smiley-faced goods. We'll just stick to what we do best and not worry about the next guy."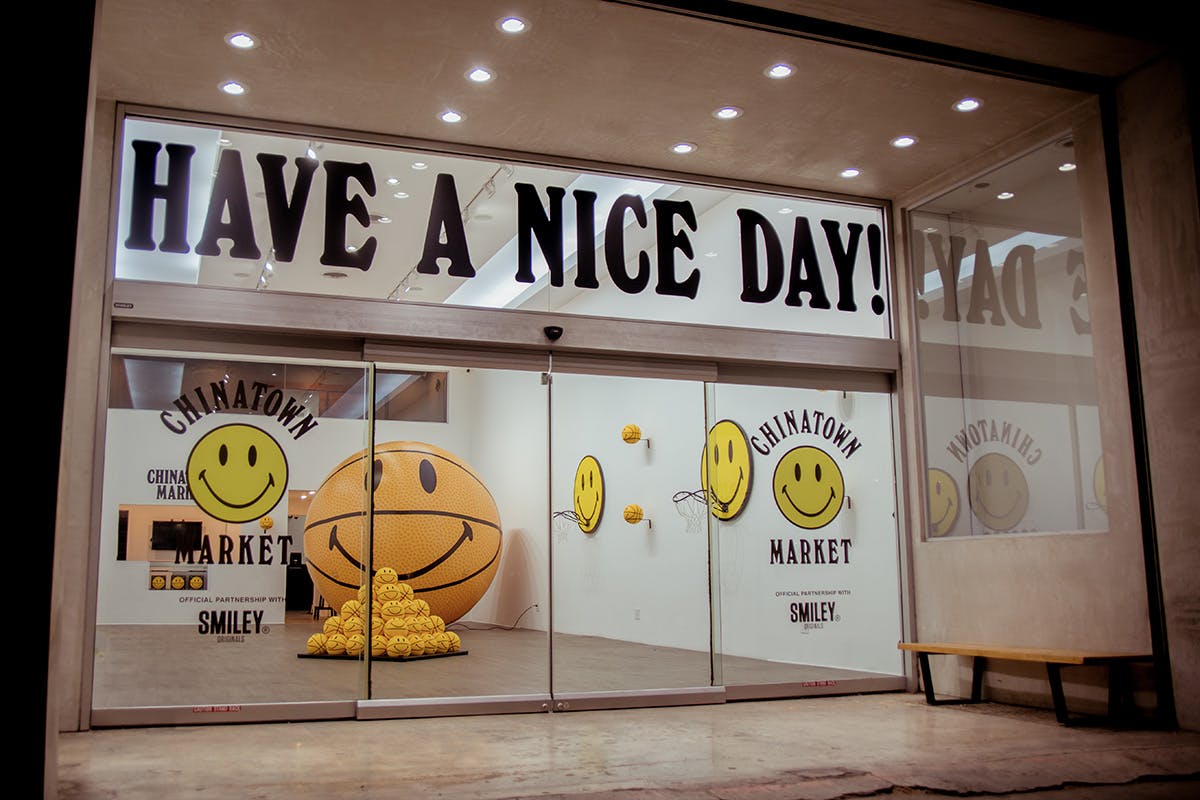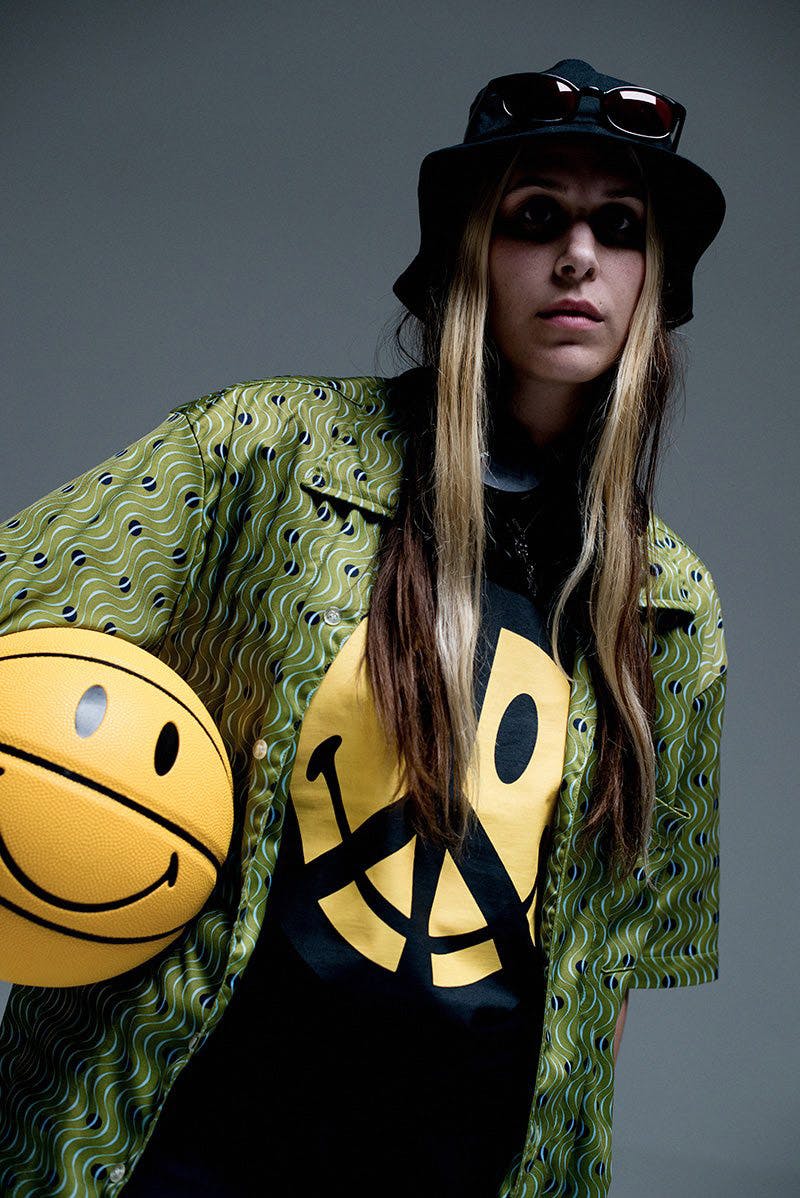 What deeper cultural meaning can we take from the smiley in 2018, if any? With no "third summer of love" on the horizon and an unsettling amount of geopolitical turbulence in the world, perhaps there's more a sense of "just grin and bear it" to be found in today's smiley. Cherman for one, however, still believes in the icon's power as a source of joy, even when things get bad. After all, life is never perfect — and we're talking about an icon born during the depths of the Cold War and Vietnam, designed the same year President John F. Kennedy was assassinated.
"The use of the smiley face has brought a beacon of happiness in times that are dark in the world," offers Cherman. "A smiley face has been somewhat of a symbol for people to wear while the world is in chaos, where everything is in disarray. We like to laugh at how we work with our friends at PLEASURES, as our classic icon is the smiley face and theirs is the 666 and yin-yang. It's very much a symbiotic relationship between us, representing the dark and light."