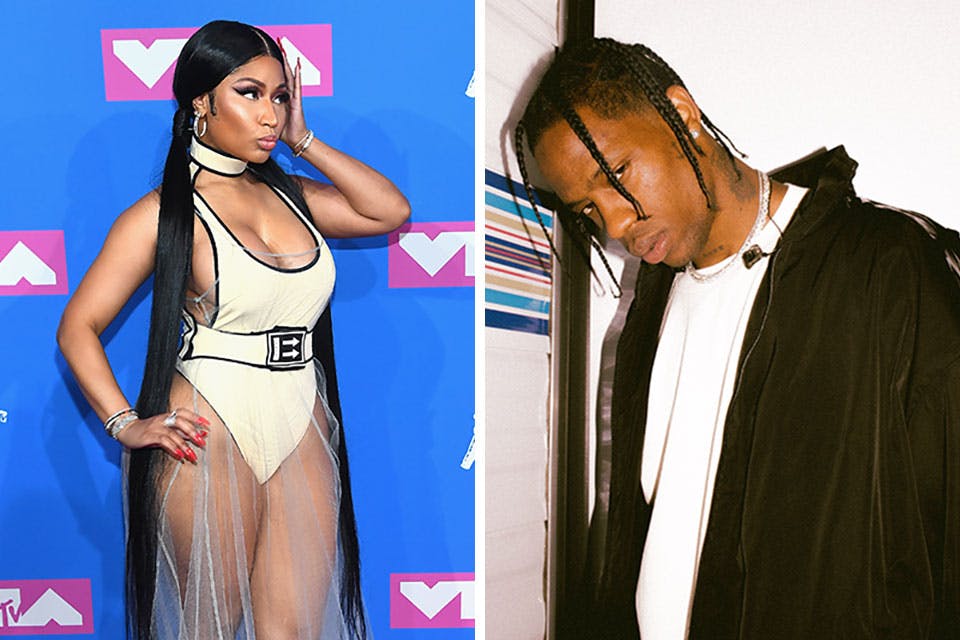 After Nicki Minaj's Twitter tirade earlier this week, where she called out Travis Scott and Spotify for the fact that her new album Queen debuted in the no. 2 spot, the Queens rapper is at it again. On the fourth episode of her Beats 1 show 'Queen Radio,' she went in on Travis Scott yet again. Complaining about the fact that Travis Scott's Astroworld merch bundles counted towards album sales (which automatically included a digital download of the album), she doubled down, giving him the "Hoe N***a of the Year" award.
"What we not gon' do is have this Auto-Tune man coming up here selling fucking sweaters and telling ya'll he sold a half a million fucking albums 'cause he didn't," she said. "Travis Scott, you played your fucking self also for having your fucking friend come on the internet talking up for you. You stupid fuck. You're a fucking man. You got your fucking homeboy talking for you, and you got your girlfriend posting fucking tour passes saying you sold albums. Stop it. Knock it the fuck off."
She also mentioned that she wanted 6ix9ine to join her onstage at the MTV VMAs Monday night to perform their collaboration "FEFE," but he was blocked from performing by MTV executives. "I wanted Tekashi to perform with me at the VMAs, but somewhere along the line, he didn't get approved to perform," she said. "I would never not invite him to perform his hit record."
Despite also going in on The Huffington Post, Kylie Jenner, and Stormi, she managed to thank Chance the Rapper for his support. "I want to shout-out Chance the Rapper. There are certain things that men do that make me know they are a king in its truest form," she began. " ... Shout-out to Chance the Rapper. Chance let it be known Onika was one of those people fighting." Check out his original tweet below.
Minaj also teased a new freestyle in the episode, where she's "addressing everyone." Listen to the full episode here, and revisit Queen below.
In other music news, Nicki Minaj and Future cancelled the North American leg of their 'NICKIHNDRXX' Tour. Get the full scoop right here.