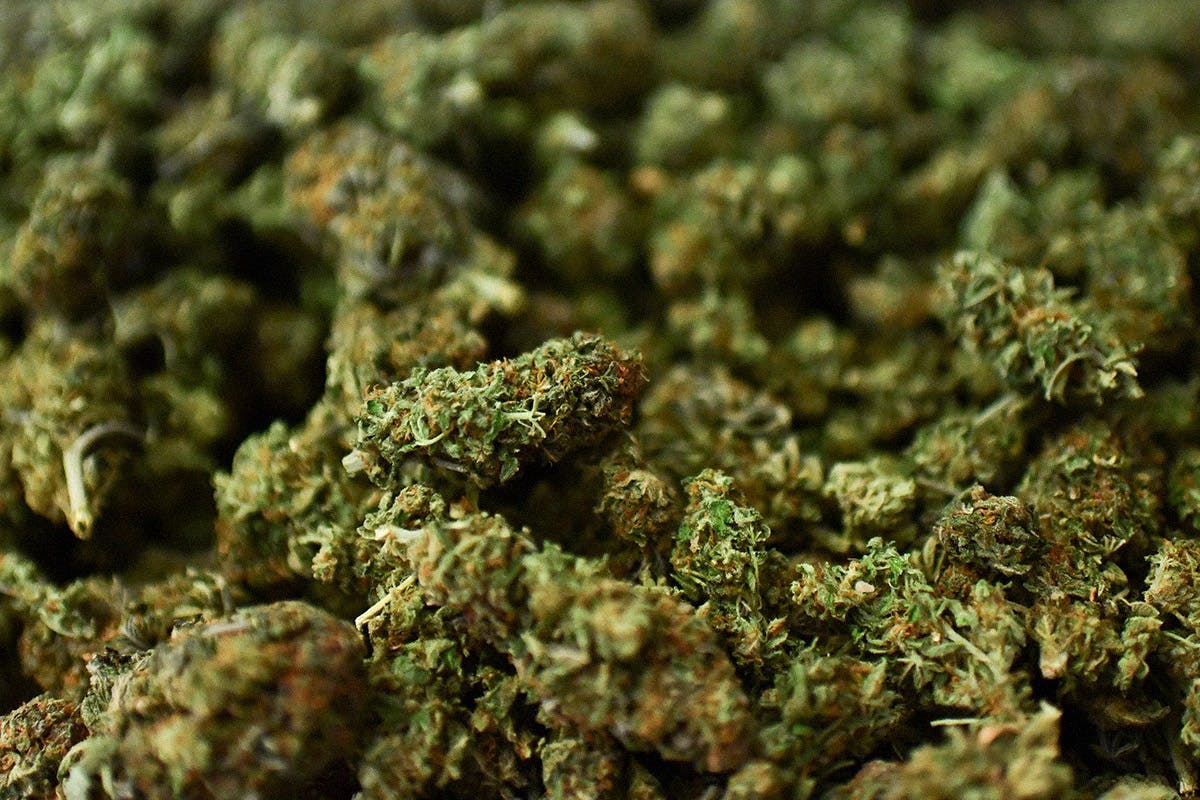 In the grand scheme of things, Snapchat caught on very slowly. What was known for years as an app that allowed friends and strangers to send pictures of their funny business back and forth without fear of exploitation or blackmail has morphed into a kind of cultural phenomenon that allows business, brands and individuals to communicate entirely in photo streams and video tidbits (some more polished than others). What a weird and wild world we're living in.
One of Snapchat's most endearing qualities is its incredibly robust user base (AKA a hell of a lot of people, interested in all different types of things). Sports fanatics, chefs, journalists, adventurers, celebrities and artists—they're all there, offering brief looks into their lives.
The emerging medical and recreational marijuana industry has a huge turnout on Snapchat. A veritable smorgasbord of prominent smokers, social influencers, emerging brands and even local head shops all have their hands in the Snapchat cookie jar.
Here are 7 of our favorite Snapchat accounts for stoners.
DazedDaizy
Kimberly first found a ton of success on Instagram, where she was able to amass a pretty sizable following. Why? Well, because she's cute as a goddamn button, smokes a loooooooot of weed and embraces stoner culture—down to the last bud.
Her Snapchat is pretty much more of the same. Expect a lot of very attractive selfies, some situational story-telling about weed-related things and lots and lots and lots of weed. What else could you ask for?
Angela.mazzanti
Angela Mazzanti is a pretty heavy hitter in the recreational cannabis scene. Aside from being a completely babely babe, Mazzanti really is turning her life as a model and cannabis advocate into a legitimate career, and whether you're into the lifestyle or not, it's still inspiring to see a woman crushing it so hard.
She's the host of @compassesh and @cannabiscapitol, and, while a lot of her Instagram is on the personable side, it's primarily business (if such a thing could be said about the weed industry, of course).
Her Snapchat, however, is a sharp contrast. It offers a far more unpolished, behind-the-scenes kind of vibe, and connotes a feeling of familiarity not often experienced on other types of social media. It's personal and personable, and we really dig it.
Snoopdogg
What the hell else are we supposed to say about Snoop and his Snapchat? You know what it is!
The West Coast hip-hop legend smokes more than a high school mall rat, but also frequently shares intimate snippets of his life from the road. Charity events, hood shit, shows—we get to see them all from the eyes of Snoop (usually with a blunt between his lips).
khalifathecap
If you smoke and aren't following Wiz Khalifa, even if you're not a fan of his music, then you're absolutely blowing it. The problem with celebrity social media is that so many have entire teams of agency-picked social media teams running their stuff.
Wiz runs his own account, lives the life and smokes more weed than Davy Crockett. That last bit probably didn't make much sense, but we digress…
Wiz's Snapchat is like a travel diary-slash-weed extravaganza-slash-motivational quotes account-slash-living hip-hop legend account all wrapped up into one. We really love it, and we bet you will, too.
Hoovaq
ScHoolboy Q is a really great dude to follow on Snapchat because not only is the man a hip-hop icon who's a big smoker and supporter of the industry, but he's also largely a family man. So, you'll see the typical blunt-session snaps, backstage snaps and all the other typical stuff, but his followers also get an in-depth look at the life of someone considered by many to be one of the most talented dudes in the game right now.
Q, for a large part, leaves his West Coast rapper behind on his Snapchat, and introduces people to Quincy Matthew Hanley, a beautiful father and humble human being. It's all a pretty wild contrast to his bar content, but it makes us smile on the daily.
Mrgrayglass
Scott Rosinski isn't just a guy who makes weed paraphernalia; he's a straight-up artist. His Instagram of the same name garnered him a ton of attention for his incredible glass blowing talents, and his Snapchat is no different.
Expect everything from behind-the-scenes looks at his workshop and art form, to him showcasing the work of other noteworthy glassblowers (which we think is great, by the way—spread the love!), to some good old-fashioned "product quality assurance testing." If you like him on the 'gram, you'll love him on Snapchat.
Merryjanemedia
Publishers and media companies tend to do well on Snapchat because it offers their readers/viewers opportunities to see behind-the-scenes situations that normally get left on the cutting room floor. Merry Jane's Snapchat is a perfect example of social media done right.
Press trips, parties, tradeshows and dank buds preside over the account, while subscribers can head on over to their Instagram for more polished, thematic posts. Lots of love for what our homies over there are up to! Get it, guys!
Looking for more Instagram accounts to follow? Here are our picks of NBA players, models and hip-hop artists.
We also covered the recent Snapchat vs Instagram stories revelation.