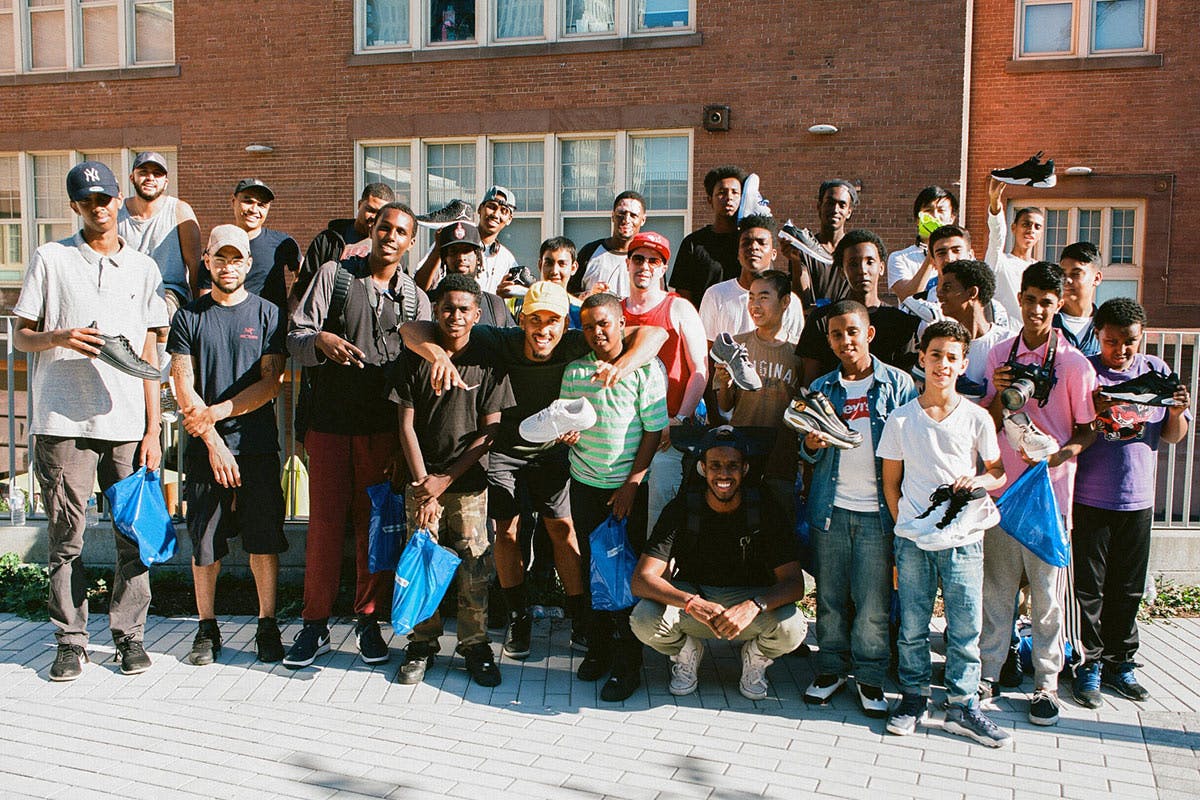 From fights in drop lines to flexing on social media, sneaker culture can at times seem like a magnet for self-interest. But the sneaker community doesn't get called a community for nothing. A love of sneakers can bring people together, and when people come together, a lot of good can happen.
Following the negative attention that last month's adidas x AriZona pop-up brought to sneaker culture, we have taken a look into the world of sneaker-based charities. Some provide shoes to those in need, others offer scholarships. All turn our shared love of sneakers into a force for good.
Below are six sneaker charities that are doing great work to help those in need.
Soles4Souls
Founded as a disaster relief organization, Soles4Souls got its start providing footwear to those impacted by the Indian Ocean tsunami of 2004 and Hurricane Katrina in 2005. The organization now functions year-round, dedicated to "wearing out poverty" by distributing donated shoes to those in need around the world, including through micro-enterprise partners.
Translation: your donated shoes may help an Indonesian family lift itself out of poverty by reselling high-quality, low-priced necessities to their community. In the right hands, even resale culture can be a force for good.
Soles4Souls has distributed more than 35 million pairs in 127 countries. By numbers alone, it might be the world's largest sneaker charity. It's also probably the reason so many sneaker charities feature "sole" puns in their names.
The Kickback & Company
A Toronto-based community organization that uses the interest around sneakers to "activate and empower inner-city youth to reach their full potential," Kickback donates shoes to those in need, both in Canada and around the world. As well as providing footwear, the charity also works to bring together the Toronto community through events such as a weekly run club.
HavASole
HavASole is an LA shoe charity with a national footprint started by someone who never forgot the power of sneakers. As a child, founder Rikki Mendias lived with his mother in a women's and children's shelter. He couldn't afford new sneakers and would wear his until they fell apart. One day, a former shelter resident saw the holes in his shoes and took the young Mendias to buy two new pairs.
The feeling of a fresh cop never left him. Mendias became a photographer and a sneaker collector with a closet boasting almost 150 pairs. Then, in 2014, things changed.
"I asked myself, 'Why do I have so many shoes that I don't even wear?'" Mendias said in an interview earlier this year. "There are people out there that don't have any at all."
The next day, Mendias drove around LA to hand out his collection. Five years later, HavASole has given away more than 16,000 pairs of shoes in 20 cities across the US. The organization counts names such as Grant Hill and Victor Oladipo among its supporters and has partnered with NBA teams on cross-country road trips to collect and distribute donated shoes.
Wings
Wings is Jordan Brand's official charity program. Despite being a sneaker charity with its own sneakers from the world's biggest sneaker brand, Wings has surprisingly little to do with shoes. Instead, the Nike-backed initiative provides funding for education and mentorship opportunities to under-served youth. That said, because it's Jordan, there are still elements of what the brand is best known for. For example, Wings scholarships come in shoeboxes.
It's From the Sole
When Andre McDonnell saw a homeless man with no shoes by his local basketball court in 2012, the then-manager of KITH-adjacent store Atrium literally gave the man the shoes off his feet. In that moment, It's From the Sole was born.
Seven years later, McDonnell's charity has collected, cleaned, and distributed more than 24,000 pairs of sneakers to homeless and less fortunate individuals in cities around the globe. It's From the Sole counts adidas, Vans, NYC Sole, and others as official supporters. McDonnell himself was even named "New Yorker of the Week" in April 2015.
Samaritan's Feet
As a boy in Lagos, Nigeria, Samaritan's Feet founder Manny Ohonme didn't receive his first pair of shoes until he was nine. The experience of wearing solid, protective footwear of his own changed Ohonme's life, sending him on a mission to provide that same gift to others.
Founded in 2003, Samaritan's Feet is a nonprofit dedicated to providing footwear for those who need it most. Like others listed here, Samaritan's Feet collects and then donates used shoes around the world. But what sets the charity apart is its upstream approach to helping people through footwear.
Samaritan's Feet is the force behind The World Shoe, an affordable, sustainable shoe designed to fight foot-borne illnesses in the developing world. World Shoes are biodegradable, antimicrobial, and highly breathable, making them a true utility in warm weather regions where tradition might lean toward going barefoot.