Highsnobiety / Dani Pujalte
Music festivals as we know them today have changed little since the earliest editions of Woodstock and Glastonbury in the 1960s. They were then and still are today a gathering of like-minded people collectively experiencing live performances. Regardless of the genre or location, the format has remained the same – the artist is the performer and audience participation is limited to listening, applauding, and, often, heavy amounts of drinking.
But, as with every corner of our lives, this is changing thanks to one unfaltering force: technology. The immediate changes have been small and in line with wider societal shifts – cash is being replaced by reloadable wristbands, programs and site maps are available via app, and performances are continuously stepped up thanks to state-of-the-art sound engineering, advanced lighting design, and modular stages. Now, some festivals are taking it one step further and using cutting-edge technologies to rethink the overall festival experience by blurring the invisible line that separates the audience and the artist.
Nowhere is embracing this more than Barcelona-based festival Sónar. Founded in the '90s – an era of experimentation in technology thanks to the first commercial availability of inexpensive synthesizers and personal computers – Sónar was conceived with the intention of exploring electronic music in all its forms. Multimedia installations, projections, and a technology fair were present at the festival's very first edition, which, when you consider that mobile phones were a rarity at that time, was incredibly forward-thinking.
Post the digital explosion, technology has become irreversibly interwoven into our everyday lives and, in response to that, Sónar has expanded its exploration into the possibilities that lie at the intersection of music and technology with Sónar +D. Now in its seventh edition, Sónar +D is a fully-fledged side event that runs during the day of the festival dedicated entirely to artistic creation, innovation, and experimentation.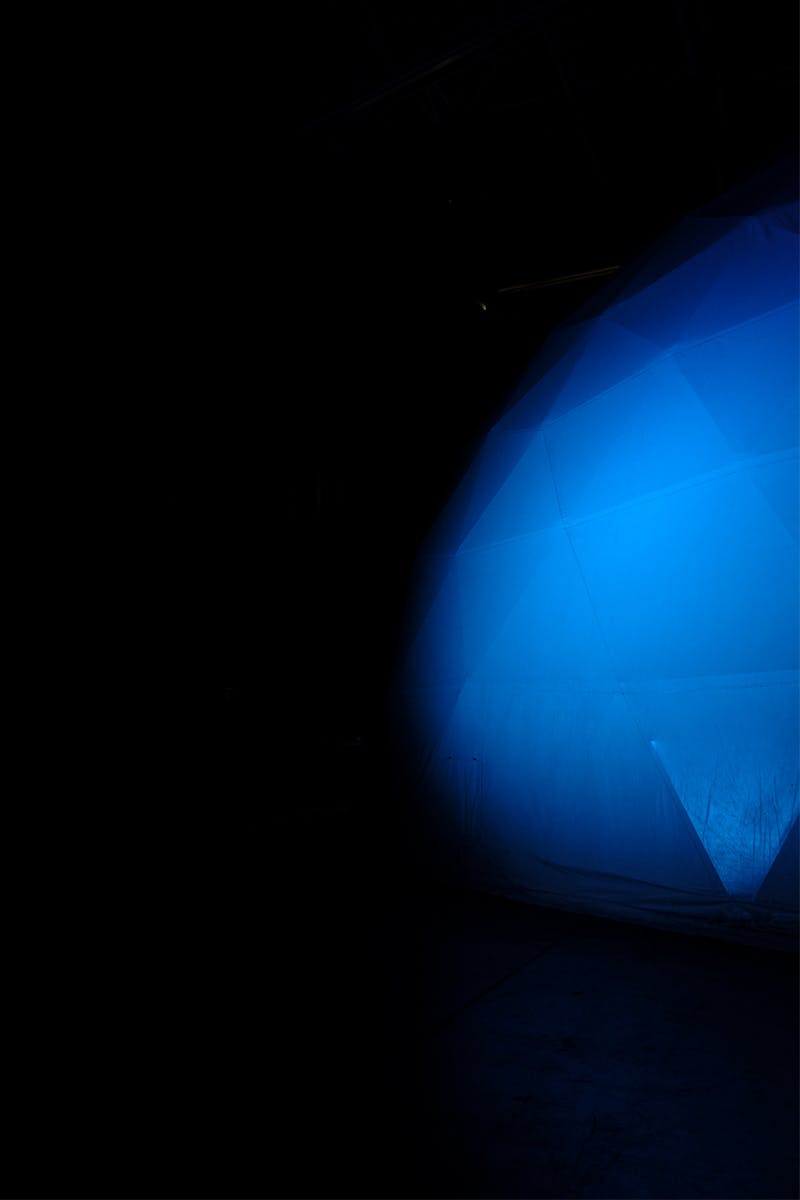 Taking place in a collection of warehouse spaces at the Sónar by Day site in Barcelona's Fira Montjuïc, the tech-focused event draws in industry insiders and casual festival-goers alike with a packed program of workshops, interactive performances, immersive installations, and talks hosted by experts in the field. Among those invited to speak at this year's event are creatives from Native Instruments, The Barbican Center, Universal Music, and SoundCloud, as well as an extensive list of names bearing titles such as 3D sound technologist, AI scientist, quantum physicist, digital researcher, and immersive artist.
It may sound quite heavy-duty considering the festival still draws in over 126,000 party-seekers, but the purpose is to demonstrate how technology can enhance the overall festival experience. And it's not just aimed at experts, there is something for everyone to engage with. Walking around the space and you'll pass explorative projects still in their incubative phases such as a quantum computer alongside more accessible experiences including virtual reality simulations and immersive spaces. Debuting at this year's festival was the Desigual InBeta space, an interactive experience hosted by the festival's apparel sponsor Desigual.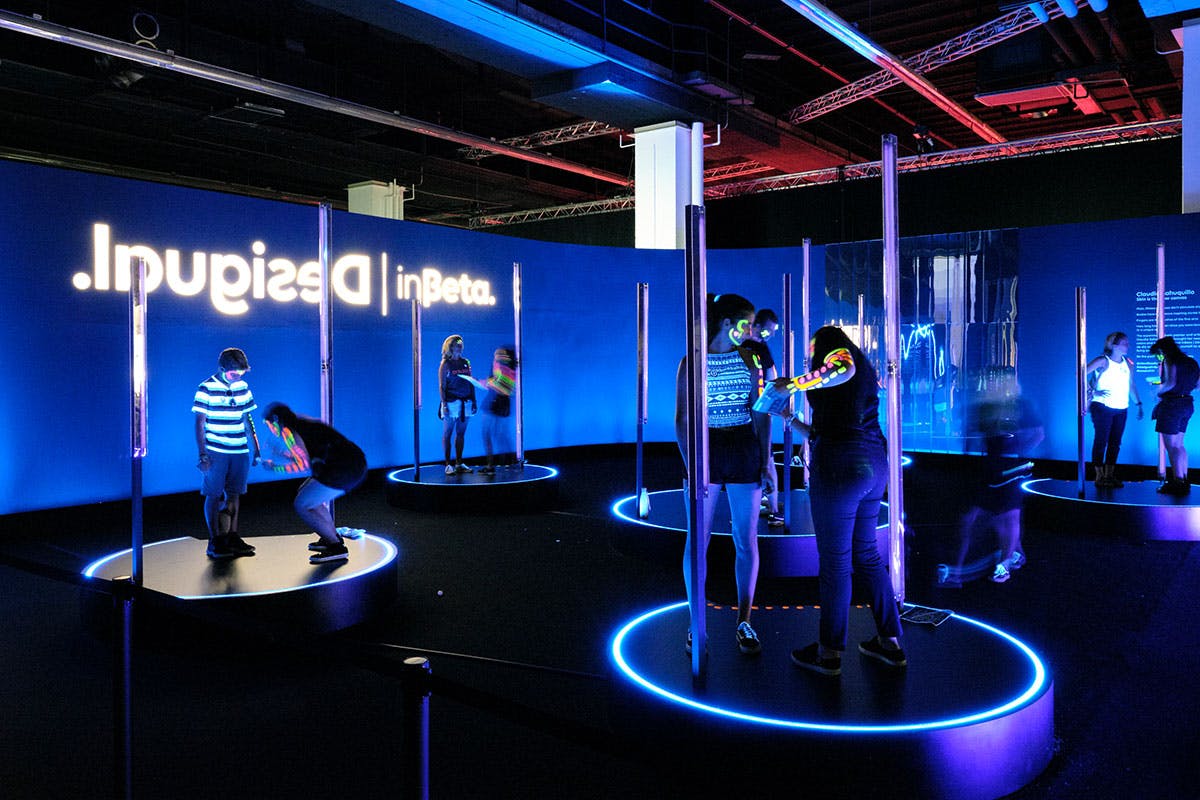 "We wanted to play a meaningful role within Sónar and not just have a stand selling product," explains Desigual's recently appointed CMO Guillem Gallego and the brain behind Desigual InBeta. "At Sónar we wanted to take it to the next level by associating with partners that are pushing creativity and innovation, while still having fun. InBeta is our 'lab' where we'll allow ourselves to play and experiment, without looking at the numbers."
Desigual inBeta's space balances individual and collaborative interaction, taking the visitor through two interactive installations. The first is a tunnel constructed of mirrors and LED lights that change color based on your 'personality', which is calculated by biometric data collected via a sensor at the entrance. Moving through the tunnel and you enter a space with giant projections covering the floors and walls. A complex setup of cameras and projects track and illuminate your movements and those of the people surrounding you, adding them to a collective, continuously evolving digital artwork. Here, active meditations known as the Suco Sessions take place several times a day, giving visitors the chance to meditate, dance, and generally let loose alongside strangers.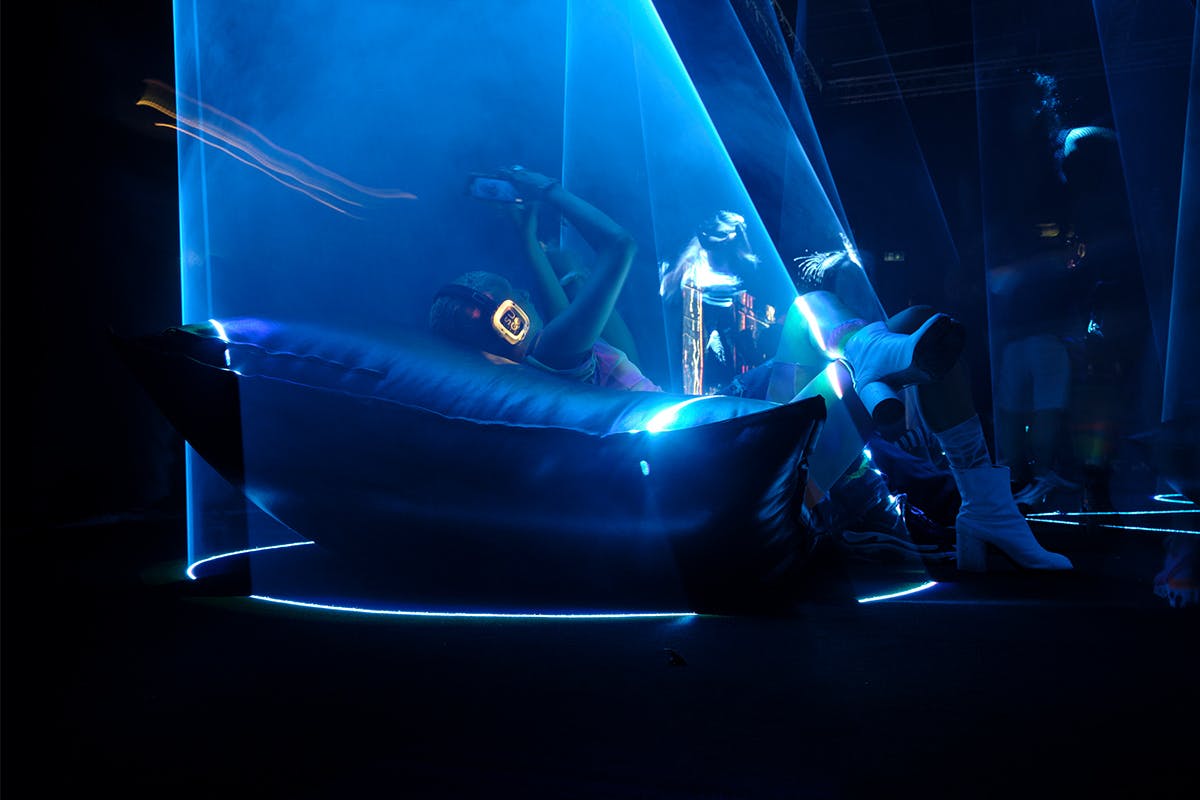 "We know Sónar as consumers and we know it's a hectic four days of partying and heat, so we wanted to provide this little oasis within Sonar where people can stop for a second and listen to themselves and experience something different," says Gallego. "We wanted to take people a little bit outside of their comfort zone, so they forget who is around them and just to try to connect with themselves. That moment of freedom is a key value of the brand, the idea that we can create without limits, boundaries, or rules. That's something we want you to feel with the InBeta experience."
The installation is the work of Onionlab, a production company that creates immersive installations and audiovisual shows that fuse art, technology, and design. Led by Aleix Fernandez Curell and Jordi Pont, the two understand better than anyone how technology can be leveraged to enhance our personal experiences and why it matters.
"People are demanding more than just to look at something, people want to be a part of a festival – this is what makes the interaction so important," says Curell. "When we were younger we talked about how amazing it would be if the power of sound could be translated into visuals. When you are in a concert you can feel the sound everywhere, but 15 years ago if you wanted to project something your canvas was so tiny that a visually immersive experience was impossible. Nowadays technology is cheap and good enough to create something immersive, giving more possibilities and creative freedom to the artist."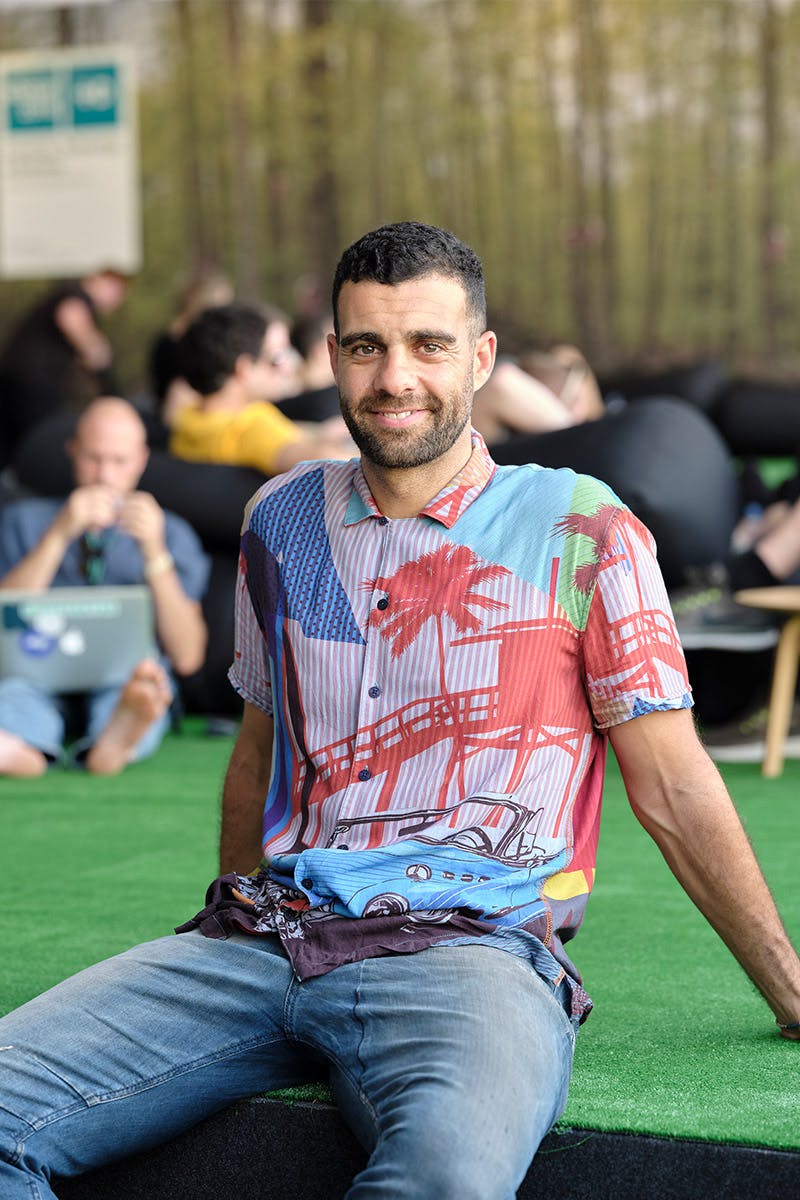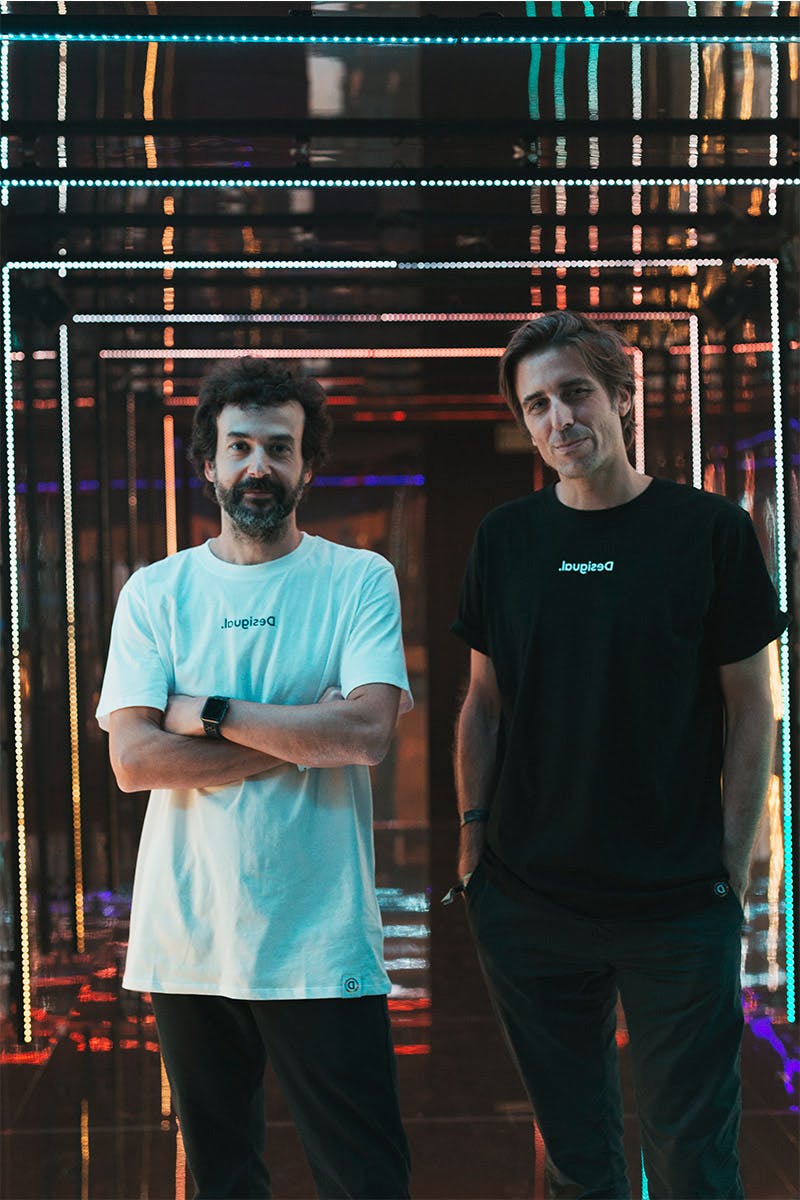 Three months in the making, the installation created for InBeta was designed to cater to be a mass experience and bring people together with music at its core. The process of creation is as much sonically driven as it is visually.
"Music is 50 percent of everything that we do," says Pont. "We always try to visualize what music is giving to us. Normally we start with the music, composing it based on the intensity of the installation we have in mind, and then we start creating the installation with that music. Once we are getting close to completing the installation, we go back and adapt the music to fit it. It's like playing ping-pong between the audiovisual element and the music."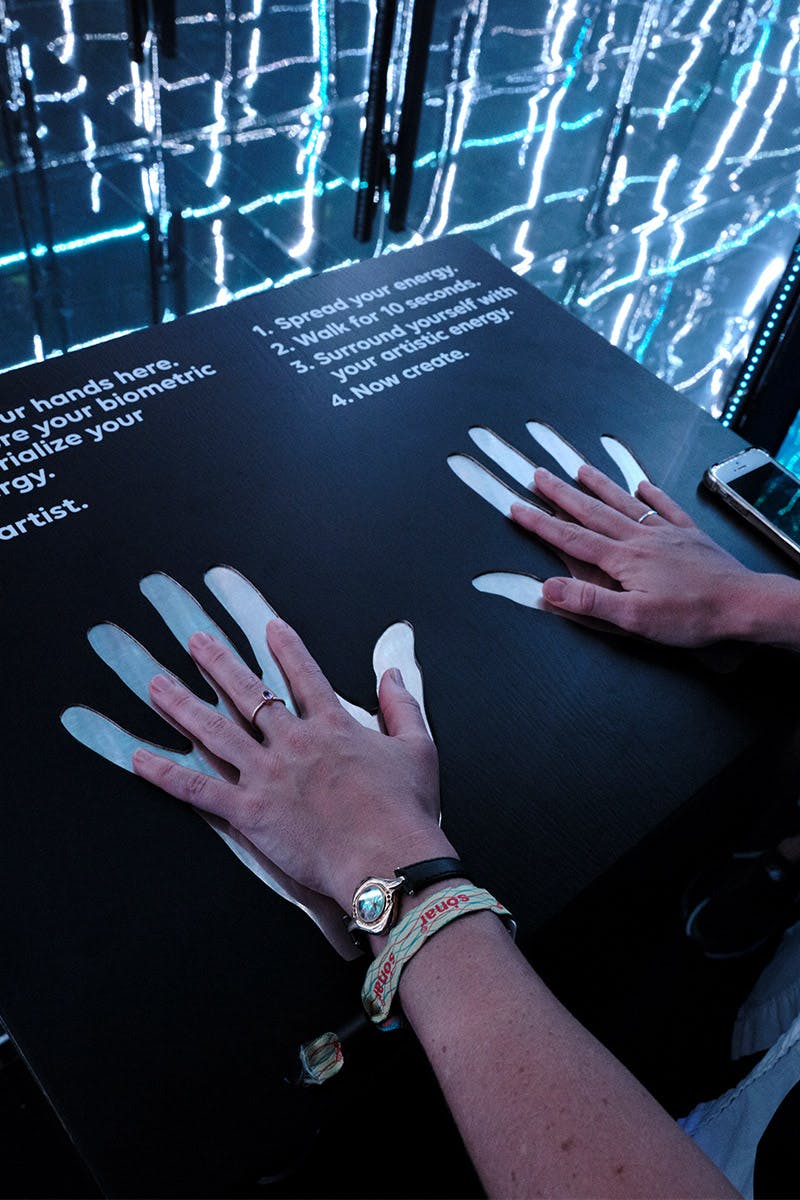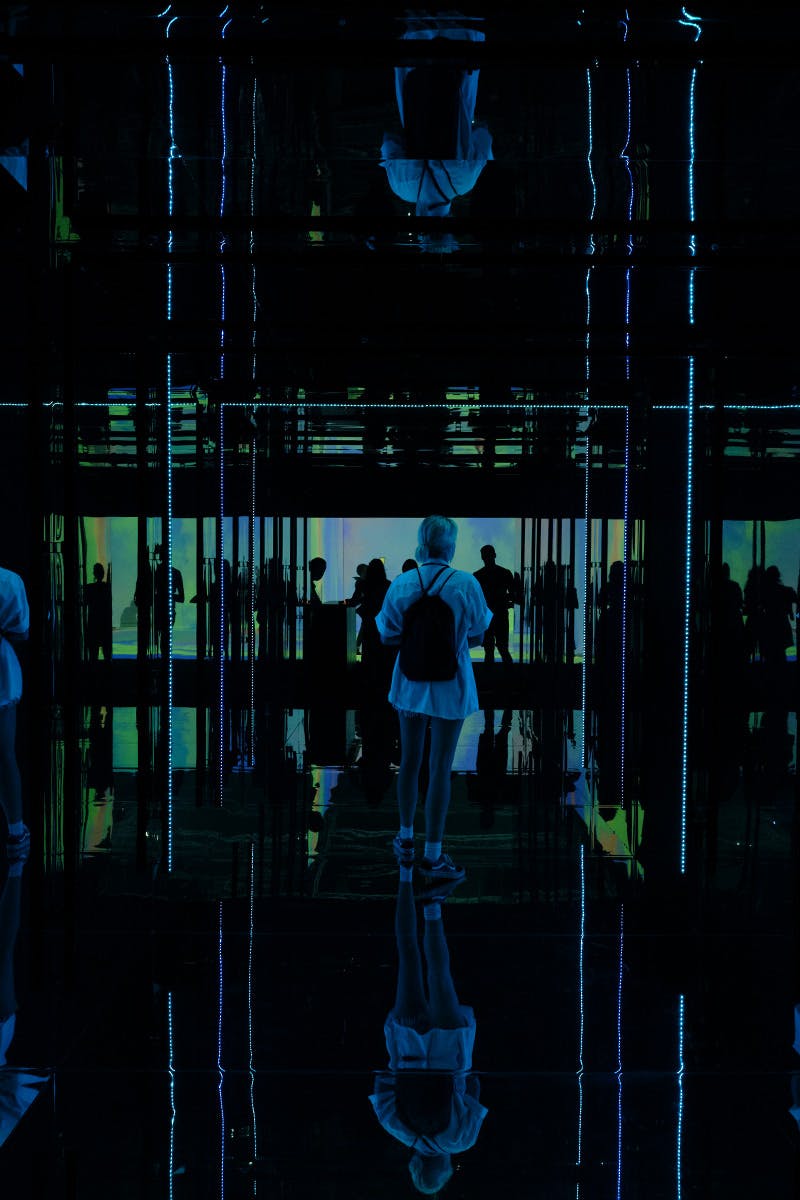 The final aspect of Sónar +D lies closer to the festival's roots, bringing technology into the artists' sphere with audio-visual performances that don't always call for spectator participation. To distinguish them from the main festival lineup, those that perform as part of Sónar +D sit at the intersection between music and technology. This ranges greatly from augmented reality experiences to advanced visual projections, but the red thread present throughout is that they include real-time visuals synced to sound and/or movement. Some progress the concept further – Daito Manabe and Kamitani Lab who use an MRI scanner to decode signals produced by the brain while listening to music and project them in real-time imagery.
Some are inevitably skeptical as to whether this is the right way forward arguing that there's a risk of losing the rock'n'roll spirit that defined festivals back in the day. Elements of that may ring true, but the message that those behind Sónar +D want to get across is that technology isn't about isolating us and gathering our data, but instead can be explored as a tool for creative expression that, if anything, helps us connect with ourselves and those around us.
As Pont explains, "Now is the moment of the artist. Technology has grown a lot but now we need to take all this technology and push it to the limit with artistic installations. In the future, I think in between all the stages there'll be interactive experiences so you don't feel like you have empty spaces. At huge festivals, it's a way to complement the experience and fill the blank spaces."
If there's anything to learn from Sónar it's the endless possibilities that technology has to deepen the sensory experience at a festival, both on a personal and a collective level. And while that will never surpass the draw of live music, what is certain is that technology is becoming an integral part of the festival experience – one that is only set to further influence our festival experiences in the future.