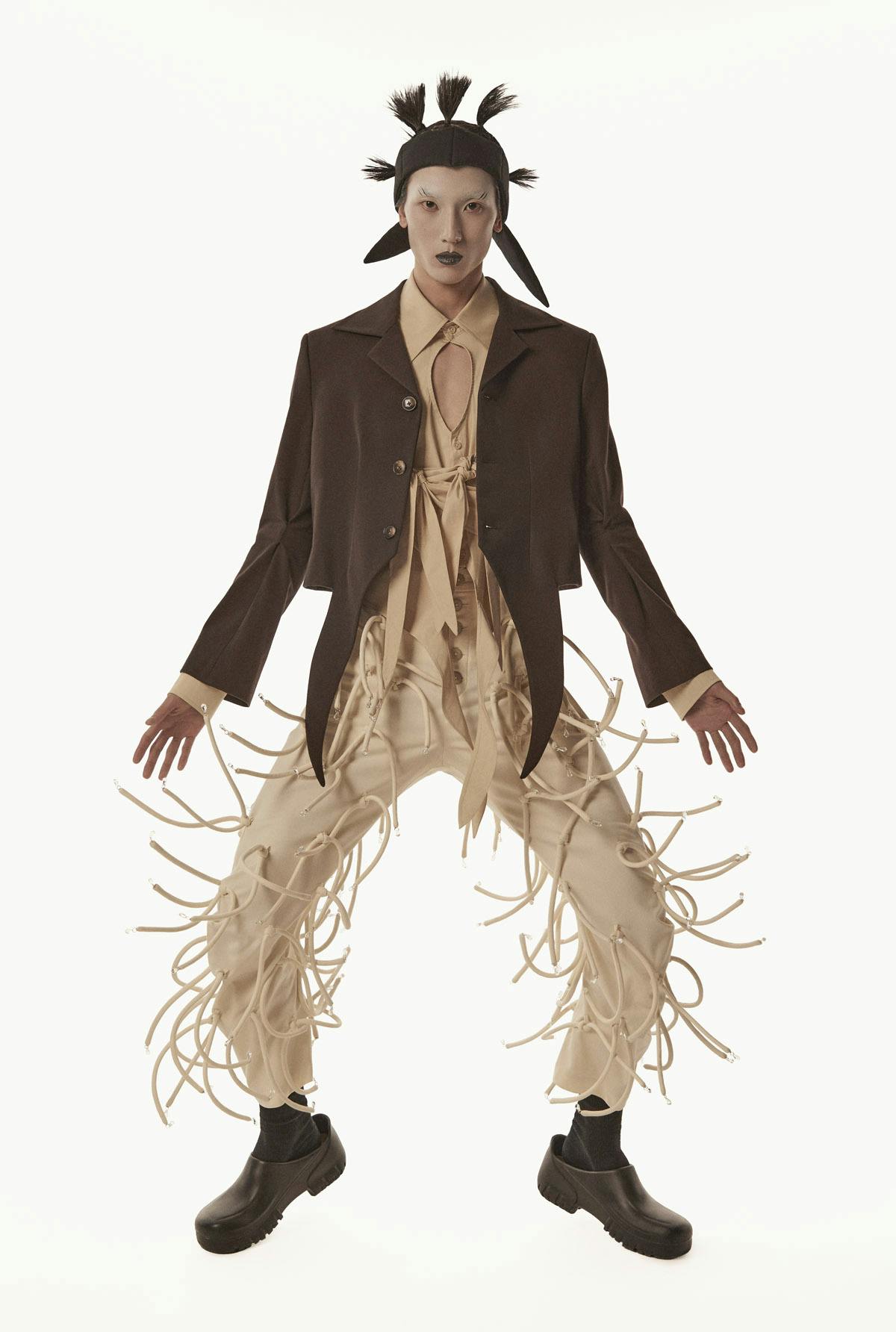 Experience this story and others in the new issue of Highsnobiety Magazine, available from retailers around the world and our online store.
There is strength to be found in weakness. This is one of the core beliefs that fuels Strongthe, the London-based menswear brand founded by Strong Theveethivarak.
"When I was born, my mom named me Strong because that's what she wanted me to be," Theveethivarak says. "She is very protective of me, and she predicted I would have a lot of health problems because asthma runs in the family. But I don't know how to react when people ask me if I'm really strong," he adds with a chuckle. "Uber drivers ask me that a lot."
Theveethivarak is speaking to me from his apartment in Dalston, East London, via Zoom, a tool he had to get used to quickly after he launched his label in 2019. "After all this paperwork for my visa, I finally came back to London to start my brand. Then on the shoot day of my first collection, I saw the news: 'Oh my God, there's a virus.'"
Theveethivarak had a rocky start. After graduating from Central Saint Martins in 2017, he spent two years — including a 10-month stay back home in Thailand — trying to figure things out. Theveethivarak came out of this period of uncertainty more motivated, but Covid-19 compounded his hardship. "When we went into lockdown, I got so scared because of my asthma. I couldn't go to my studio. I was so lost, I didn't know what to do," he recalls. "So I asked my mom to talk to my fortune-teller, and she said there will be a bit of struggle but I'll be fine. And that's how I got my idea for my next collection — maybe I can express my insecurities through my work."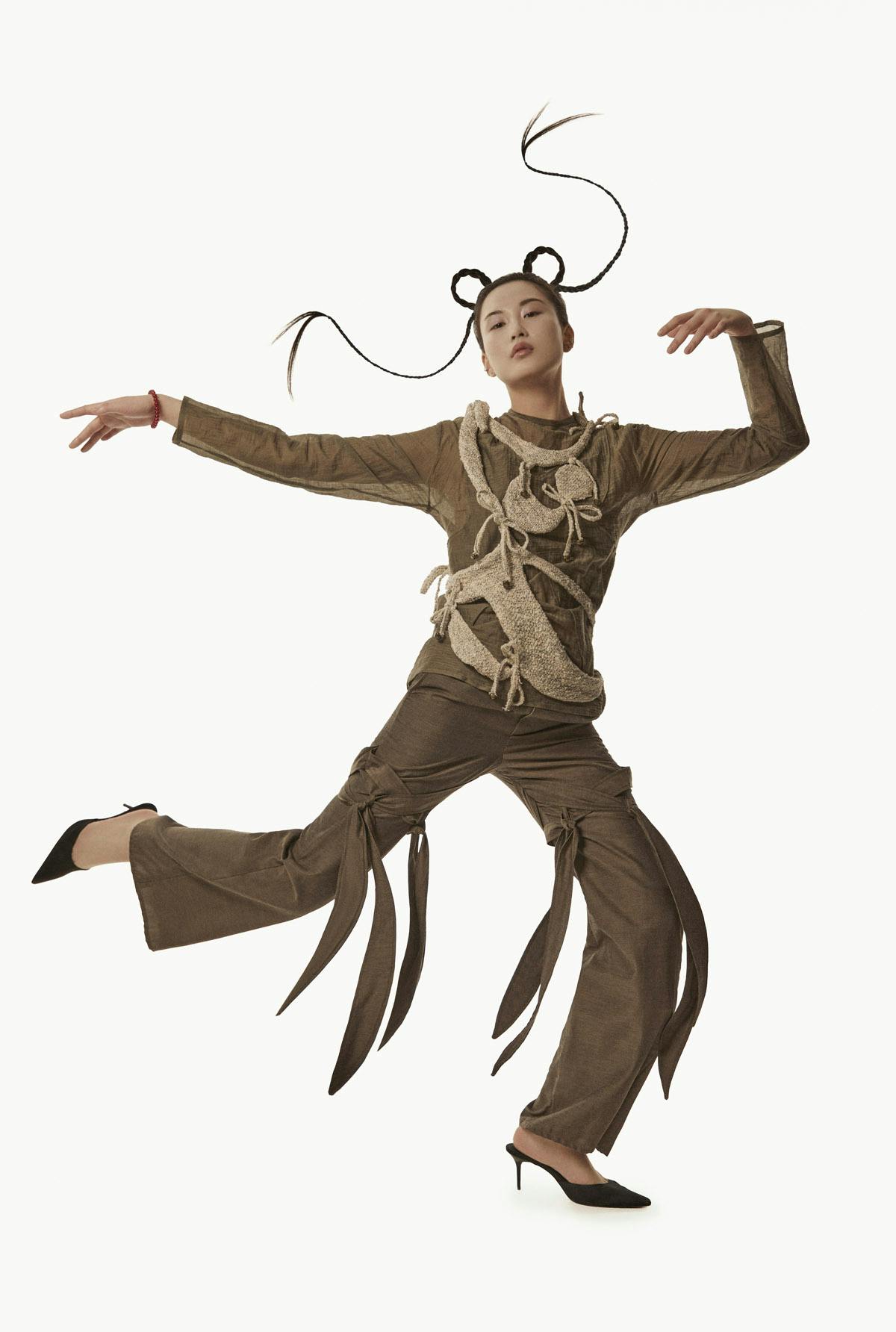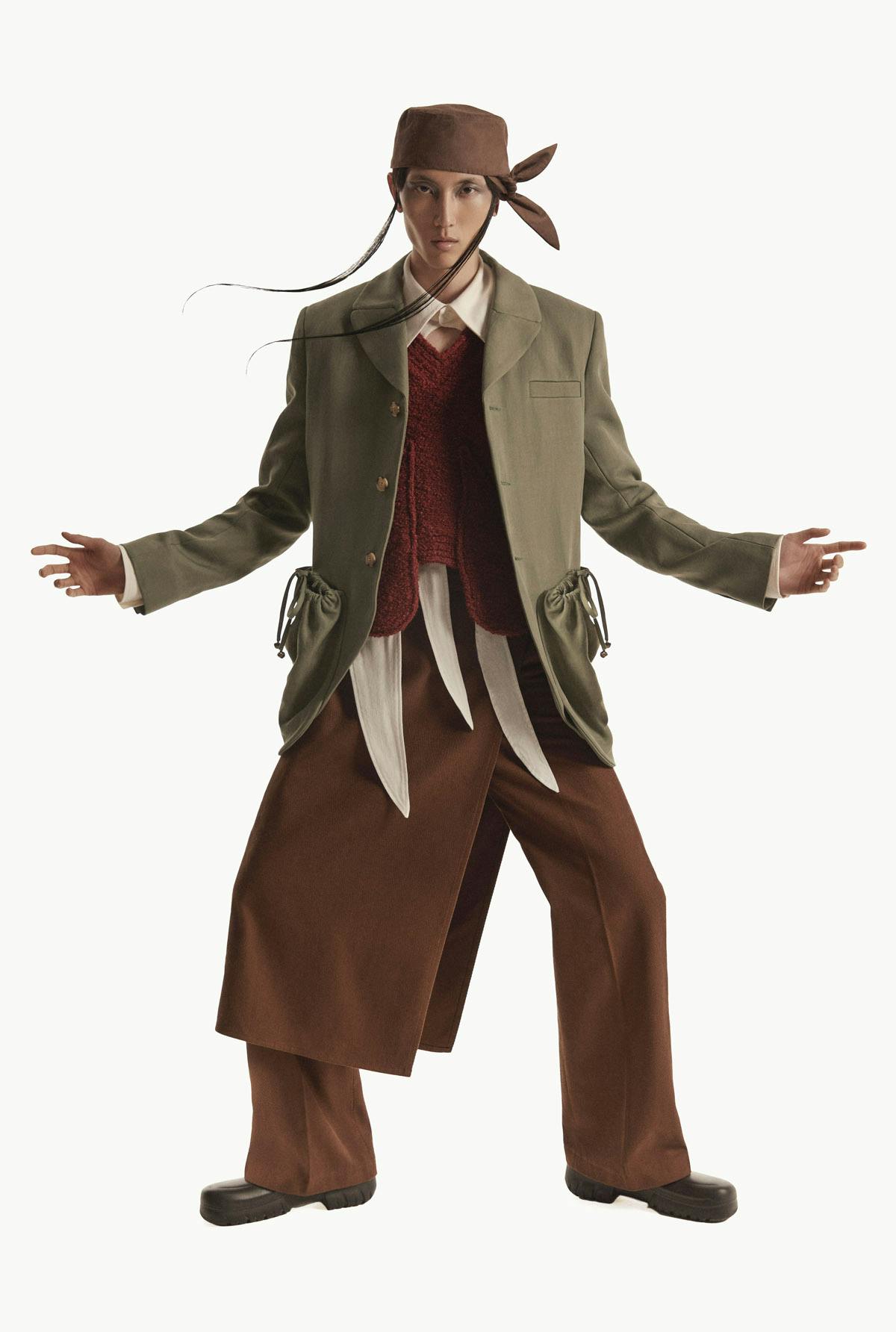 Theveethivarak's unlikely design process begins by pinpointing his own insecurities and fears, as well as those of the people around him. "A lot of my work focuses on modern weakness," he tells me. "It's about people feeling weak and seeking help, and then coming out stronger. My clothes make you feel more comfortable and secure."
Strongthe (pronounced "strong-tay") is now four collections in, and the throughline in each of them is a harkening back to Thai tradition. Their most recent Fall/Winter 2022 collection, titled "Boo!," was inspired by ghosts. "We have baby ghosts in Thailand that follow you everywhere, kind of like your spirit animal," Theveethivarak explains. The fall line's range of colors is, in fact, a reference to these hungry spirits' dietary needs: "We feed them red Fanta every day, because we believe the color red brings power and luck. We put a straw in a Fanta bottle and pray to the baby gods, like, 'Baby, can you help me with this today?'"
Other elements of Thai tradition show up in the form of flags and ribbon-like knots that accent the body like the "spirit trees" around which locals wrap colorful fabrics when praying. "Ghost culture is deeply rooted in Thai culture — even in Buddhism. Buddhism in Thailand is really different from China, Japan, or India," Theveethivarak explains. "I always focus on my roots because it's who I am. Thai culture shaped who I am today."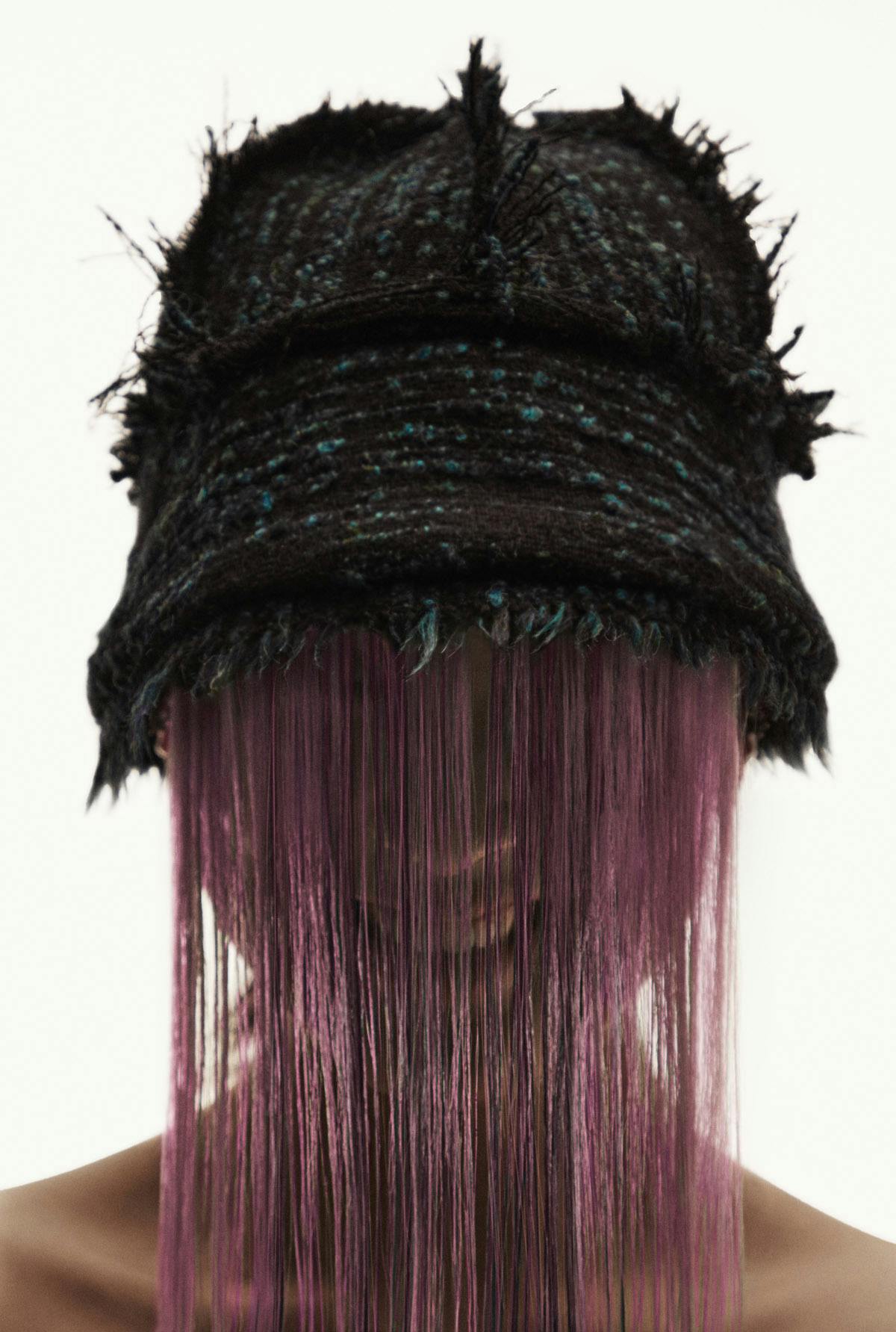 Throughout our hour-long conversation, Theveethivarak never stops smiling. He's energetic yet reserved, and there's a casual openness about him that is charming and approachable. Although Theveethivarak is, in his own words, "not model height," his undeniable presence has landed him on the pages of LOVE magazine, i-D, Buffalo Zine, and HERO magazine. Throughout school, he modeled for the likes of AMBUSH, KENZO, and Charles Jeffrey Loverboy. When asked whether he wants to further his modeling career, his answer is humble, a simple statement of self-awareness and self-care. "I just want to be a better version of my old self — and, obviously, be happier."
Theveethivarak's optimism shines through in his designs. Saturated hues and vivid pastels play with gingham prints that produce a cozy, almost childlike effect. Silhouettes are sometimes exaggerated and other times stripped back, making up just the right amount of off-balance between everyday wear and the avant-garde. "I just want to be contemporary," he says, imagining Strongthe's appeal to the modern-day, non-Thai wearer. "These things about Thai spirit trees, protective tattoos, and baby ghosts are all really dated ideas, but I adapt them as you'd want to see them in a modern way."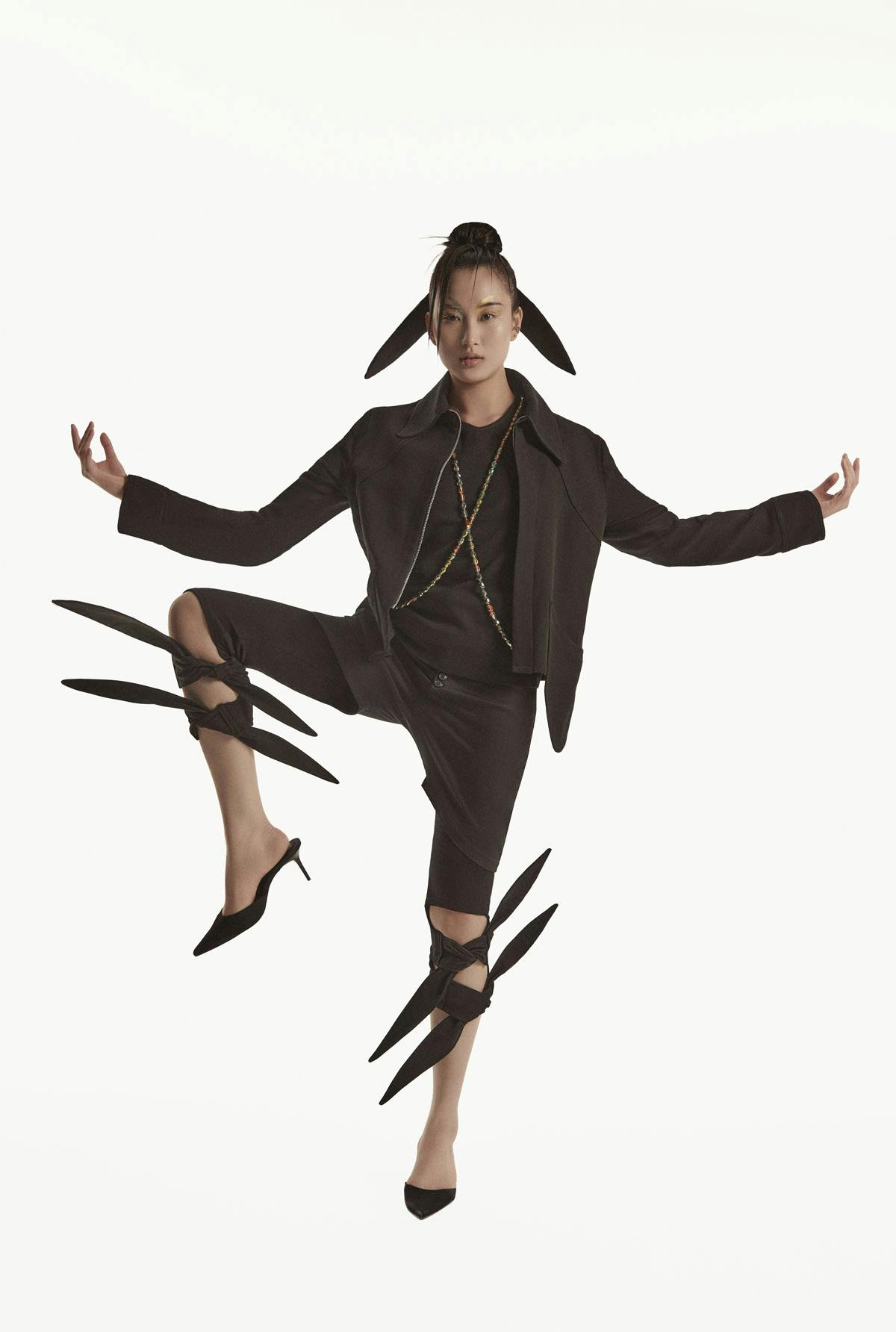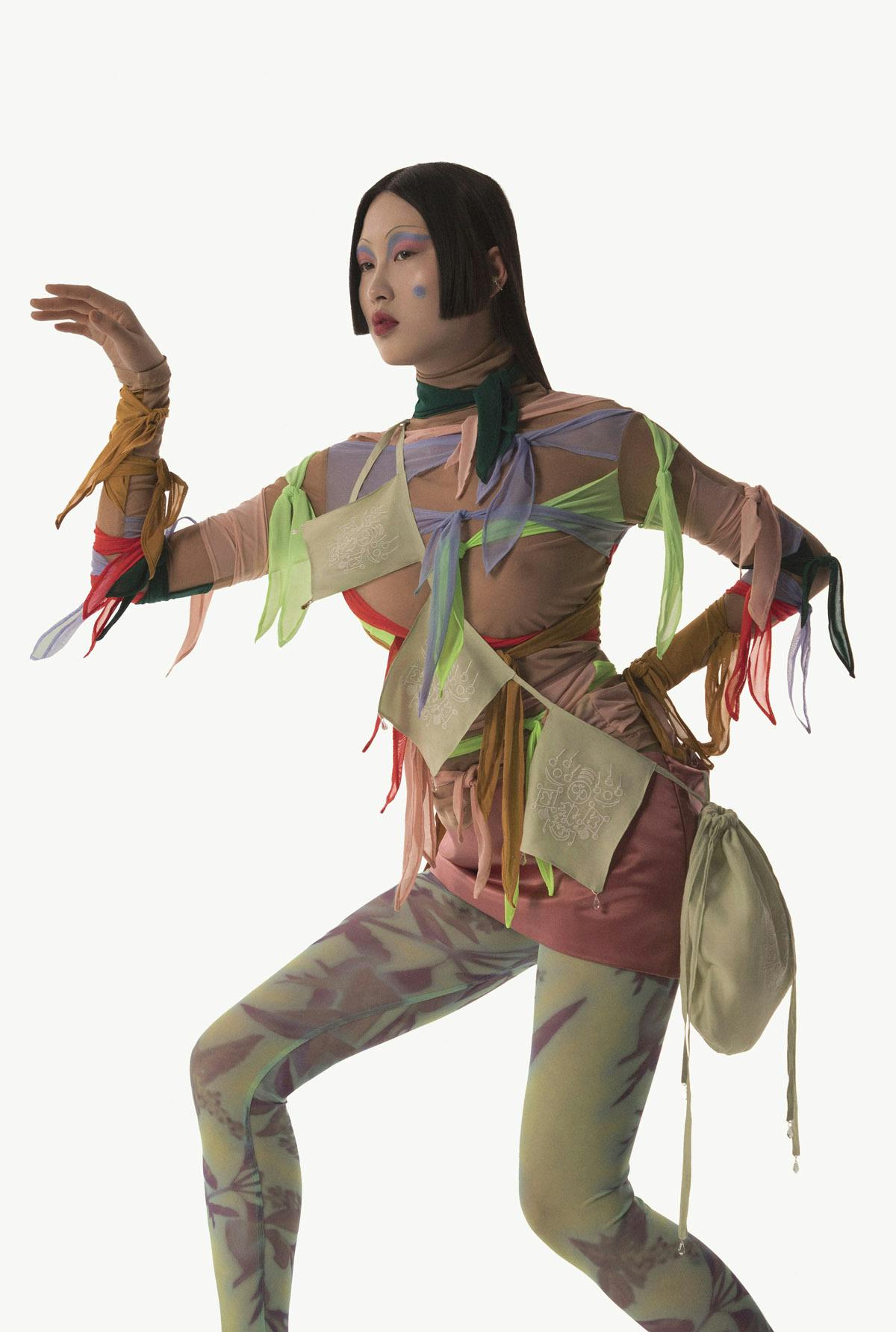 Theveethivarak's family, particularly Strong's father, is another design influence. As with many father-son relationships, Theveethivarak found cultural gaps between the generations. "When my family first saw my designs, they were like, 'What is this? What is this jacket?'," he says with another laugh. Add to this the Asian concept of filial piety, where one has the moral duty to obey and respect their parents, and things become complicated fast. At Central Saint Martins, a school known for its creativity and cutthroat competitiveness, Theveethivarak faced intense pressure, but his personal goal was to prove himself to his father. "There was some tension between me and my dad. I had to show him, 'Okay, I got this.' I had to prove to him because he comes from a really conservative background, and always doubted me, like, 'How can you do this? Are you going to be okay in the future with this as your career?'"
Theveethivarak's graduate collections, and subsequent designs for Strongthe, ultimately helped him become closer with his family. "One day, I took my dad's government work uniform and patterned a shirt with it. The more Thai references they see, the closer they can feel to my clothes. Now they say, 'Oh, maybe I can wear that.'"
Theveethivarak aspires to some day reach the level of influence enjoyed by Japanese minimalist designers of the 1980s, when the likes of Rei Kawakubo, Yohji Yamamoto, and Issey Miyake swept the runway at Paris Fashion Week. "They influenced me a lot when I was young, because that's how I saw my representation in the fashion world. Because, you know, we live in a really white environment. When I see Asian representation in fashion history, how these designers changed the world, how they have no boundaries or care about the system, that really impacts me to this day."
Despite all the attention Strongthe has received so far, Theveethivarak's mind is only set on one thing. "I just want to see people wear my clothes more. This is my goal right now." For his next collection slated for September, Theveethivarak is playing with the idea of lottery numbers. "My clothes are like a lucky charm you can carry everywhere. My name is Strong, so I should make people feel stronger, right?"
Head here to get a copy of the new issue of Highsnobiety Magazine.