Lately there's been an outbreak of fresh celebrity box logo sightings. Social media haters have had a field day, throwing out the classic "but they don't even skate" and "Supreme's dead" comments to any famous faces they feel shouldn't dare adopt their beloved brand.
So far in 2017, we've seen Louis Vuitton menswear director Kim Jones posting shots of Kate Moss and Travis Scott wearing the upcoming Sup x LV T-shirt, Kendall Jenner flexing her vintage "cease and desist" monogram tee (from vintage Supreme mecca Round Two in LA) and antipodean pop rapper Iggy Azalea flaunting a racy bodysuit customized from two box logo shirts.
Following the announcement of the huge Vuitton crossover project, Supreme has attracted a new set of celebrity eyes, resulting in many celeb stylists frantically scouring the overpriced secondary market to source rare box logo tees in order to ensure their client's instant 'credibility'.
This can, of course, lead to mixed results, with Moss receiving universal praise, and Jenner universal distaste, from the ever-vocal Supreme community, especially when counterfeit products are involved (sorry, Maisie Williams).
Public figures wearing the hallowed box logo is nothing new, however, and the downtown brand has itself worked alongside some of its favorite individuals from the worlds of music, sport. fashion, film, art and, of course, skateboarding.
Nowadays, Supreme has the power to pretty much work with anyone, so it would be easy for it to cash-out and stick the current hottest celebrity in its logo. However, the brand continues to only work with the people it is a genuine fan of. This can often throw up surprises, especially for its increasingly younger demographic, but it always keeps people guessing where Supreme is going next, and keeps the brand a step ahead of its contemporaries.
With this fresh crop of (often unsanctioned) celebrity endorsements, I thought I'd look back on the definitive list of stars Supreme has worked with over the years — some of whom have never made it onto actual garments.
Classic Portrait Tees
Let's start with the classics: the Supreme portrait photo tees. The one thing that connects every box logo-wearing public figure in this list is that the crew behind Supreme are genuine fans of said subject.
Everything they produce has a genuine connection to the personal tastes of the tight-knit Supreme crew — from rappers to rockers, boxers to artists, skaters to puppets.
2005 Raekwon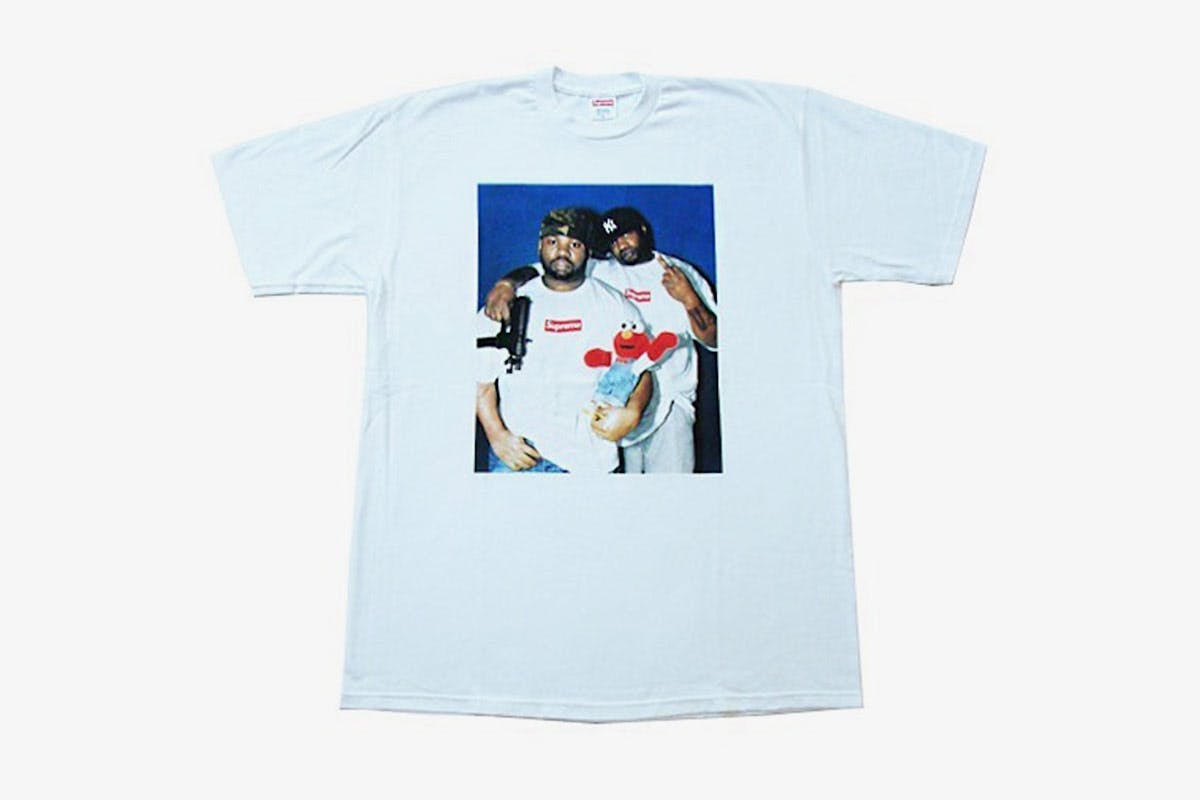 Kicking off the series of now-legendary portrait tees was Wu-Tang Clan MC Raekwon. Accompanying The Chef from Staten Island to Kenneth Cappello's studio was his 'bodyguard', a Louis Vuitton messenger bag, an uzi machine gun and a 'tickle-me' Elmo soft toy.
Back in 2005, Supreme had yet to launch its website proper, so its first photo tee (and accompanying stickers) were released at the NYC, Los Angeles and Japanese stores with no prior announcement.
The tees were popular and sold steadily for a while until Sesame Street's lawyers took huge offense to one of its most beloved characters hanging out with an automatic weapon, and ordered the products to be instantly withdrawn from sale.
2006 Dipset
For the follow-up project, the downtown dons looked uptown to recruit their next subjects. Harlem's Dipset were the hottest New York MCs of the mid '00s through a combination of independent mixtapes, street DVDs, flamboyant fashion and genuine crossover radio hits.
Cappello was once again behind the lens, this time with Diplomats Juez Santana and Jim Jones as subjects. Both donned the classic white/red Supreme box logo tee, but the shoot was a little fractious. Cappello recalled that Jones wanted to get paid up front before he would come to the Midtown studio — "The vibe was kind of weird on set, a lot of weed and a lot of ego."
2007 Mike Tyson
After two rap-themed portrait tees, Supreme looked to James Jebbia's beloved boxing for its next subject. Mike Tyson dominated heavyweight boxing from the late '80s-'90s and was never shy of controversy throughout his career.
Born in Brooklyn, Tyson was the third New Yorker to be featured for the Supreme portrait series, but the tense shoot actually took place in a Las Vegas hotel room and casino.
Photographer Kenneth Cappello revealed that Iron Mike wasn't in the mood and spent their few allocated hours cursing him out and intimidating his assistants.
With its lack of a conventional portrait pose, the edgy image remains one of the most iconic in the series.
2008 Kermit
Considering the Elmo-uzi controversy, the last subject anyone expected to see starring on a Supreme portrait tee was a Muppet!
Just like the recently overturned bad blood with Louis Vuitton, the skate store worked alongside Jim Henson's Muppet Workshop to feature none other than the Muppet-in-Chief himself, Kermit the Frog.
Longtime Supreme collaborator Terry Richardson took over photography duties and a tiny box logo tee was custom-made for the shoot, which also included NY store employees Ty and Pryce.
Accompanying the T-shirt and poster was a 6cm-tall Kermit Kubrick figure produced for Supreme by Japan's Medicom Toy Co., which you can read about in my list of the 50 best Supreme accessories of all time.
2009 Lou Reed
By now the Supreme portrait series was on a roll and there was no way of fans knowing who they would turn to next.
In January '09 I was shown some images of a Terry Richardson shoot featuring New York legend Lou Reed. Looking badass as ever in black aviators, black box logo tee and his arms folded with a classic "fuck you" stance, the former Velvet Underground frontman perfectly represented the downtown rebellious ethos Supreme was founded on.
However, not everyone was on board, and sadly the image received some negative criticism from a portion of Supreme's younger demographic when it was unveiled for its SS09 poster campaign.
Tragically, Lou Reed died from liver disease in October 2013, despite having a transplant just five months earlier.
2012 Kate Moss
Prior to this project, images of Kate Moss were nothing new for Supreme, with the British model having been immortalized on three different T-shirt designs — the 2004 NYC 10th Anniversary, 2006 Kate Kiss tee and the 2008 Daikanyama 10th Anniversary (in collaboration with KAWS's Original Fake brand).
In 2012 they decided to make it official, and Moss was chosen as the face for Supreme's spring campaign. Kate's cold stare down British photographer Alasdair McLellan's lens, while wearing a custom-fit white box logo tee, leopard-print fur coat and cigarette burning down to the filter, made for a memorable image.
Outtakes from the shoot show Moss rocking a black/red box tee tucked into denim shorts.
2013 Shane MacGowan
To kick off its Fall/Winter 2013 collection, Supreme teamed up with Irish hell-raiser Shane MacGowan for a small capsule of graphic T-shirts, including a portrait tee.
To shoot The Pogues' frontman, Supreme sent photographer Shaniqwa Jarvis to Dublin where MacGowan donned a black-on-black box logo for the shoot.
Of the shoot, Jarvis recalls "He was pretty amazing, filled me with liquids, fed me and sang R.Kelly's "Remix to Ignition" to me. What more could I ask for?"
A short film by Don Letts accompanied the release, which can be viewed in the 'Random' section of Supreme's site. One thing to note is that this was the first (and to date, only) Supreme portrait tee to feature a black-and-white image rather than color.
2015 Neil Young
In 2014, Supreme released various photograph shirts with the likes of the KRS-1, Harold Hunter, Dead Kennedys, and Siouxsie Sioux, but no actual portrait tee.
When SS15 was previewed with a wheat poster campaign featuring Canadian folk legend Neil Young, the world was equally excited as it was confused. I've always been a big Neil Young fan, so for me this was the best (and most unexpected) one yet, especially considering he never really does anything even remotely like this.
Much in a similar way to what Lou Reed did six years prior, the choice of Young seemed to go over the heads of some younger Supreme customers. The best thing about Supreme sharing its love and respect for such a diverse range of artists is that it can inspire an entirely new demographic to discover something it may potentially have never been exposed to.
2016 Morrissey
So much has already been written about the debacle surrounding the former Smiths frontman and his falling out with the Lafayette Street crew, it seems pointless bringing it all back up again — if you need a quick recap you can read all about it here.
It's a real shame the 'beef' (excuse the ironic choice of word) surrounding this project overshadowed such a groundbreaking release — Morrissey, Richardson and Supreme all coming together to make something iconic.
As long as I've known former 'Preme Brand Director Angelo Baque he's been a hardcore Morrissey/Smiths fan, and regularly DJ'd at the 'Mex Moz' club night in NYC, so for him to be able to work with the man himself was sure to be a career highlight.
They say you should never meet your heroes and, maybe in this case, they are right, but one thing's for sure — the amount of worldwide column inches this controversy generated gave Supreme the last laugh!
2016 Gucci Mane
Movie director Harmony Korine has a relationship with Supreme that spans pretty much the brand's entire existence. It was Kids, the 1995 movie penned by Korine, that featured employees and friends of the Lafayette Street store.
When Korine cast Gucci Mane for the role of Archie in his 2012 film Spring Breakers, the duo struck up a friendship which saw the director visit Guwop's Atlanta mansion following his release from jail last year.
The short film debuted on Supreme's site in July and showed the Brick Squad general floating around his crib in a floor-length white fur coat over his simple red/white box logo T-shirt.
Hyped on the thought of a Gucci Mane portrait tee, fans had to wait another four months from the video's debut to see an actual item of clothing. Due to Gucci's signature, I'm undecided as to whether this shirt belongs in this category or the next, but the full print image feels like it belongs in the portrait series.
Photo Graphic Tees
This category looks at the more stylised graphic tees, based around a Supreme-commissioned box logo-wearing subject. The main difference between these shirts and the classic portrait series is the added graphics and sizing/placement of the photograph.
2007 Tera Patrick
In 2007, Kenneth Cappello spent an afternoon in a hotel bathroom with adult movie star Tera Patrick, resulting in one of the steamiest Supreme celebrity shoots to date.
This was the first Supreme-commissioned photo tee to veer away from the classic portrait styles of Raekwon, Dipset and Tyson, instead favouring a smaller image with graphic lettering "Je t'aime Supreme" surrounding the photograph of Tera.
A second Tera Patrick photo tee was released exclusively in Japan to promote the Supreme Book Vol. 3, where multiple images from Cappello's shoot can also be seen.
2010 Lee "Scratch" Perry
Jamaican OG Dub pioneer Lee "Scratch" Perry was another inspired choice for a Supreme portrait tee. Shaniqwa Jarvis headed out to photograph Pipecock Jackson at his 'Secret Laboratory' studio in Einsiedeln Switzerland, alongside filmmaker Jake Davis.
The striking portrait, surrounded by The Upsetter's own hand-drawn artwork makes for one of the most memorable in the series.
2011 Prodigy
Coming out of Queens, Mobb Deep's second album The Infamous — and particularly its jump-off single 'Shook Ones Pt. II' — was ever-present in New York during Supreme's early years, so it was only a matter of time before the two would officially come together.
In June 2011, and only three months after his release from jail, Prodigy was the face of Supreme's SS11 season. It's very much in the vibe of a 'homecoming' tee, with the H.N.I.C. posing in front of the Queensboro Bridge.
The image was surrounded by some of Prodigy's most renowned quotes and monikers to complete the tribute. Check out the video Supreme produced for the occasion, too.
2012 Three 6 Mafia
This graphic tee depicts not one, but two separate portraits with Three 6 Mafia's DJ Paul and Juicy J, chosen as the first non-New York hip-hop act to star on a Supreme photo tee.
Accompanied by their trippy 'Chicken Wing Recipe' promo, that saw the duo smoking and sipping on 'purp, the portraits and video resurrected the now-infamous purple box logo tee, which hadn't been produced since the late '90s.
Non-Clothing Portraits
Over the years, Supreme has photographed numerous famous faces wearing its classic box logo T-shirts. Many of these images are never actually used on clothing products, but sneak into the brand's output via promo videos, poster campaigns, Instagram posts and photo shoots for Japanese magazines.
2005 Chloë Sevigny / Larry Clark
The New York actress and longtime friend of Supreme was shot by Shawn Mortensen wearing an oversized box logo tee tucked into a pair of denim hotpants.
One of these portraits appeared in the first Supreme Book, which was a magazine released mainly for the Japanese market.
The same issue also featured a Mortensen portrait of Kids director and Supreme collaborator Larry Clark wearing a black-on-black box tee underneath a pinstripe blazer.
Four years later, Shawn Morensen died at the young age of 43, after suffering complications from a long-term illness.
2005 Sal Barbier / Eric Dressen / Mike Carroll
In 2004, a whole decade after its New York store opened, Supreme opened a West Coast flagship. The centerpiece of this large LA unit was the imposing wooden bowl, raised behind the cash register, which would play host to many local pro skaters and friends of the store.
To feature the new shop for the Japanese market the following year, a photo shoot took place at the bowl with several legends including Sal Barbier (who used to own a store on the same block), Mike Carroll, Eric Dressen and Scott Oster all donning iconic Supreme shirts.
2006 Esther Baxter
Video vixen Esther Baxter starred in two Supreme promo videos wearing a cut-down white box logo tank top while suggestively sucking a lollipop and licking Supreme cake off some glass.
Sheets of stickers were also produced to promote the Supreme website, which finally became more than just a holding page, that same year.
2006 Rammellzee
The gothic futurist Rammellzee worked several times with Supreme over the years, and in 2006 he filmed a short promo video in his studio for the newly-launched website.
Although Rammellzee sadly died in 2010, his work can still be found in the background of Supreme's holding page as tribute to the first New York artist they collaborated with.
2007 Slick Rick
In this 30-second video, old skool MC Slick Rick The Ruler covers his XXL Box tee with a stack of signature gold chains and his grey pimp fur. A lot of people hoped for a Rick photo tee but one never materialized.
This image resurfaced in 2015 to celebrate the 35th anniversary of i-D magazine with a special Supreme-curated front cover.
2008 Vincent Gallo
For the front cover of the third Supreme Book, the avant garde auteur Vincent Gallo was the next character to be snapped in Terry Richardson's Soho studio.
Although the indie actor didn't rock the Box for the cover, the inside spread features Gallo in the famous white tee posing with a switchblade.
2008 Takashi Murakami
He may be best known for adding a rainbow of colors to Louis Vuitton's handbags and designing Kanye's Graduation album cover, but Japanese painter/sculptor Murakami can also add his name to the list of contributors to Supreme's artist series of skate decks.
Having designed a trio of skate decks the previous year, Takashi was photographed, working in his Tokyo studio, for the Supreme Book Vol. 3 in 2008.
2008 Krista Ayne
Next in line for Terry Richardson's 'Supreme Girl' series was recent Penthouse Pet and Staten Island local, Krista Ayne. The Supreme Book Vol. 4 pictorial showed Ayne posing in a revealing custom box logo bodysuit with various Supreme accessories.
Much like the previous year's Tera Patrick shoot, an image from this session was released as a T-shirt exclusively for the Japanese market.
2008 Christian Hosoi
Not many skaters ruled the '80s with as much style, flair and confidence as Christian Hosoi, so it was nice to see Supreme paying tribute to one of the greatest.
A (then) 40-year-old Holmes can be seen shredding the Supreme LA store's bowl in the Supreme Book Vol. 4 and a short edit on its site. He may have swapped his '80s headbands for a neat fedora and his cut-off shirts for a crispy white box logo but 'Christ' still reigns supreme in the style stakes.
2008 Rinko Kikuchi
The Academy Award nominated Japanese actress was photographed, wearing a slim-fit box logo, by Ari Marcopolous for Supreme Book Vol. 4 feature 'Tokyo Creators'.
2009 RZA
Now this would have made for such a good tee, but Supreme likes to fuck with people, showing them a glimpse of what could be without actually being able to attain it.
The Wu-Tang's seminal debut Enter the 36 Chambers was released just five months prior to Supreme's Lafayette St store opening its doors, and its cultural impact on New York City should never be underestimated.
For the cover of Supreme Book Vol. 5, Angelo Baque and photographer Kai Regan headed out to RZA's Staten Island complex to interview and shoot the Wu general. Many were hyped for a portrait T-shirt of Bobby Digital in a white box tee, maple Clarks Wallabees and Wu headband, but they remain purely as editorial images. You can see the action on video, though.
2009 Rosa Acosta
By now, the Supreme Book was an annual publication with the 'Supreme Girl' pictorial a regular feature. For the '09 edition it was the turn of classically-trained ballet dancer, video vixen, model and reality star Rosa Acosta to visit Richardson's NY studio.
Clad in just a custom box logo swimsuit, the promo video and photo spread show Acosta posing with an array of the FW09 accessories, such as the Supreme buck knife and the collaboration rug with Gallery 1950. Following the magazine's tradition, the images were used on a pair of Japan-only T-shirts and also immortalized as a cardboard air freshener.
2009 Erik Koston
For a short while during the summer of '09, Supreme installed a neat mini ramp in its Crosby Street location behind the NY store. That summer was hot as hell, but it didn't deter local friends of the store taking full advantage of the indoor spot.
When Eric Koston rolled into town he sat down with creative director Angelo for a Supreme Book Vol. 5 interview and then joined the likes of Zered Bassett, Gino Iannucci and Supreme's own employees for a sweaty indoor ramp session.
2009 Puffy
Quite a curveball for the Supreme Book Vol. 5 was an interview by Vashtie Kola with none other than Bad Boy CEO himself, Puff Daddy.
The shoot stepped away from Terry Richardson's studio onto the streets of Soho with Puff reppin' both the black and white box logo tees with a Supreme 'S' fitted cap to complete the look.
2009 Damien Hirst
Supreme's artist series of skate decks has become a hot commodity in both the art world (alongside resellers/collectors) and it's argued that none are as desired as the two collaboration sets with British artist Damien Hirst.
For his Supreme Book Vol. 5 interview, Shaniqwa Jarvis visited his studio to shoot the world's richest visual artist decked out in a black box tee.
An accompanying promo video showed Hirst urging customers to actually skate their decks as opposed to hanging them on a wall.
2010 Vanessa Veasley
Glamour model and actress Veasley was the final subject in Terry Richardson's 'Supreme Girl' series of photo shoots. The risqué spread saw the model suggestively posing in a cut-off box logo tank top and bodysuit.
2010 Philippe Petit
Philippe Petit will forever be remembered as the 'Man on Wire' following his high-wire walk between the Twin Towers of the World Trade Center in New York City, on the morning of August 6, 1974.
The enigmatic Frenchman was interviewed by Andre Torres and can be seen, in the Supreme Book Vol.6, hanging with Ty and Miles at the store in his black box logo shirt.
2010 Large Professor
And on the opposite page Main Source founder and Harlem native, Large Pro, was photographed lounging at home by Kai Regan in an oversized white box tee, for the Supreme Book Vol. 6.
2010 Paul Rodriguez
To launch its own '94 sneaker, Supreme took Nike SB rider P.Rod out to the streets of Brooklyn with photographer Kenneth Cappello. A standout shot of Rodriguez wearing a black-on-black box logo tee while skating the hood of an NYPD patrol car was the result.
2011 Lady Gaga
Back in 2011, there was no superstar on the planet bigger than Lady Gaga. With the anticipation for her second studio album Born This Way at fever pitch, Stefani Germanotta was the hottest face in music, fashion and celebrity.
For a downtown independent skate store to work with such an international megastar would be usually unthinkable, but Supreme tend to go where others daren't and push the envelope as to what's possible.
The Terry Richardson studio shoot saw Gaga posing in an oversized white box logo T-shirt, a special box logo hoodie customized by Kerin Rose of A-morir, a custom box logo Hermès Birkin bag, red McQueen Armadillo boots and a Supreme skate deck.
The most impressive element to Supreme's major celebrity endorsement was that they decided not to utilize the images for any commercial products and Gaga was simply an eye-catching wheat poster campaign and behind-the-scenes video clip to launch the SS11 season…now that is power!
2013 Nas
Not too much is known about Supreme's shoot with Queens resident Nasty Nas. In 2013, some photos surfaced online of what appeared to be an official photoshoot, with God's Son rocking the infamous red-on-white Box tee and a black-on-black box logo hoodie.
The online community lost its mind and most presumed this was going to be the SS14 portrait tee. Sadly, nothing has yet to come of this shoot and a Supreme x Nas photo tee remains nothing more than a concept.
2014 Jay Adams
Many may argue that without the likes of trailblazing skaters such as Adams, there would be no Supreme. As one of the youngest and most stylish members of the Dogtown/Z-Boys crew in the 1970s, Adams lived a crazy life that included skateboarding, surfing, punk, substance addiction, jail and redemption.
Skate photographer and friend of Supreme, Chris Shonting, shot a haunting portrait of Adams adorned with blacked-out shades, black crucifix and white box logo shirt. Although the portrait was never used on any merchandise, Supreme chose to publish this image on the day of Adams' death in August 2014 with the fitting caption "100% Skater 4 Life."
2014 David Blaine
Movie writer, director and Supreme Book Vol.4 cover star, Harmony Korine, produced a couple of short promo videos for the 'random' section of the Supreme website.
The two short films entitled 'Fireboard' and 'Needle' follow notorious New York head case David Blaine and skate legend The Gonz as they freak out the local skaters of Cashville, Tennessee. The look on Baker Skateboards pro Dee Ostrander's face as a box logo-clad Blaine drives a kebab skewer through his own arm sums it up!
2014 Raymond Pettibon
To promote the FW14 collaboration, the often camera-shy Pettibon was interviewed in his NY studio. He shoots hoops and discusses his career as a punk artist while wearing a customized box logo shirt adorned with a DIY stencil of his Black Flag "bars" logo.
2016 Barrington Levy
Spearheaded by London store manager Jagger, who's a reggae DJ and ex-employee at the classic 'Honest Jon's' record store, Supreme released a capsule collection with Jamaican reggae legend Barrington Levy.
To launch the collection, a promo video was released of the Mellow Canary himself sporting the red-on-white box logo while reciting his 1985 reggae classic 'Here I Come'.
Other Photo Tees
Supreme photo T-shirts aren't limited to the portrait and graphic tees in categories one and two.
Other famous faces who have appeared on Supreme T-shirts include Charlie Chaplain, Harold Hunter, Igor Kotlyar, Isaac Hayes, Jean-Michel Basquiat, Malcolm McLaren, Miles Davis, Mohammed Ali, Notorious B.I.G., Pam Grier, Robert DeNiro, Sid Vicious, Siouxsie Sioux, William Burroughs and Woody Allen.
For other Supreme history pieces, check out our interview with Supreme's OG New York store manager, Alex Corporan.