In this monthly column by Eugene Rabkin, the founder of StyleZeitgeist shares his opinions, observations, and insights about the world of fashion. For this installment, Eugene explains how techwear is armor for battles we no longer fight.
Recently at Pitti Uomo, artistic director Clare Waight Keller presented her first standalone menswear show for Givenchy. One of the themes was techwear, manifested in super-lightweight hooded windbreakers and raincoats. Elsewhere in Florence that day, there was a little tech- and outdoor wear show called "I Go Out," featuring brands that participated in an entire pavilion Pitti had devoted to techwear about a year ago.
Pitti Uomo is known for keeping its ear to the ground, and the fact that this pavilion materialized speaks to the fact that techwear is becoming an indispensable part of the male wardrobe.
You see it everywhere, from Wall Street drones in their The North Face and Arc'teryx fleece vests to Drake drowning in Stone Island puffers, urban hipsters sporting Patagonia to the hypebeasts who've made ACRONYM one of the most covetable menswear brands on the market. But why exactly does the average city dweller need a Stone Island jacket made of Kevlar, a material used in bulletproof vests, when a wool coat and an umbrella would do?
The short answer is that evolution is a slow process. The contemporary urban male might spend most of his time in a well-lit office answering an ungodly number of emails, but his instincts remain quite masculine. Most of us don't fight wars, climb mountains, or go on Arctic expeditions, but the romanticism attached to these things, however flawed, runs deep. We don't charge into battle, but it feels good to wear a uniform. Techwear, with its functionality, durability, and clear debt to military gear, fits the bill.
Another aspect of the male psyche that sparks our fascination with techwear is our innate geekiness. Not the geekiness for which you were bullied in high school, but a fascination with detail and provenance, and the desire for collecting and sharing minute scraps of information. Techwear is interesting and demands attention. The garments have multiple zippers, pockets, taped seams, and are made using fabrics concocted by chemical engineers.
Those materials have evocative names. Why wear denim when you can have Dyneema? In one episode of Seinfeld, there was a scene in which George is ridiculed for wearing an enormous puffy jacket. "It's GORE-TEX," he proclaims. "You know about GORE-TEX?"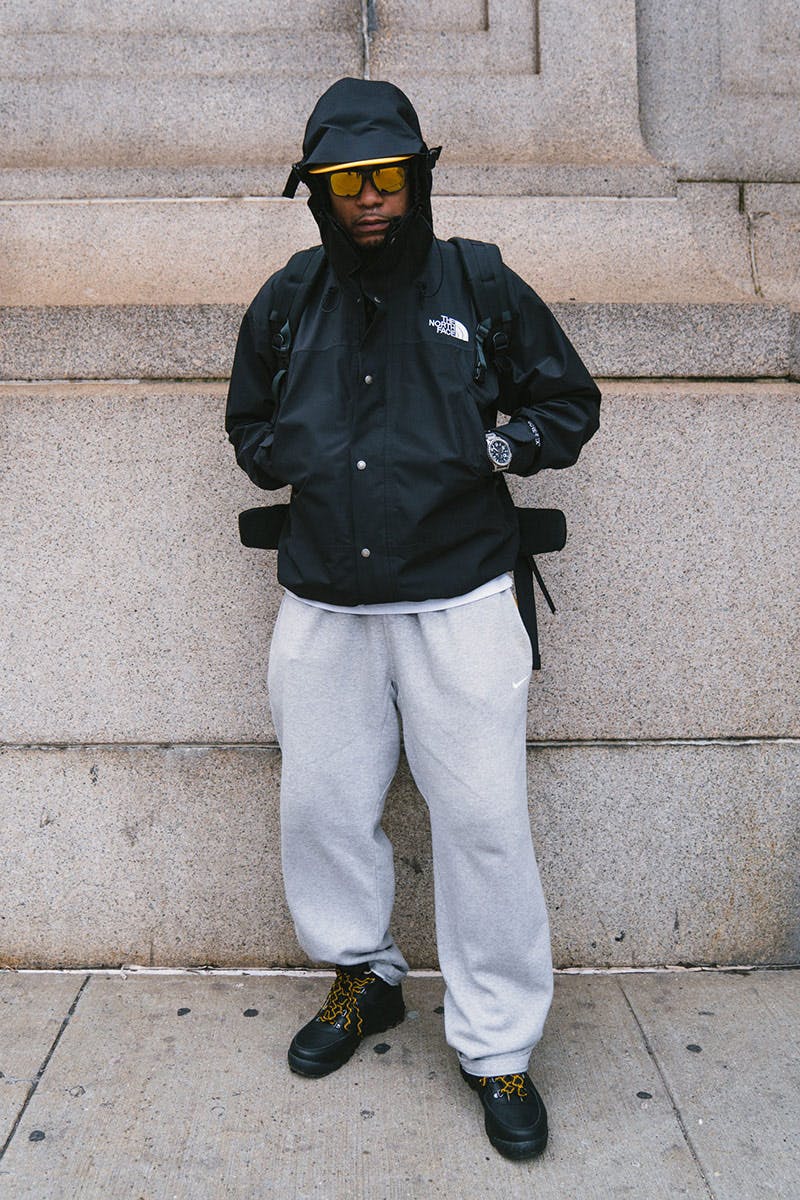 "You like saying 'GORE-TEX,' don't you?" Jerry retorts. Of course he does; we all do.
Techwear is descended from a long line of utilitarian clothing used for hunting and war. Some of its progenitors still exist, from Barbour, maker of waxed cotton hunting jackets, to Burberry, which made trench coats for English officers in World War I. In the US, there is Eddie Bauer, whose namesake founder invented a quilted jacket filled with duck down in 1936 after almost freezing to death in a woolen sweater while on a fishing expedition.
Probably no person is more important to modern techwear than Italian designer Massimo Osti, founder of C.P. Company and Stone Island. A graphic designer by education, Osti was interested in the utilitarian aspect of military clothes. In the '70s and '80s, he would scour Italian vintage markets, which overflowed with military surplus goods. He was already designing jackets for C.P. Company, the most famous being the Mille Miglia, inspired by the Italian car race of the same name and featuring a hood with embedded goggles.
While C.P. Company had an element of refinement and a weekend warrior feel, Osti was fascinated with a rugged functionality that didn't fit the C.P. Company aesthetic. In 1982, he experimented with adapting military-grade canvas as a jacket fabric. The material was too rough, so Osti stonewashed and dyed it to make it softer. On the strength of this fabric, which he called Tela Stella, Osti launched a new line, Stone Island. When Osti's business partner Carlo Rivetti saw the first Tela Stella garments, he realized he was looking at the future of menswear.
Stone Island's ruggedness found a place in football culture during the '80s, particularly on the standing-only terraces of English stadiums. For the "casuals" and hooligan "firms," the football season was a war their team fought every year. Among the hooligans, matchday fights became ritual and their battle armor was often Stone Island.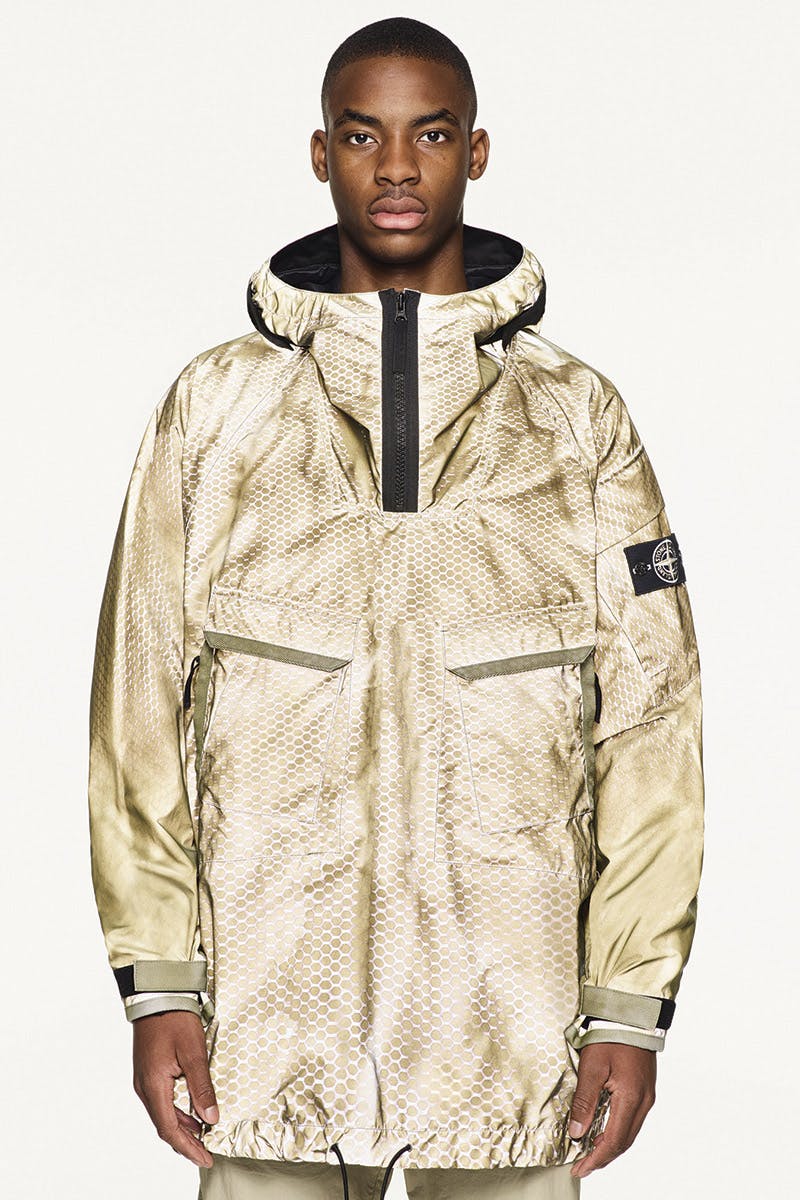 "We are a very masculine brand by design," says Rivetti. "Stone Island speaks to men because there are definite military influences in it. Also, there is the sleeve badge, which makes the clothes instantly recognizable. When you meet another man in Stone Island on the street, you see a member of the same tribe."
Osti passed away in 2005, but Rivetti remained hellbent on pushing techwear as far as possible. In 2004, he met Errolson Hugh, a young Canadian working in Berlin on his own techwear brand ACRONYM. In 2006, Rivetti hired Hugh to run Shadow Project, a line under Stone Island on which he would be free to experiment with technical fabrics, dyeing, and construction without commercial constraints.
ACRONYM has acquired a cult status of its own, especially after Nike hired Hugh in 2014 to revamp its ACG line and started making Nike x ACRONYM sneakers. ACRONYM drops often sell out instantly. "If you don't know my cellphone number, chances are you are not getting it," says Daniel Franco of New York store Idol. There are invite-only internet forums devoted to the brand, where acolytes debate and trade its products.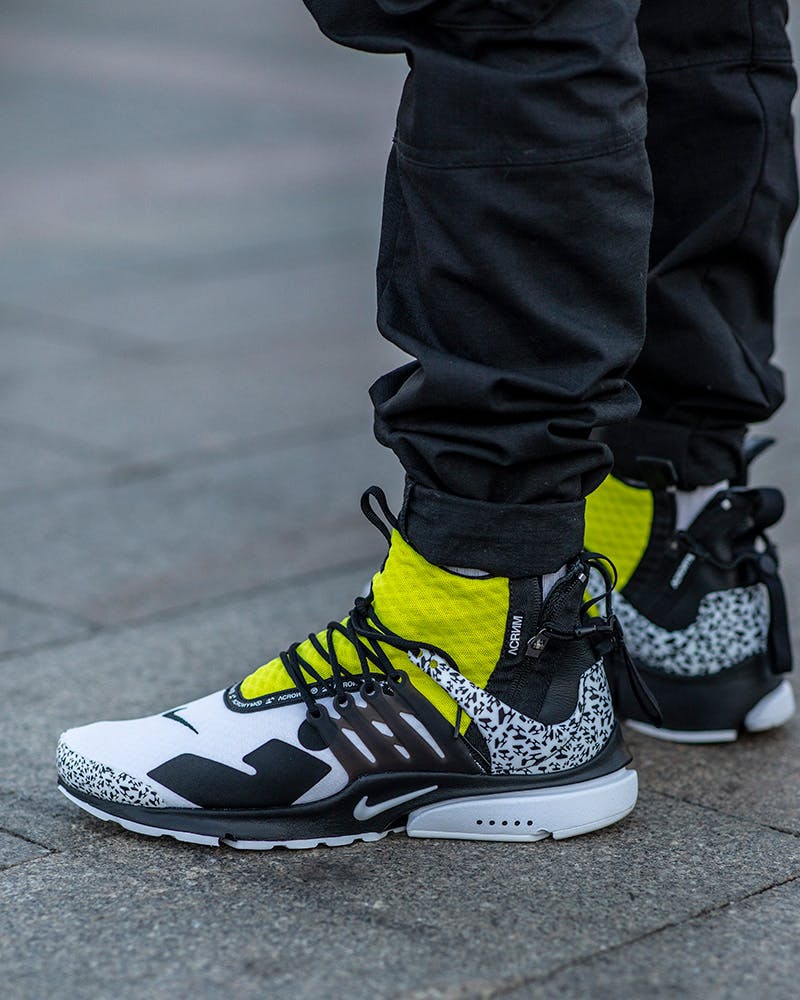 The fact Nike, a sportswear giant, hired a niche figure like Hugh highlights how important techwear has become. Other companies, seeing men adopting outdoor gear for everyday use, have rushed to meet the demand.
There's Laminar, a line of GORE-TEX jackets for Italian tech-luxury brand Herno whose first iteration was also designed by Hugh. Canadian outdoor brand Arc'teryx has its Veilance line, which makes tailored raincoats, blazers, and pants. At the niche end of the market, there are labels like Norwegian Rain, which makes tailoring in water-resistant tech fabrics and whose creator T-Michael points out that he's from Bergen, Europe's rainiest city, and thus knows a thing or two about adverse weather.
At the other end of the spectrum, techwear has broken through in high fashion. Today, avant-garde designers such as Junya Watanabe and sacai routinely collaborate with The North Face, and luxury brands from Hermès to Dior have used Schoeller and PrimaLoft fabrics, the latter of which was created to insulate coats belonging to soldiers of the US Army.
In the techwear world, dropping names like PrimaLoft is the equivalent of Brunello Cucinelli fans bragging about the quality of their cashmere. It comes from our innate desire to show off in an almost infantile but quite innocent way. The contemporary armor of techwear satisfies our need to feel protected, even if the only mountains we're likely to climb are those of unread emails.