Highsnobiety / Julien Tell
This story is taken from Issue 17 of Highsnobiety magazine. You can buy the new issue here.
How does a band follow up a Grammy-nominated album? If they're The Internet, it's by pursuing solo projects and coming back feeling more interconnected than ever before. From 'Ego Death' to 'Hive Mind,' the five friends trace a journey that has led them to their best work yet, both as individual artists and as a band with an almost telepathic dynamic.
Nearly every in-depth artist profile starts out with a mise en scène of the situation. The location of a meeting between artist and journalist, what the subject is wearing, their overall demeanor, whether they're late or right on time, what they order to eat or drink — it's all meticulously documented and shared with the reader from the get-go. A profile on The Internet, however, isn't so straightforward. First off, we're backstage at a festival in Germany — Melt Festival, to be exact — and we have to squeeze in a photoshoot with all five members of the band while the interview is going down. A techno music kick drum relentlessly booms in the background, and members of various artists' teams and festival crew alike are constantly passing through the supposedly private outdoor space.
Based on what you can gather about The Internet from, well, the internet, Syd, Matt Martians, Patrick Paige II, Steve Lacy, and Christopher Smith are equal parts insanely talented, distinct, cool, and humble. The fact that our conversation opens with guitarist, co-producer, and vocalist Lacy freestyling as other members of the band drum on the table seems par for the course. Lacy is riffing on the fact that frontperson and co-founder Syd is away from the rest of the group getting her makeup done before their photoshoot. "If I could get my face beat, it would be a one-ten BPM," he chides. How does one even attempt to ask the requisite band-gearing-up-to-release-a-new-album questions during something like this?
It's a week before The Internet are set to drop their fourth studio album Hive Mind, the follow-up to 2015's Grammy-nominated Ego Death. In the interim, all five members have released their own excellent solo projects, before coming back together for the new record, much to the confusion of music journalists who had assumed the band broke up.
"Black people and black musicians, we can never come back together and apart. It's like we're not allowed to have dynamics," says producer and co-founder Martians. "We're best friends, but each of us has our own friend group and our own stories that everybody else doesn't see. It's like that in every band. You always have to have the air vents open for people to express themselves, solo-wise."
Open air vents proves to be an apt metaphor the more time you spend with The Internet. Over the course of an hour, vibrations and ideas float in and out — for some reason, insects are a recurring theme — and memorable meals are discussed in vivid detail. During their performance later that day, the band carve out slices of their setlist to perform some solo tracks, such as Martians' "Diamonds in da Ruff" from his The Drum Chord Theory album. The five friends could not be the people they are, couldn't make the music they have over the past seven or so years, with any vents closed.
The group started work on Hive Mind about a year and a half after Ego Death, and there was an underlying struggle with each member trying to push themselves in new musical directions. There was a lot of pressure to formulate a collective sound, so the solo albums allowed The Internet to explore their individual sonic identities, with each member returning to the figurative "hive mind" with something new.
"We all had sounds we didn't even know we needed to get out," explains Martians. "That's the beauty of solo albums. They took a little bit of that weight off."
From Syd's stripped-back R&B on Fin to Paige's soul-baring solo debut Letters of Irrelevance, by allowing ample time to explore their own inner worlds and the outer sounds that might reflect them, each member was able to bring even more of themselves back to The Internet — from their expanded influences to the lessons learned from individual experimentation.
"We all had sounds we didn't even know we needed to get out."

Martians
After catching a glimpse of their dynamic for an hour and hearing them describe it, it's clear The Internet are truly operating on some sort of rare, telepathic tip. Whereas Ego Death suggested letting go of one's sense of self-importance (Martians says he was researching psychedelics at the time and the two words stuck with him), Hive Mind is all about a group of egos, bodies, and minds joining forces on a subconscious level.
"I saw these girls in Marvel comic books that are group psychics and I thought it was cool. It reminded me of us when I saw them," says Martians, referring to the Stepford Cuckoos from the X-Men universe. "We all wear the same shit sometimes without planning it at all. I was like, 'Yeah, we're like a hive mind.' It sounded cool."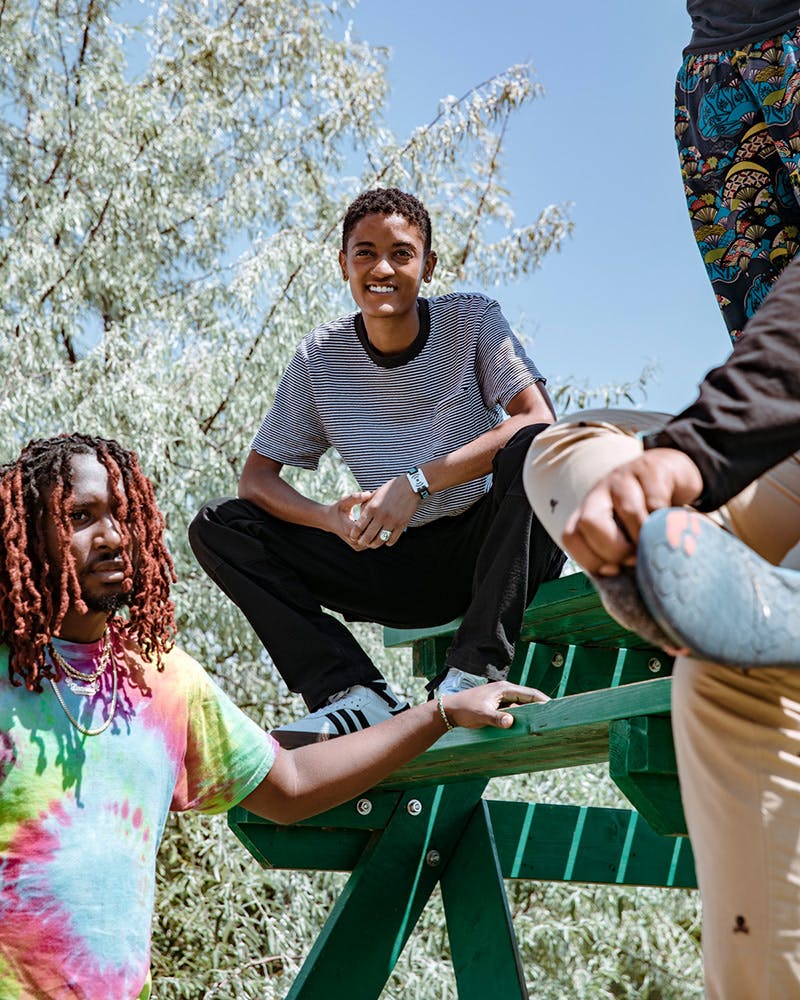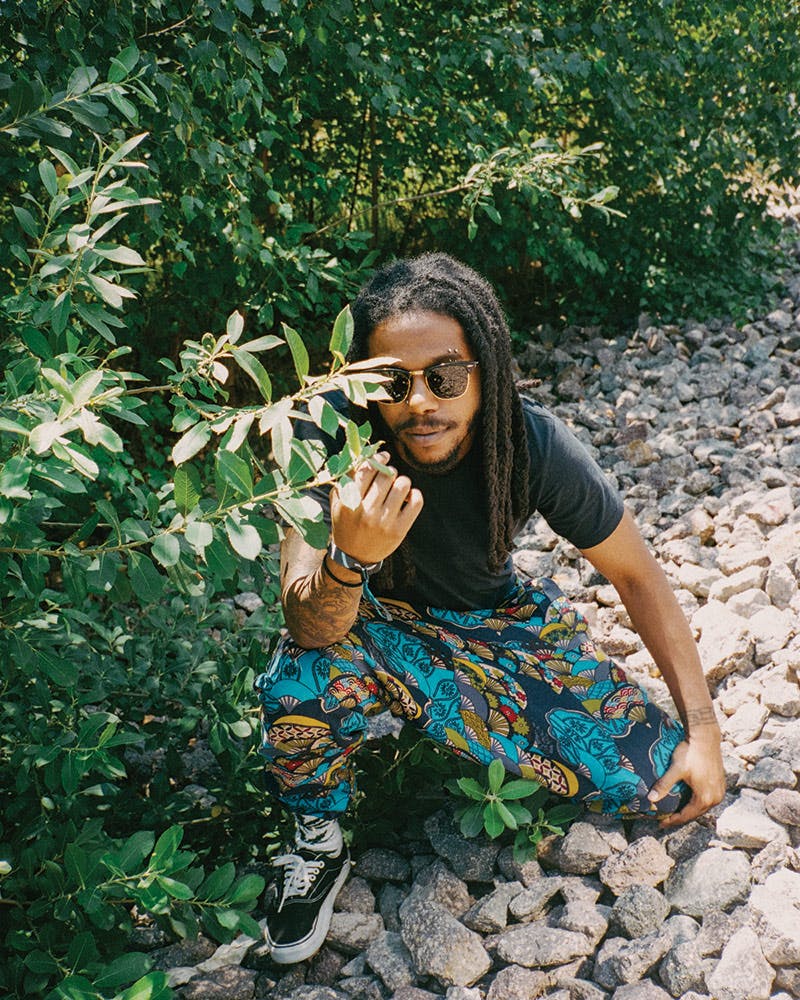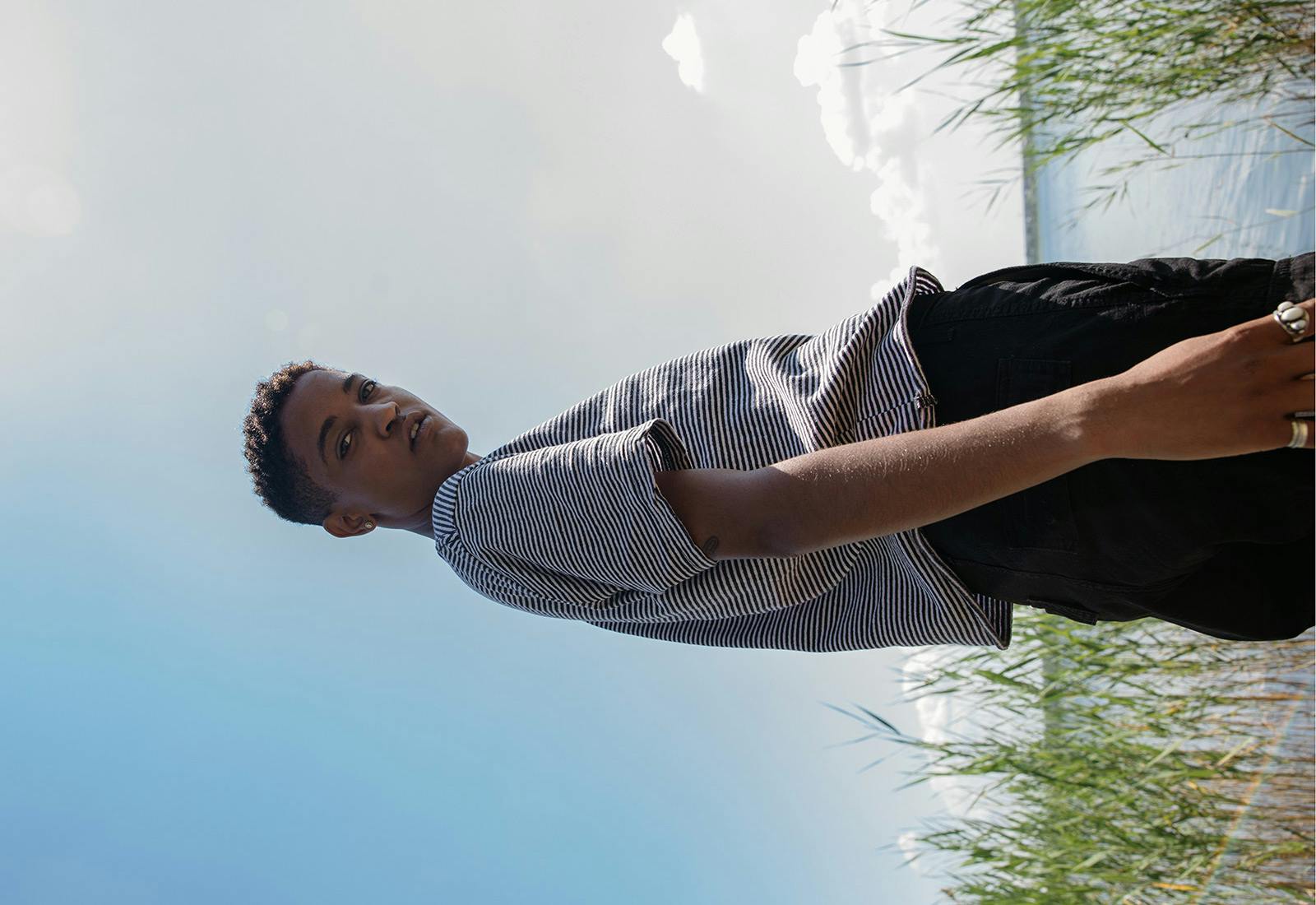 Highsnobiety / Julien Tell
The Internet definitely locked into their hive mind for their latest collection of songs. The new record is as focused as anything they've done, thanks in part to the experience and exposure they picked up from Ego Death and the addition of Lacy to the band, locking in both their lineup and their sound.
The group's oneness is apparent on Hive Mind opener "Come Together." With psychedelic synchronicity, it sets a precedent for the rest of the album — a microcosm of where they're at as a group and how far they've come. You can sense how grounded and focused they must have been while writing and recording the song, how rooted it is in foundational African-American music like gospel, soul, and R&B, while at the same time existing in an otherworldly state that can only be inhabited by The Internet.
Unlike on previous projects, the band didn't call upon guests to contribute this time around, save LA's Moonchild, who played horns on certain tracks. Meanwhile, the band unanimously agree that a mellotron was the album's MVP. It's clear on Hive Mind that the five friends have gained enough confidence to put out music that is self-assured but not obvious, pop-adjacent but not pandering.
Although Martians and Syd caught a glimpse of fame through their status as two founding members of Odd Future, forming The Internet felt like starting from scratch. Post-OFWGKTA, Syd went from DJing in front of thousands of people to performing in smaller venues to an audience of 50.
"You've got to develop your own sound and your own following," says Martians. "I think that humbled us quite a bit."
The Internet went from those crowds of 50 to a Grammy nomination in just half a decade. But unfortunately, with accolades often comes the pressure to deliver the goods once more, to match or even outdo what you've already done. Luckily, The Internet aren't the kind of band to be phased by the noise that surrounds them.
"We don't ever have pressure," Martians muses. "It's weird, I feel like people want us to be a certain type of band that we never wanted to be. We just like making consistent music and having stuff to perform."
"And having fun while doing so," adds Lacy.
From their debut album Purple Naked Ladies, masterminded mostly by Syd and Martians, to Hive Mind, the group has expanded its universe masterfully into a cluster of sounds ranging from neo-soul and experimental jazz to funk, indie rock, and R&B. And that's mostly been possible because of the band's insistence on doing things their way, and on taking their time, despite how quickly fans and record labels might want a project to drop.
"People consume things, because of social media, at an unhealthy rate, and they want to be fed again very fast," says Martians. "Quality takes time. It takes composition and story. We have to live a little to have something to talk about."
"We just stop. We don't really force the music-making."

Syd
In taking time off to experience things and explore who they are as individuals in life and as artists, Syd, Matt, Steve, Chris, and Pat strengthened their group dynamic, refining their music like never before. The recording of Hive Mind mostly took place in and around Los Angeles, where most of The Internet grew up, while a few of the album's songs — "Hold On," "Wanna Be," and "Beat Goes On" — came together surprisingly quickly in Australia after a two-month drought in which the band couldn't come up with anything new.
When asked how they deal with creative blocks, Syd replies in her distinctive, impossibly chill voice, "We just stop. We don't really force the music-making."
"Beat Goes On" immediately comes to mind for both Martians and Lacy when prompted to talk about some of the more intense life experiences that had affected Hive Mind's songwriting. "That was one we definitely felt deeply for," says Lacy. Both members were dealing with issues with their respective lovers while on the road, and at a certain point, the song just started to flow. "The beat goes on, we're gonna play music, our heartbeat is still gonna go. In many ways the beat still goes on," Lacy continues, echoing the existential freedom of a weirdly wonderful song that unexpectedly launches into a trip-hop excursion midway through.
For Paige, bassist and songwriter, the rap outro of "It Gets Better (With Time)" is a confessional, cathartic moment. He lays bare his past struggles with alcohol and the more solid, sober ground he stands on now.
Highsnobiety / Julien Tell
"My verse on there, that was definitely some shit for me," Paige says. "I am in a better place in life because it was dark for a minute, but it's better now. I'm still not perfect, nobody's ever gonna be perfect, but I definitely feel better."
Paige and Lacy have an ongoing in-joke that the band is an ever-changing cast of family members. And Syd is proud of how the group's strong personal bond has been exemplified by their new collection of songs. You can catch a glimpse of the hive mind in action in the album's visual accompaniments. Each promo video for the album manages to convey a lightness of being, both as individuals and as the organism known as The Internet. Whether they're embracing the breeze in the back of a pickup truck traveling along a forest highway in the "La Di Da" video or sitting on the couch watching a movie with their lovers in "Come Over," there's a rarified air of peaceful cohesion.
Lacy compares his pride in what The Internet has accomplished on Hive Mind to an unexpected discovery while shopping. "A good album is a treasure you find in a thrift store," he explains. "I'll go record shopping and buy maybe 20, 30 CDs, and out of all of those, there might be like two songs you like on there. But to find a whole album is like, 'Holy shit, I'm gonna wear this jacket for a long time.'"
The group is unanimous in the view that they want to be remembered for consistently putting out good music. "A group that did it their way," adds drummer Smith.
Although all of their releases have been marked by experimentation and a desire to push boundaries of genre and what it means to be black musicians in the 21st century, Hive Mind is an assurance that The Internet has entered into timeless territory. Or, as Martians puts it: "Diamonds are forever — we go as far as we want to."
Highsnobiety magazine Issue 17 is available now from our online store and at select premium stockists and boutiques worldwide.