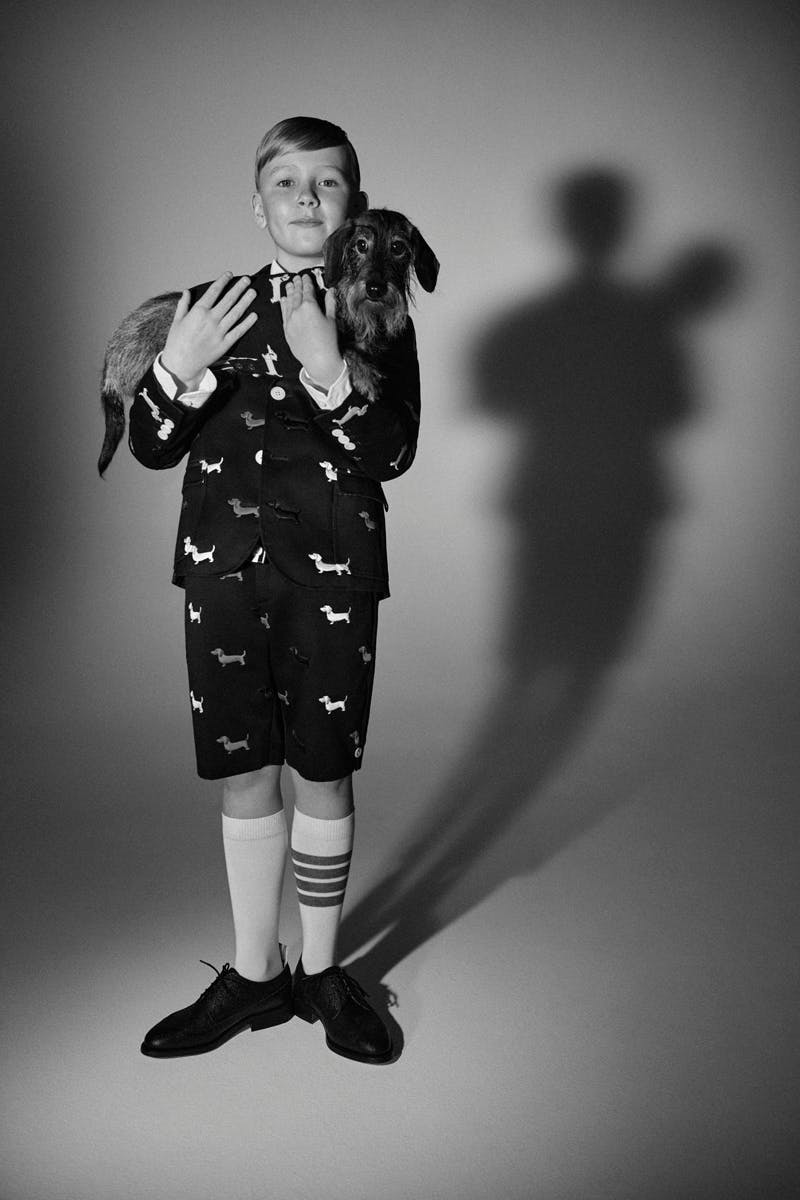 Thom Browne may have given Jude Hill, the 11-year-old Critic's Choice Award-winning actor, the toughest role of his young career: dodging the maw of a giant pooch.
Okay, it's really just some clever, semi-surrealist collage trickery but Hill and some equally adorable tots do make quite a splash in Browne's latest childrenswear campaign.
Starring alongside Browne's knees and painfully adorable dog, Hector, the pint-sized models are the stars of a sly homage to childhood classic James & the Giant Peach (more like Jude & the Giant Pooch).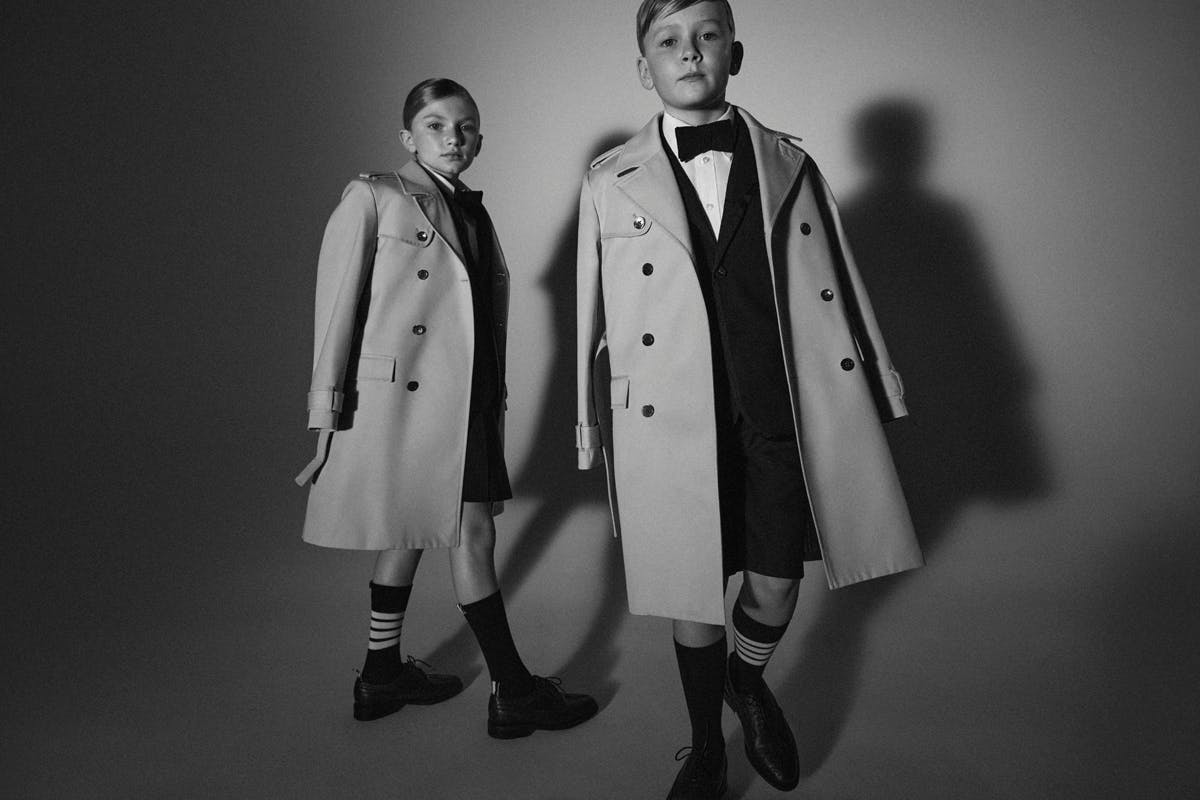 Of course, there are also more conventional on-model shots for the seasonal line but it's all about the dreamlike campaign, which hits the Thom Browne trick of showcasing approachable silhouettes in a joyously bizarre light.
Browne's kids' clothing is unsurprisingly no less luxe than his mainline adult fare and this season yields tiny cropped suits dappled with embroidered dachshunds, a nod to Hector the giant hound.
For the more conservatively-styled youngster, Browne has plenty of signature charcoal grey suits, four-bar sportswear, honest-to-goodness tuxedos and child-friendly tuxedo intarsia sweaters.
This is not Hill's first time wearing Browne.
The tween, who received international props for starring in Kenneth Branagh's Belfast last year, was most recently kitted out in a custom Browne get-up for the 2022 Oscars, which he attributed to his mum.
"I have no fashion sense," Hill said, like any 11-year-old boy would.
Browne has demonstrated the usual understated aptitude in dressing celebs for awards season, having recently creating comfortable looks for Oscar Isaac and Angus Cloud, to name but a few.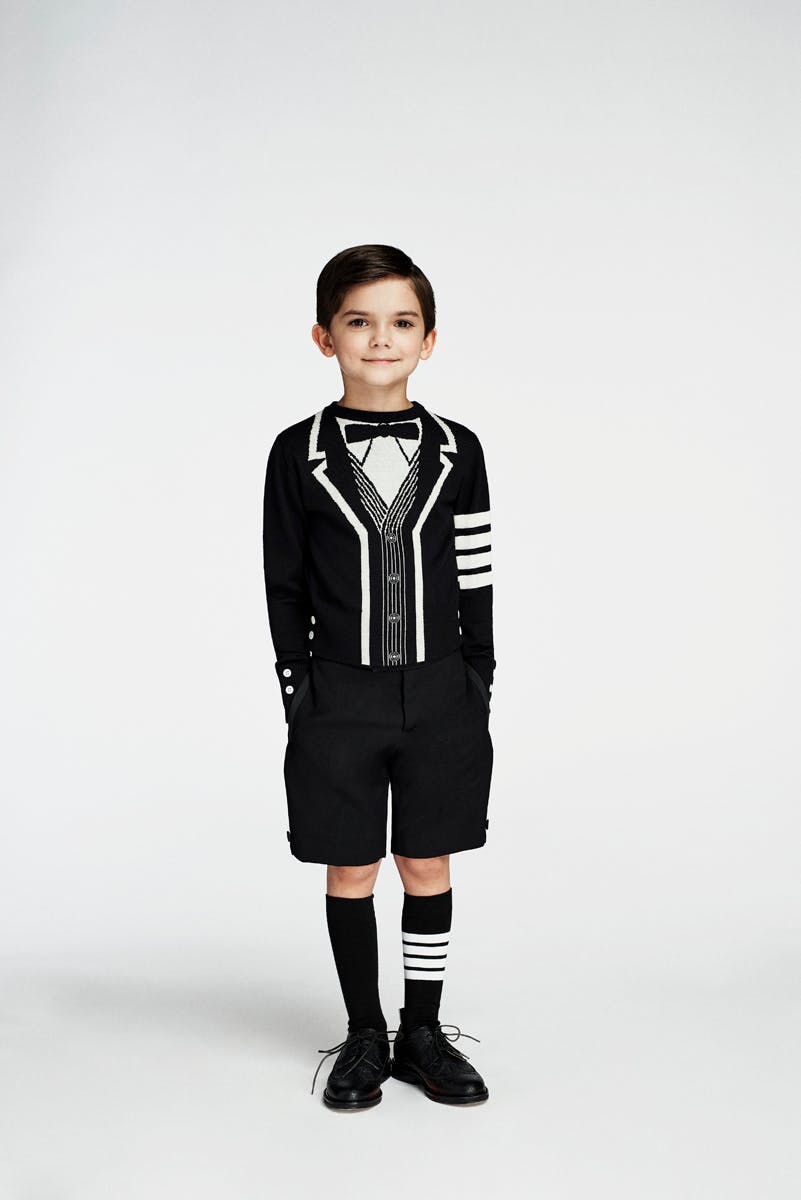 But now it's time for the tykes to take their time in the spotlight, ushered in by Thom and Hector Browne.
Shop our favorite products