Born out of the Swedish values of equality, function, and meaningful design, Tiger of Sweden's first-ever unisex suit is not only breaking pre-existing gender boundaries but reinforcing the two-piece get-up's significant status.
With its genesis stemming from Tiger of Sweden's first women's collection back in 1997, the silhouette selects the best bits of the brand's suits, all compiled into one final, fresh masterpiece. The '97 womenswear collection was a huge success, adored by creative women in Stockholm and Scandinavia, which propelled Tiger of Sweden further into the womenswear universe. What works for men also works for women — one style can truly suit all. Decommodified and for everyone, suits can represent everything from finesse and style to casual daily comfort, not to mention how versatile they are.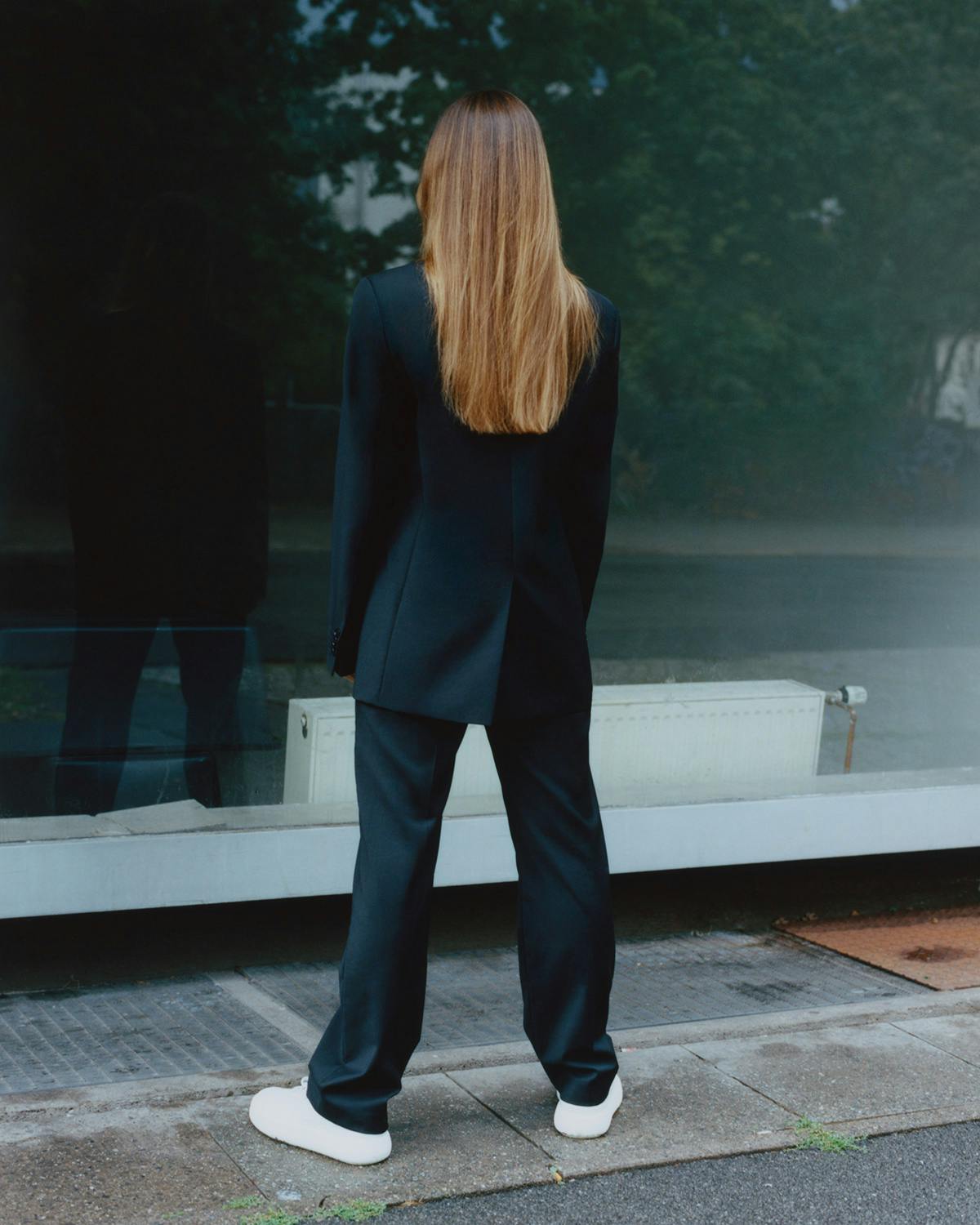 Since the late 1800s, women have been using suits as a weapon for feminism. In 1910, the American Ladies' Tailors Association designed the suffragette suits, which were cut to allow women to have more freedom of movement, something necessary for the rallies and marches they were part of. Whether as a form of protest or to fight for equal rights, or even to reinforce their status and position amongst male-dominated spheres, suits have been a symbol of rebellion against the status quo for over a century.
Part of its 'All Collection - Volume 1', the suit is symbolic of the Tiger of Sweden's quest into its future, rooted in elements of its past. With the zeitgeist and demands of our current society constantly in flux, it's a no-brainer as to why Tiger of Sweden is keen on inspiring and evolving with the changing times. As increasing importance gets placed on genderless clothing and an open attitude towards fashion starts to take the helm, there is no better time to re-introduce a more unisex approach that transcends traditional notions of 'his and 'hers.'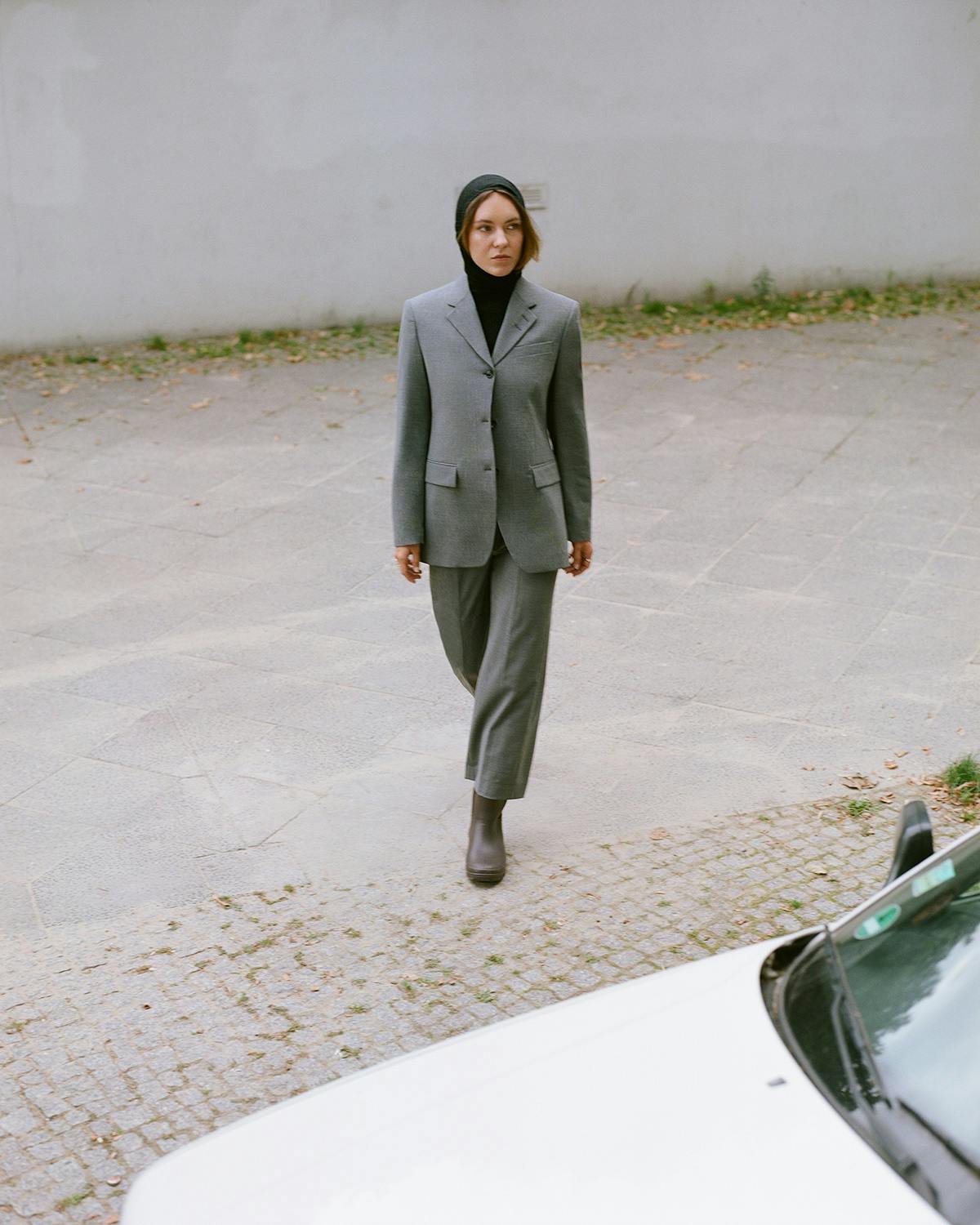 The pieces aim to translate the dialogue between performance and movement. Exploring how the body moves and connecting our emotional and practical senses, the pieces are a fusion between design functionality and human expression. Thanks to the oversized fit, the silhouettes for this line, including that of the unisex suit, allow for free movement, which can sometimes be challenging to achieve tailoring-wise. Tiger of Sweden is really pushing the boat out and working on making its clothing more and more accessible for everyone.
To further emphasize the focus on movement and performance, Tiger of Sweden called upon choreographer, curator, and dancer, Franka Marlene Foth, to orchestrate its London Fashion Week event last week. We caught up with Foth in her hometown, Berlin, to find out more about her practice and inspiration for the show, as well as her feelings about the unisex suit.
"My works span a multidisciplinary sphere of stage, film, music, fashion production, and collaborations with artists from various fields. I consider myself a transmedia artist without a genre as I don't want to label my creativity," explains Foth.
With her background heavily rooted in the world of dance, it makes total sense as to why Tiger of Sweden would want to focus on her craft for its FW collection. "My background in dance is super versatile as I was always intrigued and inspired by all styles. I was deeply involved with the urban dance scene in my teenage years, but later on, I worked more intensely with contemporary dance. However, I always felt that need for the combination and fusion of it all. I found my own way of moving, always aiming for new compositions, blending all art forms that influence and inspire me, and generating fluidity between genres. Versatility and a panoramic view of dance and art are most important to me."
Through constant dedication and curiosity, Foth explored new avenues of dance, elevating her practice and creating new layers of expression. "I'm inspired by music and sound mostly, but also other dancers, sunlight reflections, silence, dynamics, pace, life happenings — everything expressive," she says. "Choreography happens in my head all the time. I envision pictures, formations, and compositions non-stop, from certain aesthetic details and locations to the number of dancers and, most importantly, the musical elements. For this Tiger of Sweden show, I created the sound together with a musician, with the pictures and performance composition happening parallel to this. Once I structured and framed it, we just entered the rehearsal studio and tried it all out."
When it comes to what she likes to convey most in her work, Foth states that "purity and sensation of dance" are the most important. "I want to hit a nerve when performing in front of an audience. The moving bodies of the performers, the music, the lightning, everything has to merge to create a certain mood to which the viewer is drawn to and swallowed by. What each individual feels or sees in it I like to keep open for interpretation. I want the audience to not think for a moment and just experience."
As someone who is so fully immersed in her work and the feelings that come with it, Foth explains how working with Tiger of Sweden allowed her to delve into the relationship between her practice and the brand's DNA. "Working as a creative curator for the SS22 LFW Show, I was given total creative freedom from the Tiger of Sweden team. This made it possible to fully work with my intuition on how I wanted the music to translate and embody and choreograph the performance. Of course, the collection was the primary focus, and then came the general setting of the mood, choice of location, and the transitions to the dance. These were all made in coordination with the colors and fabrics of the garments."
Even though oversized, comfy sweatpants and hoodies are her go-to dance garments, Foth has always been a lover of suits, "I was never really a dress person, to be honest," she says. Thanks to the oversized and gender-fluid fit of the suit, Foth realized her vision for the event. "Tiger of Sweden is such a classic brand, but with a twist. The garments from the SS22 collection worked perfectly on the dancers. They didn't restrict them in their movement quality, and everything came together really beautifully."
"I think it's a great approach from Tiger of Sweden to move in this unisex direction. I've often looked in the men's section for clothes, but this shouldn't be necessary. There shouldn't be any limitations. Everything should be unisex so everyone feels welcome."
Shop the full Tiger of Sweden unisex collection here.