Highsnobiety / Jason Nocito
This piece appears as part of "Not In Paris," an online exhibition hosted and curated by Highsnobiety. Head here to see the full series.
In 2005, a man named Howard Stapleton developed The Mosquito, an anti-loitering device designed to disperse groups of teenagers from public places by playing an annoying sound at a high frequency that only the ears of young people can hear. In 2016, a Chinese entrepreneur named Zhang Yiming launched a video app called TikTok, the equal opposite of that device. What's fascinating about the rise of TikTok isn't its popularity with the youth, but its ability to profoundly alienate anyone born before 2000. This March, Senator John Hawley introduced legis­lation to ban federal employees from downloading the app on any government-issued devices. Alleged connections to the Chinese Communist Party aside, the world's most downloaded app is as idiosyncratic as its generation.
While Instagram and Twitter seem obvious for people of all ages, TikTok's lip-syncing antics come across to outsiders like a secret message chiseled into the lyrics of a Dua Lipa song. Yet the app is in many ways the most strangely egalitarian of platforms: sometimes videos become popular because of a combination of editing skills and cleverness, and then just as often for the fact that they kind of don't make any sense. In a time when almost everything has actually stopped making sense, we caught up with some of the world's biggest Tokkers about, you know, what makes them Tik.
Highsnobiety / Jason Nocito, Silk jacket GUCCI; Cap, belt and custom pants LARRAY'S OWN
Larray @larrayeeee (9.4M followers)
"When I talk, I just talk and don't stop fuckin' talking. When you watch my videos, it's like, 'Oh I'm hanging out with my best friend.' That's the vibe I give off, I guess. A lot of people can connect to me because I'm insecure. I talk about my insecurities in my videos. I talk about being annoying. I talk about all the shit that people are going through. The first video I ever made was with my little sister. I was twerking on the stairs and she came out of nowhere and started copying my moves. By the way, she was, like, seven. That's the one that really put me on the map. I always have liked filming myself. It's kind of a bad habit at this point because I can't stop recording. There was a point in my life where I would turn on the camera and instantly become this crazy bitch persona. And then I realized doing that isn't going to get me anywhere, it isn't going to make me happy. Now it's just naturally me. In the past, I used to stare at the camera, but now I barely look at the camera because it's like talking to a friend. If you're looking at the camera you feel fuckin' weird. It's a weird fuckin' thing that we're all talking to a camera. We're sociopaths, basically."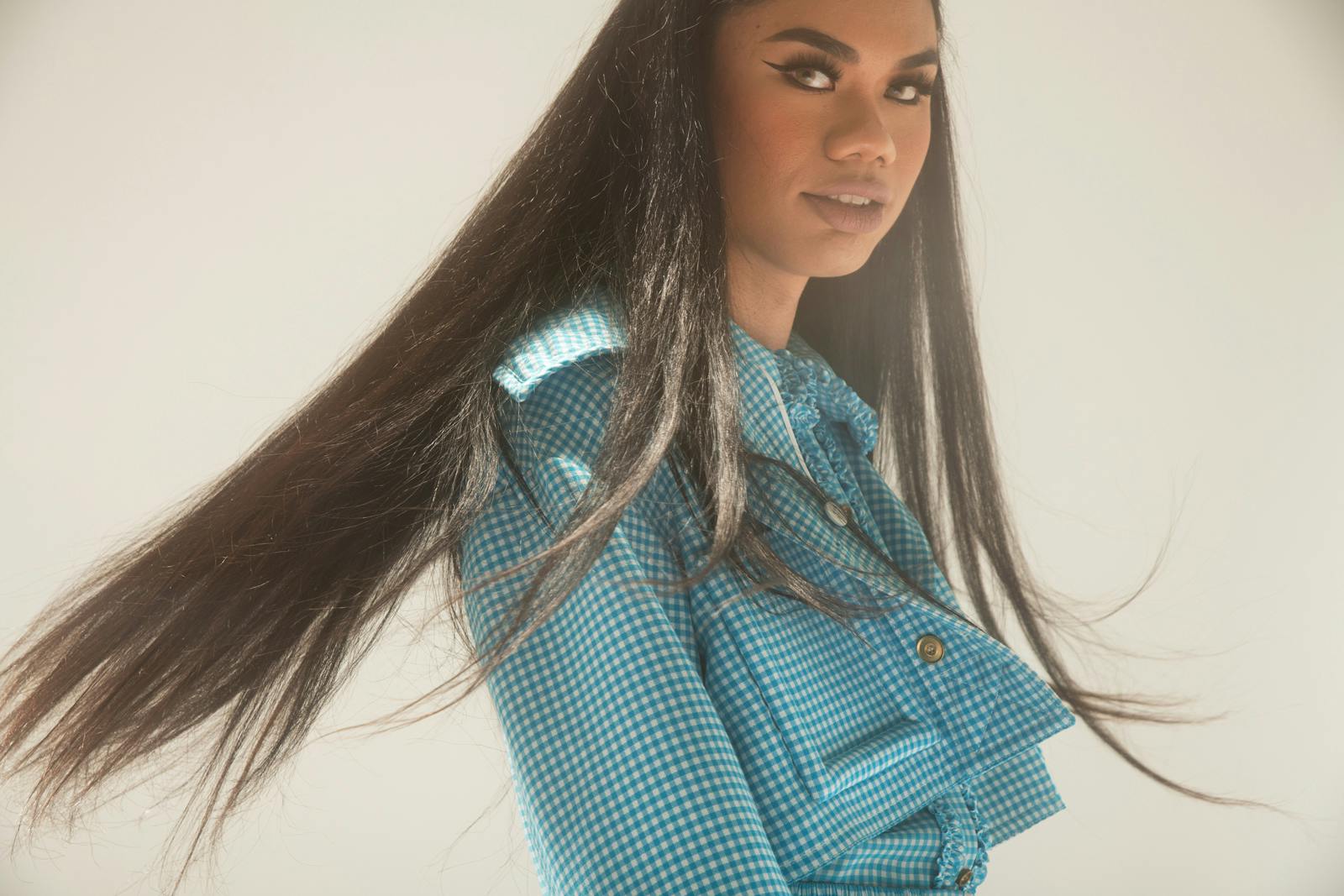 Highsnobiety / Jason Nocito, Vest, blouse and skirt FENDI; Shoes JUWAN'S OWN
Juwan Gutierrez @misocolorful (3.9M followers)
"My proudest moments are when I finally get my favorite social media influencers and makeup brands to notice and interact with me. I wanted to work at Sephora or MAC, but now they want to collab with me? And put me on business trips? There are a lot of quirky social media people out there. I wasn't expecting anyone to like me. At first, TikTok was brutal, but they grew to like me because I'm very open. Honesty is a power move, honestly. Once social media dies down, I want to have my own makeup brand. Everyone wants to look good and makeup is the closest step there. I know natural beauty is a thing but it gets boring. Don't you want to have blue eyeliner and red lips? When someone scrolls through my feed, I want them to get shocked. Boom, in your face, like Thomas the Tank Engine."
Highsnobiety / Jason Nocito, Jersey SUPREME; Shoes and sweatshirt DOLCE & GABBANA (ALL MICHAEL'S OWN);Track pants PERRY ELLIS
Michael Le @justmaiko (23.1M followers)
"Literally I'm on TikTok 12 hours a day now. If I'm not on TikTok, I'm answering emails. If I'm not answering emails, I'm at a photoshoot. It's very fast-paced. I just have to keep up because it went from zero to 100. I've done social media as a career for three years, but this year has been a 10x moment because I can support my family and myself. In a matter of two weeks, I grew a million followers 'cause the algorithm is so perfect. It doesn't pick and choose who will go viral. It's not biased. If you have good content and good engagement, the algorithm will push you up to the 'For You' page, and from there you'll grow famous without having to worry about paying for ads. I want to be known for my personality. I want to show me and not a mask. I'm not me without social media. My end goal is to become a Will Smith, where everything I touch is gold. He's not stuck as an actor. People love him for him and that's what I want."
Highsnobiety / Jason Nocito, Bike shorts and turtleneck MISBHV; Socks HUF; Shoes CROCS (LIV'S OWN); Vintage letterman jacket LIV'S OWN
Liv Huffman @lilbittylivie (610k followers)
"TikTok shows you your total likes, and at this point, I have 28 million or something. It's a hard number to quantify. I recently went to a convention called Playlist Live and it was weird walking around and having people recognize me from my videos. Everybody on the app has at least some form of narcissism. You kind of have to in order to put yourself on the Internet like that. I like doing it because a lot of friends that I grew up with don't live in LA anymore, so it's a way to stay productive doing something that I enjoy rather than just sitting on my ass doing nothing. Or, not to get too emotional, but hating myself or being boring or being lazy. For me, it's a very motivating thing, but I know that for some it stems from a place of loneliness. Everyone just wants to be a part of something."
Highsnobiety / Jason Nocito, Logo button-down shirt and sweater vest DIOR MEN
Corey Campbell @imcoreycampbell (2.9M followers)
"I feel like the biggest reason people watch me is because of my looks, to be honest with you. But the people that stick around, that are consistently engaging with me, they've watched my Live videos, they've watched my YouTube, they've watched interviews that I've had where they get to understand who I actually am instead of just this face that's doing music videos. It's about confidence and motivation. Lip-syncing has helped me get more comfortable with what people would think of me as a musician. I definitely connect with my audience, but I wouldn't say that's what I'm really into. Outside of social media, I have a music career, I have a modeling career, I'm getting into acting. I definitely have other things going on."
Highsnobiety / Jason Nocito, Turtleneck and shirt PRADA; Earrings GAUGE'S OWN
Gauge Burek @heir.of.atticus (1.6M followers)
"I started putting freckles and blush on my face and did a 'pretty boy' video, and it did really well and it made me feel really happy. I don't like my nose, so the freckles make it look smaller and the blush looks good on me. It's hard to explain to my grandparents because they have no idea what it is, but I tell them that I film myself doing anything. They don't really understand what that means. I keep myself very reserved for the most part. I don't give a lot of myself out but some people try to know. At one point, a bunch of my fan accounts were getting really mad at each other because one person said they followed me when I first started. People know my age and where I'm from but not anything real. I'll film four or five videos in one day and then get completely tired the next two days because half that day was just me looking at myself and deleting and then making another video and deleting. You get tired of seeing yourself."
Highsnobiety / Jason Nocito, Silk mens shirt MISBHV; Camouflage vest LOUIS VUITTON
Chase Hudson @lilhuddy 20.4M followers)
"I was in the 7th grade the first time I recorded myself. Dubsmash was a huge thing, and my best friend and I would make dancing videos over and over again. We kept them to ourselves because we were just messing around being boys but that started a lifelong passion. I do so many different things — I dance, I vlog. There's no one word for it. It's just entertaining. I've learned more and more what content does best. I've learned how to get more comfortable behind the camera. I've learned how to dance a little bit — I used to be terrible. It can get rough being online all day. I've kind of lost myself. I'm judged on everything that I do. Some people just genuinely don't like me, maybe some people are jealous. I'm not sure. I've never been in a hater's position. I've always loved everyone."
Are you also "Not In Paris?" Not to worry, you too can join in on the non-gathering with our exclusive set of merch. Shop the collection here.