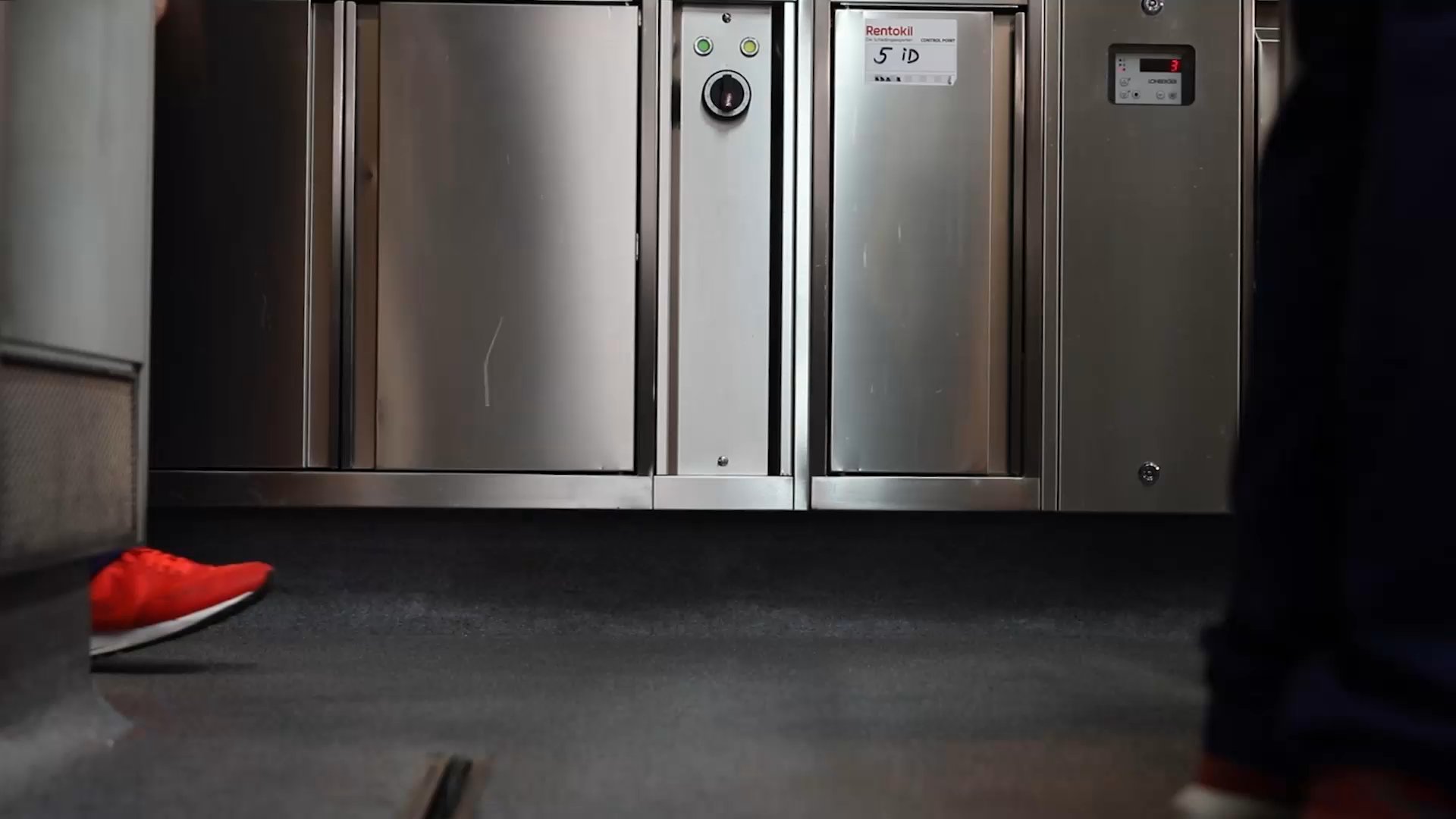 Tim Raue has earned some of the most coveted cooking accolades. The German chef is known for his eponymously named two Michelin star restaurant in Berlin, and two additional highly-rated eateries in the city. He's known as a chef-on-demand for heads of state like Angela Merkel and Barack Obama. He's known for his appearance in Netflix series Chef's Table. All impressive achievements. One thing he isn't really known for is being a sneakerhead.
During our meeting, Raue tells us of his upbringing in the Kreuzberg neighborhood of Berlin, which was surrounded by the Berlin Wall on three sides at the time; the stories are almost poetic to hear, especially for anyone who has moved here within the past 30 years. Fast forward to 2017, and Kreuzberg is certainly more gentrified, although still quite rough around the edges, but in the late '80s and early '90s, Raue famously joined the ranks of a street gang called 36 Boys, ensuring he never had to brawl in the streets to protect the prized Nikes on his feet.
During the time, it wasn't uncommon for youth in the area to have their shoes stolen on their way to school, and sneakers were among the imported goods that were valued as status symbols – Swoosh runners, and Oakland Raiders varsity jackets. Today, after training in the kitchen for years and ascending into the world's 50 best restaurant list, the 43-year-old chef keeps no less than 50 pairs of sneakers in rotation, comprised largely by colorways he has picked out himself on NikeiD. In fact, Raue is staunch about customization, he is particular about what he wants, and this reflects in his attitude, the way he speaks, his work, what he wears, as well as the uniforms his cooks wear (his chefs wear custom Nikes), right down to what's on his own feet. Tim iterates something that is probably the truest mark of a sneakerhead – in the morning he gets dressed from the shoes up.
How important were sneakers to you growing up?
If it was not affordable for us, then it was a status symbol. In my earlier years it was NFL jackets, like Raiders, Vikings, because they were worn by teenagers from much better neighborhoods. Of course it was shoes too, and shoes were often taken, it was not always in an offensive way, but it was clear if someone wanted your shoes. Once I had a group of four boys around me, and they asked me for me shoes, and I know how the game was played. I had a fight with four of them, and I brought them down to the ground. The next day I met with their older brothers, and I got their respect for standing brave. No matter what happens, they wouldn't get my Nikes.
What were the biggest brands and styles at the time?
Of course the adidas Superstar, some Converse basketball, and it was Nike. Also PUMA, but I'm a loyal customer, and I lost my heart to Nikes. So it was clear, that no time in my life I'll wear PUMA, I hate PUMA, adidas I just don't like. I bought some Y-3s, but I think I've worn them twice or three times in five years.
Highsnobiety / Dominik Schulte, Highsnobiety / Dominik Schulte, Highsnobiety / Dominik Schulte
I've talked to Marc from Berlin sneaker shop Overkill about adidas EQTs being historically popular in Berlin, is that true in your experience?
Never heard of them before. I had nothing to do with hipsters, we were just some boys who had fist fights, we didn't go to clubs. It was impossible to go to clubs, we were the rude guys who made all the trouble. We didn't know about the latest shit.
Have your tasted changed growing up?
If I don't wear sneakers, I wear a brand called Santoni. Everything is hand-made, everything is customized for the customer. Now I want everything I wear to be customized. If it's possible I make it custom. I'm also deep in my childhood, so wearing sneakers and sweatpants is the backbone. I try not to have more than 50 pairs of sneakers now, some pairs I will give to the chefs. I have around 50-60 sweatpants, some are custom-made from cashmere or whatever, it gives me the feeling of being back in the old days.
I've heard your chefs all wear Nike sneakers, is that a rule?
It came up some years ago that I became a celebrity chef in Germany, I don't give a shit. But a while ago Nike came to me and asked me if they can send sneakers, and they still e-mail me and send shoes for the chefs. Every 3-4 months every chef gets new sneakers for their uniforms. For me it's fun, and it's Nike. If you apply for a stage or an internship at the restaurant, I tell them "You can work in the kitchen, please wear Nikes, or something that is neutral, but if you come here with PUMAs, no way."
What are your favorite Nikes?
They sent me this [Air Force 1] collaboration with Undefeated, which is very rare. It's different. It's not really that I like what they design. It's just the idea that it's ...you're undefeatable. Fuck you.
These were hard to get. This is one of the special editions they only release once. I really love them because they're rare.
What is it about Nike that you like so much more than other brands?
Nike has always stood out to me. Even the advertisements they had when I was younger, like to be free and there are no borders, those things, which I really believed in. So wearing Nike all over gave me the feeling that I wasn't German, just someone from the states. At the time, my teachers didn't teach me the national anthem of Germany. They were still ashamed from World War II, no one would admit that they were proud to be a German.
For me, I started to dream in these days because I had no roots. I had no one looking after me, or noticing that I'm talented or gifted, and giving me a chance. Nike was one of the things I dreamed about. I was really closing my eyes, taking the sneakers and dreaming of a better world.
Highsnobiety / Dominik Schulte, Highsnobiety / Dominik Schulte, Highsnobiety / Dominik Schulte
Are you a sneakerhead?
I think that is too much. On the other hand, yes, if you let me choose from today on until the last day of my life, I have only have one pair of shoes which will be renewed all the time, I have to say it will be sneakers because the other may look more sexy and I like them, but on a daily base I want to have my Nikes. For me, the shoes are the most important thing that I have. It starts with the shoes and then the rest comes together. What I choose to wear, the trousers, the shirts, that starts with my shoes in the morning.
At the moment, I have to say this, Pegasus and that fucking color, I bought them 11 times. That is all I would get on the internet. I spread them around on the different places I live. I love them because they are so well cushioned. They're so perfect to walk with and I love the color. They make me just happy. If I choose them it makes me happy.
Do you follow sneaker culture online or on Instagram?
The restaurant has Instagram, but I don't do anything with social media, but personally I'm not interested in that. But I'm addicted to magazines, I think I spend around 400 or 500 euros on magazines every month, which can cover architecture or lifestyle or menswear. But I'm lucky enough to travel around the world and cook for people, and if I'm in a city, one of the first things I look for on Google is sneaker shops. Then I drop by and see if there is anything good. Five years ago I bought everything I liked, nowadays I have a system. I have 50 shoes, if I buy one, another pair has to leave.
What are some of the best sneaker stores you've been to?
In Amsterdam, I like Oqium, where I found some Nikes in some funny colours, I don't know if this is a coincidence because of all the weed in the city.
For Hong Kong, Lane Crawford at Pacific Place, it's best place for fashion shopping worldwide, except suits. They have a selection of great brands, and great sneakers are available.
In New York I like NikeLab, also Stadium Goods has everything you can dream about! More than a dozen sneakers for $5000 and up.
What about in Berlin?
No, they're fucking dead. There was one called Solebox, which I used to like. The guy who who used to own it, he grew up with me, Hikmet. If I have time, I walk through [shopping mall] Kadewe, because there are so many things that I can see, fabrics, colors, shoes, which inspires me to feel free and open-minded, and to start with creativity. But I love to make my Nikes myself with NikeiD.
Highsnobiety / Dominik Schulte, Highsnobiety / Dominik Schulte, Highsnobiety / Dominik Schulte
Has anything changed since your feature on Netflix's Chef's Table?
One very important thing, if you can't stand the heat in the kitchen, then get the fuck out of there. Tension is something that is part of my life since I can remember. What changed of course, is that we have more reservations, the restaurant is fully booked, we see more people from the states. It hasn't changed my life as much as everyone expected. We are also on the 50 best list, and that changed things a lot, that was a tsunami of reservations and international guests. Sometimes people recognize me more than before. I don't adore it, I'm so hard working, and if you walk the street and someone stops you for a picture, for me it's the total opposite.
From those other chefs, a lot of them had really interesting stories I think. You have any stories from the rest of the series that you were really interested by?
Of course, I'm addicted to that. Everything to do with chefs, I buy every magazine. Netflix and the stories there, it's also for us, or for me to learn about. If I see Ivan with the ramen noodles and all the power and the tension he imbues in his food, or you see Jeong Kwan, the Buddhistic monk, the lady, which I was cooking for here in Berlin.
If I'm working as a teacher, and the chefs I have to teach if they don't follow I can be very rude also. I just do it with my eyes, but doesn't work out. I'm also ego-driven because I choose the life I want to have. It's my ego-centric universe. If you cook on a high level, everyone has an individual story. it's an individual's way to express themselves on the plates and on the palate, with the dishes they create, but everyone has this in common...
Really, we're fucking freaks, but interesting ones.
Now check these 15 obscure versions of the adidas Stan Smith.