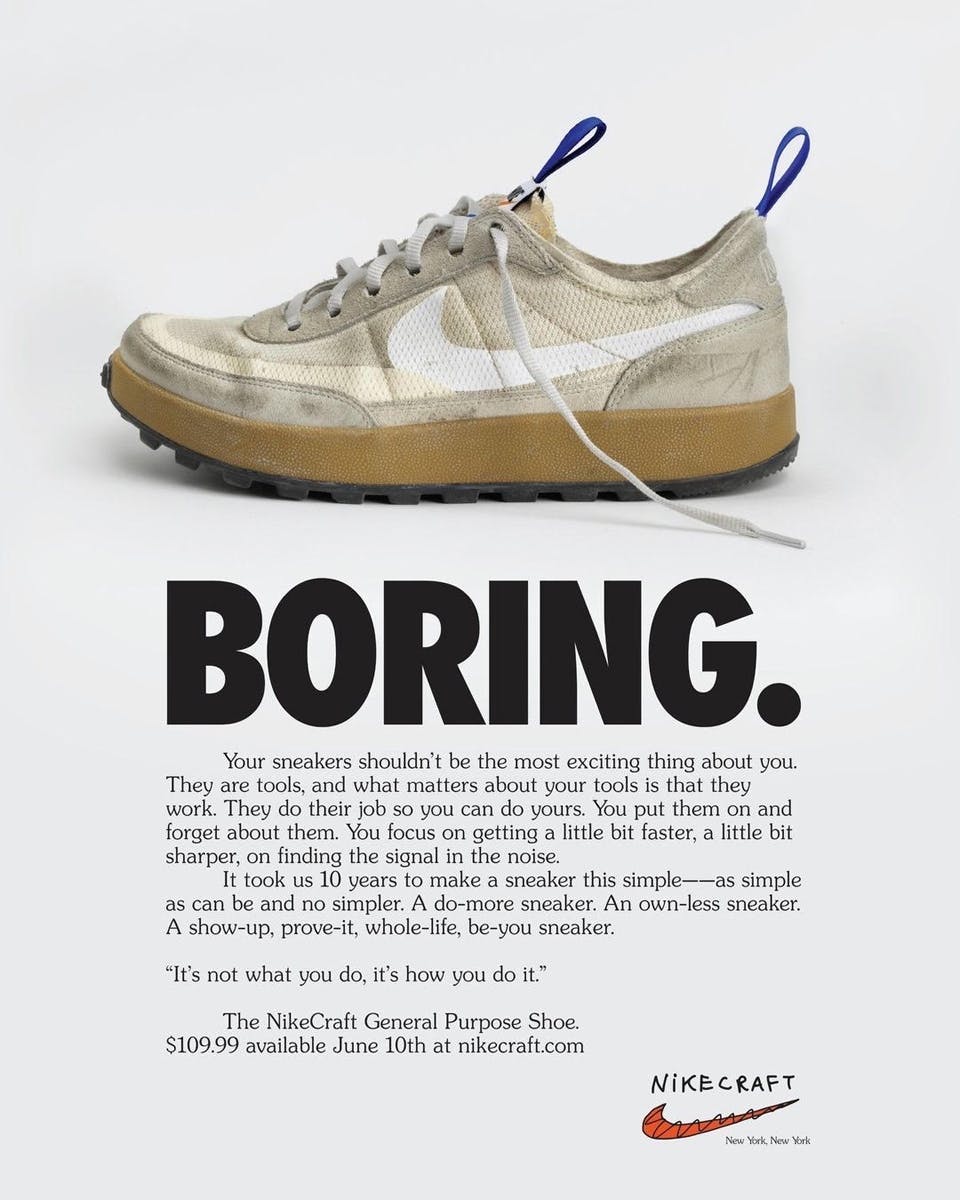 This article was published on June 5, 2022 and updated on November 30, 2022
It's no secret that Tom Sachs' Nikecraft General Purpose shoes aren't the most thrilling kicks to look at. In fact, many people dubbed the sneaker as a "snooze fest," especially compared to Sachs' man-on-the-moon Mars Yard Overshoe.
But, here's the thing: Tom Sachs agrees! Yes, he knows the shoes are dull and simple. The artist even branded his latest Nike sneakers as "boring," per the big, bold word stamped on the Instagram release announcement.
"Your sneakers shouldn't be the most exciting thing about you," the post reads. "It took us 10 years to make a sneaker this simple — as simple as can be and no simpler."
After designing crazy-innovative feet heat for astronauts and athletes, Tom Sachs finally said "I got you" to the average Joes of the world.
While the Sachs' GPS is indeed "democratic" in essence, our recent interview with Sachs utilized his forthcoming sneaker to remind us of his meticulous approach to design and kink for high-quality materials.
Crafted with Nike's Killshot and Waffle One in mind, Sachs' Nikecraft GPS boasts a tight-knit breathable upper resting upon a beefed-up cupsole featuring a comfy EVA center and rubber outsole and midsole.
Meanwhile, the tongue receives a perforated foam treatment, sealed with the Tom Sachs x Nikecraft branded label and donning strap (you'll get some pull tab action on the ankle, too).
Sachs' Nikecraft GPS series kicked off with the "Studio" colorway — the gum-soled iteration pictured up top — on June 10 for $109.99 on Nikecraft's website, with a restock in August.
There's now another restock in the works for December 2, offering fans one more chance at Sachs' coveted sneaker.
The second Nikecraft GPS colorway, "Archive," isn't restocking this time but don't be surprised if it also returns in due time.
"To some the GPS still represents an elite shoe that will be impossible to get, but we want our community to know that the GPS is here to stay," Sachs told Highsnobiety. "It's been crafted for a wider audience, for seasons to come. This is not a men's shoe, or a women's shoe; this is a universal shoe.