Under the Radar is Highsnobiety's series on brands — both new and established — who skirt mainstream attention but perpetually occupy our mind palace. Following the list of designers we're excited for in 2023, we take a deep dive into Camiel Fortgens.
It may seem strange to posit that a nearly 10-year-old clothing brand that's stocked across the globe is "under the radar," but Camiel Fortgens is low-key by design. His clothes are imminently wearable, don't get me wrong, it's just that Fortgens doesn't have any interest in chasing attention for the sake of it.
Coverage of Forgens' line has been rather sparse since the beginning of his tenure as a designer in 2014. It presumably doesn't help that, especially from a distance, Fortgens' clothing often appears unassuming, perhaps even "normal."
That's just fine by Fortgens. His inspiration comes from the everyday, anyways, so if his clothing seems to blend into the background, well, so be it.
But look closer. Notice the dramatic proportions of his outerwear, the quirky slope of his sweaters' hems, the intoxicating gleam of the odd fabrics he selects for otherwise conventional shapes. These are the smart, subtle touches that've made Fortgens a favorite of Japanese retailers and a sleeper hit in the West, stocked at tastemaking stores like SSENSE, Tom Greyhound, and Colbo NYC.
In the past, Fortgens' clothing was more distinctly strange, intentionally stitching shirts with too many buttons or plentiful raw hems. Now, Camiel Fortgens is all about the details, and he rewards those who look closer.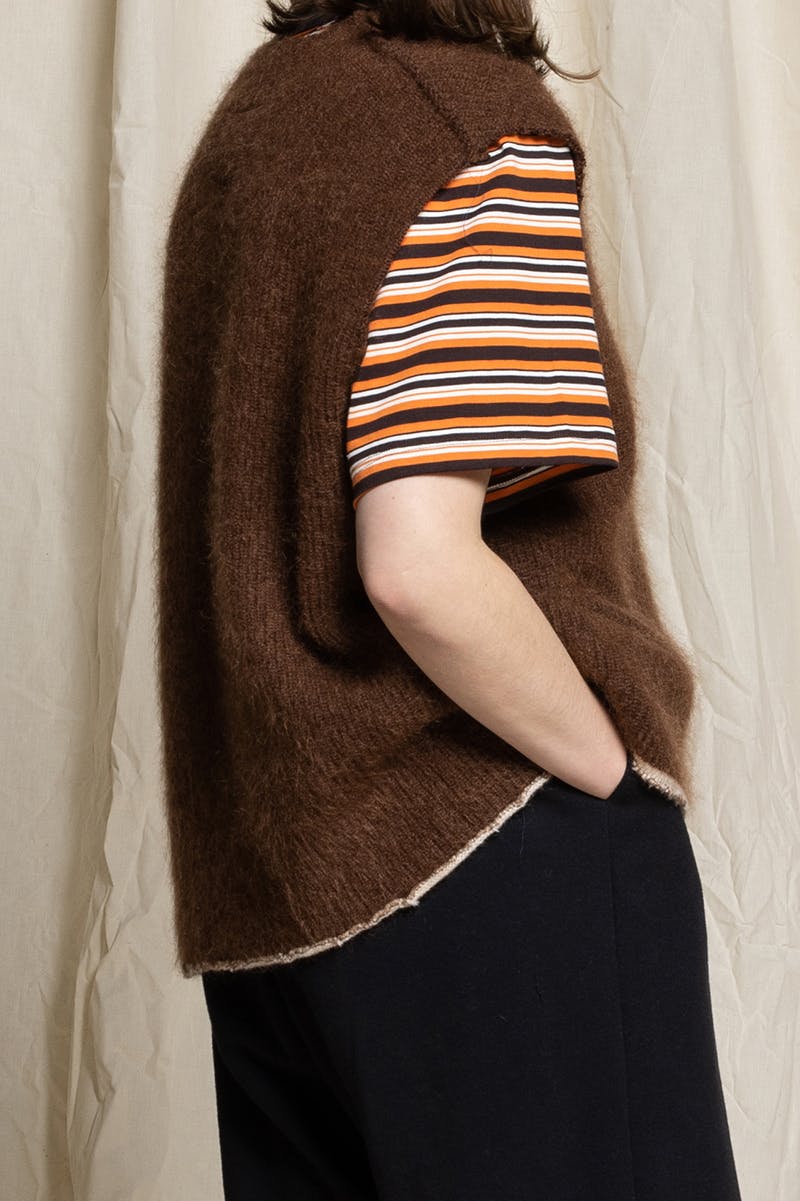 You've had the same email signature for a while now, it just says "Camiel Fortgens, Clothing." I love the directness of it. What does "clothing" mean to you?
Well, we're just making clothes. Not a big deal (laughs). It's actually a lot of fuss and a lot of work because we're trying to make good clothes. Not fashion, not trends. It sounds cheesy but I wanna keep it real and not fake. I like authenticity. Authentic people and authentic clothes.
Do you ever think about making "fashion?"
No. I actually don't think about that at all. I only ever think, I wanna make this or try that.
So, what inspires your work?
Honestly, random people who're ignorant of fashion and just not trying to do anything special. Like, people just wearing hand-me-downs or normal clothes. That sort of "normal excellence" is more interesting than any crazy stuff you can think up yourself.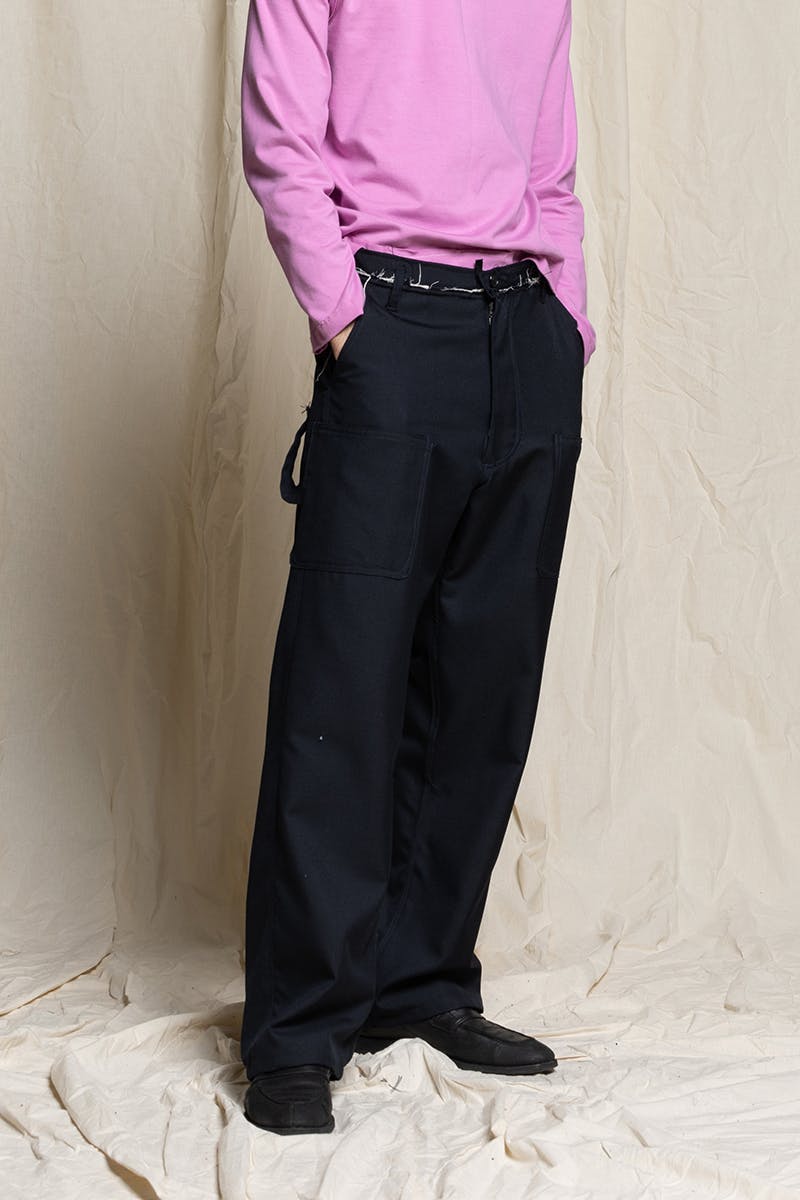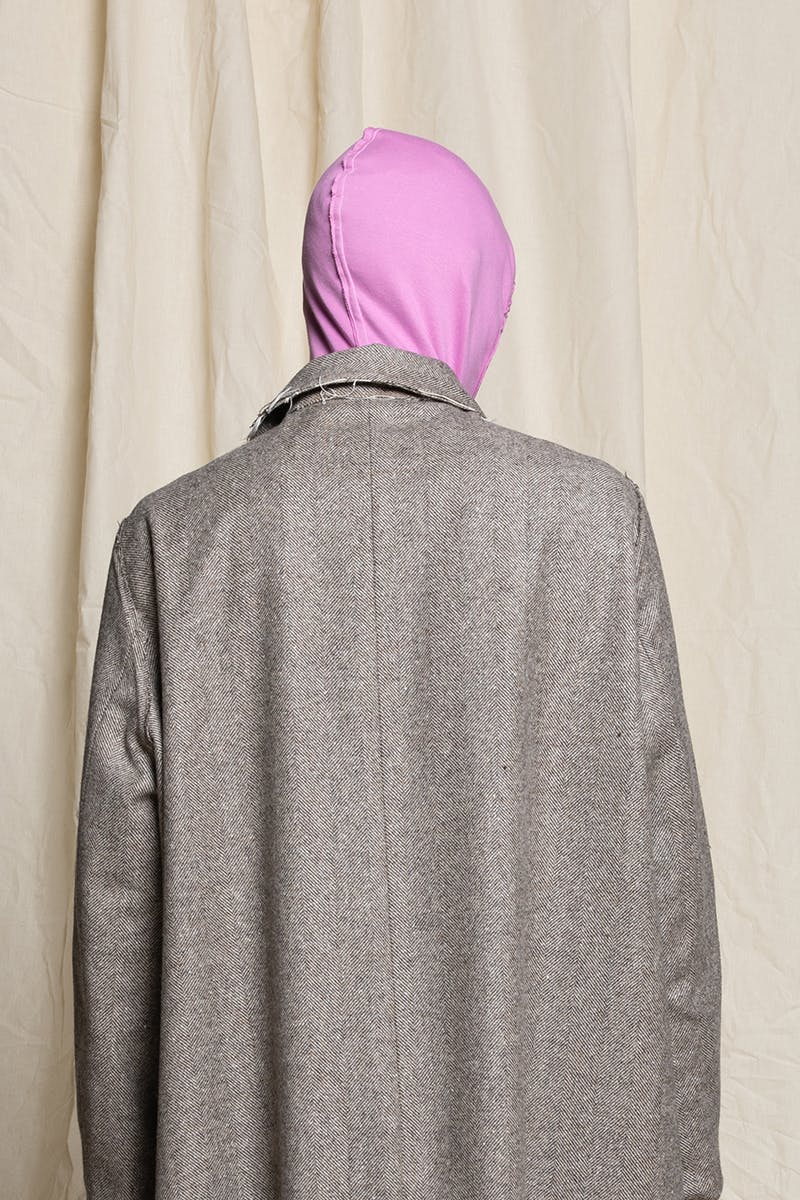 I can see that. A lot of your clothes look almost ordinary at first but when you look closer, you can see that there's something off.
I like to say normal but twisted.
So, can you give me a loose picture of your design process when creating something new?
I try to reinterpret clothes in my head. Like I'll think about something I've seen somewhere, like "What is a puffer jacket?" and I'll put this and that together and get something that sort of looks like a puffer jacket. Free interpretation through imperfect methods.
Especially recently, you've experimented with some dramatically oversized clothes.
I always wonder why we stick to sizes. Why not just use size as a suggestion of fit?
We still get sold as menswear but it's like, why can't our clothes also be womenswear? It all depends on your body. if you want to wear it oversized, buy size 5 and if you want to wear it fitted, buy size 1.
Like it says on your site's measurements page: "size is just a concept." Otherwise, how have things changed over the past ten years of the brand?
When I started out, I had no idea how to make a collection at all.
The first collection was totally flat. I had the models lie down, I drew the pattern around them, and I created shirts or pants. The next collection was 3D but only made of off-white cotton canvas. The next collection was only white and black. The next season I did denim. Very gradually, I learned one thing and added it to the collection.
As I go, I learn more references and I learn more about fashion history. In a way, I'm almost sad that this happens because I was freer, unbound to anything, doing things without knowing how to make it.
It's kind of like how kids are more creative than adults because they're less inhibited or experienced.
Yeah. In the beginning, I was way more free to make mistakes and do crazy stuff.
I noticed over the past few years, as I got more serious and had more people working on the collections, the imperfections went away and the clothes got more "perfect." Maybe one day I can find the balance between these perfect and deconstructed products, things that are more planned versus things that are more free.
I just don't normally have the time for the really crazy stuff. We were able to do it last season with all these one-off pieces for a retailer in Los Angeles but I want to do more of that.
That's hard in production, actually, because the craftspeople will fix these intentional mistakes we made and make the clothes really nice instead. It's pretty complicated to make things that look "wrong."
I always wondered how much work it was to do all those raw hems in the early collections.
I actually don't like the frayed edges myself, I never wear anything with them. But our audience and our stores always liked it.
How do you feel about terms like "deconstruction" being used to define your work?
Well, it's a bit more elaborate than this but, basically, we have a line called the Research collection.
It's where I go through stuff that didn't sell last season and cut up certain pieces or sew two things together to make something new. These pieces will usually be for just one collection. That's the deconstruction side of the brand.
I'd say the rest of the collection is more like "imperfection." I like variance, the human touch. But I really do think about the construction of clothes, too. Why should everything be perfect?
I can see that with the way your clothes are finished but you're also pretty consistent too, right? Like, you have a lot of staple silhouettes in the collection.
Right. Outside of the Research collection, we do a lot of the same shapes because they're best-sellers or that's what stores want. Again, though, if we had time or if it was just up to me, we'd only do new stuff.
I'm glad we're able to do what we do, of course, but it all comes back to me chasing that original sense of freedom.