Whether you're a style lord with encyclopedic knowledge of the fashion industry or a sneakerhead who's knee deep in the game, sometimes it can be a challenge to properly coordinate certain kicks with your 'fit, especially if you're going for a monotone look. Fortunately, Reebok's latest footwear innovation — the Pump Supreme — can make your wardrobe decisions much easier and take your style to a new level. All-black everything can be overly brooding at times and all-white ensembles can make it seem like you're heading to a white party (which there's nothing wrong with), but by playing with proportion, textures and materials, and with the proper footwear, going monochrome can streamline your look making you stand out from the crowd.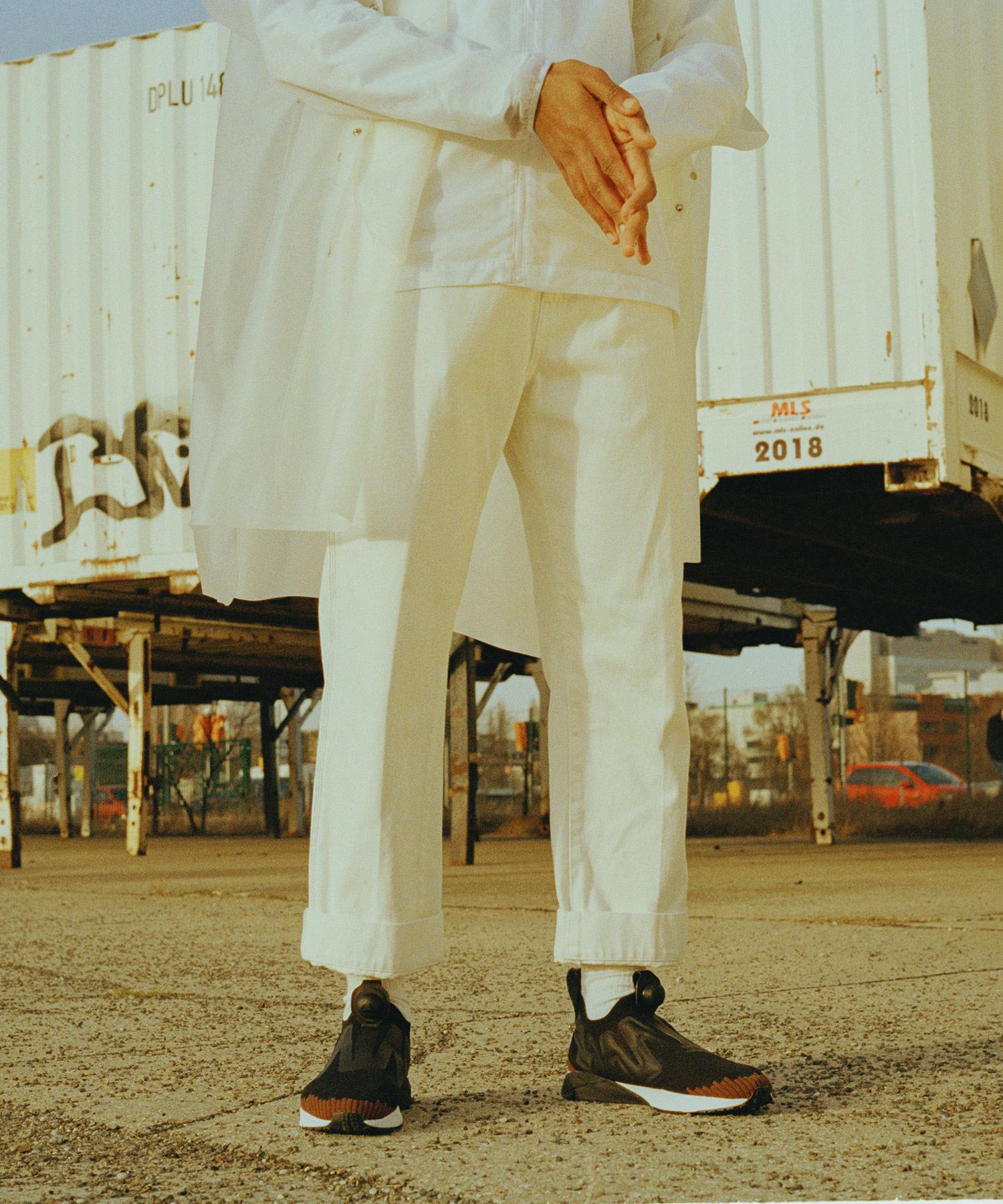 The Pump Supreme is the minimal anchor for any monotone outfit; its streamlined aesthetic in a largely singular colorway proves to be a solid starting point to style around. For this first look one might get carried away with a graphic tee to compensate for the heavy dose of white, but rather than distracting prints, opting for textiles not often worn by the masses is a great way to break up your look. The black Pump Supreme paired with an translucent raincoat and relaxed white jeans makes this fit pop without looking overly affected.
Going all black is a slightly easier sartorial task but differentiating your look can be a bit tricky. This is where playing with proportions really gets interesting since Reebok's new Sock Runner Ultraknit utilizes the sole of the Pump Supreme but with an elongated sock-like upper. In order to show off these dope kicks as much as possible, pairing them with an extremely cropped and relaxed pant is your best bet to contrast elongated uppers of the Sock Runner. Top it off with an oversized motorcycle jacket and you've got yourself a winning combination that's both ultra stylish yet simple in execution.
If you haven't noticed by now, contrast plays a huge role when determining when and how to break up your outfit, and both Reebok's Pump Supreme and Sock Runner Ultraknit provide great foundations to build your look as you see fit. And while they're both brand new silhouettes that are athletically inspired, Reebok didn't forget to pay homage to the key technological details that made the original Pump sneakers a breakout hit.
Hit Reebok's website for info on these new styles and more.