Not many swimwear labels start with a love story. Not many swimwear labels are influenced by motorsport, either. But Vilebrequin is not your average swimwear brand.
When we got the opportunity to collaborate with this unique and storied label on a collection, we couldn't say no. The Vilebrequin x Highsnobiety capsule is centered on swimwear that channels the long-standing expertise and youthful spirit of this icon of the game. Alongside the timeless trunks are summer-ready hats, hoodies, shirts, and a co-sign beach towel.
You can shop the full collection here. But first, more about that icon.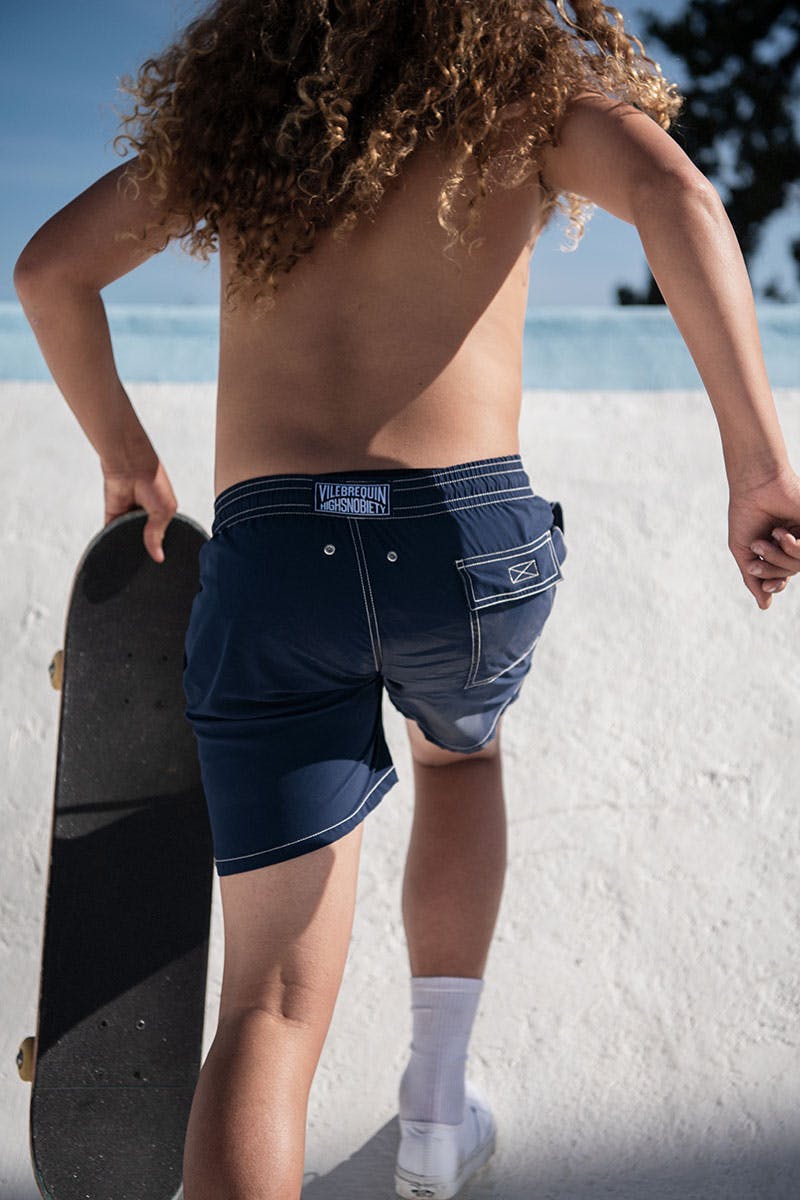 This year, St. Tropez-born Vilebrequin celebrates a huge 50 years in swimwear. That's half a century since one young couple, Yvette and Fred Prysquel, brought a wind of laid-back change to the more traditional, sportswear-led gear of the era.
Fred recalls that during the late '60s, men on St. Tropez beaches wore "what I'd call 'moule-bites.' With a comb, a lighter, and a pack of Gauloises!" There was little alternative to these Speedo-like trunks when it came to swimwear, but Fred had other plans.
The soon-to-be designer originally was a motorsport photojournalist who traveled the glittering coasts and diesel-scented race tracks of European and international competitions, capturing the magic of Formula 1 races through black and white imagery. During one press trip to Southern California, he spotted a pair of breezy and far less skin-hugging pair of trunks on a surfer. He was certain that they would work just as well in the south of France.
And they did. Working with Yvette, a fashion designer and expert pattern cutter, Fred made his first prototype, the Moorea, named after the town's famous beach. The loose-fit trunks offered a refreshing aesthetic switch that drew in the party-loving, star-studded crowd of 1970s St. Tropez. Loud patterns helped the wearer stand out in glamorous crowds — of which there were plenty — while the shape and cooling rondelette fabric allowed a long day in the sun without discomfort. It was a case of right time, right place, given the fact that this was an undeniable golden era for the town; A time when Brigitte Bardot was a regular on its beaches and the town played host to the wedding of Mick and Bianca Jagger.
Though they were influenced by US surfers, the Moorea shorts had planet-spanning roots that stretched further than California alone. Before the couple met, Fred Prysquel was stationed in Senegal during a brief stint in the French army. It was here that this swimwear story really started, with Fred growing attached to the bold-patterned trunks he saw around him. "My office overlooked a beach, so I often went for a swim," Fred recounted. "In Dakar, swim shorts were made of fabrics called boubou or wax. I loved them. When I left the army, I brought some home with me."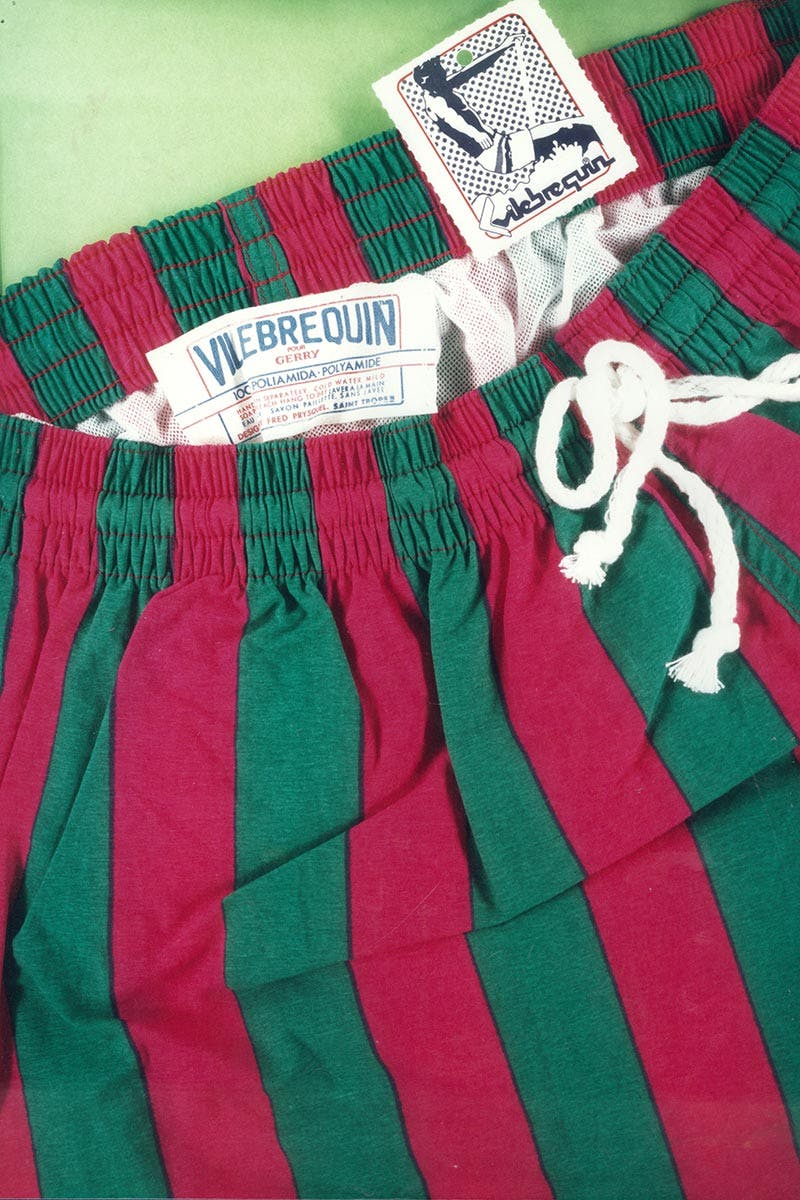 A meeting-point of Californian surfwear, military-issue materials, and the bold patterns Fred had seen in Senegal, the couple spun this international web of inspiration into a game-changing product and a hugely successful business. They were married, but Fred and Yvette soon realized they made perfect creative partners, too. "I'm color-blind," Fred explained. "And that's also why I used to only take black-and-white photos. I had no sense of color. It was Yvette that took care of all of that. We did all the buying together. We really worked as a team."
Fifty years on, the label's early Californian influence was something we wanted to stay true to with this collaboration. Paying attention to Fred Pasquel's passion for adrenaline-fueled photography, we looked to the DIY skate parks and pool skating culture of LA, taking these images and applying them to the physical legacy of Fred's fabric knowledge and Yvette's pattern cutting. But as well as great design, it's quality that is at the heart of Vilebrequin.
To Roland Herlory, CEO of Vilebrequin and Hermès alumni, it's everything. "Quality is the most important element for me," he says. "In a time when eco-responsibility is the topic on everyone's mind, quality is one answer. If you invest in a 200 Euro bathing suit that lasts a lifetime, then it's not really expensive."
When Herlory says "lasts a lifetime," he means it. Vilebrequin offers an in-house repair service that means that, even if you've had your swim shorts for 20 years, you can get them fixed. This lifetime-wear is more than just a cost benefit, the CEO tells us: "Your bathing suit carries the memories of past holidays. Vilebrequin shorts aren't complete until they're worn. It's the person that gives the product its soul."
From one St. Tropez store in 1971, Vilebrequin went on to have a presence in more than 60 countries. Its enduring success is likely down to its willingness to adapt. Always keeping one eye on the next generation of sun worshippers, as Fred and Yvette had done at the very start, the label has an impressive list of collaborators under its belt, including Off-White™, US artists Alex Israel and Derrick Adams, and now, Highsnobiety.
Herlory understands the role of collaboration in keeping the 50-year-old brand at the top of the best-in-the-game podium. "By collaborating with artists or brands, it allows us to extend the territory of our world. Freshness is key to keeping things exciting."
Scroll to shop more of the Vilebrequin x Highsnobiety collection.
Want to keep browsing? Head to the Highsnobiety Shop for more products that we love. Highsnobiety has affiliate marketing partnerships, which means we may receive a commission from your purchase.