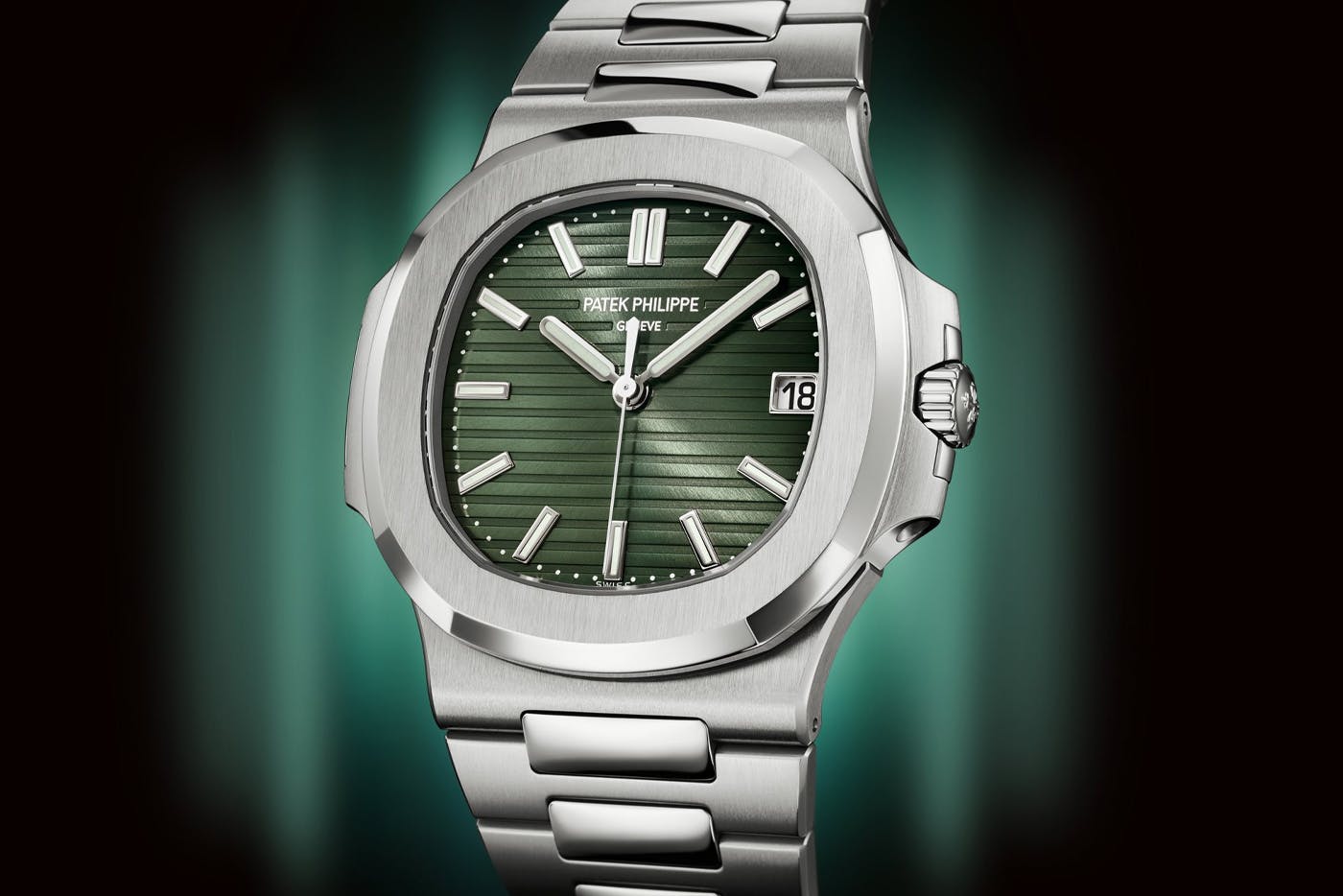 For watch enthusiasts, Watches & Wonders 2021 is the Super Bowl and Paris Fashion Week all rolled into one. Owed to the pandemic, the industry's largest fair was rendered fully digital this week, meaning dozens of brands — from Patek Philippe and Rolex to IWC and Vacheron Constantin — trotted out their new timepieces with online announcements and press releases. That didn't stop us all from losing our collective minds over the hottest (and weirdest) releases on Instagram.
With the market on a tear throughout the pandemic, more people than ever had their eyes turned towards the releases from Switzerland. It's hard to think of another show that has been surrounded by so much noise in recent times.
Today, we make sense of the madness. Although the event runs until April 13, many of the best timepieces have already dropped. So, with that in mind, here's a look at some of the biggest trends and a few of our favorite watches — priced at $100 to $300,000 — from Watches & Wonders 2021 so far.
Green Is the New Blue
No other trend has taken hold so fast in the notoriously conservative watch world than the color green. Just a year ago, most people were going crazy for anything with a blue dial. The hype seemed to reach its peak last summer with the Tudor Black Bay 58 Blue, a surprise drop from Rolex's little brother that was (relatively) affordable and available. It felt like everyone was wearing blue.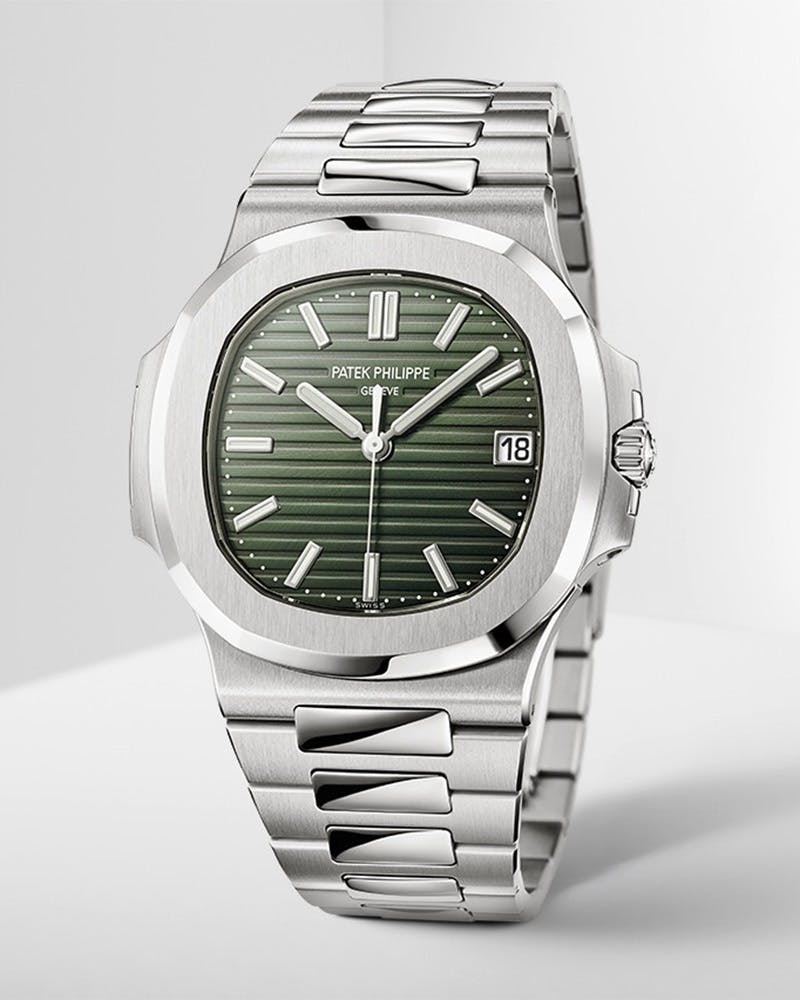 2021, however, is the year of green. Before Watches & Wonders, Audemars Piguet added a platinum Royal Oak with a vibrant green dial to its collection, along with a new Royal Oak Offshore Diver featuring a more muted olive green. At this year's festival, the headline stealer was the Patek Philippe Nautilus 5711/1A-014 with a new sunburst olive green dial (with the last blue dial Nautilus having years-long waitlists and trading at three times the retail price, you'll be lucky to snag this one). Elsewhere, Rolex released an interesting new green palm dial for its Datejust collection, featuring a soft green and some laser etching to create a ganja-looking dial that will surely inspire a few CBD-infused nicknames (dank-just, anyone?). It's a fun, Miami Vice spin on one of the most classic watches of all time.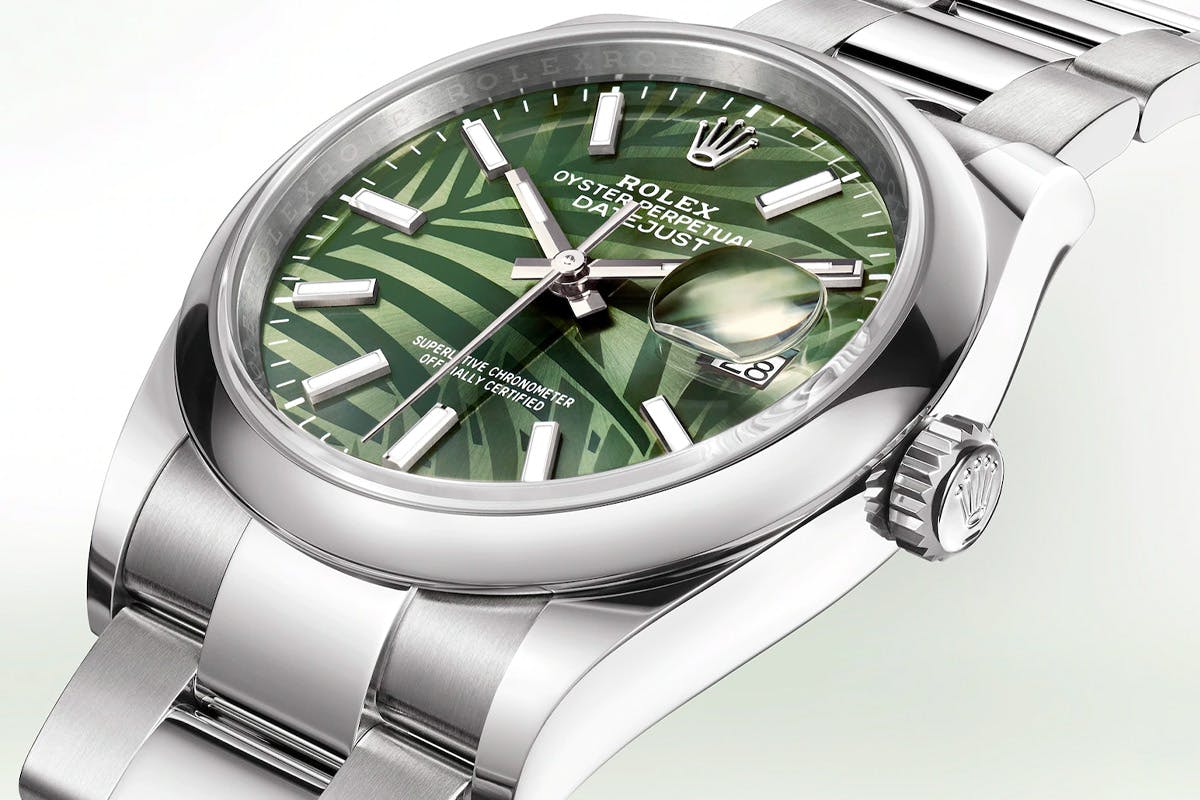 For its part, Rolex's little brother Tudor released a green and gold Black Bay 58; a luxurious take on the smash-hit dive watch. At $16,800 (which is a lot for a Tudor, for sure) it's still half the price of a solid gold Rolex Submariner, so an interesting value proposition for the gold-obsessives among us.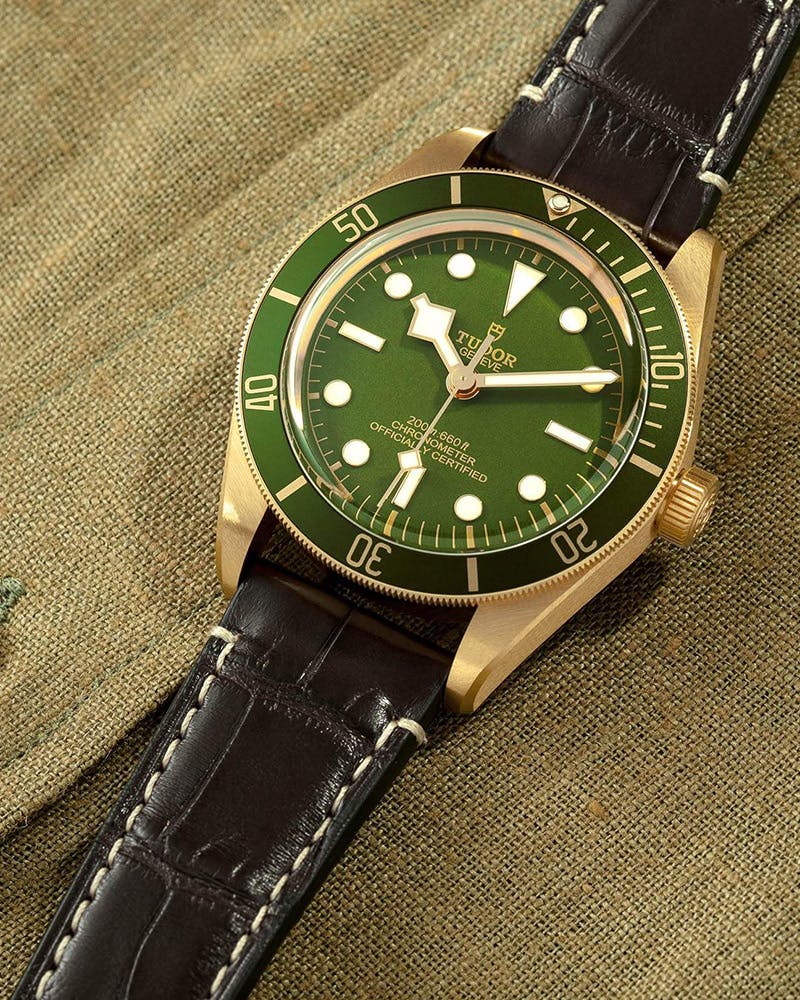 The trend continued with the latest Tribute Reverso, this time with a deep green dial. Jaeger-LeCoultre's Tribute watches famously pay homage the Reverso watches from the 1930s, with many colorful iterations over the years. For 2021, green is obviously the way with a deep forest green dial and matching leather band.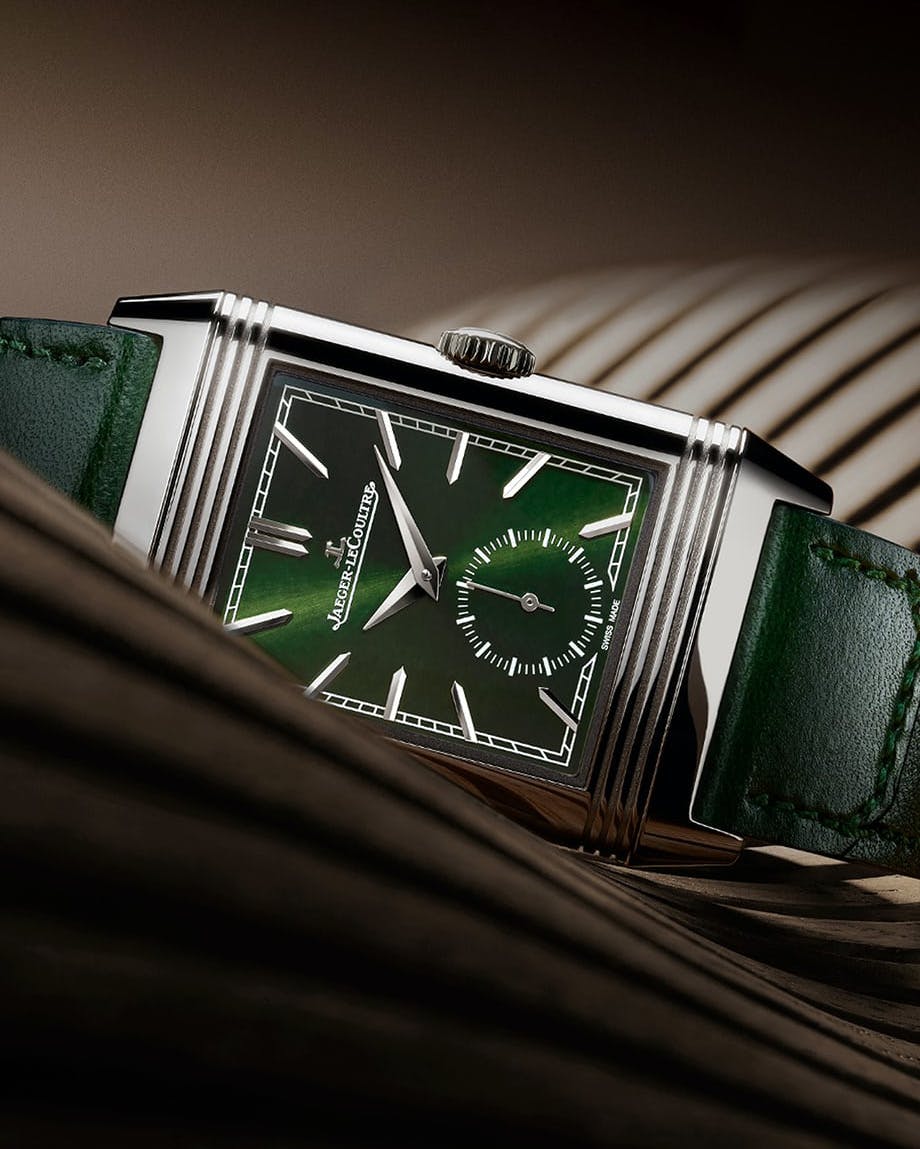 Green also features prominently in IWC's new Big Pilot collection. First up, there's the updated Big Pilot's Chronograph collection. Shrunk down to 41mm, it's now more accessible to more wrists. It's offered with either a deep blue or deep green dial, and you'll be able to appreciate the IWC-made chronograph caliber through the see-through case back. At $7,200 on a bracelet, it's one of the clear winners of Watches & Wonders — don't be surprised if you see a ton of these on fashionable-yet-badass wrists across the world. Adjacent to straight-up green on the color wheel is IWC's Top Gun "Mojave Desert" Limited Edition Big Pilot collection, a sand-colored lineup featuring ceramic cases to set them apart from the regular stainless steel lineup.
Green (particularly sage) seems to have entered the larger fashion consciousness over the past year, but when did the trend start in watches?
As with all things watches, the answer might be John Mayer. A few years back, he started showing off his personal Patek 5164A Aquanaut Travel Time, but with the standard black strap swapped out for a green rubber strap. Then, in 2019, Patek released the platinum Aquanaut 5168G with a green dial and strap. Mayer retweeted the release by posting a wrist shot of his Aquanaut Travel Time with green strap, accompanied with the caption, "the watch that inspired the 5168G." This was a clear nod to the fact that Mayer himself inspired Patek's green release.
Around the same time, Mayer sat down with Hodinkee to show off his watch collection, proceeding to herald the yellow gold Rolex Daytona with a Christmas green dial as a "sleeper hit." People started to notice, and that soon became one of the hottest watches of 2019, with some even referring to it as the "Mayer Daytona."
Fast forward to 2021, and there's green as far as the eye can see. Meanwhile, Mayer's sitting back watching the trend take hold saying, "I told you so."
The Most Outrageous Watches
Bulgari Octo Finissimo Tadao Ando Limited Edition
Bulgari's Octo Finnismo line is absolutely ridiculous. It breaks records every year (this year, it set a record for the thinnest perpetual calendar), but it's a covert limited edition piece that takes this year's prize. For all those brands that seem to think green is in and blue is so 2020, Bulgari and Japanese architect and artist Tadao Ando seemingly drew this up just to say "think again."
This isn't the first time Ando has teamed up with Bulgari for a limited edition Octo Finissimo. But it might be the best one yet. According to the artist, the dial design is meant to evoke the reflection of the moon on the lake. It's one of those things where, once you hear the story behind the object, it makes you go full galaxy-brain mode. The crescent moon. The ripples on the lake. The deep midnight blue dial color.
Usually, eyes start to roll when someone says "watches are art." In truth, nowadays they are luxury objects, playthings for the well-heeled. But keep staring at this Octo Finissimo and you might find yourself thinking, "I mean, if Beeple's digital images of Biden urinating on a giant baby Trump are art ($69 million worth of it, no less), maybe, just maybe…"
At 40mm and just 5.5mm thin, the Octo Finissimo sits on your wrist like a vanilla wafer, and the matte-black ceramic bracelet and case make it feel about as light and crispy as one too.
Price: $18,100 Limited Edition: 160 pieces
Rolex Cosmograph Daytona (With Meteorite Dial)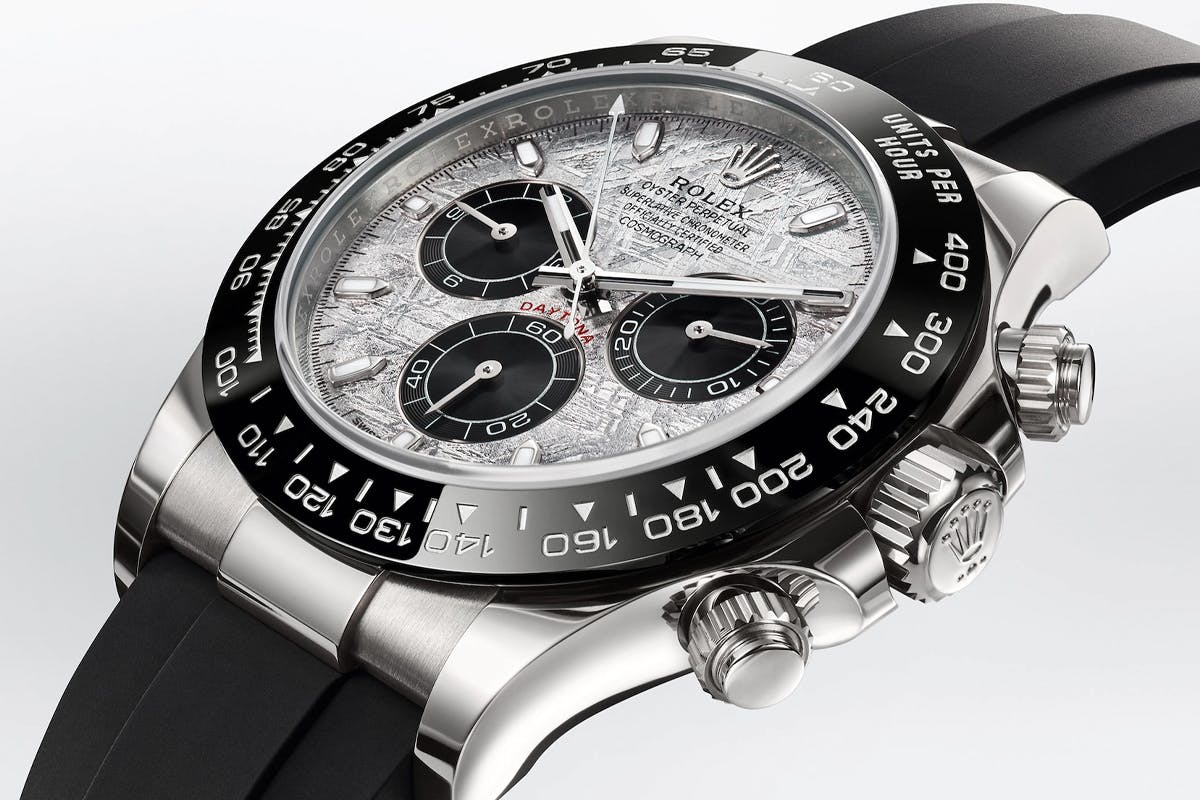 Listen, the aforementioned Patek might be the show-stealer, and that's fine. But it retails at about $35,000, and most of us have literally zero chance of ever getting one at retail. Waitlists for the previous blue dial 5711 were as much as 12 years long, and from the sound of it, this olive green rendition will only be produced for one year.
For my spare shekels? I'm taking the new Rolex Daytona ref. 116519 in white gold with a meteorite dial. At $34,050, it comes in at the same price as the Patek, but it's so much more, featuring an in-house chronograph caliber 4030, white gold Oyster case, Oysterflex strap, and that shimmering meteorite dial. Let's keep in mind that a white gold Daytona is the perfect luxury-but-not-but-totally-luxury watch.
When Rolex slapped a meteorite dial onto a white gold GMT-Master II a few years ago, it turned into something of a cult classic, and this Daytona might be the same. Rolex also added meteorite dials to yellow and rose gold Daytonas, but it pops the most against the black bezel and subdials of this white gold reference.
Price: $34,050 For more, visit Rolex.
Cartier Cloche
If there was an award for the classiest watch, the Cartier Cloche would be this year's winner. While more right-angled Cartier watches like the Tank and Santos get most of the attention, the Cloche is just as interesting and nearly as old.
The Cloche — French for bell — was first introduced by Cartier in the 1920s, and it's been produced in limited quantities ever since. If you care, it's powered by one of Cartier's own movements, but surely a Cartier watch is all about the design; the history; the romance. The Cloche's got a ton of that going for it.
Having trouble justifying the price? Flip the watch on its side, and it makes a decent desk clock. Two timepieces in one.
Price: $27,500 (yellow and pink gold); $31,000 (platinum) Limited edition: 100 pieces in each of yellow gold, pink gold, and platinum
Vacheron Constantin Traditionnelle Split Seconds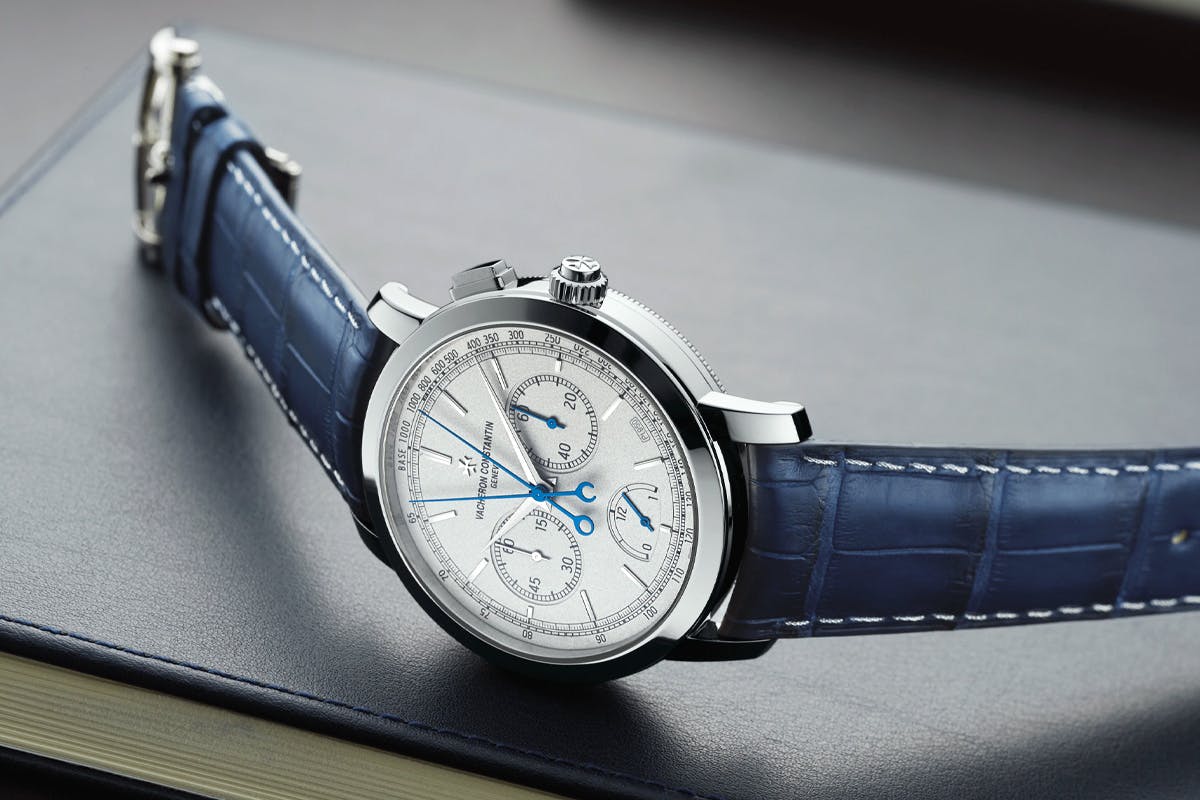 First, a disclaimer: this thing costs $288,000, and Vacheron is only making 10 of them. So let's concede outright that none of us will ever own this watch. Yet it provides comfort just knowing that something so amazing exists. It's the Vacheron Constantin Traditionnelle Split Seconds Ultra Thin in platinum, powered by a beautiful, ultra-thin movement we've only seen Vacheron use once before.
Just wow. First of all, you have to recognize that maybe two other brands are making a split-seconds chronograph at this level. A split-seconds chronograph has two seconds hands for timing, one over the other, until you push that button on the side of the case to "split" the two. This stops one hand, while the other continues running. This old-school function allows you to do things like time successive laps without resetting the chronograph itself. It's an amazing technical achievement, totally anachronistic in the modern world.
But that's what makes this beautiful. It's a true cultural artifact, and it's no less an achievement thaT a manufacturer like Vacheron is still dedicated to producing them at the highest quality today as it was 75 years ago.
Price: $288,000 Limited edition: 10 pieces
The Watches You Can Actually Get
Cartier Tank Must de Cartier
Sure, the Cartier Cloche is beautiful, but there's nothing quite like a Cartier Tank. Classic; enduring; timeless. This year, Cartier released a new collection of Tanks under the Must de Cartier, a lower-priced option Cartier originally introduced back in 1977 that immediately became an "It" fashion watch during the 1980s.
This time around, Cartier has brought back the Must in its "Large" stainless steel case size, which perfectly suits male and female wrists. It's offered in three rich lacquer dial colors: burgundy, blue, and (of course) green. The dials are as stark and minimal as it gets, with only "Cartier" printed at 12 o'clock. They all come with alligator leather straps to match the dial. For a timeless 80s vibe, pick up one, or all three.
Price: $2,730 For more, visit Cartier.
Rolex Explorer "Rolesor" Two-Tone
Speaking of the '80s, people are up in arms about this watch, which is why we kind of love it. This year, Rolex sized down the Explorer model from 39mm to its classic 36mm size. More controversially, they also added this two-tone "Rolselor" model, which features a yellow gold bezel and a steel-gold Oyster bracelet.
"But a sports watch can't be two-tone!" people are shouting from rooftops and banging into keyboards. The lore of the Rolex Explorer is that it accompanied Tenzing Norgay and Edmund Hillary on the first summit of Mount Everest: So I get it, no one needs a gaudy gold watch on top of a mountain. But is anyone taking a Rolex to the top of a summit nowadays? Surely, there are Apple or Garmin watches that'll serve much more admirably. Not to mention, you'll find all kinds of two-tone sports watches from Rolex (including vintage two-tone Explorers) if you search around its back catalog enough. It's not like this two-tone Explorer is out of nowhere.
Most of us aren't summiting peaks anyway, so a sweet-looking two-tone Explorer will do just fine.
Price: $10,800 For more, visit Rolex.
Tudor Silver Taupe Black Bay 58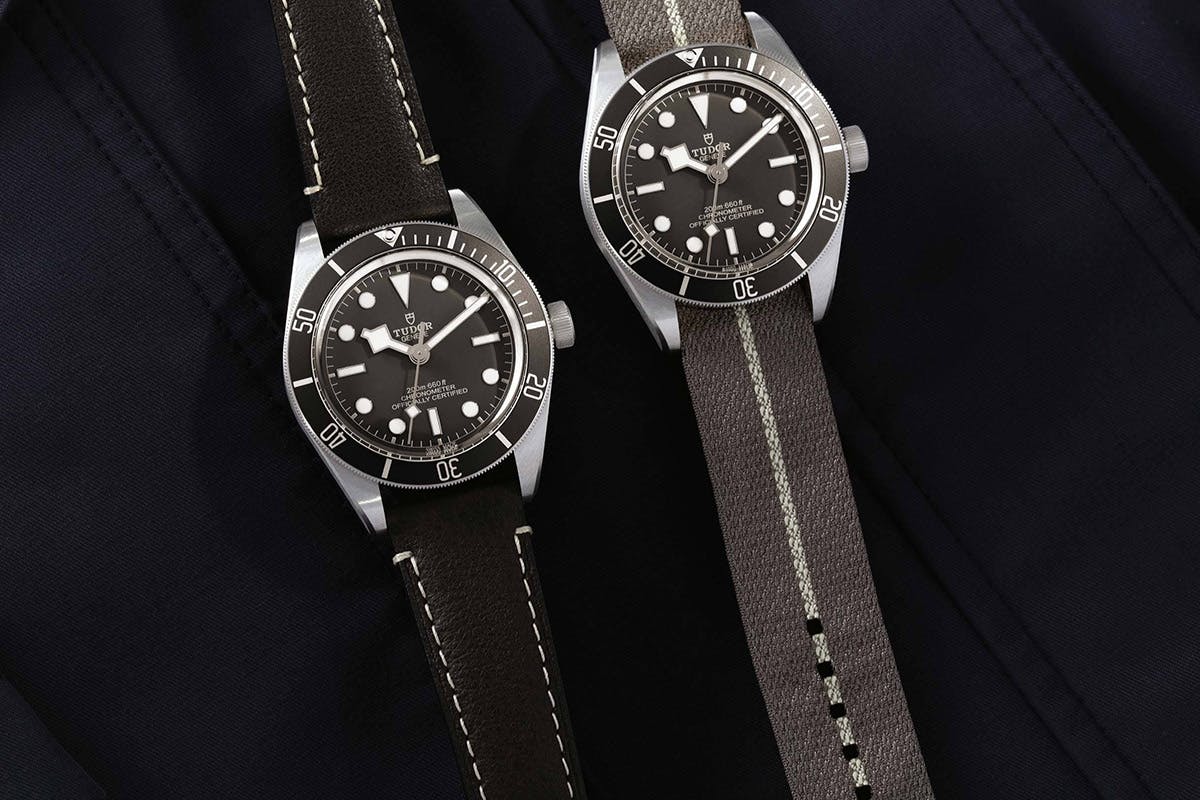 Honestly, I didn't even know you could make a watch in silver. Okay, I knew you could, but usually, they'll tarnish and turn your skin green. Leave it to Tudor, though. Alongside the 18k gold Black Bay 58, it released a silver Black Bay 58 with a taupe dial and bezel. It's totally unexpected and totally brilliant. It's the kind of watch Rolex wishes it could make, but it can't because, well, it's Rolex.
Like the Black Bay 58 of old, the Taupe Black Bay 58 measures 39mm in diameter and 12.7mm thick, meaning it's good for basically any wrist (including Lady Gaga's). This time around, Tudor even added a see-through case back so you can see its proprietary in-house movement whirring away inside.
It's a totally covert way to rock a precious metal, and you're not going to find anyone else wearing a silver watch. Even better it comes in at just a shade over four grand.
This is a modern iteration of a vintage tool watch in precious metal. It makes no sense. But mechanical watches make no sense in 2021. So we absolutely love it.
Price: $4,300 Where: Tudor Watch.
Tudor Black Bay 36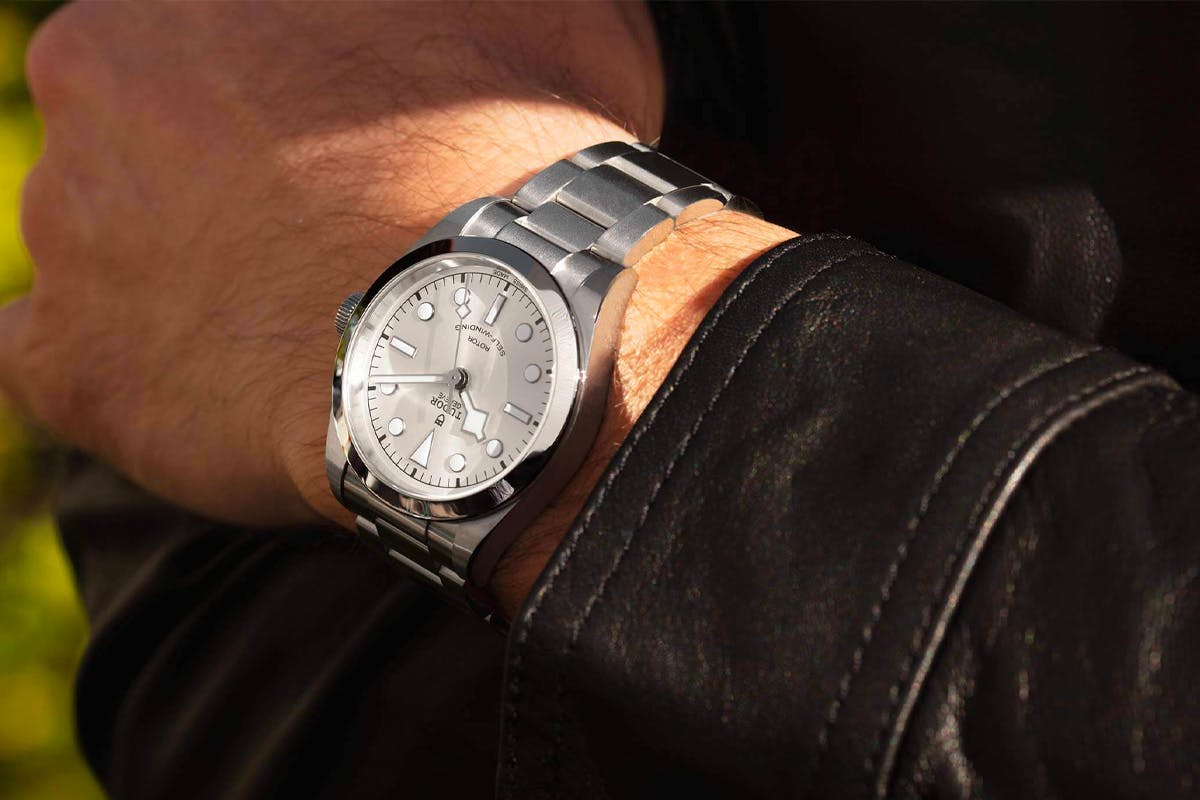 If you don't want to splurge — or can't get your hands on — the new 36mm Rolex Explorer, Tudor's got you covered. The Black Bay 32/36/41 line has been in the collection since 2012, and this year they updated it with a sexy new silver dial.
Sure, you'll probably be able to get the silver taupe Black Bay 58 just fine too, but at almost half the price, the Black Bay 36 is a sneaky good alternative. Tudor added a silver dial to the model this year, and it looks steely with the stainless steel case and bracelet. You still get some classic Tudor styling with the snowflake hands and Oyster bracelet, but the off-the-shelf movement means this Black Bay's a downright value proposition at just under $3,000. If you're looking for an all-around, entry-level watch, this is the one.
Price: $2,950 (with bracelet) For more, visit Tudor Watch.
Nomos Club Campus
For $1,500, it's tough to beat the Nomos Club Campus. Nomos has mastered the wholly modern minimalist aesthetic, but without feeling like a cheap put-on created for Instagram. This year, Nomos added two new colors to the collection called "Absolute Grey" and "Future Orange."
The grey has broad appeal and the orange is just playful enough for the fashion-focused to think twice about a Nomos (a modern alternative to, say, one of those Must de Cartier Tanks). Both are worthy editions to the brand's expanding Club Campus line, which features classic silver and black dials, as well as bright green, blue, and red dials.
Nomos has leaned into the Club as the model for graduates — even offering free engravings on the case back to commemorate a young grad's achievement. We can get behind a watch that's "young, unpretentious, and reading for anything."
Price: $1,500 (on strap) For more, visit NOMOS Glashütte.
There are still some more releases to come from Watches & Wonders next week. Stay tuned for further updates.
Tony writes at Rescapement, a weekly newsletter about watches.