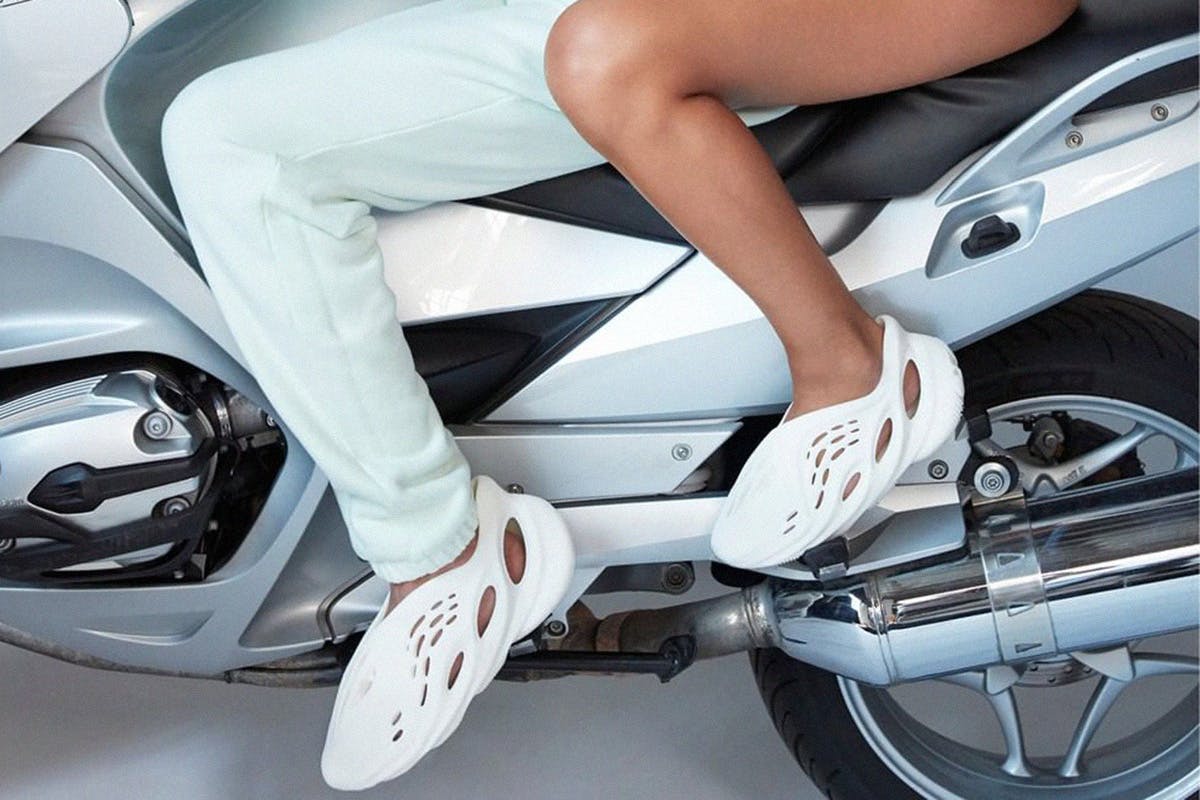 Kanye West's YEEZY Foam Runner was leaked and then officially unveiled by The Face magazine on Instagram, giving us our best look at the rubber clog-like design that was first worn by 'Ye's daughter North West in June. Of course, social media reactions were vicious, dubbing the shoe "YEEZY Croc" and offering unflattering comparisons.
If it feels like we've been here before, it's because we have. Kanye West debuts a new sneaker design. Social media hate and ridicule rolls in. The shoe drops and people ultimately buy it. So maybe this time, instead of angling for a few cheap laughs and making up our mind before any official announcement, we should hold on to our Twitter fingers and wait before jumping to conclusions.
Read on for a (not completely serious) take on why it's way too early to be laughing at the YEEZY Foam Runner.
We've seen this type of reaction before
Short of the name, a rough idea of when we can expect it to be released, and what it looks like, we know absolutely nothing about the shoe. It looks to be (at least partly) inspired by the shape of the YEEZY Boost 700, featuring similarly-shaped cutouts on the midsole. More often than not, Kanye West's ideas and sneakers are met with skepticism and sometimes even ridicule. More often than not, his sneakers also sell out upon official release.
As a few people on Twitter have already pointed out, a lot of those hating on the shoe's design will be first in line to sign up for raffles when the YEEZY Foam Runner eventually does see a release. There's nothing wrong with joining in on the meme-ing and fun but let's keep it real, a lot of us will have a different opinion on the YEEZY Foam Runner when it drops.
Like it or not, Crocs is having its moment
Collaborations with the likes of Chinatown Market, Balenciaga, and Pleasures have firmly cemented Crocs place alongside brands Highsnobiety and other outlets cover on the daily. Because of the style's maintained popularity, it was only a matter of time before someone from the inner circle tried their own hand at rubber clogs. It just so happened to be Kanye West, a divisive figure himself. As the saying goes, "imitation is the highest form of flattery."
The Croc Clog badly needs an update
Crocs' assortment of Clogs and rubber footwear is popular for a reason. They're comfortable, practical, and fun thanks to the wild colorways and Jibbitz add-ons. But a big reason for the brand's popularity, at least in the fashion world, is that they are, for all intents and purposes, unfashionable. It's the ironic element that has made them a style icon of sorts. Now imagine if there was footwear that shared all of Crocs' positive attributes and didn't look like you had given up on life (harsh, I know). While it's too early to tell how comfortable the YEEZY Foam Runner will be, that seems to be exactly what Kanye West is attempting to bring to market: cool Crocs.
Kanye West does what Kanye West wants
If fashion brands are tapping Crocs for collaborations, albeit to create somewhat ironic and purposefully against-the-grain product, who says Kanye West can't do the same? Kanye West has forever blazed his own trail, even more so in the last few years so this move shouldn't come as a surprise to anyone, let alone seasoned YEEZY fans. And don't worry, you'll still be getting proper YEEZY "shoes" from adidas and 'Ye, you'll just have to put up with a few crazy designs along the way.
Not that it has stopped anyone (including those in the Highsnobiety office) but it's way too early to jump to any sort of conclusions regarding the YEEZY Foam Runner.