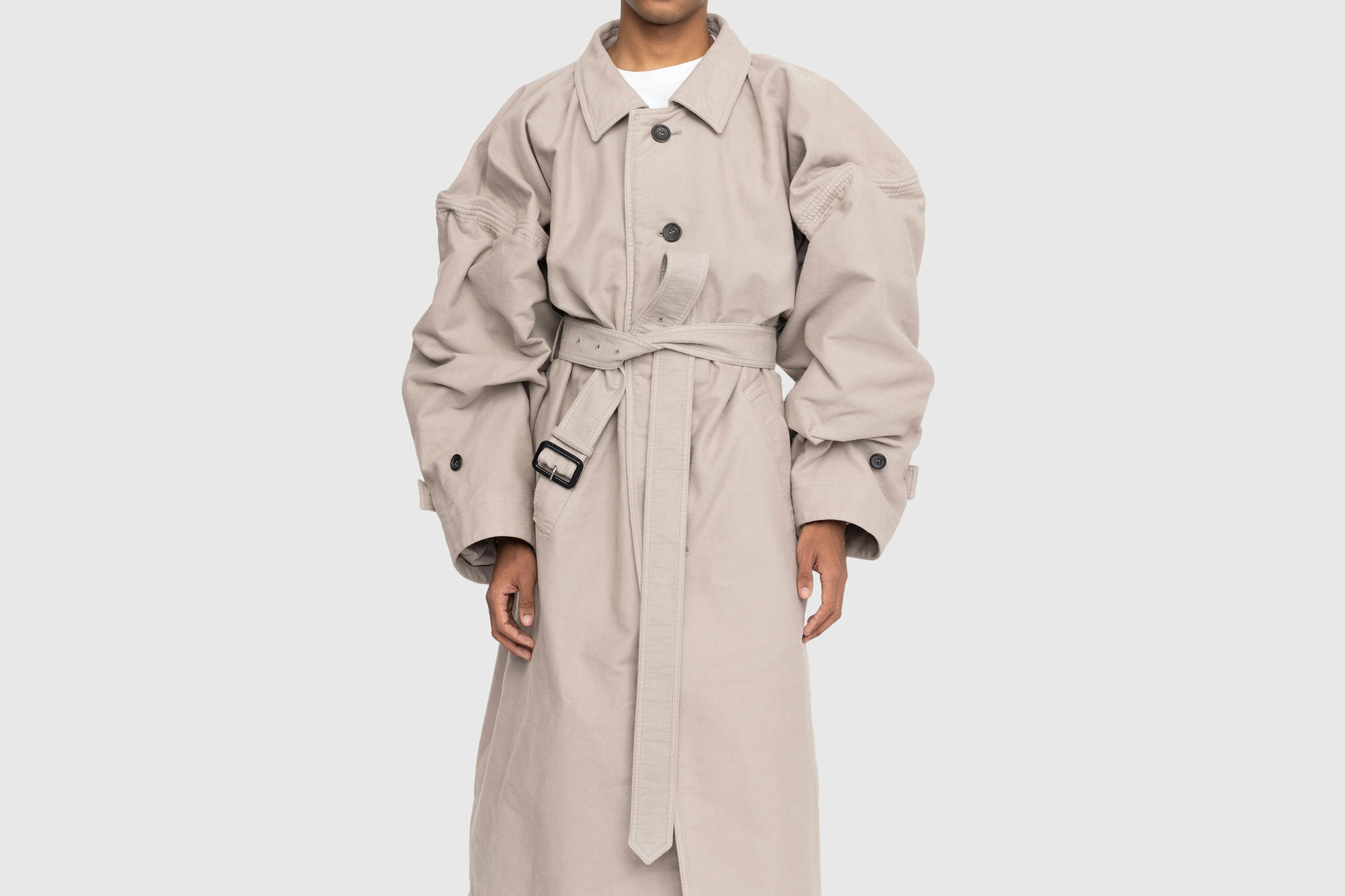 Brand: Y/Project
Season: Fall/Winter 2022
Key Pieces: The oversized trench coat takes much of the shine thanks to its ridiculous proportions, but everything in this collection has a fun twist.
Buy: Highsnobiety Shop
Editor's Notes: When we interviewed Glenn Martens in 2020, he told us that his collections don't necessarily have a story, but instead that "every single piece needs to have a design twist." And with FW22, there are plenty of twists to shop, most of all on its ridiculously oversized trench coat.
I mean, a big silhouette is one thing, but this pretty much swallows anyone who wears it.
The huge outerwear design comes in the browny-beige color which trench coats have been made in since their invention during World War 1 and it keeps the belt around the waist — but that's pretty much where the traditionalism stops.
The free-spirited label has switched cotton for vegan leather, plus the maxi-length coat is made with integrated, pliable wires that run along the armholes and can be bent and twisted to create whatever new shape and volume you want.
In a season where we are seeing more long coats than ever, Glenn Martens can rest easy knowing he has made the most OTT one on the market.
Of course, a jacket this big is going to catch your eye when doing some digital window shopping, but there's much more to explore from Y/Project's latest offerings.
As mentioned above, everything that the brand does includes some sort of twist, the word simple just isn't in its vocabulary. This means that even the staples in the collection are turned into showpieces: a long sleeve t-shirt has two neck holes, a basic pair of blue jeans have a pinched pleat with logo detailing, and even on a tank top, the fabric on the shoulders is twisted.
Whether it be Y2K-inspired designs and butt-plug invitations at Diesel or playful takes on staples with Y/Project, Glenn Marten's experimentation and sense of humor continue to entertain us.
Check out more of the Y/Project FW22 collection available to shop below.
Want to keep browsing? Head to the Highsnobiety Shop for more products that we love.