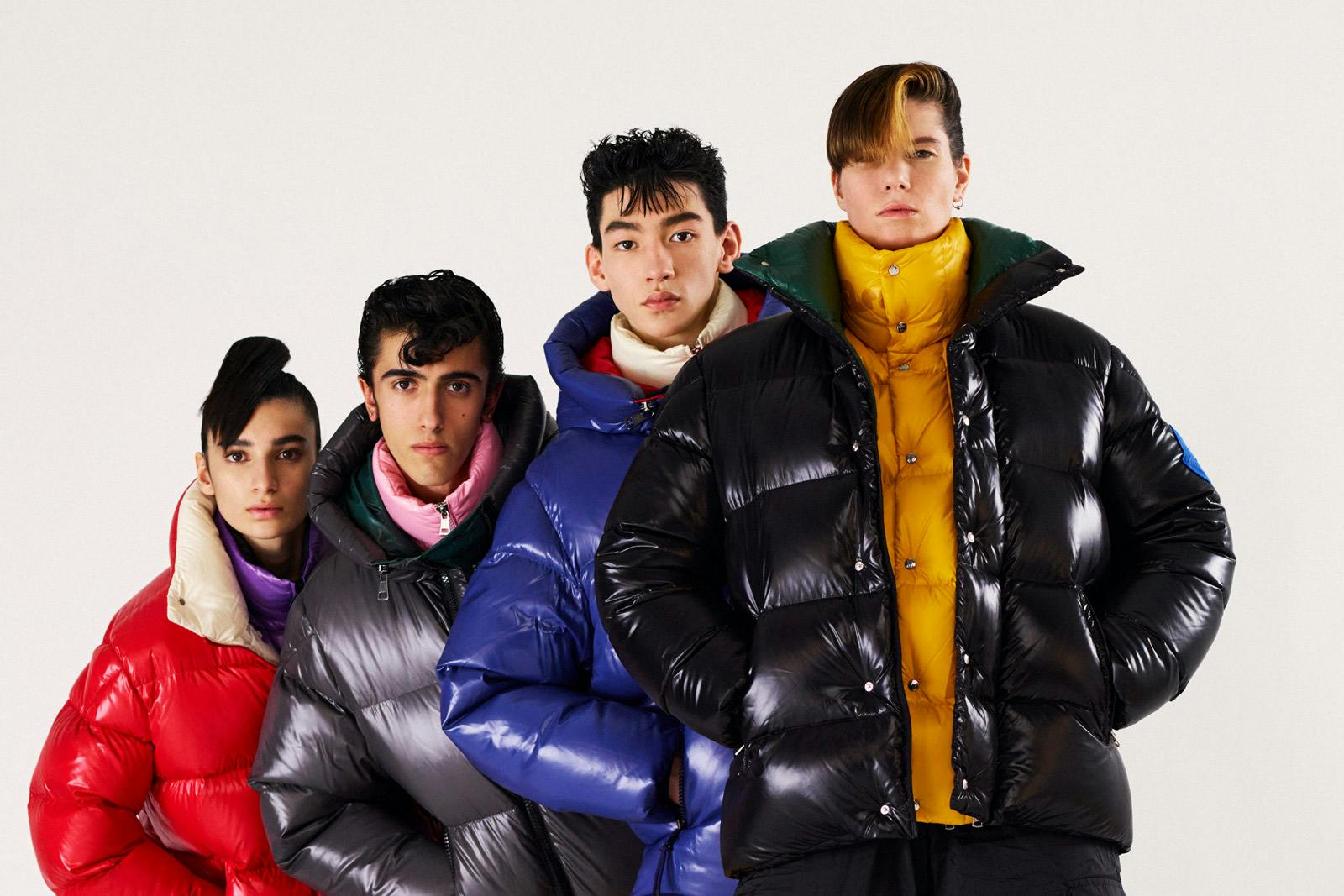 Curated by Highsnobiety and presented during the time period formerly known as Paris Men's Fashion Week, "Not In Paris 2" is our second in a series of bi-annual digital exhibitions celebrating creativity in the age of remote interactions. Head here for the full series and cop our new merch via our online store.
As a country that prides itself on both fashion and high-quality gastronomy, the irony that Italy's coolest ever youth movement would take its name from a modest grilled sandwich is not lost on me. You no doubt know the story of the Paninaro, the 1980s upstarts who would skulk outside big city cafés, drowning in fancy labels as if they had just stuck up a nearby designer boutique. They had their own style, magazines, and even dictionary — "Il Gallo," infamously, was thelader's nickname, which translates to "The Cock." All good things must come to an end, however, and by the time Pet Shop Boys had immortalized the subculture as a song in 1986, it had already begun to wind down.
The legacy and spirit lives on, and to celebrate, we caught up with 2 Moncler 1952 Man's Sergio Zambon, who regaled us with his memories of the Paninaro. Afterward we shot some of our favorite pieces from the label, including its recent SS collection.
Let's start from the beginning. What are your earliest memories of the Paninaro?
I was on the opposite side. I was more on the Gothic, dark punk side. But I remember the look was very related to the hedonism of the '80s, and Italy entering a good economic period. Before that, things were very intense in the '70s, and people in Rome and Milan wouldn't go out in the evening because it wasn't safe and there were a lot of demonstrations. This carefree look was all over the country. I remember the strong colors, the groups in front of the bars, the fast food. I remember when they opened the first McDonald's in Rome, in '86. It was a huge thing.
That was the very first McDonald's, in 1986?
Yes. Italy had their own chain of fast-food, which were the places where the Paninari were eating. The most famous was called Burghy. Of course, the name Paninari came from a sandwich bar in Milan, called Il Panino.
Can you paint a broader picture of the scenes that were around at the time?
The Paninari started in the early '80s. Let's say the peak was when the Pet Shop Boys did the song "Paninaro" after they visited Milan in 1986. The Paninaro was a reaction to a very intense politicized period of before. The late '70s and early '80s in Italy was extremely turbulent. In terms of music, they were the opposite of punk and dark. They were all about pop. The two favorite bands were Duran Duran and Spandau Ballet.
It sounds pretty mainstream in that sense. When I think of Italian music of that time, it's more disco or Argento instrumentals. Not Simon Le Bon.
Very much so. I would call them outerwear yuppies. The strange thing was, they were about appearances; facade fashion. But then they chose styles and codes from the working American class. For example, Levi's and Timberland boots.
They were middle class or even bourgeoise, but then they gravitated towards working-class items. In fact, I can call them an Italian streetwear movement because they go for the Italian mentality of showing off, of bella figura, only with workwear and utility garments. Everything was branded. They were never wearing something which wasn't branded.
That was also mirrored quite heavily in the UK. I've read comparisons between them and today's hypebeast, but it doesn't feel quite as obvious, even if they did love brands.
A lot has changed, but I think it's fair to say they were the hypebeasts of that period. The difference was, everything wasn't so fast. You didn't have a new pair of sneakers every month; you don't have a new guy dancing on TikTok. But conceptually, and in terms of materialism, I think there are a lot of similarities.
Carlo Rivetti once told me he thought it was a declaration of masculinity in reaction to Le Sfitinzie. Would you agree with that?
There is Le Sfitinzie and then a variant called Squinzie. The imprinting of those girls was really based on Italian TV. They were all about image. It wasn't a very good representation for women, but that's how they were.
Why do you think the Paninari were drawn to the Moncler puffer in particular?
It was an icon of style at that time, for skiing. It was the first time [the jacket] had been translated to daily wear, which is so typical of any street movement. Moncler was very fashionable at that time.
When New Yorkers started wearing Ralph Lauren and Polo, the brand didn't really overtly reciprocate. What was Moncler's relationship with the Paninari? Did they embrace it or balk?
I wasn't there working with Moncler, so I can't say. But in Italy, when something like this happens, the big brands or houses are usually flattered or amused. They are flexible and like to see people wearing things in fresh ways; "Oh, that's a new way of wearing our things." Italians always link the real world to the street. And there is nothing better than to see your things on the streets.
That's an interesting cultural difference.
Right. We are not so strict in that way.
Let's talk about the motorbikes and scooters. They played such a huge role aesthetically.
I relate that to the Italian way of going around into big cities; it's the easiest mode of transport because of the traffic. Brands they liked were Gilera, Laverda, and one called Zündapp, which sounds German.
The scooters are quintessentially Italian, which makes me believe it's the only truly Italian street movement we had. It's why I think it's perfect for starting our Genius collection.
Why do you think they were so open-minded in regards to the use of color? Coupling that with the masculinity thing earlier, I feel like that's such an '80s thing — that machismo with an undercurrent of vulnerability, or even homosexual tension.
I would say it's another Italian thing too: colorful outerwear, playful belts, and the girls were wearing all these pastels and had big curly hair. It's European, but also very Mediterranean.
Do you think subculture like the Paninaro could ever really exist again? Can subculture still thrive generally?
This is a question which I really think about. And as I said at the start, Paninaro was a reaction to a very politicized former period. And also nowadays, there are subcultures who have their own looks in reaction to politics. For example, we saw in America, certain groups — and I'm not making names, because they're not necessarily good — but they have their own look, like Hawaiian shirts etc. But apart from that, I think the situation nowadays in fashion is we have this normcore, comfort zone look for the pandemic period, or we have the super technological sport look which is all about functionality and living in a big city.
I believe subculture will always exist as an expression. I think the future of subculture would only be canceled if real democracy were to exist all around the world. Otherwise, there is always a reason for a subculture to exist, and generally, it's political. I think when the planet will be in a right democratic situation, subculture will maybe die. But we are very far from that, so subculture will be with us for a long time.
I think back in the day when these subcultures were around, they had more room to breathe. Whereas now, when something is really cool, it is absorbed by the mainstream almost overnight.
There is a difference between real subculture and hype. Of course, the speed of communication has had a positive side, but also sometimes — as the pandemic shows us — we don't need so many things. I think real things need time. It takes time to make a real thing. And Paninaro, it still has the sense as a heritage, because it was a real thing. It was organic.
Uniform is so important to the Italian style story and has inspired many brands, whether it's the Carabinieri police force or the slick bankers you'll find strutting down Porta Nuova. How come you guys do it best?
With uniform you look dapper, and Italians love that. That simple "I look good" feeling is a very Italian attitude to style. So maybe that has something to do with it. Italian fashion has always harked at our heritage of making things in a fine way.