Curated by Highsnobiety and presented during the time period formerly known as Paris Men's Fashion Week, "Not In Paris 2" is our second in a series of bi-annual digital exhibitions celebrating creativity in the age of remote interactions. Head here for the full series and cop our new merch via our online store.
London-based jewelers 777 strive for perfection, which, in such a saturated niche market, is almost the minimum requirement. This proves especially true when you dive into the world of customization — specifically luxury, high-end watch customization.
The brand, founded by Reiss Dixon and Amir Kailany serves an ultra-rich clientele that wants people to know how heavy their wallets are. For "Not In Paris 2," 777 presents the 10 most popular high-end watches from 2020, three of which have been customized in collaboration with Browns Fashion to celebrate the luxury retailer's 50th anniversary.
To differentiate themselves from their competitors, where customers usually drop off an item and pick it up after it's been customized, 777 offers the process as an experience. "We make the process feel like a collaboration between the customer and ourselves," explains Kailany. "We take them through the whole process; from the sketch design to the 3D design and until it's made."
For the three watches created in partnership with Browns, Kailany and his team wanted to do something special and rare. "On other luxury or customized watches, brands use gemstones: emeralds, sapphires, or rubies," explains Kailany. "I wanted to create a full diamond set watch. Because with gemstones you don't get the sparkle or the life that's in the stone that you get with a diamond."
Scroll through below for a roundup of 777's 10 watches of 2020.
777 x Browns Rolex Submariner "Hulk"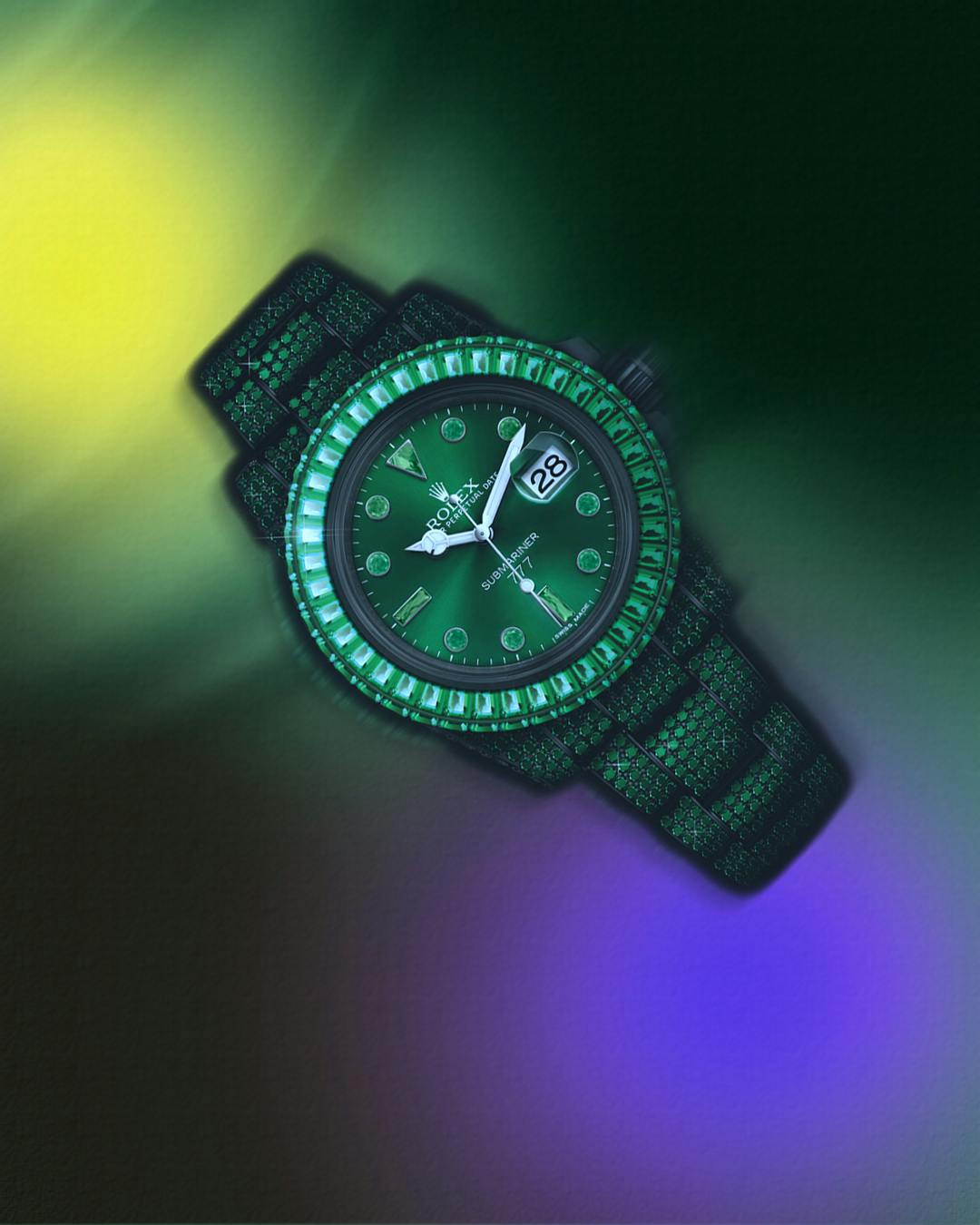 All three 777-customized watches are treated with what the brand calls the "777 Max Setting," which is how close the stones are set next to each other, to ensure that no metal is seen through the gaps. As the name suggests, the "Hulk" edition of the Rolex Submariner is covered in green diamonds. Baguette diamonds are featured on top, while round stones are on the case and dial.
777 x Browns Rolex GMT Master 2 "Batman"
The 777 x Browns Rolex GMT Master 2 "Batman" features blue and black diamonds, alongside a mix of baguette and round stones. The blue and black color scheme gives the unmistakable superhero new life as a luxury watch.
777 x Browns Rolex GMT Master 2 "Robin"
Batman's sidekick Robin is also given his own watch as part of 777 and Browns' partnership. As the superhero's costume would suggest, both brands have dressed this Rolex GMT Master 2 in red and white diamonds. Again, baguettes and round stones are carefully placed on the watch in 777's signature max setting.
Rolex Daytona Platinum Baguette Diamond Dial
The Rolex Daytona with a ceramic platinum bezel and diamond baguette dial is the rarest Rolex model available on the market at the moment. The timepiece is made from platinum, which is notable for its striking silvery whiteness.
Rolex Daydate 40mm Rose Gold Anniversary
This rose gold DayDate combines an olive green dial with rose gold roman numerals. It was made to celebrate the 60th anniversary of what many consider to be Rolex's most prestigious model.  The DayDate is worn by many of the world's political figures. It features what is called the President Bracelet, a nod to the eminent figures that have worn it. Another nickname for the timepiece is the "president's watch."
Audemars Piguet Royal Oak Rose Gold "Skeleton"
The Audemars Piguet Royal Oak is an eye-catching watch, thanks to its octagon-shaped bezel. The Royal Oak is often worn by celebrities, such as Travis Scott, Justin Bieber, Will Smith, and John Mayer. The Skeleton version was at the height of its popularity in 2020 because of its "open work" movement, which offers a look into the heart of the movement.
Audemars Piguet Royal Oak 41mm Chronograph Blue Dial Rose Gold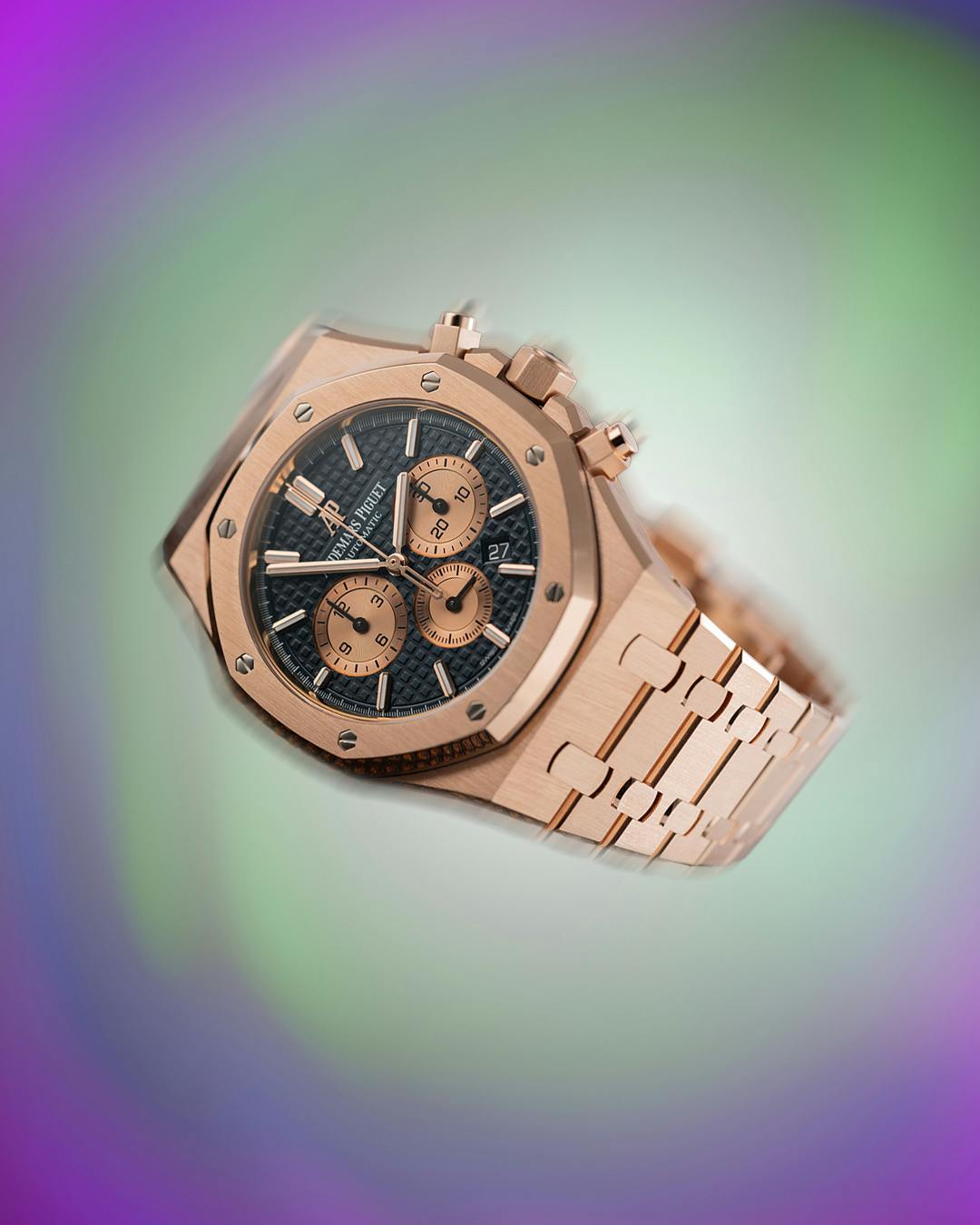 This self-winding Royal Oak 41mm Audemars Piguet is made out of rose gold, which is combined with the blue-colored "Grande Tapisserie" pattern dial. Because of its exclusivity and the craftsmanship that goes into making such a watch, many watch fans believe this timepiece to be in a class of its own.
Audemars Piguet Royal Oak 39MM 'Jumbo' Steel 15202ST Ultra-Thin
The Royal Oak Jumbo features a distinctive octagonal screwed bezel, inspired by a ship's porthole. When it was first designed, its shape was considered unusual. The case, at 39mm, was also considered large when it launched — hence the "Jumbo" in its name. Nowadays, it's one of the most iconic watches on the market and its price keeps rising because of its limited quantity.
Richard Mille RM055 Bubba Watson White Edition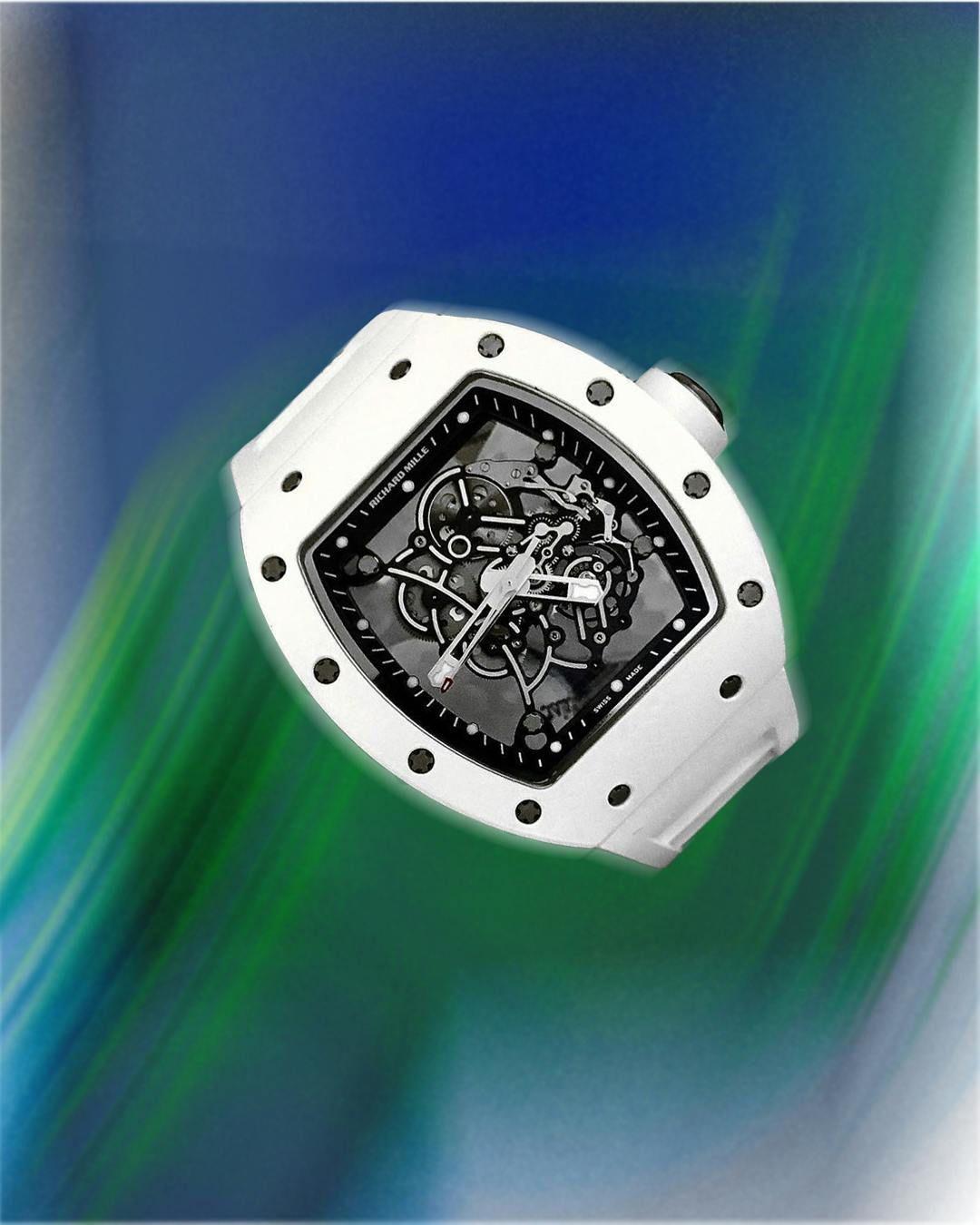 Over the years, Richard Mille has released several limited edition watches named after one of its most famous ambassadors, Bubba Watson. Watson is one of the rare left-handed players on the golfing circuit who also wears a timepiece on his wrist when playing. This RM055 ended up being one of the most popular watches of 2020, according to 777.
Richard Mille RM 11-03 Rose Titanium
Richard Mille's RM 011 has been around for 10 years and existed in two different variations. In 2020, the RM011-03 was released. The model is Richard Mille's most recognizable and the third iteration the model's biggest to date. Some of its features include a flyback chronograph and an annual calendar. The diamond version, seen above, features the precious stone encrusted on the entire case of the watch, making it a hit with people who want to make a statement.