Fact: effortless outfits always look better than tryhard peacocking. Shout out to Adam Sandler, the king of straightforward style, who is demonstrating his streetwear mastery while promoting Hustle, the new movie he stars in and co-produced with LeBron James.
I've already waxed poetic about Sandler's unbothered swag, epitomized by his form-obscuring bagginess — big ups to those massive shorts, in particular.
When it comes to clothes, few folks in Hollywood try less to impress than The Sandman and that's exactly what I like about his 'fits.
That sense of unbothered ease is something so uniquely Sandler, because it's not quite the "I hate clothes I give up" attitude he used to embody and more like "I could care more but I choose not to."
This is not something that can be taught; it's only embodied by someone who truly does not give a fuck what the rest of us think.
But the thing about guys like Sandler and Pete Davidson, compatriots in sleazy-does-it style, is that they often mask a genuine clothing consciousness with the occasional quiet flex, an IYKYK wink that only other clued-in types will pick up on.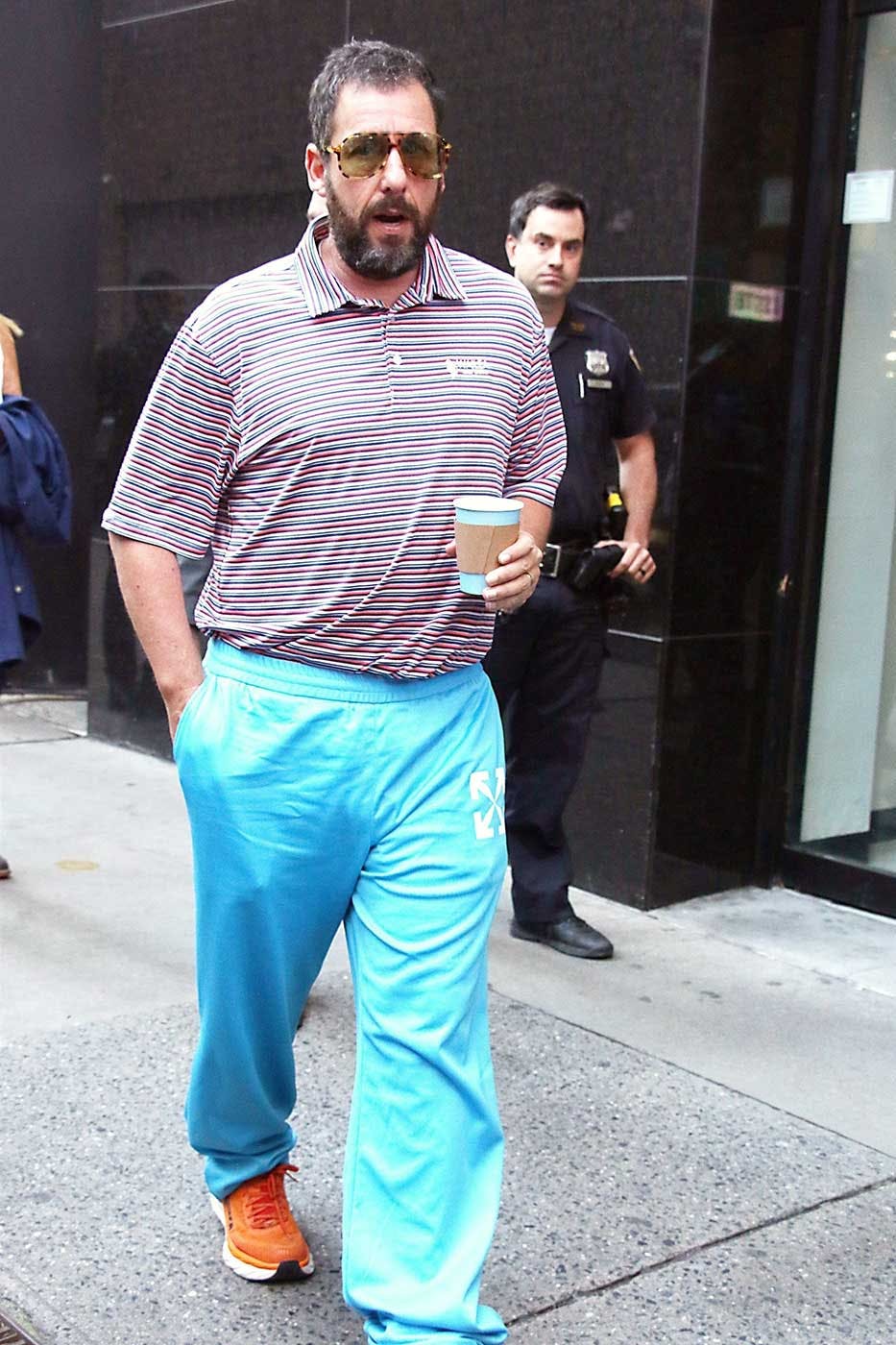 While promoting Hustle, for instance, Sandler stepped out to Good Morning America in one of his many Wailea Golf shirts, tucked into a flowing pair of Off-White™ (!) sweats and his favorite pair of HOKA ONE ONE kicks, the kinda thoughtless slouch that so many downtown dudes attempt to ape but can't ever compare to.
Why? Because they try to hard and this comes so naturally for Sandler that he clearly doesn't even care.
And, yet, he does. There's subtle intent in that shirt tuck, in those insanely cool tortoiseshell hater-blockers shielding his eyes. This is genius at work.
Disagree? Then try this on for size: same HOKAs, a hoodie for indie skateshop Paliskates, and comparatively tailored trousers, all affecting a sense of disaffected comfort-first dressing.
I mean, Sandler's even walking around with a black eye! Dude is just entirely unbothered.
Therein lies the beauty. Yeah, his wild Uncut Gems outfits may have been peak Sandler but they were also the work of canny stylists.
Sandler's day-to-day outfits are even more effortless and, arguably, a better representation of DGAF style that we can all aspire to.