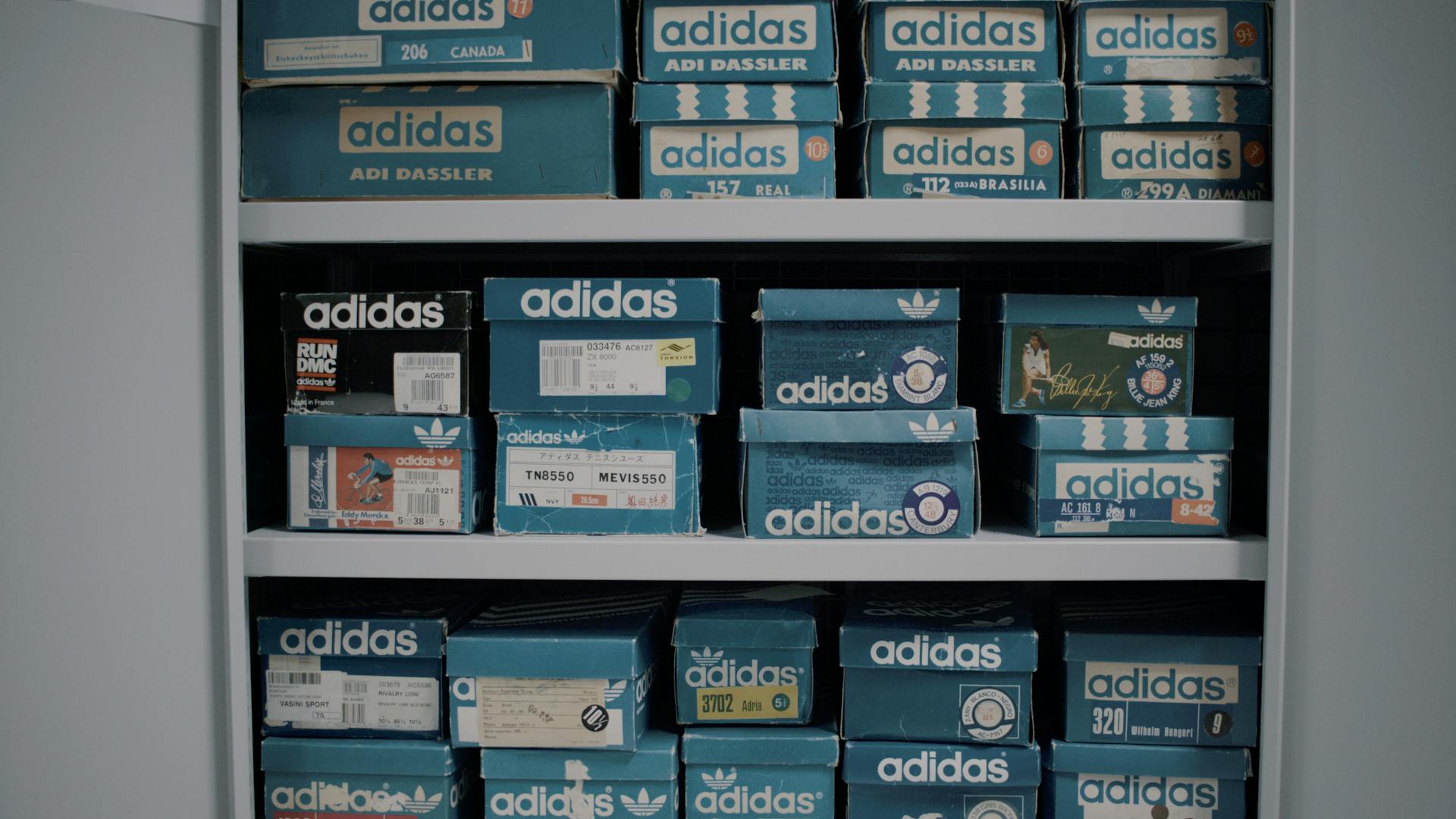 Highsnobiety / Julien Tell
In 1984, adidas launched the ZX series, a collection of shoes designed for runners of all types and abilities.
The ZX franchise was led by Jacques Chassaing and Markus Thaler, who structured products into two silos for training models and competition models, then starting with the four-digit models, designs were further divided into color-coded designs for pronation and supination, including series named Cushion (blue), Support (yellow), Guidance (green), and Racing (red). Chassaing gave numeric designations to each shoe, starting with the ZX 500 and ZX 800 in 1984 and 1986, and eventually ramping up to the ZX 4000 and ZX 5000 in the late '80s.
The ZX series became synonymous with proprietary technology such as adidas' Torsion system (still used in models like the Ultra Boost) and Soft Cell cushioning. In 2014, adidas updated the ZX series with the ZX Flux, a lightweight, pared-down runner based on the ZX 8000.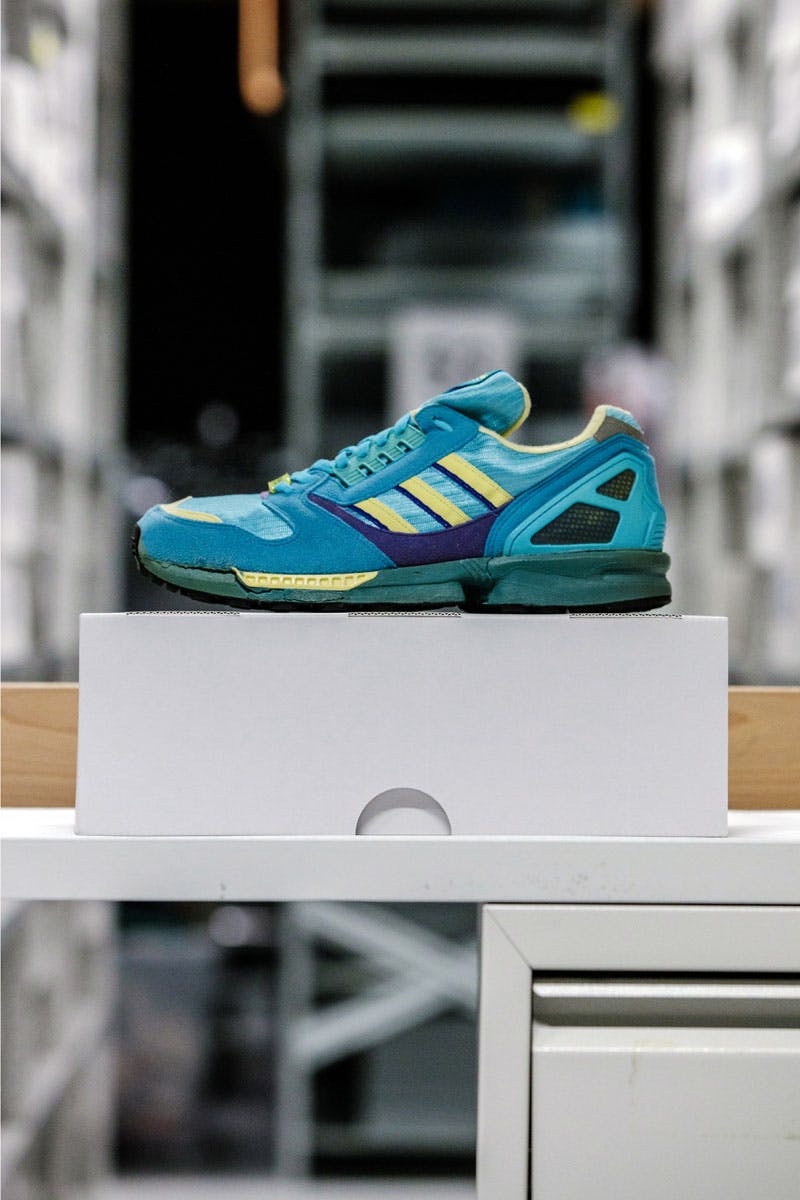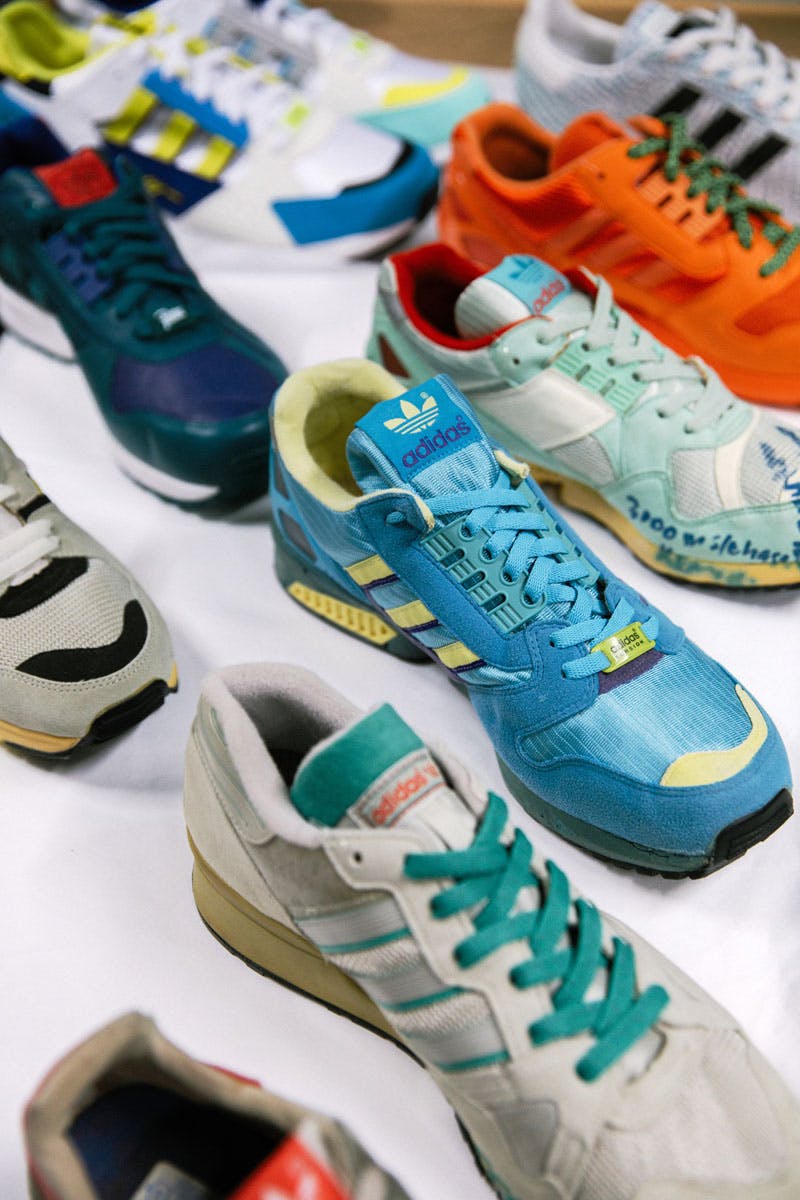 From a cultural point of view, ZX products were adopted by subcultural sets in Manchester and Berlin. Product Manager for adidas Consortium, George Griffin told Highsnobiety, "During the second summer of love (1988 and 1989) in the UK, there would be these huge warehouse raves up in the North of England and people really wanted shoes that would be comfortable all night. It was also the [ZX] colors that would be in tune with the Acid House up in the UK as well. I think when you look to ZX, it's always color."
On-foot, Griffin is wearing a special friends and family version of the ZX 10000 C, produced in only 200 pairs that were gifted out at Paris Fashion Week in June.
An answer to the question "What happened after ZX 9000?", the newly designed 10000 C is merely one of many ways that adidas is bringing the ZX franchise up to the present day. Explaining the contemporary ZX silhouette in a bit more detail, adidas Spezial designer Gary Aspden told Highsnobiety, "For me personally, the ZX prefix is sacrosanct for adidas fans, so to try and tackle doing any new numbers in the ZX series should really be approached with caution and done respectfully. I see it as the footwear equivalent of making a new Star Wars film or having an iconic band like The Clash attempt to record a new album. George Griffin worked on [the 10000 C] with the designer of the original ZX series Jacques Chassaing and I believe they have created something really special."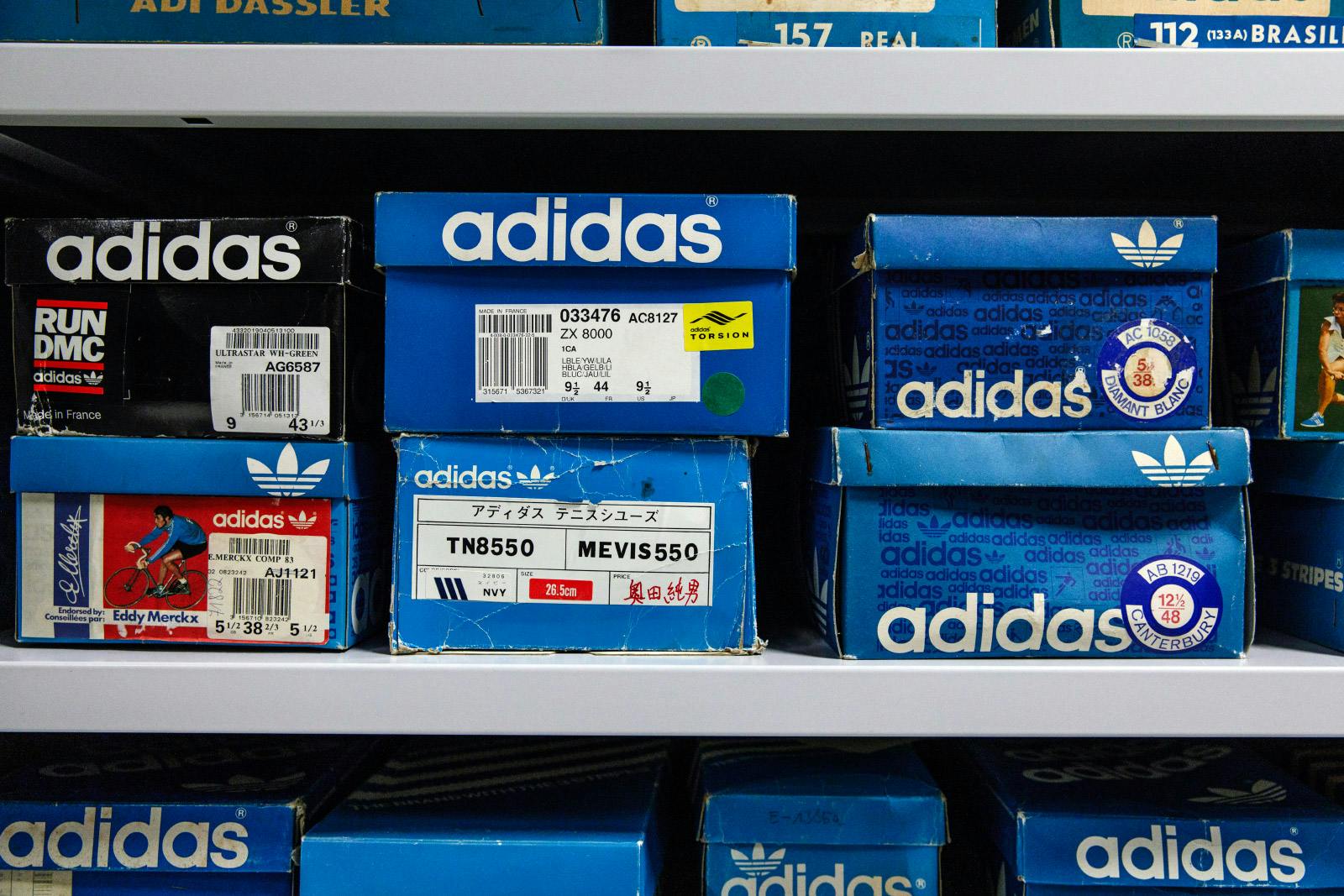 Highsnobiety / Julien Tell
In 2008, adidas embarked on the aZX project, folding in 22 of the world's leading retailers including streetwear boutiques and high-end shops like Wood Wood, ALIFE, Goodfoot, Dave's Quality Meats, and many more. Each retailer had the chance to color block their own ZX model, creating a truly global collection of designs. 11 years ago, this was a chance for retailers to get their hands on, and have fun with sneakers that were previously thought of as strictly performance-oriented products, and the project allowed the worlds of lifestyle and performance to come closer in following years. adidas is continuing that idea in 2019 by tapping those in their collaborator network like Overkill, Alltimers and Highs & Lows, who are also being offered their chance to remix ZX and Torsion models.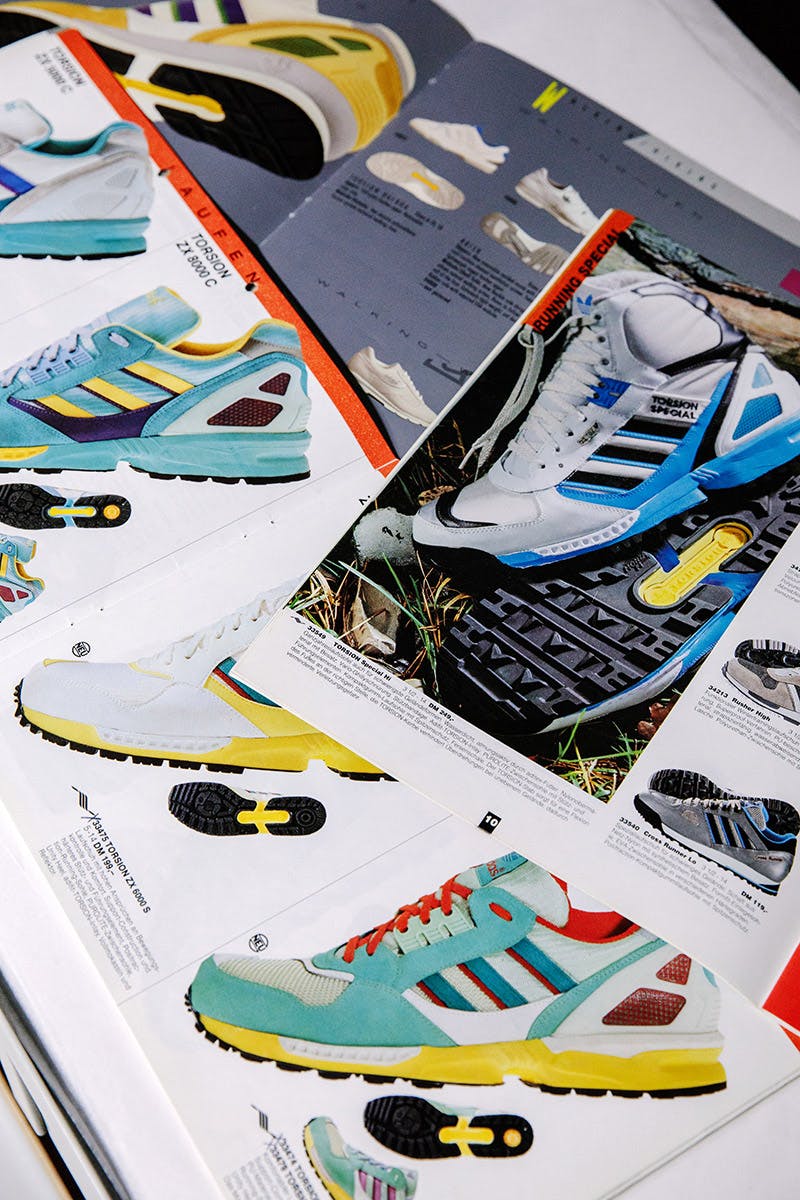 Highsnobiety was invited to visit the adidas archive in the brand's Herzogenaurach headquarters, where we picked some of the most collectible and historic past ZX models off the shelves. Speaking on how the archive informs contemporary designs, Griffin expands, "The archive is super important to my day to day as well, looking at catalogs, looking for inspiration and just really trying to learn as much as possible about the brand and how we used to do things." It's interesting to think that current adidas models may be looked back on for inspiration in 30 years time, that maybe a future journalist will be pulling a ZX 10000 C off the shelf and admiring it as a relic.
Below, adidas ZX models from the adidas archive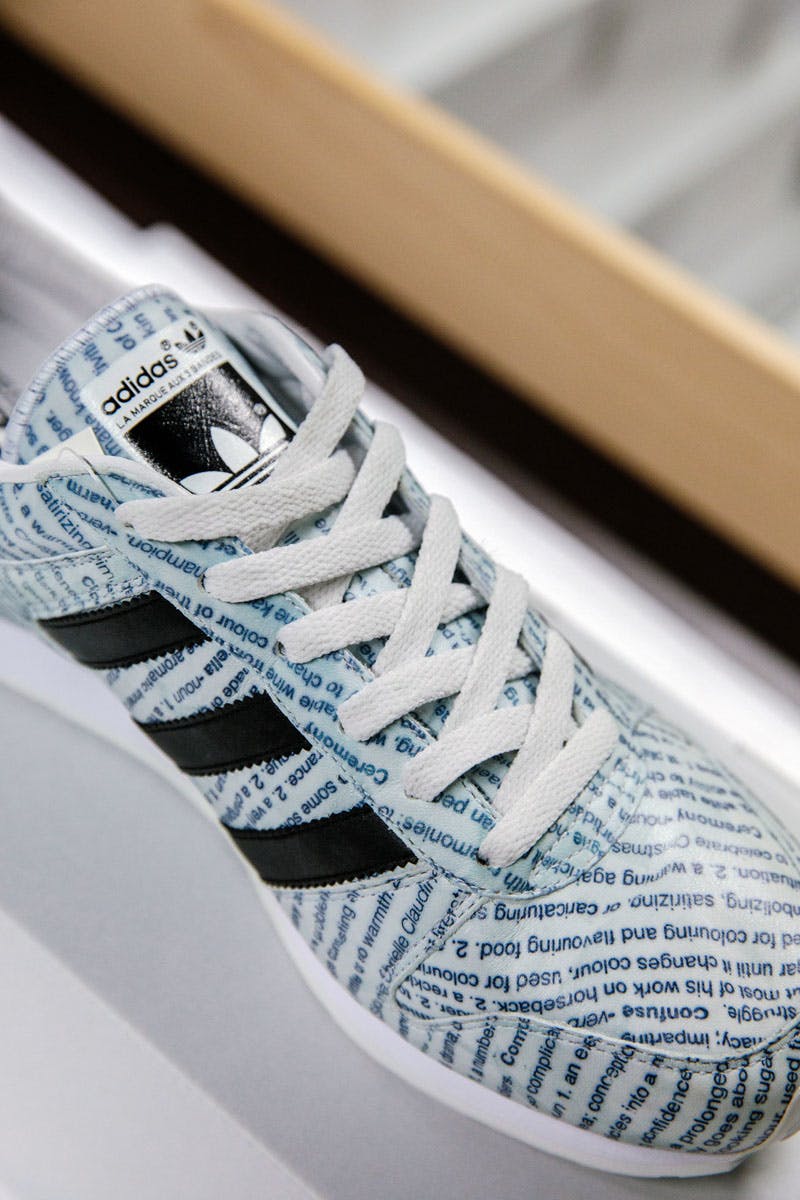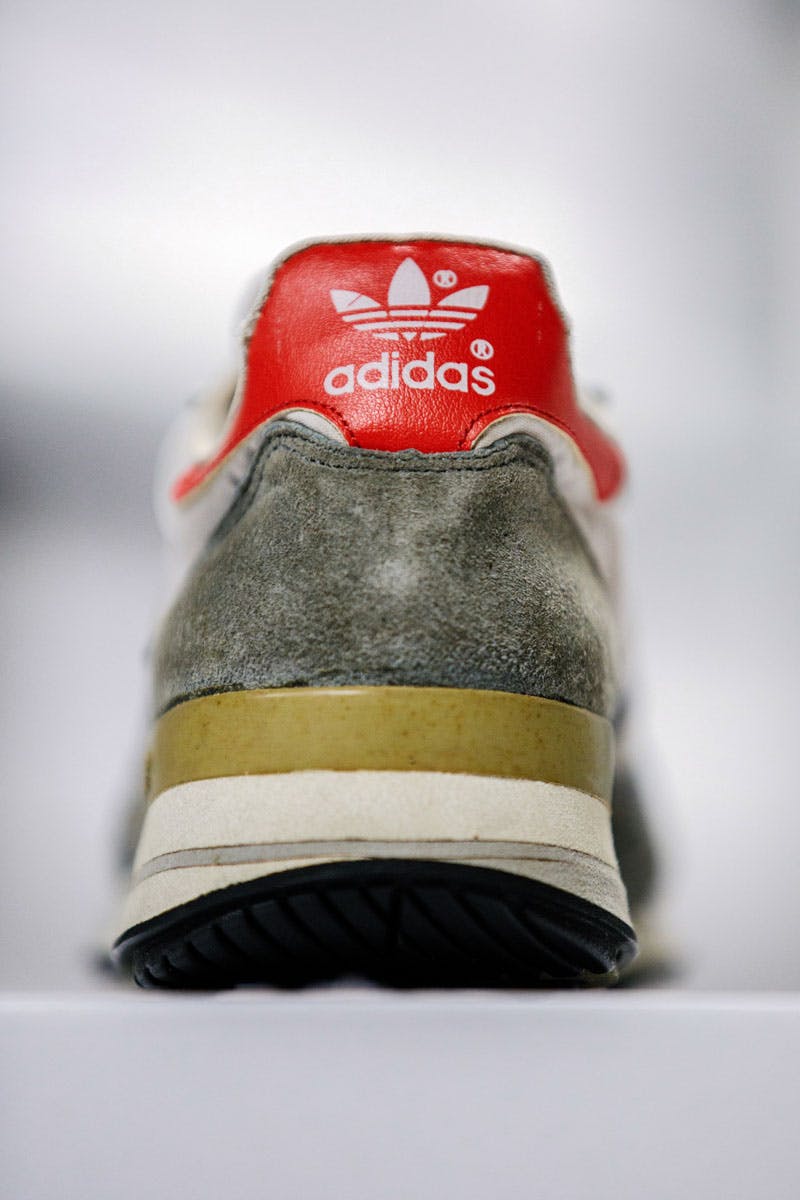 Lately, ZX has continued to represent innovation, as newer technologies have been retro-fitted to old ZX models, like the ZX 500 Boost in collaboration with Commonwealth, or the ZX 4000 4D in partnership with Sneakersnstuff. "ZX has always been associated with tech and innovation," Griffin notes. "We have to use the most up-to-date technologies like 4D and Boost and things like that, to really re-contextualize ZX in 2019."
Much discussion has been made about the 30-year cycle; a nostalgic pendulum that revisits pop culture artifacts like music, film, fashion, and cultural trends every three decades/ As 2019 is the 35th anniversary of the introduction of ZX, it seems the timing could be perfect for adidas to place ZX back in the spotlight with new storytelling via innovation and collaborations.
adidas will continue the ZX push into 2020, when additional product releases and collaborations will be slated for release.