Followers of rappers, musicians, artists and even athletes are paying a lot of attention to what the celebs are wearing on their wrists. Often it is an iced-out, three-dimensional sculpted watch that can't help but have people talking. Sometimes the watch is part of a brand's collection, other times it is a spectacular custom-made piece. In fact, the idea of customizing a watch is more prevalent in the world of luxury today than one would think. But if you're looking to do some after-market watch customization, be prepared to be berated.
Buy a car and add a pinstripe or a scoop and people will ooh and ahh over it, but buy a watch and add diamonds or make other changes, and you may as well have stepped into hell, according to fine watch collectors. After-market customization is blasphemy — or so the purists would say. In fact, it is an age-old problem that has two diametrically opposed schools of thought and evokes some pretty emotional responses among watch devotees.
To die-hard fanatical watch collectors, touching a timepiece after market is like taking a piece of legendary art from a museum and adding graffiti to it. For those who collect true haute horology brands such as Patek Philippe, Vacheron Constantin, Audemars Piguet, A. Lange & Söhne, and others, after-market customization is sacrilege. These collectors are happy to lock their watches — most retailing for $20,000 to $120,000 and up — in the safe and wear them only on special occasions. They put their luxury timepieces on pedestals, and the idea of marring the watch is horrifying. Not only have you destroyed art, but also you have ruined its lasting inherent value (not to mention voiding a warranty).
Keep in mind, we're not talking about the age-old tradition of hand-painting a special-order dial; we are talking about seriously altering the entire watch case, dial, and sometimes the bracelet. Because just a handful of brands will customize a watch in today's day and age — it takes away from their serial production work — celebrities, royalty, and other people in high society around the world are forced to turn to after-market customizers in order to get exactly what they want: a unique timepiece.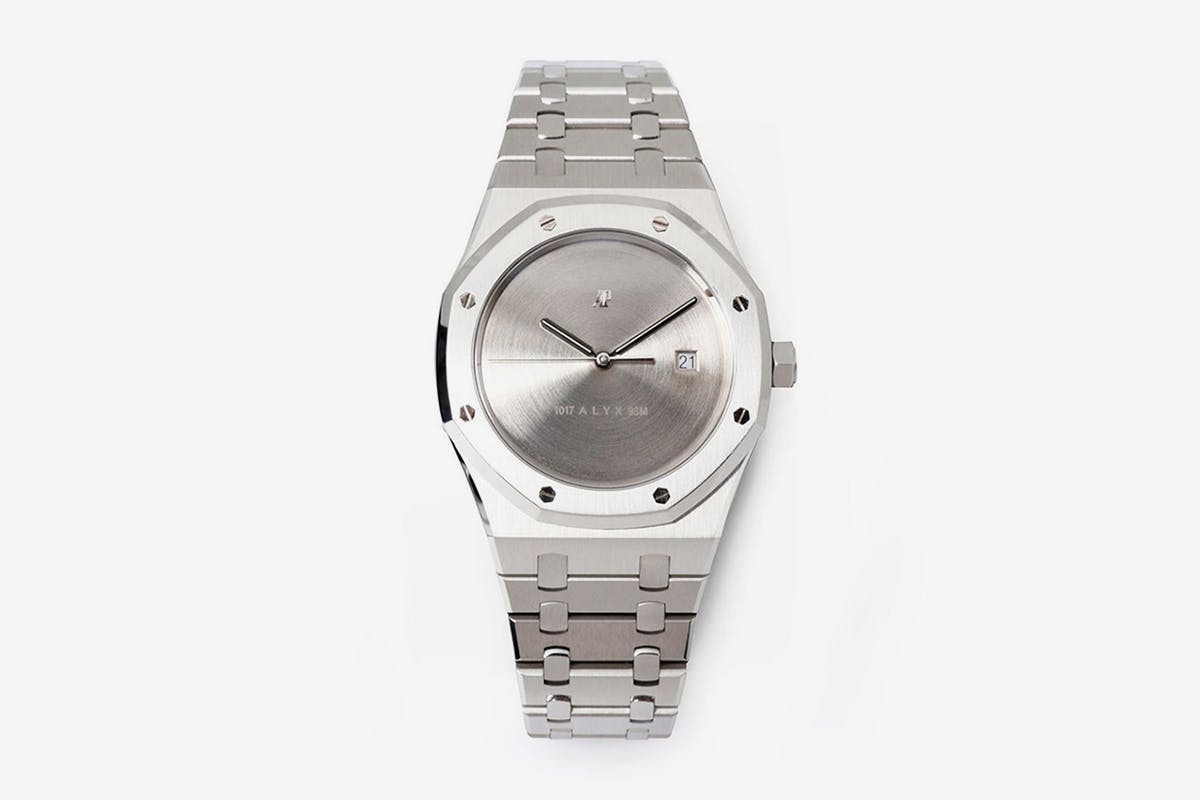 Sometimes that uniqueness comes in the form of adding mega diamonds or gemstones, elaborate engravings, or colorful PVD coatings. No matter the vehicle used to achieve the end result — a truly personal watch — to the person who dreams of individuality, the finished timepiece is a more valuable work of art and emotion than the original. Today, buyers can get almost anything they want. There are companies that will take apart an entire watch movement and refinish components, replace hands, bezels, and dials, and return a totally foreign-looking but individualized piece to the owner. There are other companies that will resurface cases and bezels, changing the colors or finishes. Then there are those who add diamonds, gemstones, or even ornate engravings.
Carving Time
Somehow the thought of digging an engraving tool into a $10,000 or $20,000 watch and etching away the case metal almost, at first thought, seems like defacing property. But done right, these watches often become incredible works of art. In fact, the after-market engraving work done by New York City-based Fin Des Temps is top quality, highly intriguing, and incredibly in demand.
While Christopher Ser, CEO and master engraver, started his company just five years ago, he has 15 years of experience in the jewelry engraving field. He spent years training other engravers — some hand-picked from the gun-engraving industry — before allowing them to touch a single timepiece.
"Cutting watches is serious — it's intense and time-consuming. To cut a single watch can take between 50 and 300 hours," says Ser. "At first, I [was] met with a lot of negativity about my cutting into a watch. But people are coming around. Today when I post a finished watch on my Instagram account, negative comments are just about 20 percent of the responses. Most love what I do. I even have a waiting list."
It's not hard to see why Fin Des Temps can't supply the demand. A close-up look at Ser's work reveals some pretty emotion-evoking responses. You can tell he has spent a good deal of time with the client, getting to know about their life and how they want to personalize their timepiece. Of course, that customization doesn't come cheap. On average, Fin Des Temps charges between $15,000 and $30,000 for a fully engraved (dial, case, bracelet) watch.
While Ser says that he views watches as art before he touches them, he also sees them as a wide open canvas. Still, even he says there are watches he wouldn't touch. "If there are very limited edition pieces, a small number of a certain watch on the planet, then they're very special and I don't want to change it. But when I can see five guys on a single subway car wearing a Rolex, what's blasphemous about carving something [of which] there are thousands of on the market?"
And while others argue that a customized watch loses value, Ser says he has seen his customized pieces sell after engraving. "People get more than what they paid me for because we have turned it into a truly unique piece of art," says Ser. The fact that Fin Des Temps has a waiting list underscores the idea that art is truly in the eye of the beholder — though this may be a bitter pill for watch purists to swallow.
Authorized After-Market Work
The desire some customers have to change up the looks of their watch is a reality that certain savvy brands are recognizing as well. While they can't stop their production to answer individual calls for personalization (especially the brands that produce watches in big numbers), they may have found a solution. Some, including the LVMH brands of Hublot, TAG Heuer, and Zenith, have turned to a respected British watch customization company, Bamford Watch Department, to create authorized after-market watches.
According to George Bamford, founder of Bamford Watch Department, the brand offers more than a trillion different combinations for the ultimate customization platform. When he started his company about 15 years ago, he said his mantra was to offer a unique experience and a truly personalized watch. For years, he customized watches using unusual color combinations, finishes, and more. But about five years ago, he was approached by the watch industry's legendary Jean-Claude Biver (who has led many watch brands to success, including Hublot and Blancpain) and asked to consider partnering with brands for after-market customization.
"Biver told me that it was time to come out of the shade and be part of the solution for brands who can't do the custom work themselves," says Bamford. "So now, we are authorized by the brands we partner with." In fact, the Bamford Watch Department just became the authorized customization firm for Girard-Perregaux's distinctive Cat's Eye collection — making the collaboration the first for after-market changes to a ladies' line.
"Everyone wants individuality and wants to feel special," says Bamford, who noted that he has already gotten specific orders from women for the Cat's Eye, including one woman who special-ordered a dial for the approximately $15,000 watch in the exact shade of a 1960 lipstick she loved, driving up the price by at least another few thousand dollars. The point is — those who want what they want, go for it.
With more and more discerning customers wanting uniqueness, we are actually witnessing customization and personalization coming from some independent and boutique watch brands that want to embrace this trend, too. Some, like Jacob & Co., are truly customizing at special request, while others, such as Armin Strom, are leading the way when it comes to offering online configurators. The concept here is that it is better for individuals to work directly with the brands for what they want. The caveat: brands may not want to go as wild and out-there in personalization as the after-market specialists will. (But that's food for another article.)