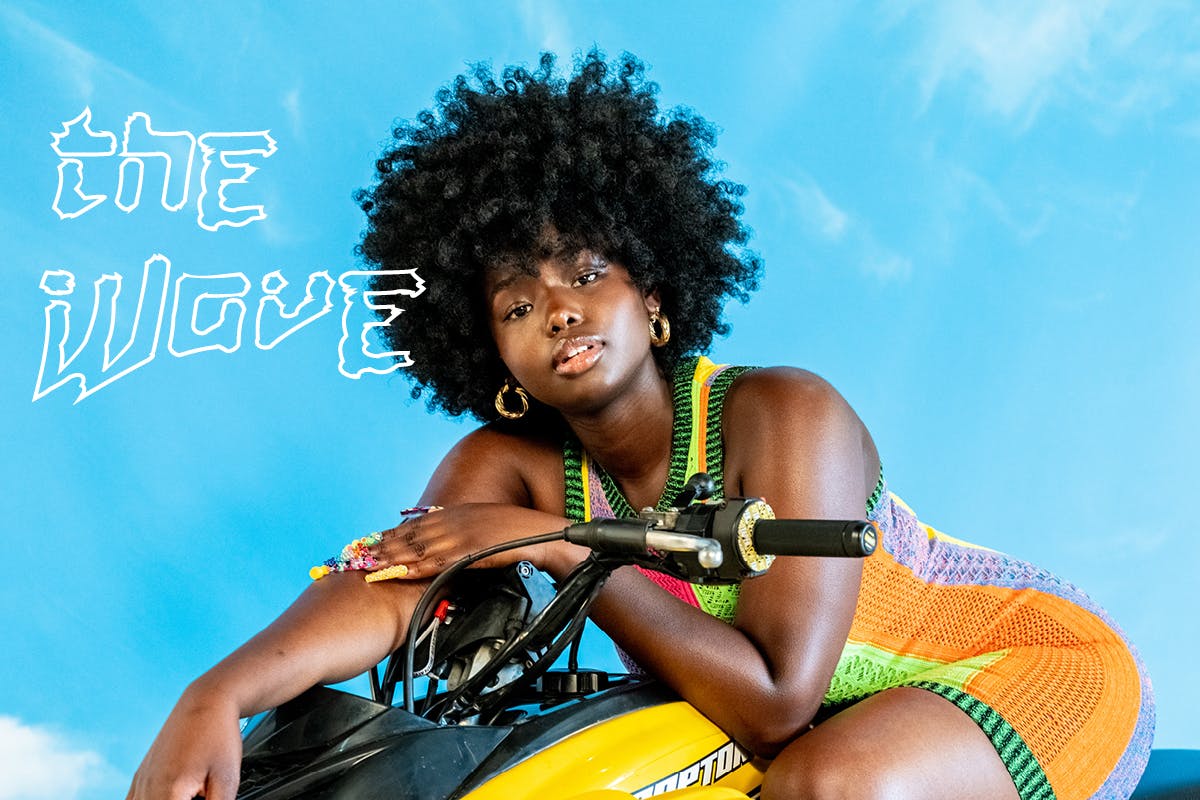 Formerly known as Highsnobiety's popular Under the Radar series, The Wave spotlights the upcoming talent from around the world that we've got our eye on. A celebration of what comes next, from us to you.
BRAND PASSPORT
Brand: AGR
Founder: Alicia Robinson
Location: Bermondsey, London
Year Founded: 2019
Interview: A call from London to London
Favourite brands: Louis Vuitton, ERL, and her long time love Missoni
Now playing: BackRoad Gee x Missi - Ready Or Not
Alicia Robinson's AGR is the perfect antidote to a second successive summer without Notting Hill Carnival — London's world-famous (and usually) annual celebration of Caribbean heritage, music and culture. The knitwear brand was born out of an impromptu shoot that Robinson organized after two of her friends asked her to design outfits for them to wear to Carnival in 2018. "The shoot was super organic, it was just my friends going to Carnival and two of them wanted outfits made, then next thing I knew I was designing 15 outfits," says Robinson. "So I thought we may as well shoot it to make it into a proper thing, and then AGR just blew up after that."
AGR's upwards trajectory leaves you in no doubt that Robinson is an innovator, pushing the boundaries of knitwear with her vibrant and fun-loving collections. The brand presents pieces including printed denim, silk sets, nylon tracksuits, crocheted and hand-knit pieces, as well as intricate lycra knits. Robinson grew up in Croydon, South London, in a creative household with her mother — a designer in her own right — who let Robinson hone her skills on the sewing machines at home. After studying at Chelsea College of Art, it was an internship with London-based designer James Long which set her on the path to becoming the designer she is today.
"I decided quite early on to become a freelance knitwear designer, but that was kinda down to James Long because he gave me the opportunity to put some crazy show pieces on the catwalk," she says. "After that, I got this name for being the go-to freelance knitwear designer in London."
Robinson had her hands full with life as an in-demand designer, working for the likes of A-COLD-WALL* and Missoni as well as working on a regular basis for Yeezy, where she recently returned to work on knitwear for Yeezy x GAP.
Since its inception in 2019, AGR has gained several friends in high places, from stylists to stockists and artists, thanks to the brand's subversive, care-free approach to knitwear. "Last season we found out that Rihanna is a big fan and actually has AGR stuff in her wardrobe," Robinson tells me. It's clear to see why; AGR's Spring/Summer 2022 collection is yet another joyful and rebellious creation which channels the energy of 1990s rave culture, Carnival and a realization of Robinson's kaleidoscopic dreamworld that represents a summer of freedom.
Ahead of the launch of two major projects, Highsnobiety spoke to the brains behind the brand about AGR's rebellious streak, collaborating with the biggest names in music and what comes next. On the Origins of AGR
"I got contacted by a buyer from SSENSE In 2019. It was quite funny because he kept emailing me and I kept ignoring it, thinking it was junk mail. They asked me to launch AGR as a brand with them, doing an exclusive capsule Spring/Summer collection.
This all really was off the back of the Carnival shoot I did in 2018. That was the moment AGR grew into a brand. After our first capsule with SSENSE we then got picked up by Browns Men's and Women's and Htown. Then for Fall/Winter 2021 we brought on 10 more stockists (including Selfridges, Dover Street Market, and NET-A-PORTER) which really took us global."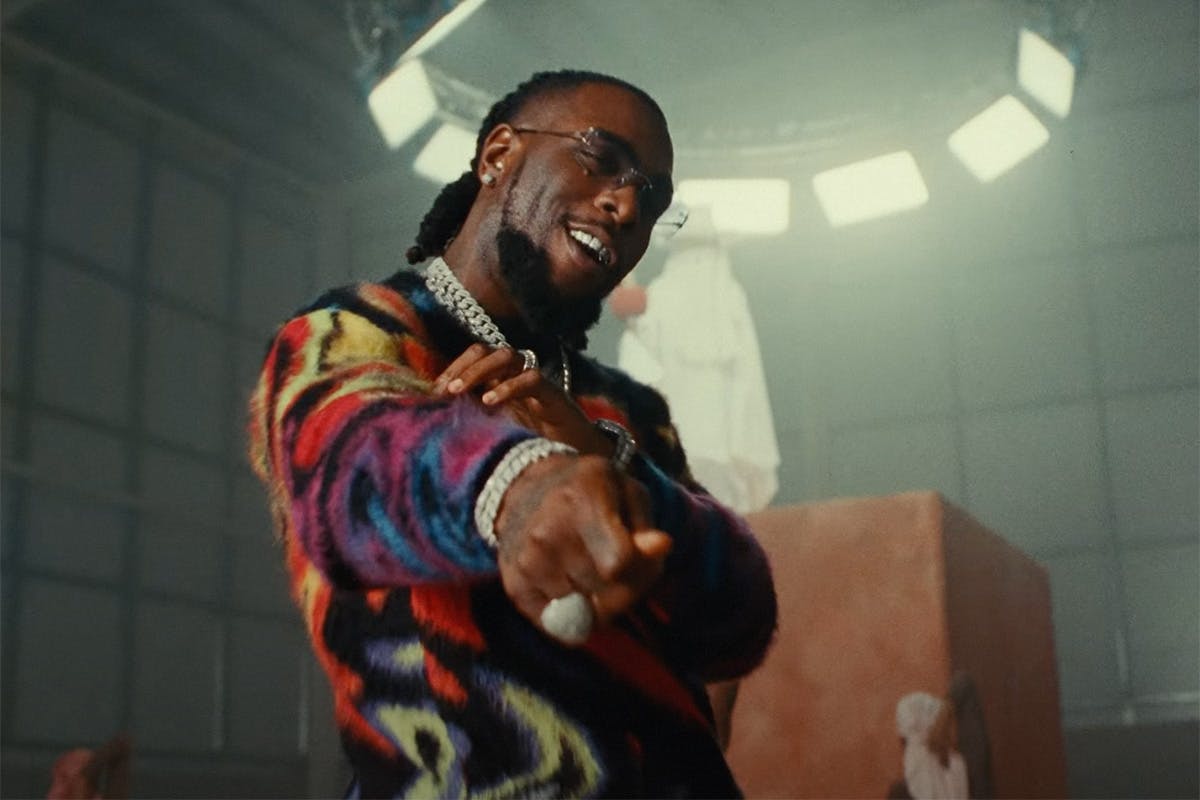 On AGR Being Worn By the Right Names
"Things like making one-off garms for musicians and artists have always been really organic, I've never had to chase it. People have always been into the boldness of AGR, which really sets us apart. With Anderson Paak, I woke up one day and there were pictures of him all over the internet wearing AGR cargo trousers, and then it turned out that he and his stylist had just bought them off the website. We got in contact and found out that they were fans of AGR. During lockdown when I started making face masks, I sent Anderson and his stylist one which he ended up wearing the whole time in the video for his Lockdown track. Burna Boy's stylist jumped on the last collection as soon as it came out. She was calling me through Instagram asking if she could get some pieces ASAP (including the knitted jumper which Burna Boy wore in the music video for Ginger.)" On Navigating the Difficulties of Starting Her Own Brand
"I've been really lucky in that I haven't had to take the normal path. A lot of brands fail in the first two years because of how restrictive the traditional path can be. AGR seems to be going from strength to strength and I think that's partly to do with the fact that I worked for a lot of different people before starting my own brand. I've seen exactly what to do and what not to do. The whole idea of AGR is about oozing confidence, knowing who you are, and maybe even looking a little bit crazy some of the time too. I've always been really keen on the idea of carving your own path and knowing who you are.
I find it quite annoying how everyone has always said to me 'you have to do it this certain way because this is how it's done,' or 'you have to [get grants or prizes] if you want your brand to take off,' so I'm just quite proud that AGR is living proof that you don't need to do all that to be successful. I'm not knocking anyone who does choose that route, I just think there are way too many rules in fashion. At the end of the day, clothes are art and you can express your art however you choose to — there are no rules."
On Her Latest Video 'London On Heat'
"I love that video. When we were planning it I messaged my friend asking if he knew any good spots in Deptford where we could go crazy on these quad bikes. He didn't get back to me in time and when he saw the video after it came out, he messaged me like 'wow you literally just went ahead and did that on the streets…' I guess that's just my carefree attitude shining through. I think that everyone just needs to lighten up a bit and that's kind of what we bring through with AGR. The whole brand is based on happiness and colour.
It goes back to the essence of AGR, how it started with Carnival and vibing with friends. The key thing for Spring/Summer 2022, especially after all this shit with Covid, is just about having fun and expressing yourself. It was 100 percent about bringing Carnival energy through London, which holds so much resonance in a year where Carnival is not officially going ahead. Every Spring/Summer collection I do will always be inspired by Carnival, even down to the design specifics. The stretch knits we do are so good on a fuller figure. We've had so many nice messages from people saying it's great to see that we're promoting real and fuller figures. But for me it's just normal, I have a fuller figure and I feel that AGR is here for everybody. I wanted that to resonate through the shoot." On What's Next for AGR
"We have a very exciting exclusive with NET-A-PORTER. That is coming out at the end of September or maybe the beginning of October. I'm beyond excited to be teaming up with them because that's a massive dream and now they've really hopped on our brand, they're obsessed with how much colour there is, so hopefully that's going to be a really long and successful partnership.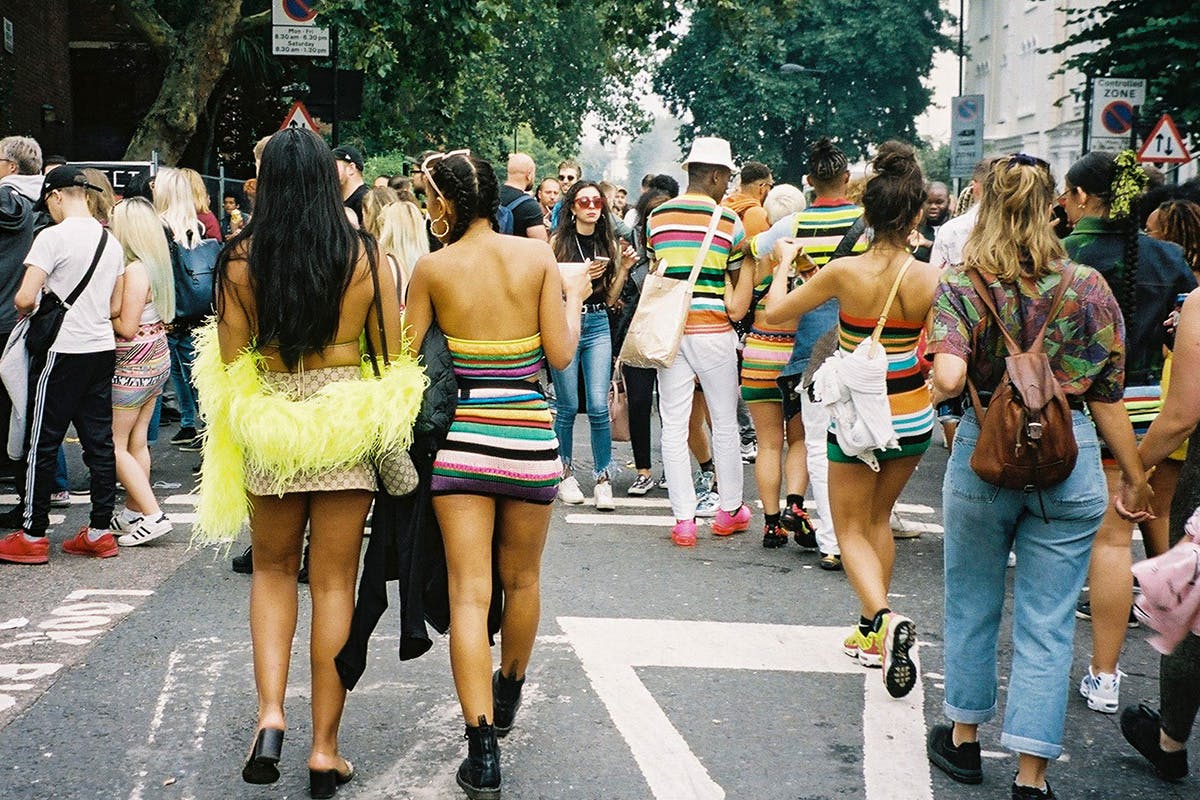 On New Beginnings and Mentoring the Next Generation
"Earlier this year we moved to this huge studio in Bermondsey, South East London. It was a completely empty warehouse, no electricity, nothing. So that was really scary, we had to put a lot of time and money into it but now it's amazing. We always have around three or four interns alongside our core team. They seem to really love the atmosphere of our studio and the fact that we are all very close-knit. I don't have a separate office or anything, I like to be a part of the team, I like to get to know them, be part of their journey and give them all the advice that I can.
We have this massive factory STOLL knitting machine which we bought during lockdown. Since then, I've been getting a lot of younger knitters and textiles people enquiring about how I managed to do that. So I find myself giving a lot of advice on schemes or loans so other people can get access to these things. The only annoying thing about Covid was that I wanted to do more community things at our studio this year. I wanted to do BBQs and get young people down to just have a meet or greet and come do a bit of knitting, so hopefully at some point between everything else we can get that going too."