Curated by Highsnobiety and presented during the time period formerly known as Paris Men's Fashion Week, Not In Paris 3 is our third in a series of bi-annual digital exhibitions celebrating creativity in the age of remote interactions. Head here for the full series and cop our new merch via our online store.
Priya Ahluwalia's favorite childhood memory of her hair involves a year two disco and very little preparation. "I must have been seven or eight years old," says the founder of London-based, eco-conscious fashion label Ahluwalia. "At school I always had to have my hair in plaits or braids because my hair was so big and long. That disco was the first time I was allowed to have my hair out and I remember I loved it. Everyone asked me about it all night. I love that memory."
Other memories involving her hair directly contrasted the joy she felt as a child. "I remember going out in Putney once and this rower guy was like, 'Can I touch your hair?' And I said, 'No.' He grabbed my hair anyway as I was walking and because the floor was slippery, I fell and he pulled my hair and laughed. There's been so many [instances] like that," adds Ahluwalia.
Hair, all that it signifies to Ahluwalia and all that it symbolizes in society, has followed her throughout her life: from her mom doing her hair in braids every Sunday night before school in South West London, to her later obsession with bundling sketches, notes and research on the topic in various scrapbooks. At the center of it all has always been the hair salon, those tiny spaces that act as powerful community intersections where the interactions with the characters inside can be as transformative as the cut itself.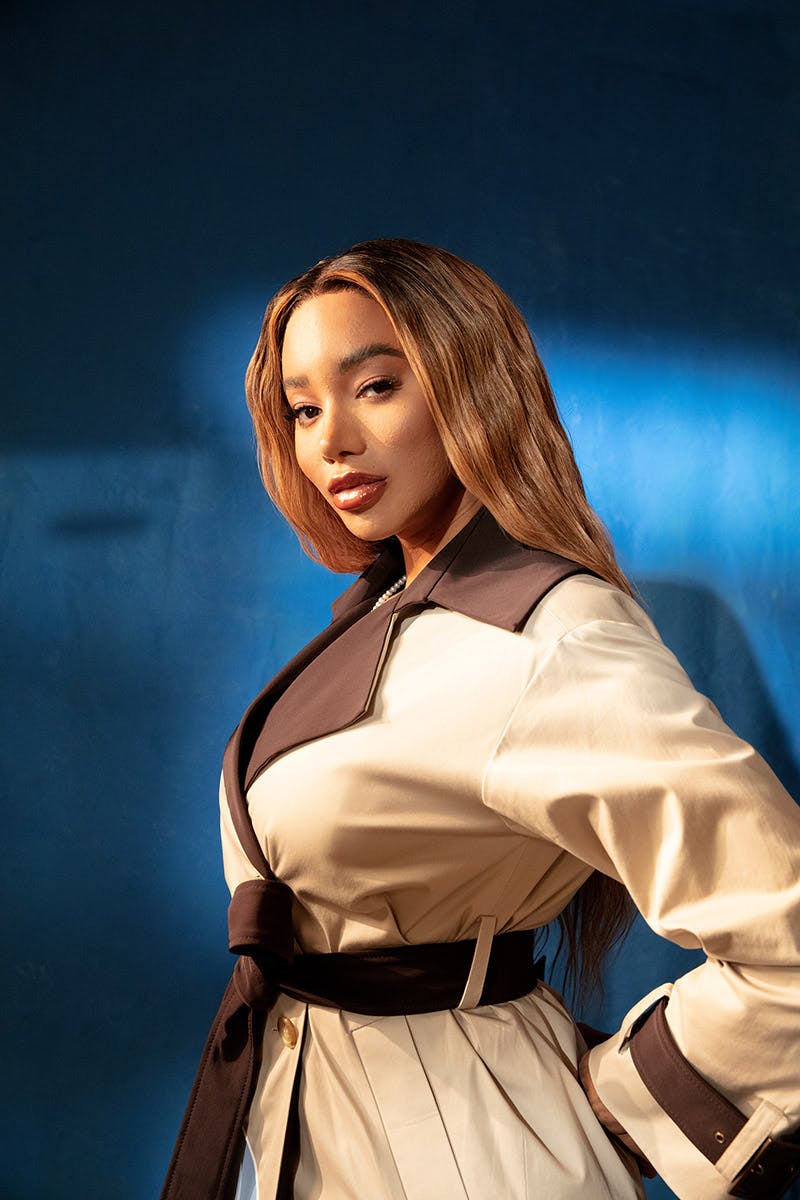 "They've become this hub where you can just chat. And that's really important, especially when you're in a culture where it's stigmatized to chat [about issues]," says Ahluwalia.
Time to pay homage. For her upcoming Spring/Summer 2022 collection, the designer decided to re-explore the intricacies of Black hair, the rituals of it, its meaning to family, the craft of applying braids, canerows, patterns. The idea was first conceived when English accessories maker Mulberry came knocking a few months prior, asking Ahluwalia to be one of three designers to reinvent one of its famous silhouettes along with a limited-edition capsule collection. Ahluwalia, who frequently turns down collaboration requests, said yes.
"I remember as a teenager I used to steal my mum's Mulberry bags a lot. I also used to work in a department store next to the Mulberry concession and I was always trying on their bags. I really resonated with that brand like I think a lot of British girls did," she says. Like her main collection, the bags are inspired by Black hair, including a miniature version of Mulberry's classic Portobello model. "On my third meeting with them I said, 'Do you know what? We keep talking about the club, and we don't have a mini.' So for the first time they've done mini ones that can fit in your phone, fags, keys, whatever people need."
For Not in Paris, Ahluwalia and Mulberry spoke to London natives about their relationship with hair. The designer's directorial debut is set in the barber shop Damba and the hair salon Yennenga, both in South London, and features interviews with model and activist Munroe Bergdorf, rapper Lancey Foux, and "Peng Black Girls" singer ENNY.
Why She Said Yes To the Collaboration
"As many companies do, [Mulberry] had a Diversity & Inclusion policy that outlined being equal to employing people from different areas. But what my team and I wanted to highlight was that actually a lot of companies don't have hair-based discrimination policies. I've suffered discrimination in a work setting, I've had people touch me when I don't want them to touch me, and when I chat to all of my Black friends, everyone's had the same thing. So I said as we're doing this project about hair and how special it is to my community and me, let's do something meaningful. Part of the Mulberry collaboration is that I asked to see their D&I policy, and we found that there wasn't anything about hair, and now Mulberry has added to its own policy and signed up to the Halo Code. When I said what I had to say, they were really open to hear it. And we've had some very frank conversations, and I've felt like I've been listened to. It was actually because of their team that I became more into the idea."
Peckham Palms
"It's an incredible place. It's a center that has different hairdressers in it for African and Caribbean hair as Peckham is [one of the places] where Black hair gets done. Often it's not formalized in the same way as European hairdressers. A lot of times it's cash-in-hand, and really competitive. Especially in Peckham, people were having to literally stand on the street and tout for work as a lot of the shop rents were going up because of gentrification. But the hair salons are literally the cornerstone of Black culture and community, so they pitched [themselves] to the city council and got some funding. And it just basically helps them formalize their businesses with appointment scheduling and marketing for example. Each hairdresser's head that works there has been cast in bronze that are placed all along the wall, as well as braids."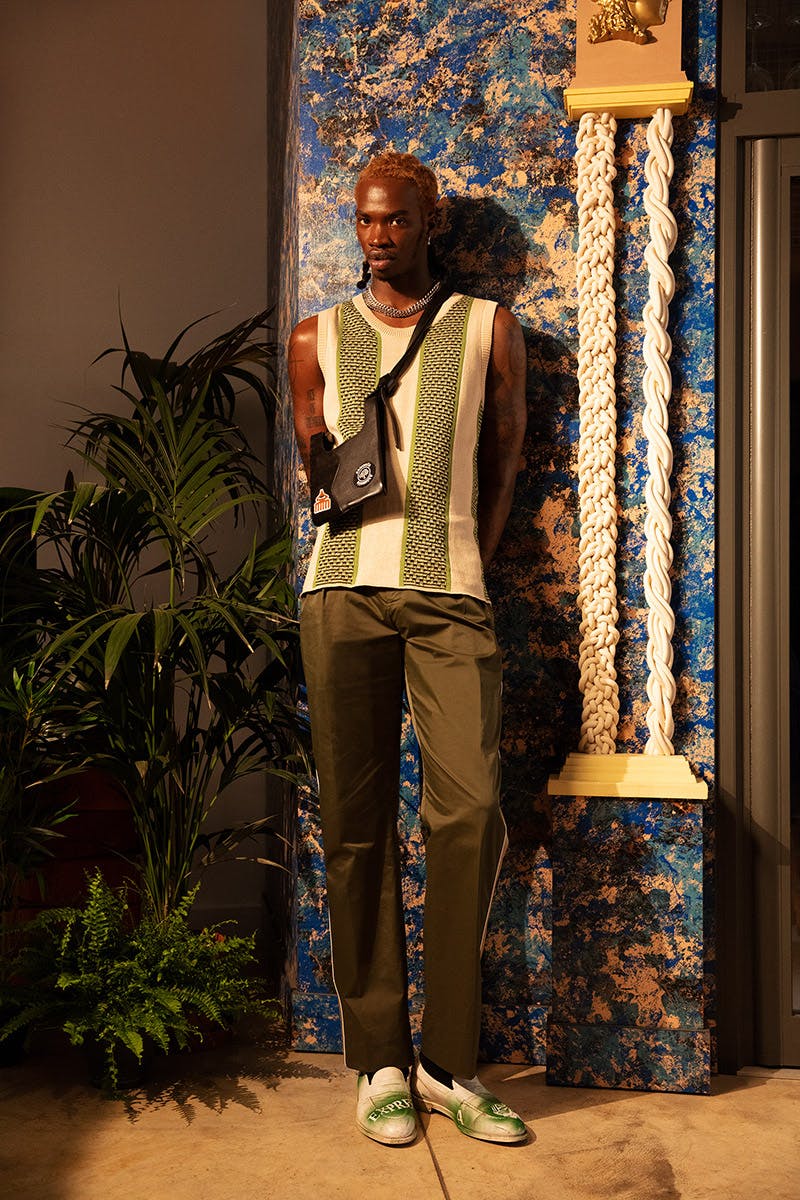 Bringing Joy to Black Stories
"My scrap and sketchbooks have always been on my bookshelf, and I've now started to build a platform where I realize people listen to what I'm saying. The last year for me and all my Black friends and family has been quite traumatic. Being asked to speak about race all the time when sometimes I'm just trying to have a good day has been quite painful and it can be quite triggering. I actually can't watch any more Black trauma on TV, for example. I'm done with it.I wanted to do and talk about something that's really important to me without necessarily being sad. So I want to celebrate where I come from and have conversations that aren't normally highlighted. I thought about this project around hair. I'm not only Afro-Caribbean, but also Indian, so it's about the messages around hair in Indian culture as well. I felt like it was a good time because it's a celebration and it's a project that will allow people to learn something. Not to toot my own horn, but this beautiful campaign film feels magical and feels inviting."
The Backstory of the Bags
"In the beginning I had developed an idea where there were going to be literal braids and things like that. Then as I started to go through the development stage, I realized I wanted it to be a bit more obscure because a braid on a bag is really beautiful, but it's completely impractical. What if you walk past someone and you snag it? There are these things about practicality with a bag that you don't necessarily have to think of with a dress. So I started thinking about if you were to get a braid and photocopy it, then enlarge it, and use those lines for the shapes. I have these research images where you have people's heads with different patterns of corn rows from a bird's eye view that we've taken patterns from and done embroidery. Other times, we've looked at the color palettes of old hair salon posters or painted barbershop graphics. A lot of the research also comes from club culture. There's a book I'm obsessed with and always reference called UKG by Ewen Spencer about UK garage music from the '90s, which is what all my family used to rave to. When I was a kid, I was desperate to go out with them and have a rum and Coke. I was never allowed, obviously, but that book for me is such an interesting book in terms of style and hair."
Her Hair Living Two Lives
"I love going out. Growing up, I had a fake ID at 16 and I would be in clubs from 16 until the pandemic. My friends and I have had different experiences depending on where we are. If we go to a "Black event," I feel totally free to be myself and can serve a look and do whatever I want without having to feel any sort of way. But whenever I've gone into spaces where there's more of a mixed audience, there's definitely been loads of shit times."
What Hair Symbolizes in the Black Community
"It's not just hair. I don't think that this is the same in other cultures. It's a sign of resistance, it's a sign of expression, it's a marker for race, it's a marker for gender. And in Black culture, we're able to express that so fluidly, because of all its artistry. It's also based on so much history through the different hairstyles of different tribes. Africa is a big continent, it's got 54 countries. And within those countries, there are thousands of hairstyles. We don't learn [about] that in the West because the West isn't interested in it. Fashion for a long time has been very Eurocentric, and I think it's going to take a while for these conversations to be amplified. It's why I hope I can be someone that contributes to it. Because it's certainly not just hair and it's important for people to know that. I think [that sentiment] is something that's really unique in Black culture. We can change our hair up. If you just look on my Instagram, there's a different hairstyle for every post. That's so unique in a way, it's like a flex. I think that in Black culture it's really important to show up and show out. Especially, when you get discriminated against, it means that you have to make more effort, in a way. You see that from when you look at the way Black people are dressed in history."
Salon Culture
"My mum would drop me off at the salon at nine o'clock. I'd get picked up at six because I would have [this] long hairstyle. People were chatting all day. It's very community driven in a way where other salons just aren't. I think there are a few things that contribute to that. [First], you are in salons for much longer because Black hairstyles take time. Then I think it's because a salon is a completely safe space. Especially when you live in a white country. When you go into a Black hair salon, everyone is Black, so it's a space where you can just speak freely and chat. And it's definitely [the case] in barber shops, when I ask guys. Mental health is such a big issue in Black male communities. There's a big stigma around asking for help. For guys, their barber knows everything about them. They go and chat about having problems with their girlfriends, being stressed at work, whatever. And because there's this [unspoken rule] that you don't change your barber or hairdresser and stay loyal to them, you spend a lot of time with these people and build a relationship. [In that way] barbershops and hair shops are often the center of communities."
Accepting Her Hair
"I went through a phase where, like lots of my friends, you just don't realize what European beauty standards do to you. I had good and healthy hair and I was doing some dumb things to it. I relaxed it for years. It had heat damage. I just didn't embrace who I was, as a person, because of insecurities as a young woman. So, I went on that journey, and now I'm on a natural hair journey. I'm now in a position of privilege where I have my hair done regularly and I have some money that I can spend on this, because the other thing with Black hair is that it's expensive and time consuming. So, there's a privilege to be able to get it done all the time."
What She Learned From the Project's Contributors
"Both days I learned so much from all three. The biggest takeaway for me was talking to Munroe [Bergdorf] about the trans female experience. We were talking about hairlines, and that when you're assigned male at birth, and you have testosterone going through your body and go through 'male puberty,' obviously your hair reacts differently than if you were assigned female. I learned from her how much the artistry and the innovation of Black hair (wigs and extensions) has allowed her to combat signs of her hairline changing and feel gender euphoric. Munroe, Lancey [Foux], ENNY and I, all have these similar stories of growing up and watching people in our family get their hair done, or remembering sitting down and being on a pillow and your mum does your hair. You're probably arguing, because they're pulling your head too much. It was just a real shared experience that, I guess you don't talk about. It was very emotional for me, I don't know why but it was special."
The True Goal of the Collaboration
"There are two sides. For any Black viewers, young or old, I hope that it gives them some confidence in how special their hair is. We've all had different hair journeys, but a lot of it is driven around Eurocentrism, and I hope it feels like a celebration, and an opportunity for people to really pause and appreciate it, have some sort of nostalgia from the things that we're talking about. For other people that are maybe not from the community, I hope that they take away that [for us] it's so much more than hair. It's an extension of people's being, and it's important. I hope that especially younger people watching it, that they get some confidence out of it. I know when I was in school I didn't have that much confidence, and I hope this makes them see themselves reflected back. I hope that seeing this conversation amplified in such a big way makes them know that they're special, and that they should feel free."
Browse a selection from our Not In Paris Gift Shop below, and see the rest of the releases here.