This is a three-part series about the Woolrich Flannel. Click here to explore the rest of the stories and find out more.
What do you call someone who acts, paints, models, writes, skateboards and fights for equality? Ajani Russell.
Multi-hyphenate doesn't really begin to describe the young creative whose hands are dipped in a variety of different fields. Using their voice in these spaces to encourage community building, representation, and inclusivity, Russell is a role model, particularly for women in skateboarding, paving the way for them to own their talent and fight for their seat at the table. Born and bred in the heart of Brooklyn, Russell takes us around their hometown of NYC, telling us why they do what they doe while skating through the streets with their Woolrich Flannel in tow.
Speaking of the Woolrich Flannel, the Made in US icon has garnered popularity and 'staple status' amongst the skate community over the decades, becoming the perfect accompaniment to any wheelie fit. Whether wrapped around the waist, cross-body, or as an extra layer, the Flannel's durability, soft texture, and adaptability make it a skater's dream.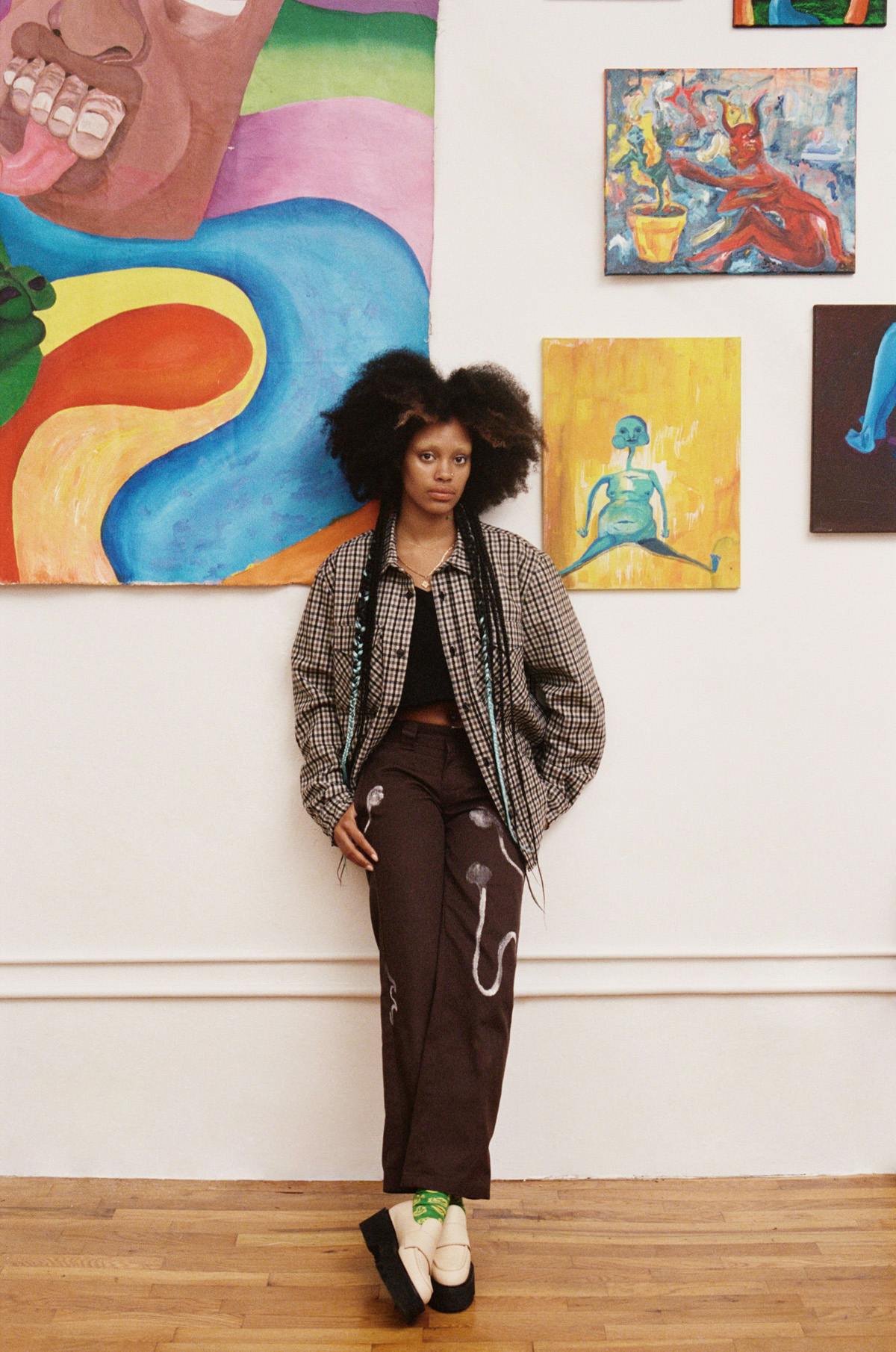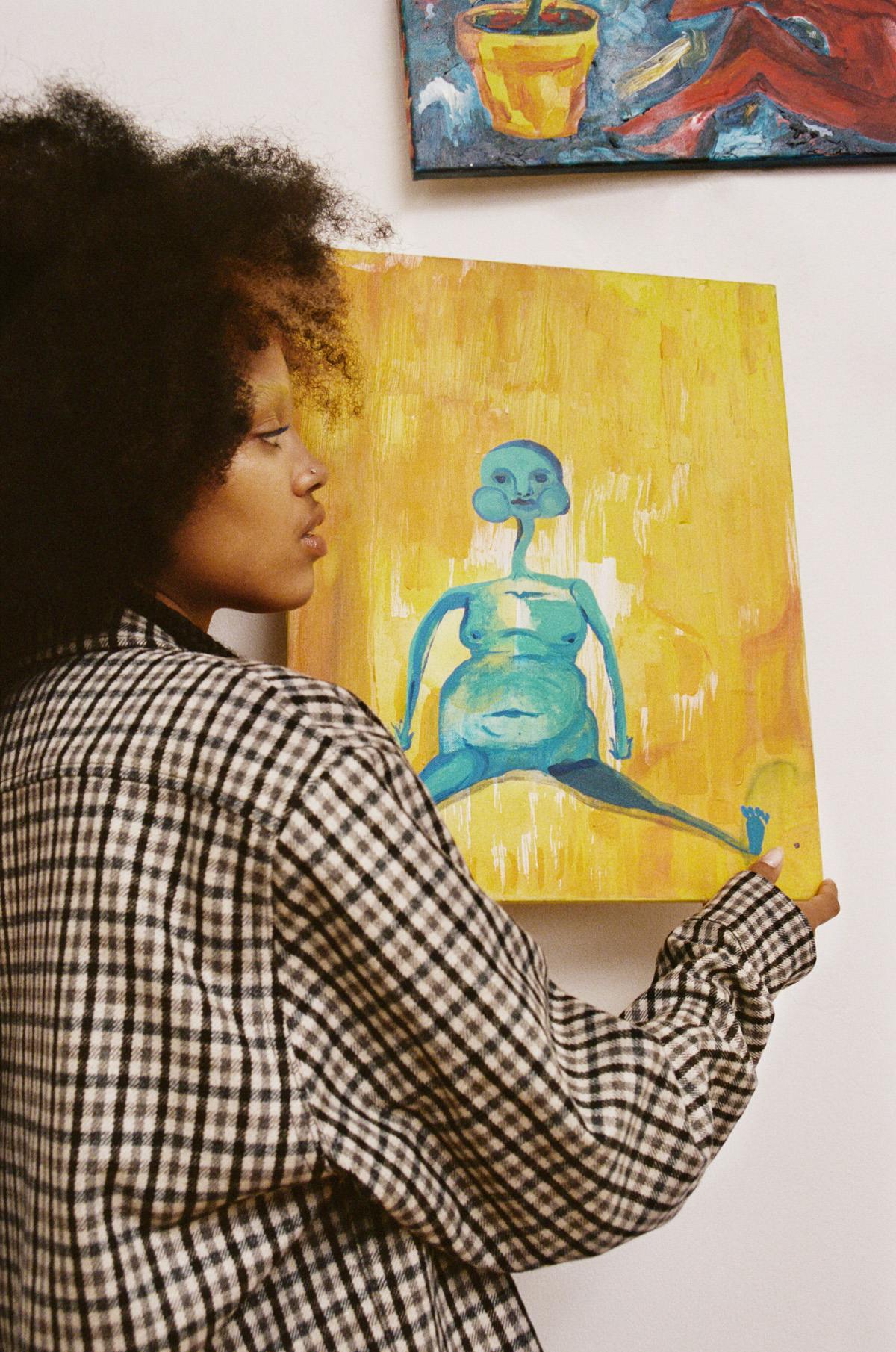 So Ajani, how did you get into skateboarding? It seems like this activity plays a huge role in your life for many different reasons.
I always wanted to skate, I was just shy about it, and everybody would discourage me from it. I got to high school and met my friend Nina who said 'you want to skate? Say less.' She gave me a board, and from there, it was a steep learning curve. I feel like skate culture influenced me minimally because when I first started skating, there was no like black girl skate culture; it was all just white men.
I thought that was not for me and that I'm not welcome there. Those experiences really shape you but also fuel you to go harder. Making a skate culture where I feel like I belong is really important to me, and that's what Skate Kitchen is about. We make that space for our community and support one another.
What do you remember about yourself growing up?
When I was little, I was so shy, and it was really hard for me to make friends. So I read a lot of books and made up different imaginary stories. This pretty much led me to write, whether it was poetry, stories, or little books. It became an escape. As a shy person, being able to express myself and general communication is hard, so finding another outlet was important.
You also make a lot of different types of art these days. Was that something you got into as a child?
I found sensory things and images, colors, shapes, and tones could convey feelings better than words. My grandma had a brownstone in Brooklyn, and the way her perfume smelt and the rice, beans, and laundry in the house affected me.
I think I see colors differently from other people because I'm always arguing about what color something is. I've stared at many Pantone color sets from color theory and art school. When I was little, I felt like everything was really bright and loud. Actually, my hair kind of diffuses a lot of sounds before they reach my ears, and when I put it back, everything is so loud. So I kind of like to be protected, like hiding. I just remember always trying to use my hands to create something. It was my desire to connect with people that led me to paint because I found it so difficult to articulate myself through words.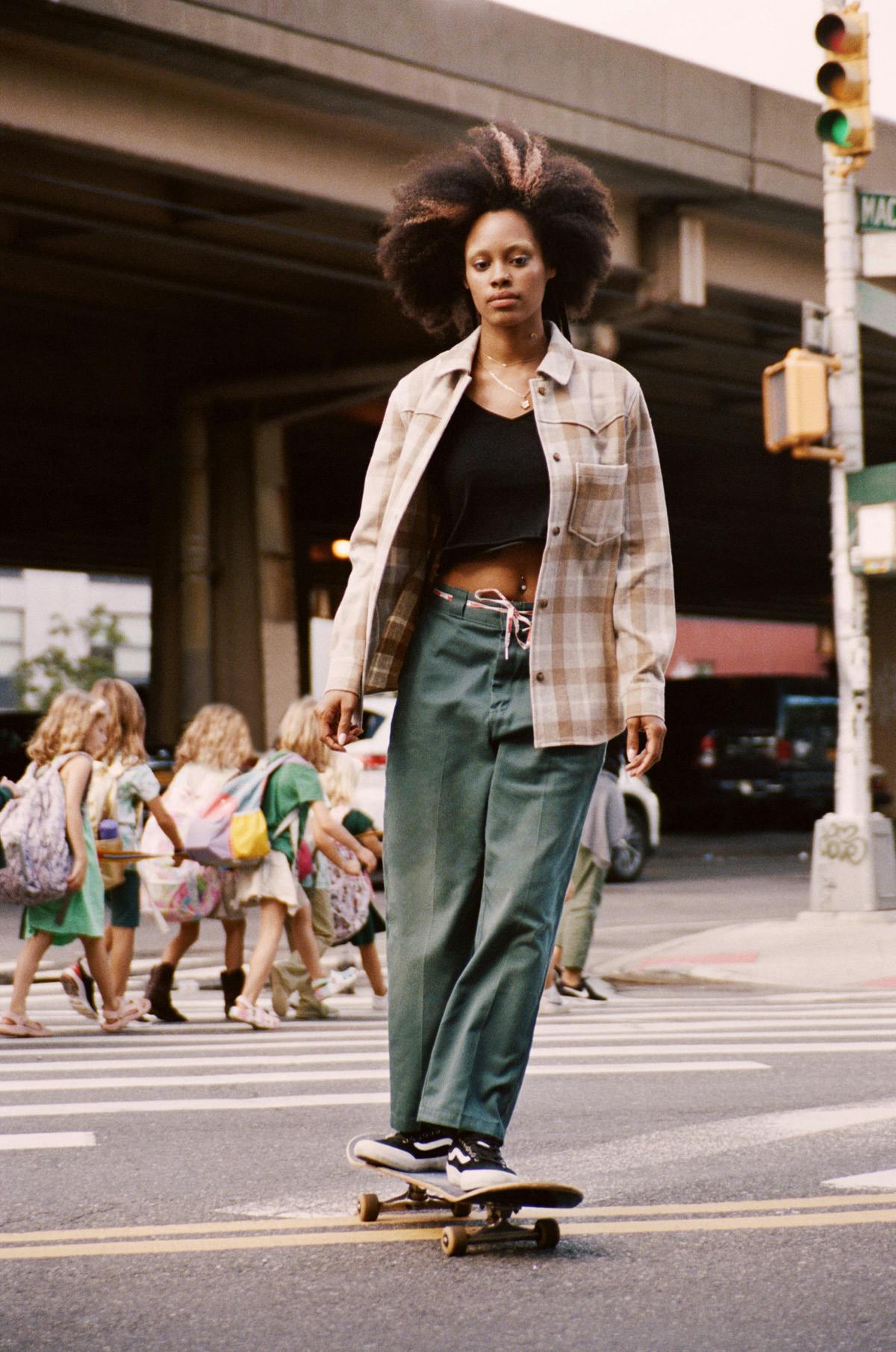 You really found your own way of communicating. What are you trying to say through your work?
Identity is something I address in all of my work. Open yourself up to all of the feelings and not hold back. I feel like that's something I struggle with and have struggled with in the past, just like limiting myself and not allowing myself to really immerse into things and be present in life. Don't lose momentum because with art, especially when you have the creative energy, you got to get it out, or else it just stagnates.
And skating is also a release for you, isn't it?
Skating is such a big stress relief. While I do work in so many different mediums and wear so many different hats, the motivations between all of my creativity don't change, and this is the community building telling and the storytelling.
Speaking of community building, how does the culture that you're from affect your practice and how you tell your story?
Black culture is America's biggest export. There's a distinction between American and Black Americans because that experience is so different from the rest of the world. Just in the way that we talk about it and the segregation of the rhetoric that we use surrounding it. That's definitely all shaped my culture, my community, and why I'm here. You know, being queer, being black, being also Hispanic and from New York, where all those things collide, and you see so many different iterations of it or not iterations, but like possibilities of where it could go and what it could be like — this all plays a role in my life.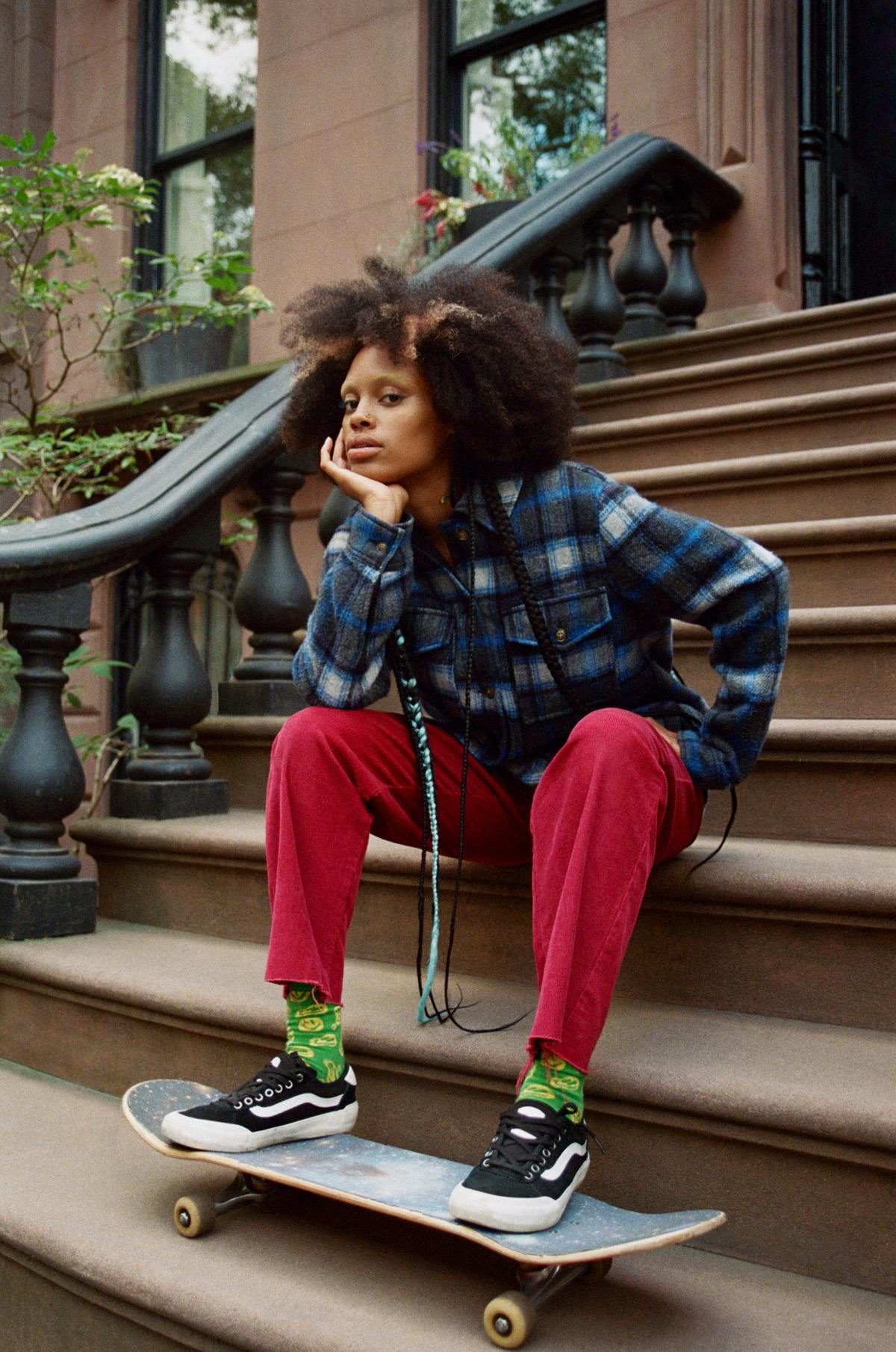 What aspects of American culture influence your work? 
Americana is always changing because the population changes, and it's built on people that are not from here. This is where everything mixes together and creates new combinations of life.
This aspect of merging different understandings and parts is what I get inspired by and want to explore in my work — whether mixing mediums or finding something I've never worked with and getting someone to teach me that. Like, how can I learn new skills to realize my vision?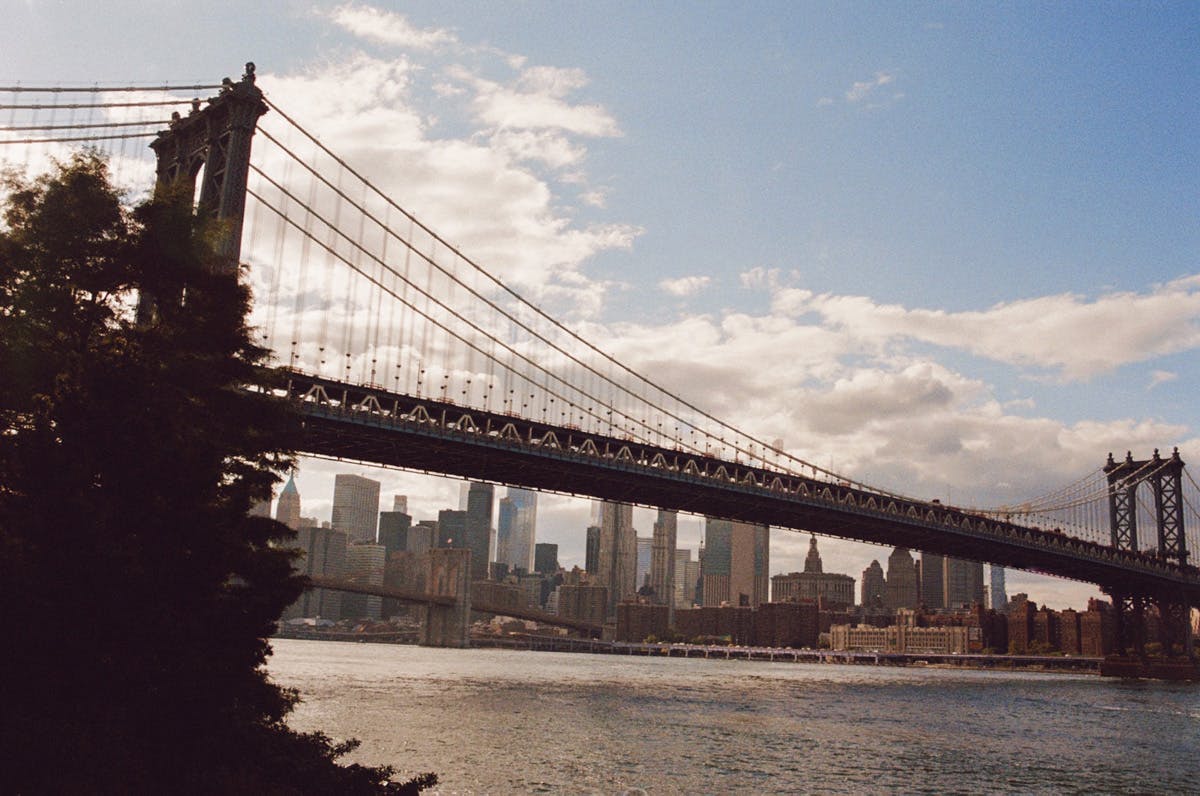 What does authenticity mean to you?
Authenticity is what feels right to you. It's like, 'Do you really believe it? Can you feel it?' It does haunt me that you got to believe it. I don't fight who I am anymore. The mean part, the nasty parts, the ugly part, the sad part, you got to accept all of you.
Shop the Woolrich Flannels here.
Join Woolrich at their Berlin store on November 11 to discover the new Made in USA Flannels in an immersive American atmosphere featuring a live DJ set, food and drinks. RVSP here to secure your spot.