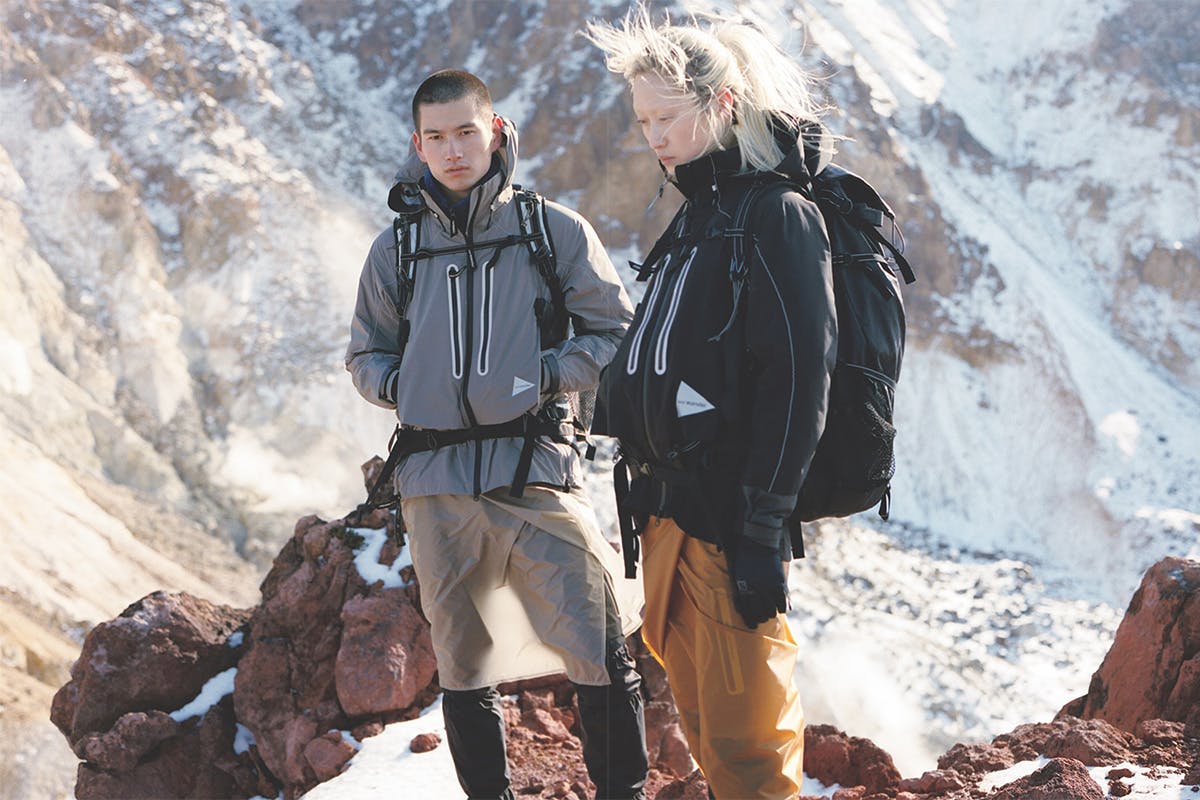 Over the years, we've figured out consistently how to dress stylishly when the temperature drops. In fact, the heavy wool pieces and layered fits that the cold weather provokes are favored by most to the lightweight ensembles of summer. Combine the cold with rain, though, and most of your favorite winter pieces are out of business. Luckily, the glamorization of technical style has introduced a handful of labels that are kitting us out no matter what the weather. Case in point: and Wander FW21.
Sleek aesthetics are underpinned by technical perfection in the form of waterproof shells, lightweight down insulation, and a range of futuristic details. Better still, and Wander FW21 is not limited to any one category. In fact, we're here to show you that it's easier than you might think to build a full weatherproof fit that ticks style boxes as well as keeping you warm and dry, all courtesy of and Wander FW21.
Style your full and Wander FW21 fit below.
and Wander coats
and Wander FW21 revolves around several highlight coats. Each of these big winter coats is padded with lightweight, highly insulating down & feathers and features a waterproof shell. If you're looking for rugged brilliance, the Tough Down Coats in beige and black are ideal, but if you're sticking to city streets then something lighter like the Diamond-Quilted Down Coat might suit better.
Jackets
Just because they're lighter doesn't mean they're any less useful. These and Wander jackets, again, boast shells cut from nylon Pertex® which is breathable yet waterproof. Manufactured solely in a neutral palette, they become central components in layered fits this season.
Pants
Often overlooked, technical pants make a world of difference during fall and winter. Hiking pants have gained a bad rep after years of bad design. Now, though, labels like and Wander are opening a new chapter with better silhouettes and considered detailing, all without forgetting the helpful utilitarian qualities that make a pair of hiking pants necessary when the weather isn't playing ball.
and Wander x Salomon shoes
A sure sign of and Wander's pedigree is its ongoing collaboration with brand-of-the-moment Salomon. Together, the two outdoor labels offer up rugged footwear with a style-centric attitude. The fan-favorite Salomon XT-6 ADV Sneakers earn one of the best colorways of the season with bold blue hits to the sole unit while the all-beige high-top shell of the other pair zips shut to keep your socks dry in adverse conditions.
Want to keep browsing? Head to the Highsnobiety Shop for more products that we love. Highsnobiety has affiliate marketing partnerships, which means we may receive a commission from your purchase.