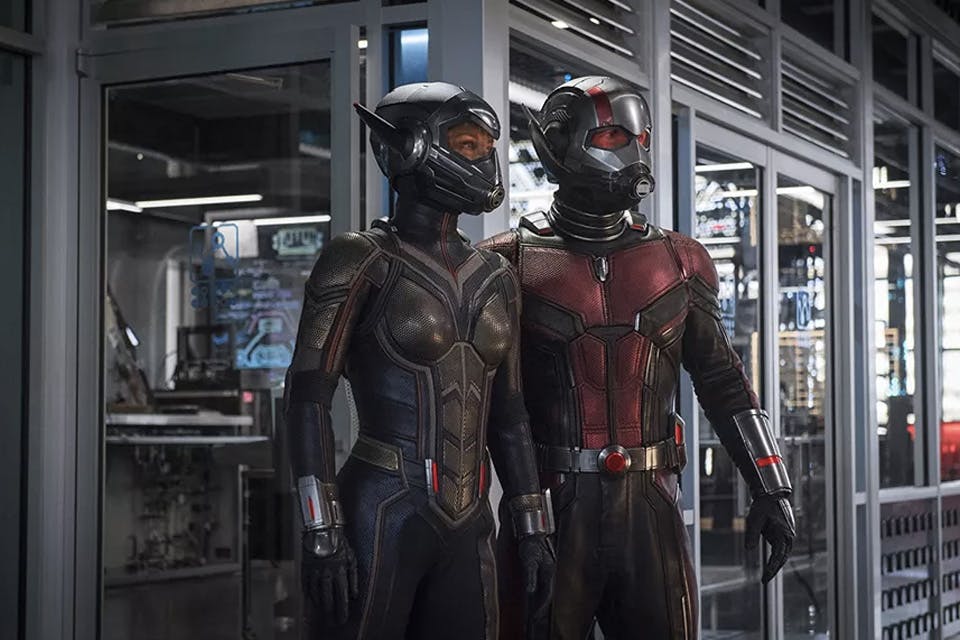 The reviews for Ant-Man and The Wasp, Marvel's third movie offering of 2018 so far, have arrived — but the verdict is still unclear. While many critics seemed stoked by the movie's playful nature, other's felt that it lacked any real substance.
That said, one thing the critics were not split on, were Paul Rudd and Evangeline Lilly. Both were praised for their performance as the titular characters, and Lilly's Wasp applauded for being the first female character to grace Marvel's title sequence.
In case you missed it, watch the trailer for the film below, then see our critics roundup of the film.
The good
Ant-Man and the Wasp has a pleasingly breakneck, now-you-see-it-now-you-don't surreal glee. It's a cunningly swift and delightful comedy of scale.

Owen Gleiberman, Variety
"Sometimes better-than-good things do come in small packages. The proof can be found in 'Ant-Man and the Wasp,' a fizzy treat of a sequel that retains the becoming modesty of the original, but with a timely new twist. The Wasp, played by the radiant Evangeline Lilly, becomes the first female character ever to appear in the title of a Marvel movie. (Time's up for sexism in the MCU.)"

Peter Travers - Rolling Stone
"While Ant-Man's technically 'the star,' this is most definitely the Wasp's movie to own, and the smirking, enjoyably no-nonsense role fits Lilly well ... Her verbal jabs pack as much punch as her fighting ones, and after spending the first movie with her as a capable woman yearning to be a superhero, watching Wasp finally take flight and foil bad guys with a ginormous Hello Kitty Pez dispenser is a cathartic blast."

Brian Truitt — USA Today
"'Ant-Man and the Wasp' is an airy, nimble piece of filmmaking: Reed's confidence to unapologetically embrace weirdness — like imagery of ants playing drums or responding to telepathic commands — gives the franchise its distinctly playful spirit. His stars, Paul Rudd and Evangeline Lilly, reprise their roles and further energize Marvel's most lovable romance. And the action sequences, with their constant, dynamic manipulation of size and scope, are as creative as they are thrilling. The film is bundles of fun, so much so that I found myself wishing it had a bit more to offer than just a good time at the movies."

Alex Abad-Santos - Vox
The meh
"The occasional lightness of 'Ant-Man and the Wasp' feels unique to this sub-franchise. Very little is really at stake here, beyond the freaky possibility that Paul Rudd will play Michelle Pfeiffer more than Michelle Pfeiffer does. (It's a quantum entanglement thing.) But the forced whimsy is a pose, a defensive posture, a way to excuse all the clockwork plot mechanics and halfhearted characterizations."

Darren Franich - EW
The bad
It's disjointed, and cluttered, but it's also entertaining in spurts. Is that enough? Just about, and not quite.

Bilge Ebiri, Village Voice
This is one of those Marvel products peddling self-aware detachment as a defining narrative strategy...It feels less like a feature film than a meme somebody made about an Ant-Man trailer.

Darren Franich, Entertainment Weekly
"Ant-Man and the Wasp," the first sequel to 2015's "Ant-Man," is barely an exoskeleton next to its much better predecessor.

Johnny Oleksinski, New York Post
Are you hyped for Ant-Man and The Wasp? Let us know in the comments.
Next, the trailer for Nicolas Cage's Mandy looks both nuts and terrific.