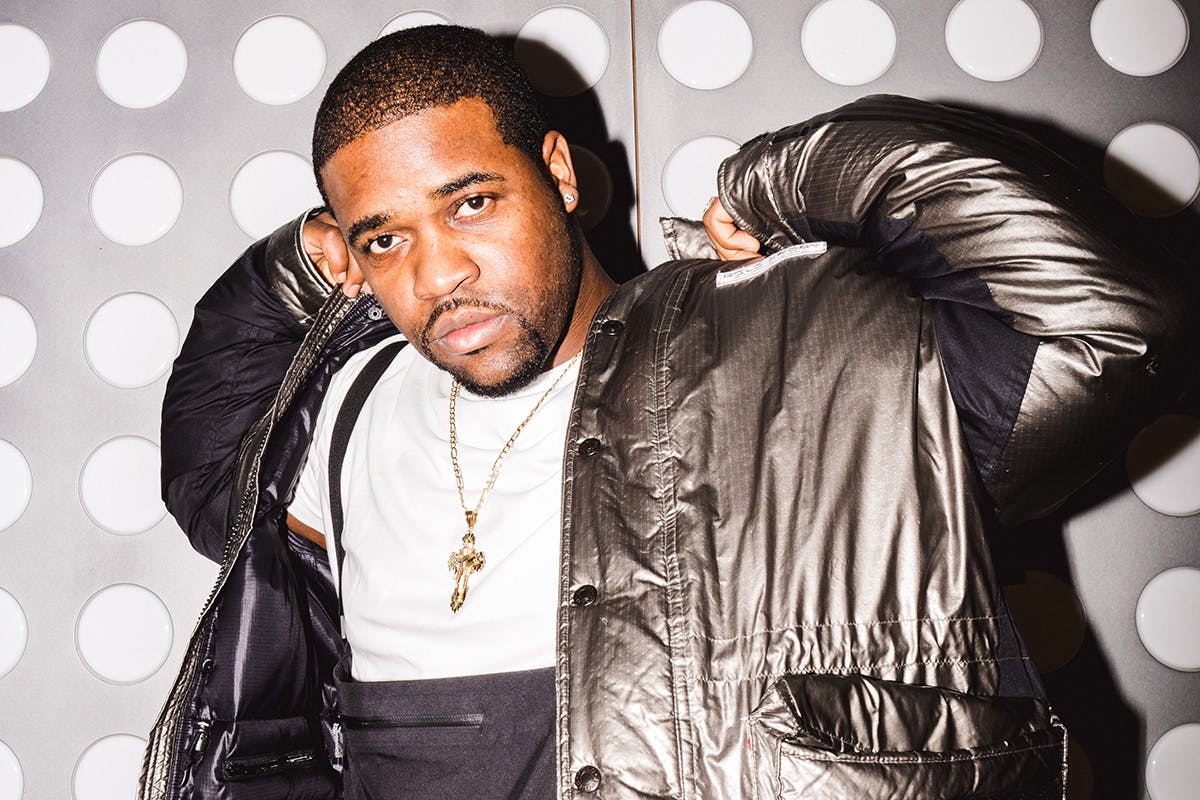 Last week saw one of modern hip-hop's best-known crews apparently disbanded. But also maybe not. Nobody's really sure. It all kicked off when founding member of A$AP Mob A$AP Illz began tweeting that A$AP Ferg was no longer part of the Mob. A$AP Nast's Twitter response? "THE TRAP LORD WAS NOT AND WILL NOT BE KICKED OUT OF A$AP FALSE NEWS EVERYBODY GO HOME NOW."
While the members of A$AP Mob decide whether Ferg really is out of the group or not, we've taken the chance to take a closer look at the sartorial side of the argument. A$AP Mob grew to dizzying heights of popularity with a refreshingly slow, chopped sound and an equally refreshing take on fashion, and Ferg's wardrobe is certainly in the running for the Mob's finest.
The New-York natives ushered in a new age for rap style with skinny jeans and a confident cocktail of streetwear and luxury. And while Ferg is no stranger to the Supreme, BAPE, and Gucci diet that the sphere favors, he has expanded his list of labels in recent years, picking up pieces by the likes of Marni and Sies Marjan.
From mohair cardigans to unfathomably baggy cargos and leather gilets, Ferg can pull almost anything off with an unlearnable nonchalance. So, in honor of one of A$AP Mob's current/past most-stylish members, we've rounded up some of his best style moments below.
Take a look at some of A$AP Ferg's best style moments below.
Punk on Holiday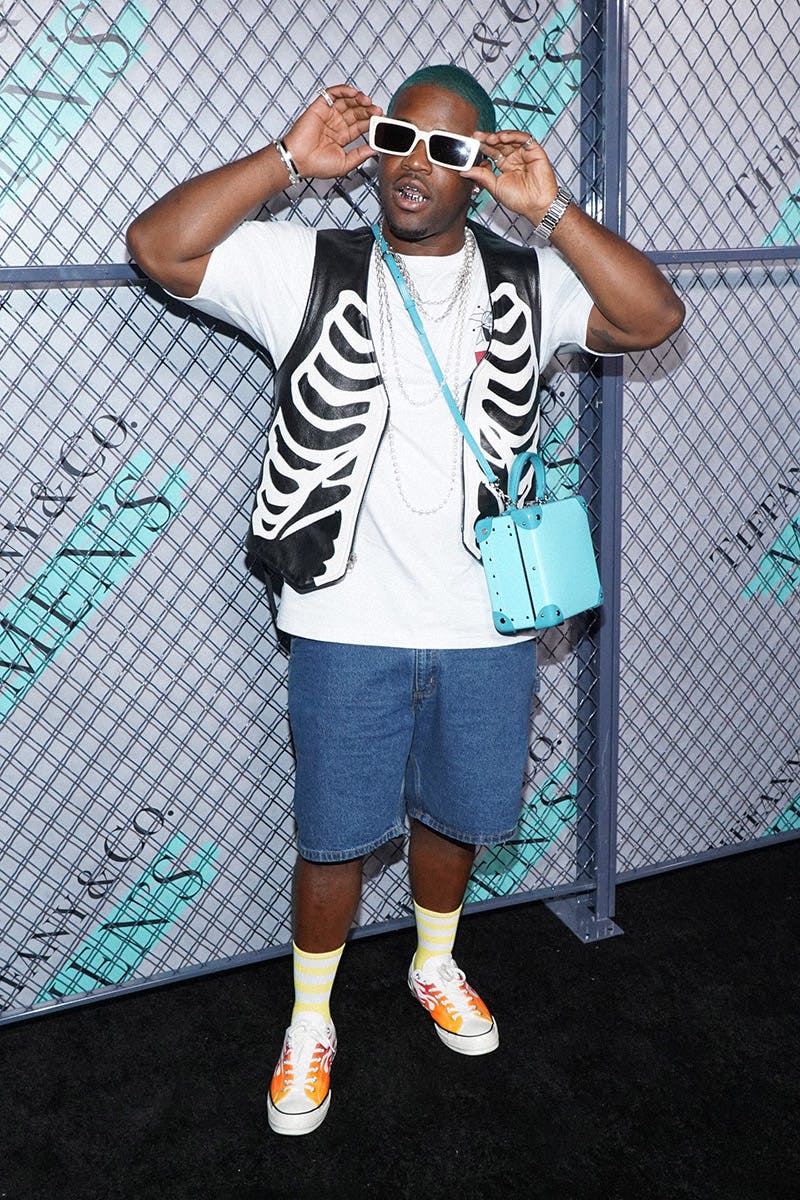 This look is all about the accessories. At its core, the outfit is as simple as they come: a pair of general-release Converse Chuck Taylors, denim shorts, and a white tee is summer personified. Add a grungy, skeleton-embellished leather biker gilet to the mix and things get more interesting. Even more intriguing is Ferg's masterful accessorizing. Dyed hair and a pale-blue manbag mirror the blue of the Tiffany & Co. event he's attending, and silver jewelry rounds out the look.
Classic Cool
We said he could do it all, and this fit shows Ferg's ability to still fit the mold when he wants. The open-shirt, baggy-shorts, socks-and-slides combination is archetypically hip-hop. Add a heavy-set chain, slim black shades, and a razor-sharp shape-up to the mix and you're entering '90s Diddy space — that's rarified air.
Mohair Don't Care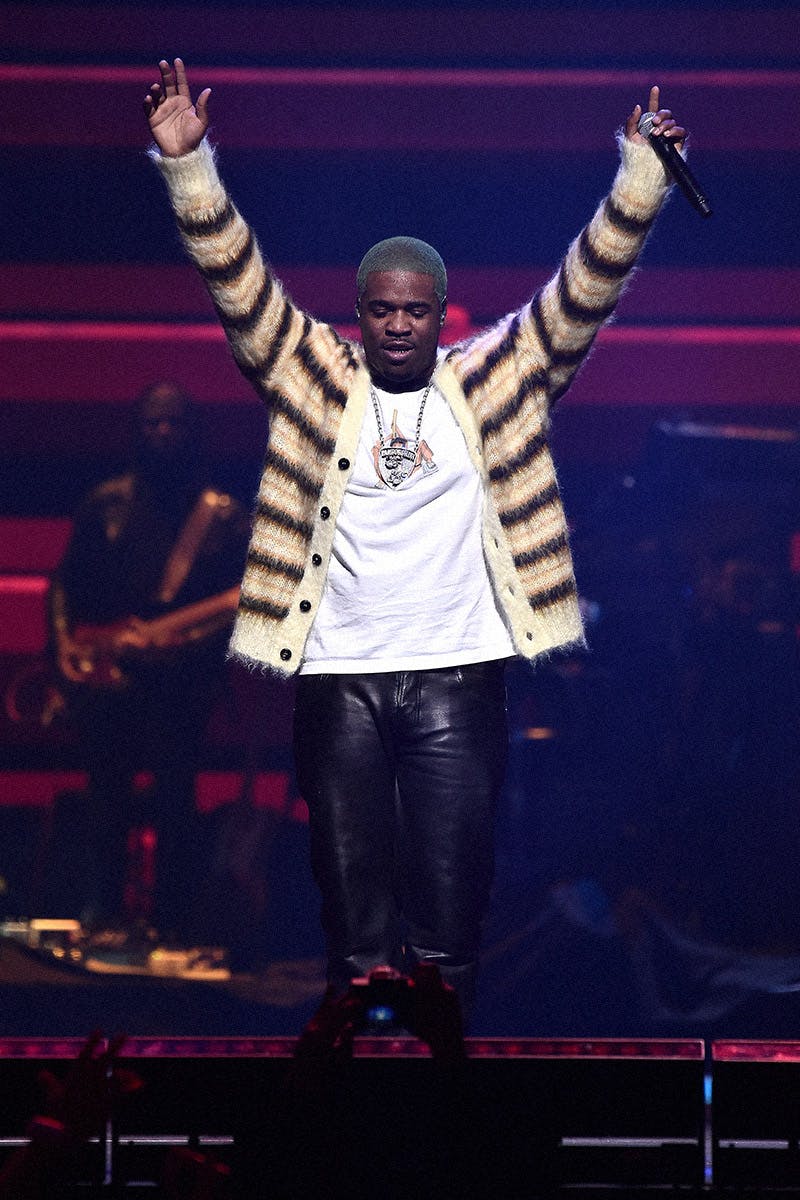 Before the A$AP Mob surfaced, seeing a rapper wearing tight leather pants and a cardigan would be a real shock. Since the Mob rejigged the mindset, though, the world of hip-hop has become much more interesting, with names like Lil Uzi Vert, Lil Yachty, and more pushing boundaries in style. This outfit shows Ferg's willingness to experiment with personal tastes and get away with it, too. Pale green hair, a mohair cardigan, and leather pants don't instantly marry, but Ferg's confidence carries the look off with ease.
Unorthodox Accessories
Ferg is as comfortable on the streets of Harlem as on the runways of Paris, even when he's sporting electric green hair (à la Dennis Rodman) and insanely baggy cargo pants. This look has a definitive gothic edge, showing that the most interesting looks often come when we ignore our self-imposed style boundaries. A carefully curated baseball bat acts as an out-there accessory that ties the color scheme together.
Our designated Selects section features products that we love and want to share with you. Highsnobiety has affiliate marketing partnerships, which means we may receive a commission from your purchase.