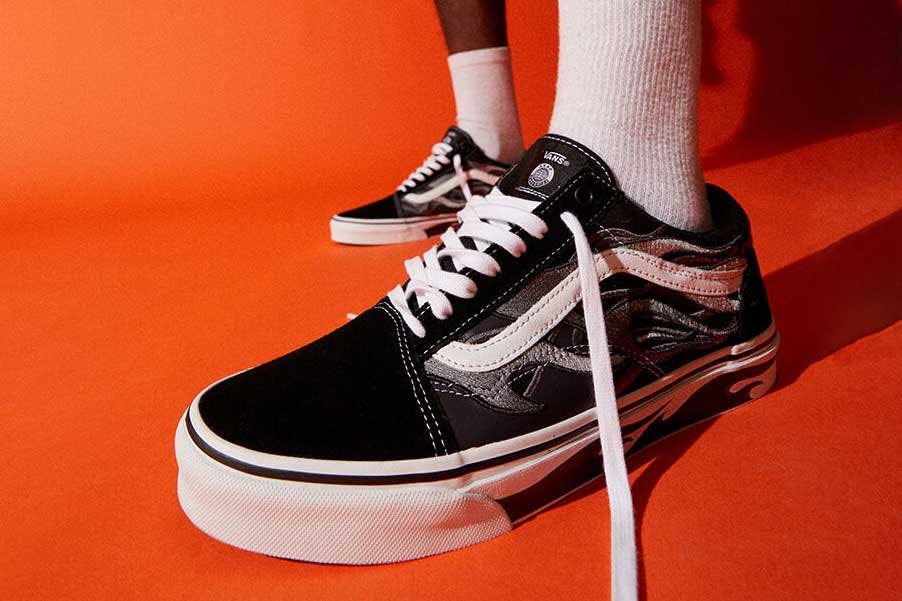 Remember those Vans that A$AP Rocky was, well, rocking a few weeks ago, in between dates with Rihanna? Turns out they were a teaser of much more than mere footwear collabs. Fast fashion juggernaut Pacsun has named Rocky its new guest artistic director, signaling another step toward the future of mass market fashion.
We already knew that Rocky was working on Vans, but this Pacsun partnership is a whole 'nother ball of yarn. According to a statement issued by Pacsun, the project also brings his A$AP Worldwide onboard for a series of limited collaborative drops, activations, and campaigns exclusive to Pacsun's downtown Los Angeles and New York flagships for the next 18 months. Watch the promo clip below.
First up, we have some fiery Vans, but not the backless style that Rocky was showing off. Instead, the Old Skool is the rapper's collaborative silhouette of choice, reimagining the sneaker in makeups of black canvas and white leather laden with embroidered flames.
In addition to the Vans, Pretty Flacko is also launching an apparel drop with American heritage brand, Russell Athletic. The capsule includes four styles of sporty loungewear that the label is best known for: T-shirts, shorts, pullover hoodies, and sweatpants, offered in black, white, rust, bright blue, and green with contrast stitching.
"This partnership is special to me because it's a collaboration that combines my roots, A$AP Worldwide, and some of the most respected heritage brands that have roots in both the sportswear and lifestyle worlds," Rocky said in a statement. "Together with Pacsun, we will be releasing several limited edition collections that are both nostalgic and forward at the same time."
This is far from Pacsun's first dip into the realm of ultra-hyped streetwear: the chain retailer hosted drops of Fear of God's red-hot ESSENTIALS brand up until recently — ESSENTIALS' most recent collection was a Nordstrom exclusive.
Visit Pacsun.com and participating stores nationwide beginning today to cop the A$AP Rocky x Vans and Russell Athletic goods. Prices range from $100 to $130 for the Vans and $40 to $90 the Russell apparel.