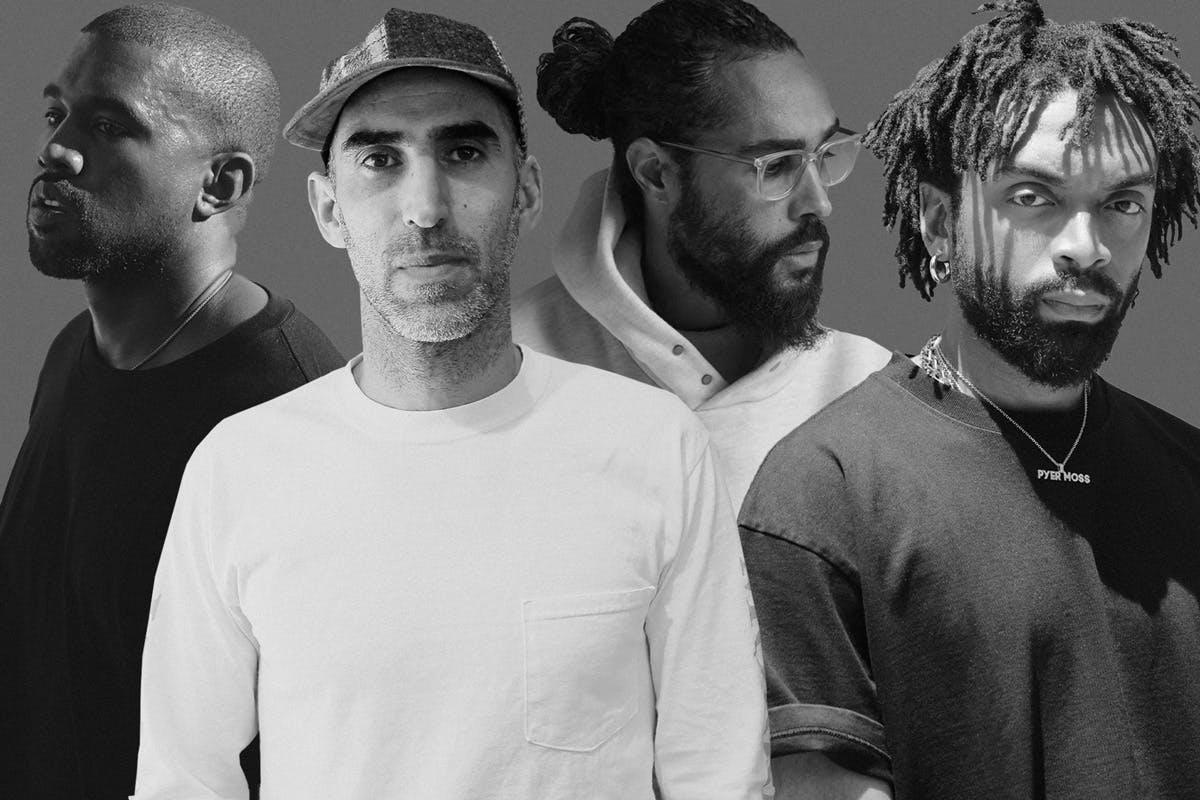 Highsnobiety Insights is dedicated to the business behind youth culture and what makes our market tick. Head over to our Insights hub to dig beyond the surface.
YEEZY's Kanye West at the Gap, Fear of God's Jerry Lorenzo at adidas, Aimé Leon Dore's Teddy Santis at New Balance, Pyer Moss' Kerby-Jean Raymond at Reebok, and now Noah's Brendon Babenzien, at J. Crew. Why are mass market brands now gobbling up the creative directors that were once being hired into luxury houses? Let's break that down.
This morning it was announced that Brendon Babenzien — co-founder of New York-based streetwear-inspired menswear brand Noah and former Design Director at Supreme — has been appointed Creative Director of J. Crew Men's. His first collection is expected to debut in the second half of 2022.
The move follows a chain reaction of aforementioned high profile appointments that began in September 2020, when Reebok doubled down on its partnership with Kerby Jean-Raymond by naming the Pyer Moss founder its new Vice President of Creative Direction, leaving the designer in charge of Reebok's product, global marketing and development organizations. Jean-Raymond was also put in charge of Reebok's Product With Purpose program which is set to launch in 2022.
Two months later, adidas announced it would be embarking on a long-term "creative and business" partnership with Fear of God's Jerry Lorenzo that will see the American designer head up the sportswear brand's basketball subdivision, as well as its lifestyle categories, subsequently ending Lorenzo's contract with Nike. The new deal will also see the birth of Fear of God Athletics.
Last month, New Balance reported that after a number of successful footwear collaborations, Aimé Leon Dore founder Teddy Santis will take the helm in 2022 as Creative Director of New Balance's MADE in USA line. The news came just days after streetwear designer Willy Chavarria was named Senior Vice President of Design at Calvin Klein North America and Global Essentials apparel, men's.
Of course for J. Crew the new hire is designed to inject the once-upon-a-time American retail sweetheart with new relevance. "[Brendon's] unique point of view, willingness to take risks and insider status will be invaluable to J.Crew's commitment to step outside ourselves and disrupt our brand and the industry in a progressive way," said J. Crew Group CEO, Libby Wadle. The group went on to state that Babenzien will "work to redefine the brand, merging vitality and creativity of today's style subcultures with an innovative appreciation of classic menswear."
How I would translate this: "After years of rapid executive and creative turnover here at J. Crew and a growing competitive landscape, you're our best chance of survival in the menswear space. Your proven track record of building a true fandom around Noah, your consistent ability to attract top tier talent and unexpected collaborators, your pioneering skills around authentically creating transparency about your brand's environmental impact, while simultaneously driving tangible social change, and the growing sales to substantiate it all, give us all the confidence in the world that you can do this for us too, at scale." At last.
Babenzien's appointment is the latest in a recent slew of hires that has seen founders of "streetwear"-inspired brands be appointed into top creative positions at mass market fashion businesses, taking the one-off collaboration strategies some have experimented with in the past (i.e. Pacsun x Fear of God, Telfar x Ugg's, and Calvin Klein x Heron Preston) to a more substantial level.
In June 2020, Gap announced its mega 10-year global partnership with Kanye West and YEEZY. The new label, titled YEEZY Gap, has big ambitions. With London-based rising star Mowalola Ogunlesi as the line's Design Director, Gap says after its first five years it hopes the sub-label will be generating $1 billion in annual sales. (To compare, the Gap itself reached $4.6 billion in global revenue, in 2019).
To get there, YEEZY Gap, under West's creative direction, will "create modern, elevated basics for men, women and kids at accessible price points." It's debut drop is set to release this summer. "The number one question Mark [Breitbard] and I get asked is about our YEEZY Gap partnership," Gap CEO and Director, Sonia Syngal, said in Gap's latest earnings call in March.
It's exactly the level of anticipation these deals are meant to garner for mass apparel brands that have long sought out ways to reinvent themselves. "Without some form of reinvention it will revert to previous struggles, which saw it lose shoppers, market share and sales," Neil Saunders, analyst at GlobalData Retail, told Bloomberg following Gap's latest quarterly earnings.
The same well-documented struggle for relevance swept across European luxury fashion brands in 2015, when Balenciaga appointed Vetements' co-founder Demna Gvasalia as Artistic Director of the heritage maison. That same year, fellow Kering-owned brand Gucci hired Alessandro Michele. Both Gvasalia and Michele have heavily relied on streetwear staples for sales growth. As have Off-White founder Virgil Abloh and Kim Jones who were hired by Louis Vuitton and Dior, respectively, to lead the menswear direction of the LVMH-owned houses three years later. 1017ALYX9SM founder Matthew Williams is the latest designer tasked with taking his learnings in subcultural fashion circles to a luxury house. He was appointed into Givenchy's top creative position in June 2020.
As with many trends, it seems that what happened in luxury five years ago is now going mass. After decades of big collaborations with top fashion designers, boutique retailers, and other creative leaders, companies like Gap and J Crew are embarking on long-term partnerships with the street culture-influenced brand founders who have been in front of their noses the whole time. Ironically, the entire ethos of the streetwear movement has been to employ vernacular, mass-market tropes into the language of luxury. So in a way these shifts are more of a return home than a radical departure.
Taken together, these shifts symbolize more than the latest round of designer musical chairs. The same designers that giant brands wouldn't have considered just five years ago are now being completely relied upon to breathe new life into multi-billion dollar brands. Today's J. Crew appointment is the definitive nail in the coffin for those holding on to the traditional notions and power structures that have too long defined the global fashion industry.
Although it felt fresh at the time, the problem with luxury houses hiring designers with a background rooted in sub culture was that the price points they sold products at rarely reflected the wallets of the audience whose culture was snatched. Virgil Abloh, Demna Gvasalia, and Kanye West became celebrity designers on a level never seen before, but their mass appeal did not come with mass pricing.
While "luxury streetwear" set the tone for the industry to follow, the second an as culturally credible "streetwear" designer joins a more affordable, a more accessible, a more mainstream conglomerate, the luxury scene will lose a part of its control on this younger consumer it targets. That moment has now arrived, but the question still remains: Will these designers have the same midas touch outside of the luxury space?
Going forward, when vying for the rapidly growing demographic of highly engaged young menswear consumers, the likes of Louis Vuitton, Gucci and Balenciaga would be foolish to think they're only battling each other. In the quest for buoying the new luxury consumer, the world's biggest luxury fashion brands are about to compete with Gap, J.Crew, and Reebok. Who would have predicted that?