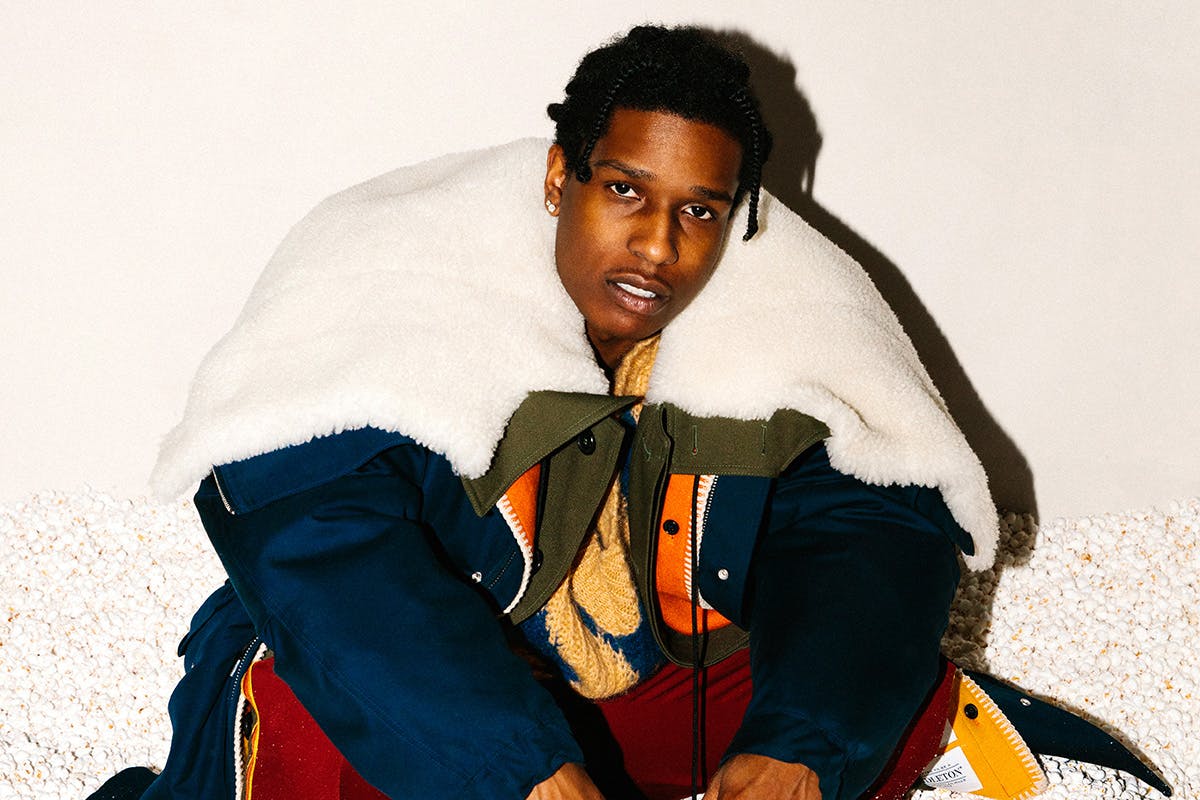 Whether it's tripping in music videos, releasing cryptic Instagram messages or making feature film debuts, A$AP Rocky has certainly been making headlines these days. With his second studio album -  At.Long.Last.A$AP - the Mob frontman has been dished out details on how he's been coping with the death of his longtime friend, A$AP Yams.
Fishing through the many interviews Lord Flacko has given over the past few months, we've compiled a list of 10 interesting facts we learned about the Harlem-bred MC, from the surprising to the downright absurd.
He finds LSD to be therapeutic
Not many celebrities will openly profess their admiration for consuming recreational drugs. But according to Rocky, tripping on acid is something that coincides with his artistry. In last month's interview with Billboard, he admits, "It helps me cope with life, I've been doing this stuff since I got into the industry. People are scared to talk about it...It's trippy. My art, my visuals. Very trippy."
Watch Rocky enter the void in his latest video.
He thinks celebrities ruined fashion
If there's one thing that Rocky hates, it's a poseur. Especially when it comes to fashion. In an interview with Fast Company, the rapper states, "Celebrities ruined fashion for me. I used to put a lot of thought into what I was wearing and then...all my favorite brands were being bought and worn by the biggest poseurs and celebrities with terrible taste." Well over the hype, Rocky goes on to say that he's "over it" and how he's "just not into the whole name brand thing so much."
He loves women and "bitches"
An undisputed ladies man, a large source of inspiration for Rocky derives from his love of women...and bitches. He tells Complex, "I'm passionate about women. I look for ways to manifest that into my music. If they don't get the message, then I'll make something special for them...I love women. And I love the bitches." How does Rocky differentiate the two? Well, "...'women' got they shit together. 'Bitches' is just out here, all burnt out with they heads cut off. Chickenheads. But somebody gotta love these hoes."
He compares himself to Allah
Rappers sure aren't shy to boast about how remarkable they are. That's Kanye's whole schtick after all. But comparing yourself to God? That's a bit excessive. When talking to GQ about his latest album, he boasts,"Look at it: At.Long.Last.A$AP. A-L-L-A. Like slang for 'Allah.' It's the return of the god MC...I'm named after Rakim, and I'm finally facing what it means: I was born to do this shit." All hail the Me$$iah.
Being stylish is a struggle, just like the Civil Rights Movement
Growing up in Harlem, Rocky got a lot of flack for his unique sense of style. So much flack, that he compares the struggle to that of African Americans during their fight for equal rights in the 1950s and '60s. He tells New York Mag, "I can say that I've been scrutinized for my fashion since I was about 15 years old...I feel like I had to go through the whole Civil Rights Movement just to be comfortable, to make other people comfortable, to be able to wear what they want to wear, and a lot of dudes are just claiming to have it without having to have that sacrifice or suffering through all that kind of shit." Fair, but not so sure if Martin Luther King, Jr. would exactly equate the two.
He's a bona fide Harry Potter fan 
When it comes to fashion, Lord Flacko Jodye prefers to let it come naturally. Comparing the craft to everyone's favorite boy wizard, he states, "Your wand has to choose you, as opposed to you choosing your wand. That's what fashion is like, man. You gotta let it take control of you. You don't know, sometimes it is stepping out of your own comfort zone, but it is what it is."
 He's got mega love for Kanye
Putting competition aside, A$AP Rocky's got mega love for Yeezy and his contributions to fashion and rap music. He tells #CRWN, "I think that Kanye had a rough time in the fashion industry, but I think it's all starting to pay off. He and Pharrell paved the way for artists like myself. I wouldn't be here. I would be full of shit if I told you that as a teen I wasn't inspired by Kanye West."
He's just a regular guy, or so he wants us to believe
Hardly an average Joe, the Mob frontman assures us that despite his rock-star lifestyle, he's actually pretty normal. "You know what I hate hearing? 'He's in a movie, he's handsome, he's (with) this chick.' It's like...all the hype," he tells USA TODAY. "I don't need the attention of being a celebrity. I'm a regular (guy), man." We'll trade with you Flacko.
Friends helped him cope over the death of A$AP Yams
It goes without saying that the loss of A$AP Yams took a toll on Rocky and the rest of A$AP Mob. Though time heals all, Rocky claims that having close friends around helped the rapper cope with the loss. "I got good people around. And seriously, it's not like I took a loss. We took a loss," he tells #CRWN. "When you're hurt, there are people you can really go to that know exactly what you're talking about and feeling. That feels good, man."
He's not into girls who wear make-up
We're sure Rocky gets a fair amount of dolled-up vixens eager to flaunt their derrières and sing his praises just to land a selfie with the rap star. But when it comes down to it, he prefers the "au naturel" look over pounds of makeup. He reveals to The Coveteur, "You can't help it, but make-up is the worst thing you can do to your skin...I'm used to normal. I'm used to real. Like yeah, your shit is going to stink, you're real, you know? You piss, you bleed, you laugh, you cry - you're human. So makeup is just like an artificial expression if you ask me."
One pet peeve of his? Red lipstick. "I like red lips, it's fine. I'm going to be real, though: it's bad for making out, because it gets on the guys."