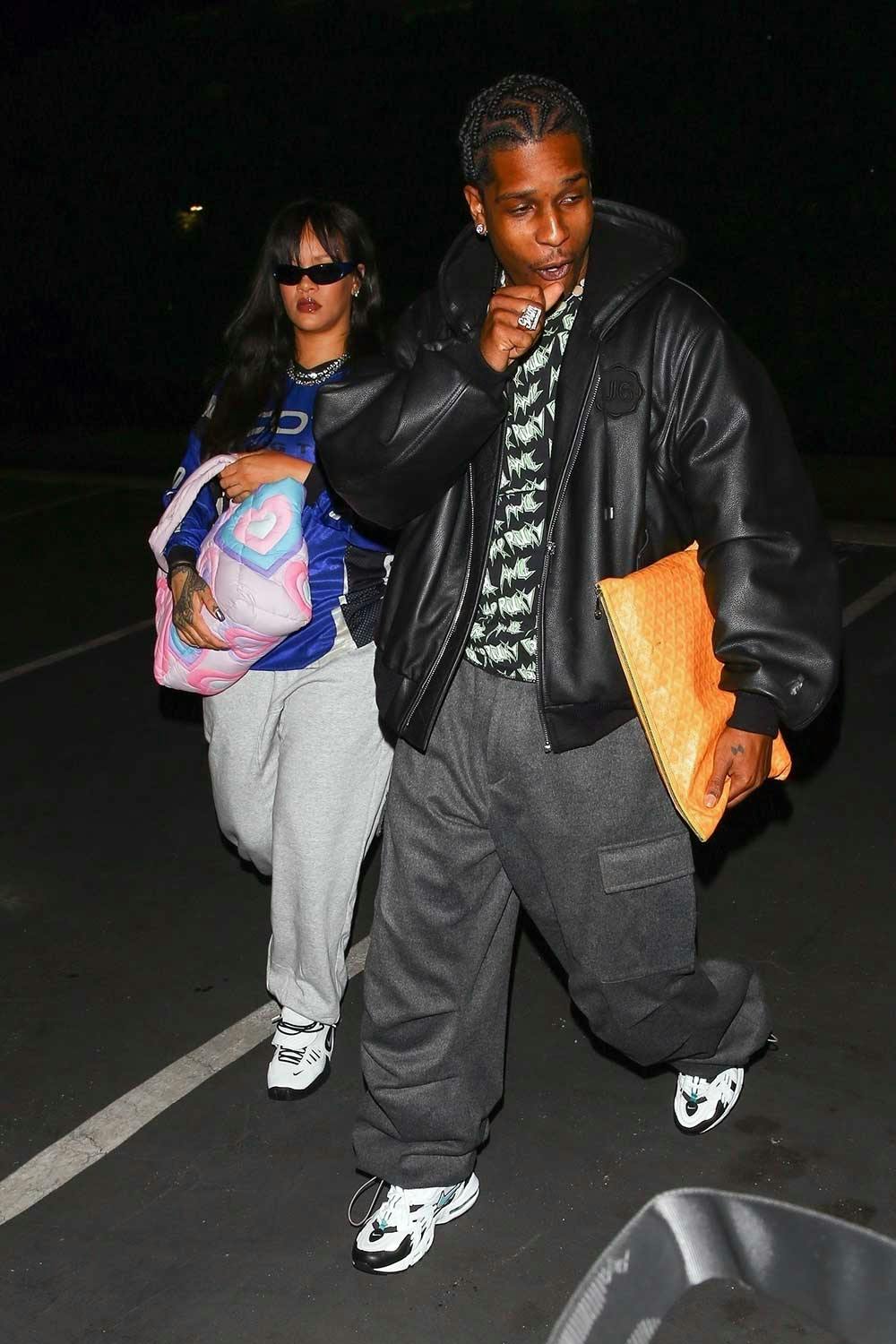 A$AP Rocky and Rihanna are back in Los Angeles, after a long stay in New York spent partying together and spending time with their newborn child. Perhaps the couple is even working on music together, or at least that's what their recent joint music studio visit seems to insinuate.
On September 15, Rocky and Rihanna were spotted together on a late-night trip to the same studio that Rocky and friends have been frequenting recently, suggesting that some new A$AP crew tunes are en route.
At the very least, we might be getting some new Rocky features, which is nothing to complain about.
Rocky and Rihanna have been surprisingly visible together over the past few weeks. We got mostly radio silence from the power couple during most of the summer, as they were mostly seen individually on occasional shopping runs, but they've been booked and busy recently, going by the recent flurry of appearances.
Though Rihanna had a couple gal's nights out, she joined her beau for the NYFW party hosted by Mercer + Prince, A$AP Rocky's whisky brand.
Afterwards, the couple was off to a series of after parties and similar shindigs, soaking up nightlife in a way that's fairly unusual for typical parents of a newbord.
On the other hand, A$AP Rocky and Rihanna are anything but typical, so that checks out.
Their joint music studio visit went down at night, presumably after the baby went to bed. Rocky and Rihanna were twinning in complementary ERL — Rihanna clutched the LA designer's puffer bag and Rocky wore his custom ERL shirt — which makes sense, given Rocky's close relationship to founder Eli Russell Linnetz.
Adorably, the pair also wore complementary pairs of elderly Nikes, with Rocky in retro runners and Rihanna wearing AMBUSH's white Nike Adjust Force.
Rocky clutched a Goyard pouch and Rihanna continued wearing sunglasses at night, again proving that these folks are no typical parents: they're superstylish celebs and us plebs simply cannot compare.
In particular, Rocky has been stepping up his style game recently, perhaps in a bid to keep up with Rihanna's ever effortless mastery of post-streetwear cool.
As for the music they might've made, who knows? Perhaps Rihanna was just keeping Rocky company. But one can only imagine that if they were to put their heads together, the results would be as explosive as their combined street style savvy.