Video games used to be simple. You would buy one, take it home, play it, and then repeat until the console eventually stopped reading the disc. When titles such as Tony Hawk Pro Skater and Metal Gear Solid reigned supreme, there wasn't any talk about coins and V-bucks. I know, I'm giving away my age here...
But times have long since changed. With the advancement of technology has come online worlds and concomitant predatory game design that doesn't allow people to compete at the top end without spending more money. It's essentially a gambling structure and, unsurprisingly, there are horror stories aplenty. A Google search with the words "teen spends money on games" racks up myriad stories that aren't exclusive to one particular developer.
"Game monetization schemes have become increasingly sophisticated and have been featured more prominently within popular online games," wrote authors Daniel L. King and Paul H. Delfabbro in the journal Addiction. "In our view, some of these schemes could be considered predatory. Predatory monetization schemes typically involve in‐game purchasing systems that disguise or withhold the true long‐term cost of the activity until players are already financially and psychologically committed."
This week, Balenciaga became the first luxury brand to enter the Fortnite world, thanks to a partnership that arrives with both digital and physical elements. The reaction has been mixed. It seems there's a tension between calling out the clothes as the grossly overpriced streetwear that it so evidently is, and an admiration for the fact that, well, it's just so typical of Balenciaga and Demna Gvasalia's galaxy brain thinking. If you can't afford, or aren't interested in, the $750 hoodie (it's already sold out and most definitely not aimed at your average Fortnite gamer anyway), then cop a metaverse version instead, the most expensive of which costs 1,500 V-Bucks, roughly the equivalent to $12. This is a lucrative business for Fortnite's creator, Epic Games, which makes billions from in-game purchases alone.
With 2.7 billion gamers globally, it seems a no-brainer that fashion would want to muscle in on this territory. Yet it also feels that there is an elephant in the room where these monetization schemes can stigmatize younger players who can't afford to drop money on add-ons. In an article last year, Polygon spoke to several kids who had experienced cyberbullying because they played the game as a "defaulter," or a default character without any mod cons. In short, the more steezed out your character is with unlockables, the more clout you have.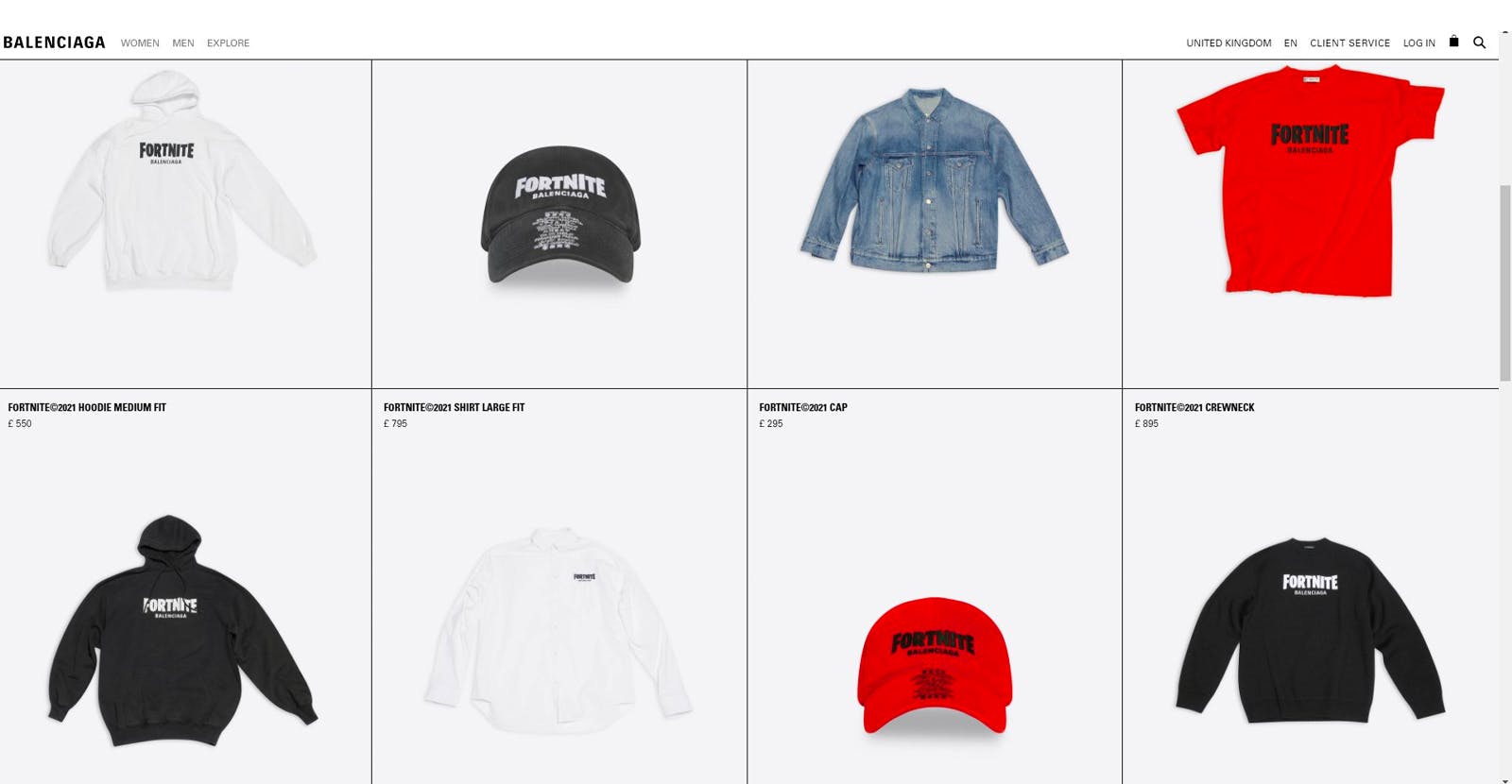 When aspirational fashion brands get involved, the stakes become even higher. Sure, $12 might not seem a lot on first thought. But what happens when these releases start becoming more frequent? When it's priced higher? When the gear is seeded to celebrities and influencers? When not only Balenciaga are involved, but rival brands, too? The likes of Gucci, Louis Vuitton, and Dior have already made inroads into the virtual arena, and it's certain that their presence will only grow stronger in the coming years. "Oh, you don't have the new Balenciaga hoodie on Fortnite? Then you can't sit with us in real life," is the notion I'm getting at. It's not just money, but mental health that's at stake.
"Balenciaga and Kering are playing the long game," says Iolo Edwards, director of High Fashion Talk. "Remembering that most Fortnite players are really young, when it comes to the time when they have a disposable income where they could possibly buy Balenciaga it will have gone through a cycle of being naff and will be back and with memories of the time they did Fortnite, making it nostalgic; one of the most powerful emotional drivers for purchases. There's also of course what Balenciaga and Demna have always done, which is keep themselves in the news through outrage. Today it's not so much being good but it's about how many people you can reach. On aggregate, reaching someone 10 times converts into a sale, whether the way they were reached were positive or neutral; even negative sometimes."
"This idea of in-game purchases and pay-to-play reminds me of 'Crazy Frog,' the ringtone that was popular when I was in high school," continues Edwards. "You would text a number to get the ringtone, which my early teen self thought was imperative, without taking notice that you then were charged every week until you canceled.
"Back then the ads for the ringtones seemed seedy and it was widely recognized to be suspicious, even though it was powerful. Conversely, the Balenciaga pay-to-play fad comes over as completely legit, which justifies it so much more in kids' heads. There is nearly no friction to purchase. There's also the fact that you show them off in-game so your friend group are constantly reminded of their social or financial standing when they see it. School uniforms are enforced to stop that; but we have this heightening it!"
I attended a state school growing up, where it sadly wasn't uncommon to see certain kids ostracized from social circles because they didn't have the latest Nikes or football shirts. Taking that into account, Iolo's words feel especially pertinent. One of the most powerful things about video games was how they were a great equalizer. Once that console screen loaded up, everybody escaped into the same experience and could relate with one another accordingly. These days, that isn't the case. There's always more thing to buy, something newer to discover. Companies such as EA might have washed their hands of responsibility when it comes to purchasing system (you can watch their pathetic defense here), but there are some governments that are taking action. See Belgium, where Fifa points have been banned.
"It's the kind of pressure you don't want to put on kids that young," continues Edwards. "It's enough that they have to buy the game and a device to play it on; the spec and power of which determines how easy it is to play. At least those things are one-off purchases; we don't know if Balenciaga are going to milk kids every season, pre-season, special collabs. And what doors does this open for other brands to do the same? Adults are equipped to understand that designer clothing is not a need; even though so many get into credit card debt over it. For a nine-year-old who is convinced that having Balenciaga doggo is be all end all, it's a bit more difficult. Maybe it's good for them to learn young, but I'd rather protect that innocence and naivety."
As we discussed in our recent white paper, fashion and video game crossovers are nothing new and are here to stay. Let's just hope brands play fair when it comes to pushing their product.