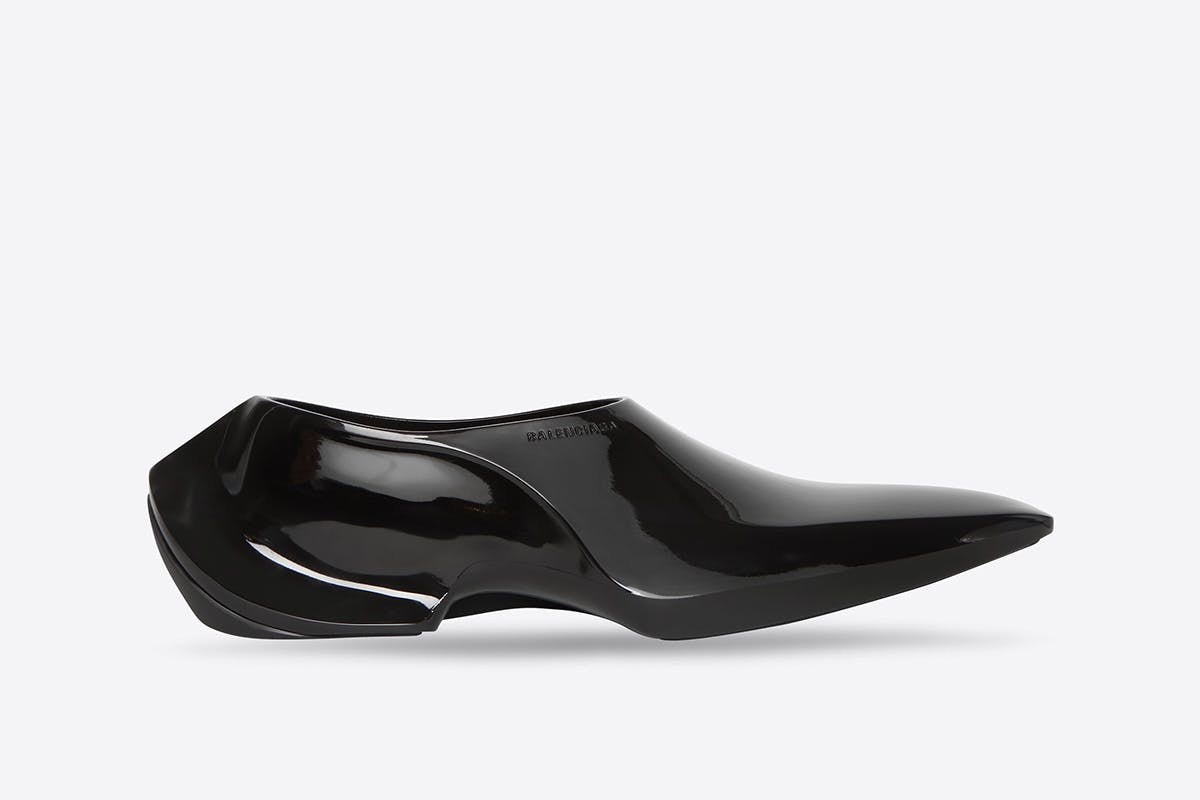 The Balenciaga shoe saga continues and this might be the weirdest one yet. After countless confusing sneakers, several Crocs collaborations, and even some armored boots, it's a true achievement for any pair of shoes to stand out above the others but the Balenciaga Space Shoes might just do it.
The Space Shoe isn't actually a million miles away from the knight boots aside from the materials. Molded from EVA and TPU, the slip-on design borrows the elongated silhouette with a high arch. Landing in matte black and glossy black, though, we would say that it's a touch more wearable in the modern day than full legs of armor.
It's another reminder that rubber shoes are going absolutely nowhere, at least not for this summer. The rise of Crocs has been backed up by luxury editions coming from names like Bottega Veneta, 1017 ALYX 9SM, Givenchy, Off-White™, and more. Basically, any luxury brand that plays even a small role in the cultural zeitgeist is part of this game which sees each brand outdo the last with a new pair of striking rubber slip-ons.
At its core, this trend is about appreciating and reshaping ugly utility. The rubber clogs that we derided not long ago are now leading the conversation in footwear design. What's interesting, though, is that we're quickly losing the utility part of ugly utility; past the rubber build, there's nothing convenient about Balenciaga's ultra-long, high-arched, square-toed Space Shoes.
Demna proves yet again that he's unbeaten when it comes to making a purely stylistic statement. It's why he's the master of the ugly rubber shoe game. So just accept it: the ugly rubber shoe reigns supreme, people, and there's nothing you can do about it but cop a pair of Balenciaga Space Shoes.
Shop the Balenciaga Space Shoes below.
Want to keep browsing? Head to the Highsnobiety Shop for more products that we love. Highsnobiety has affiliate marketing partnerships, which means we may receive a commission from your purchase.